A rich chocolate cake with a luscious cream cheese swirl – take in those words again and imagine it coming all together. Isn't this the ideal way to celebrate National Bundt Cake Day?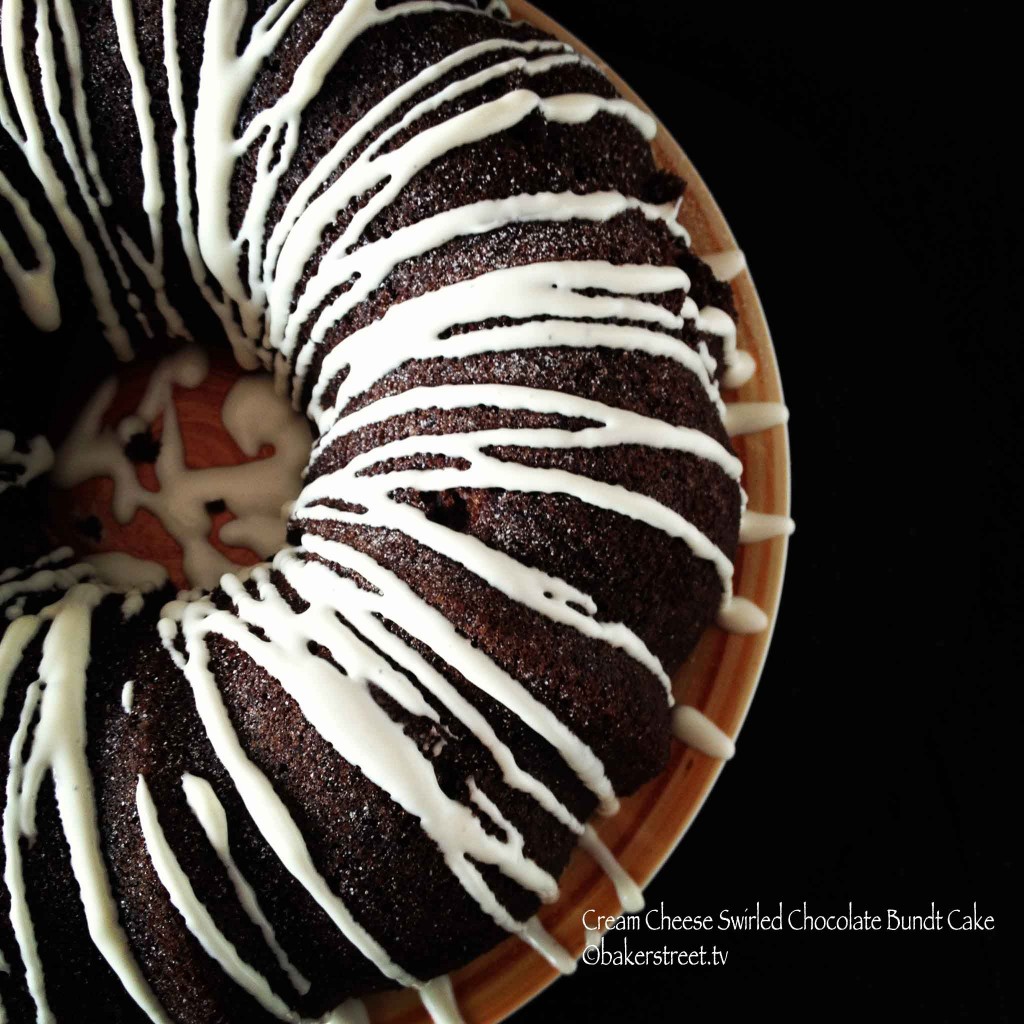 I originally had a pumpkin bundt cake with a rum glaze in mind for the occasion but I ran short on eggs, I went back to the drawing board and this seemed to be a perfect choice given the ingredients I had on hand.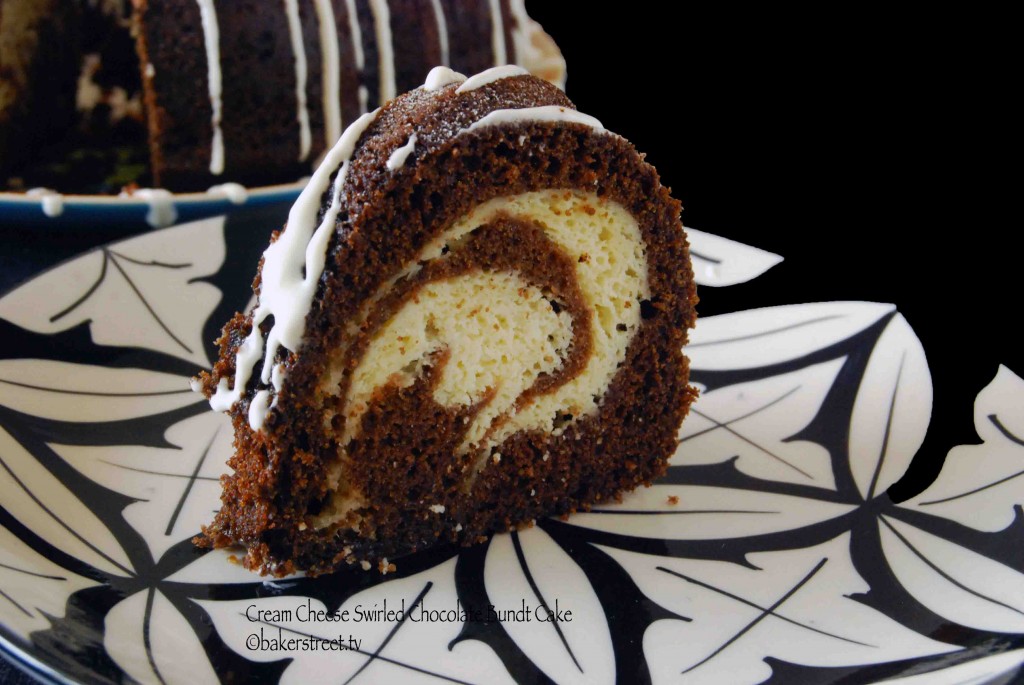 If ever there was a chocolate cake to recommend to a baking noob, it has to be this one for it is one of the quickest and simplest recipes you'll come across. A real crowd pleaser this one: impressively presentable and mouth-wateringly delicious.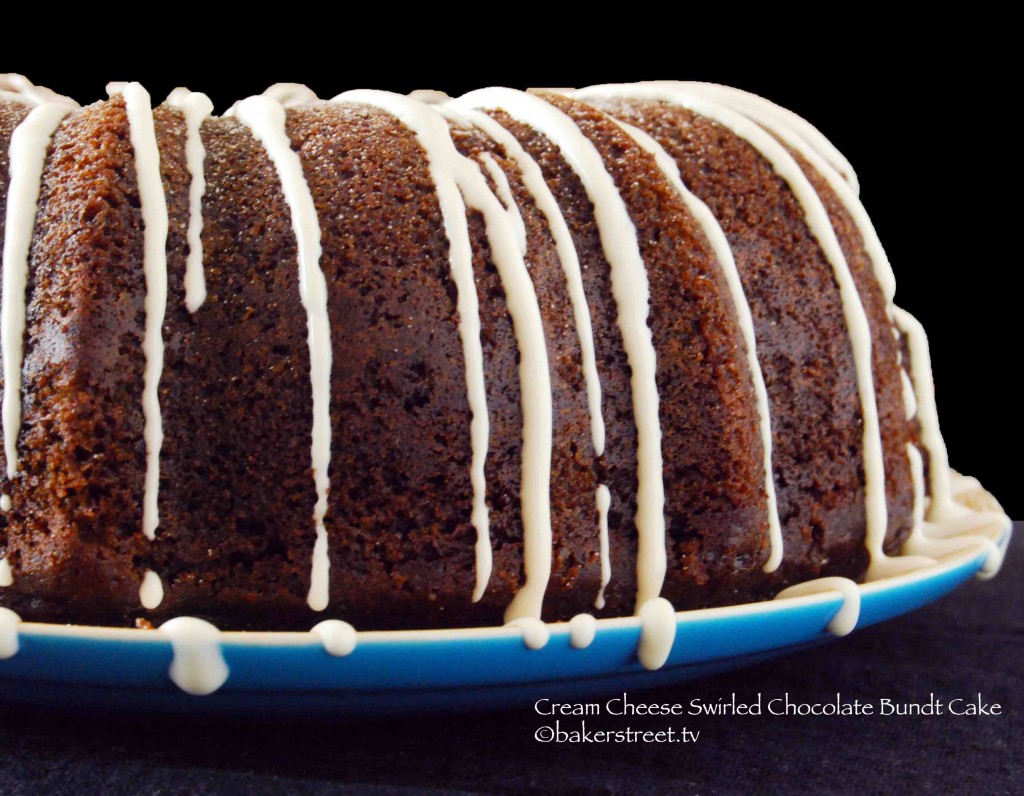 The original demands a white chocolate glaze. This is I switched with cream cheese and it resulted in exceptional results. Putting this cake together is done in a couple of minutes. Literally. All you need to do is dump everything in a bowl and keep stirring. Sounds easy right?
If you've been following my blog, you know about my bundt cake obsession. My friend Lora is crazy about baking Bundts too and we've started a brand new series – BundtaMonth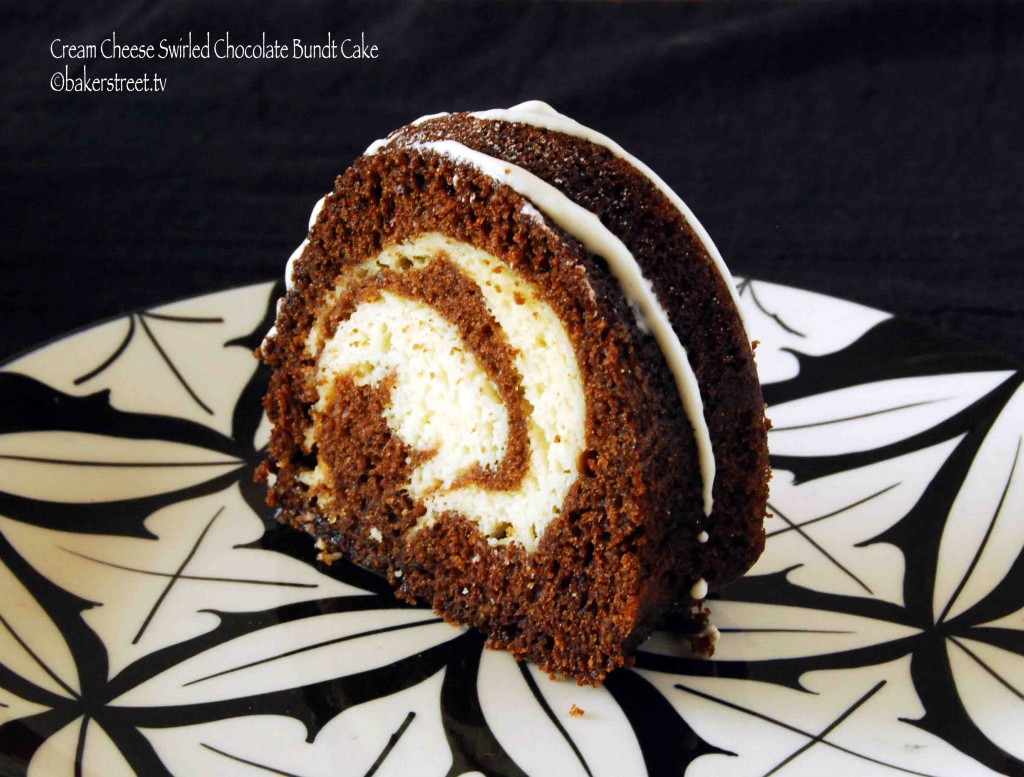 What is BundtaMonth?
A new series from Baker Street and Lora from Cake Duchess who share the same love for Bundts. Lora and I are, simply put, crazy for Bundt cakes. This is a love affair that is going to go the distance. We decided to collaborate and host an event where we'll bake a Bundt cake with a different theme every month: Bundt a Month!
How can you be a part of it?
Lora and I will pick an ingredient and announce it the first week of every month. All you Bundt loving bakers need to do is use your imagination on how you'd like to incorporate it and bake a Bundt – mini Bundt or large Bundt – and link it up to our blogs throughout the month. It's that simple!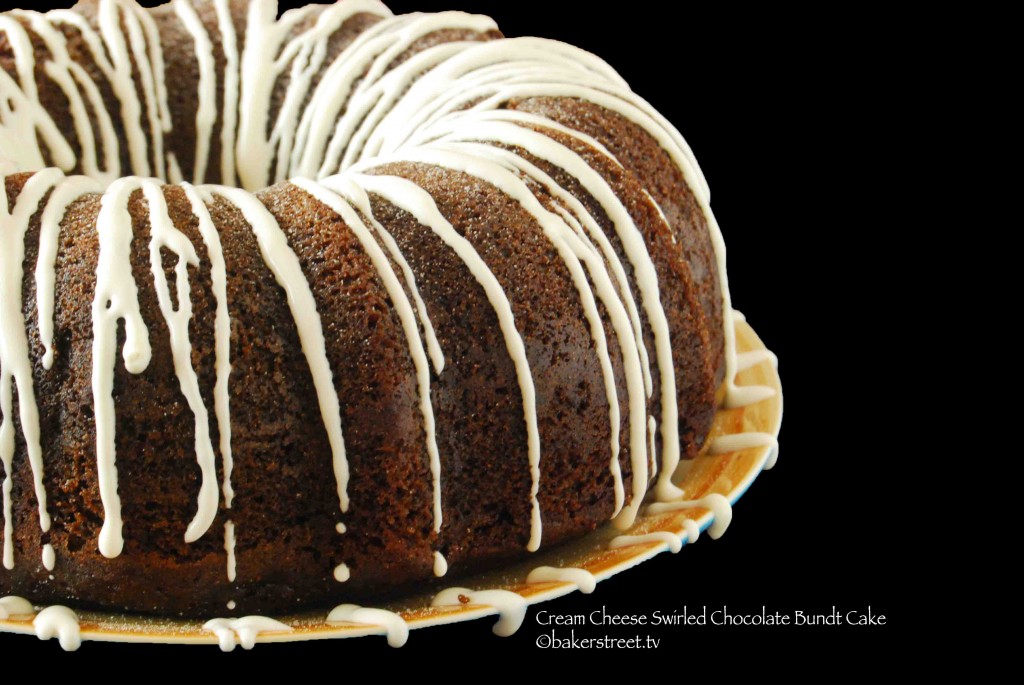 Want to see all our gorgeous bundt cakes?
We picked
Zucchini
in September. The festive
Pumpkin
in October. And; We're onto
Spicy November
. You need to pick your favorite spice or a combination of two or more and bake us a bundt. Click
here
for the rules. 
Hop over to our Pinterest board for over 300+ bundt recipes and check out our new BundtaMonth page on Facebook too.
Cream Cheese Swirled Chocolate Bundt Cake
Author:
minimally adapted from Land O Lakes
Recipe type:
Cake, Dessert
Ingredients
For The Cream Cheese Swirl
¼ cup sugar
1 (8-ounce) package cream cheese, softened
1 Egg
1 teaspoon vanilla
For The Chocolate Cake
2 cups all-purpose flour
1½ cups sugar
1 cup water
½ cup unsweetened cocoa
½ cup Butter, softened
3 Eggs
1¼ teaspoons baking powder
1 teaspoon baking soda
1 teaspoon vanilla
For The Glaze:
2 ounces cream cheese, softened
2 tablespoons sugar
2-3 tablespoons milk
Instructions
Heat oven to 350°F and generously grease and flour a 12 cup bundt pan.
For The Cream Cheese Batter:
Beat the cream cheese and sugar until well combined. Add in the egg and vanilla and beat until smooth. Set aside.
For The Chocolate Cake:
In a large bowl, combine all the ingredients beating at a low speed, scraping the bowl often until all ingredients are moistened. Increase the speed and beat until everything is well combined. Scrape the bowl from the sides as needed.
Assemble:
Pour 3 cups batter into greased and floured 12-cup Bundt pan.
Spoon the cream cheese layer over batter without touching sides of pan and cover with remaining batter.
Bake in a preheated oven for 50 to 60 minutes or until toothpick inserted in center comes out clean.
Cool in pan 30 minutes. Remove from pan; cool completely.
For The Glaze:
Beat the cream cheese and sugar at low speed until well combined. Add the milk tablespoon by tablespoon until you reach a spreadable consistency.
Drizzle over cooled cake.
We also have a fabulous group of #BundtaMonth bakers and some of them are joining us in celebrating this delicious day:
Chocolate Ganache Draped Banana Bundt Cake and Earl Grey Chocolate Bundt Cake
by Laura |
The Spiced Life
Chocolate Hazelnut Baby Bundt Cakes
by Paula |
Vintage Kitchen Notes 
Cinnamon Crusted Sweet Potato Bundt with Honey Glaze
 by Kate | 
Food Babbles
Coconut and Rum Bundt Cake for National Bundt Cake Day
 by Carrie |
Poet In The Pantry
Cream Cheese Swirled Chocolate Bundt Cake
by Anuradha |
Baker Street
Tunnel of Fudge Bundt Cake with Hazelnuts
by Alice |
Hip Foodie Mom
Vanilla Bundt Cake with Caramel Glaze
 by Lora |
Cake Duchess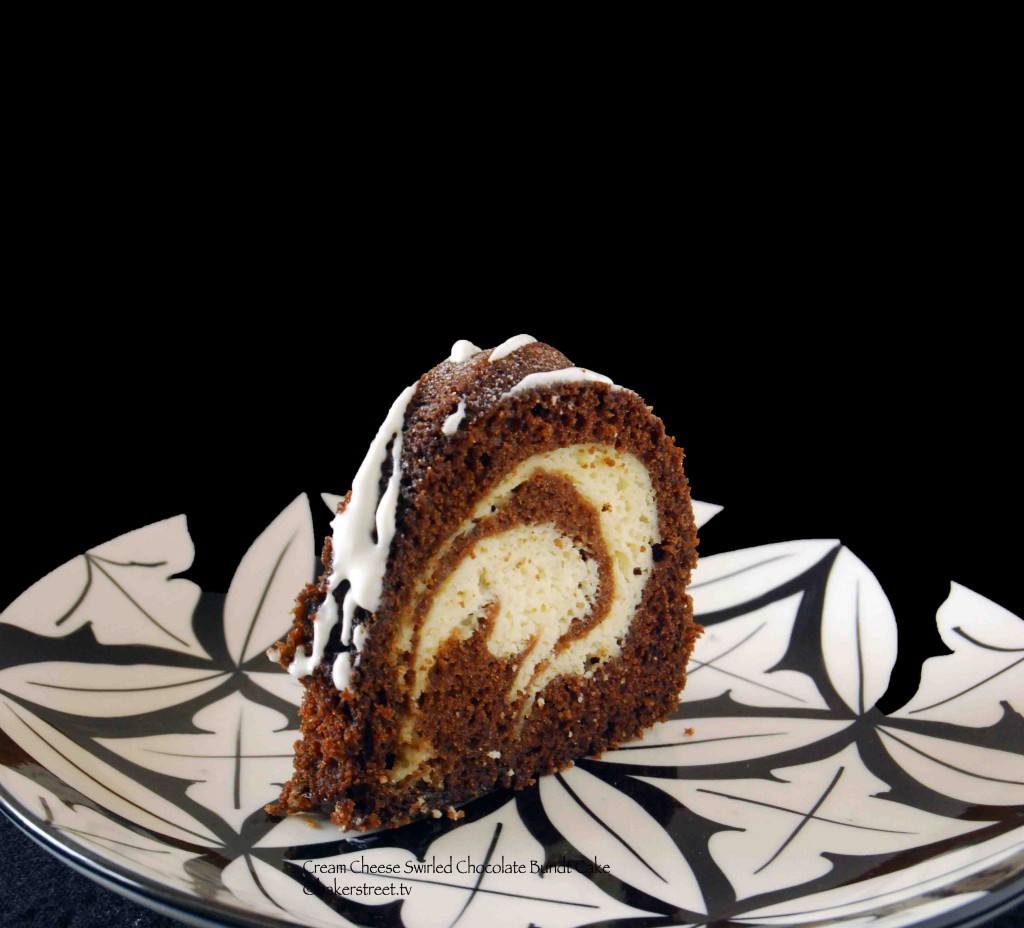 I'm  also submitting this to Brenda's 12 Weeks Of Christmas Treats. Hop over and see what the others are bringing to the table.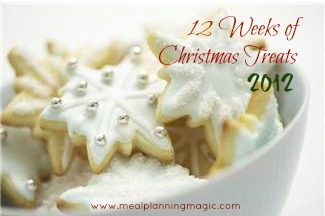 Happy Baking!