You know I'm a drop cookie kinda girl – with the focus on taste and texture; a no fuss approach from dough to cookie. But sometimes (take the Holidays for instance) one needs to go beyond the basics and enter the realm of what can only be described as the Rolls Royce of cookies.
Since this is not my cup of tea, allow me the pleasure of introducing to you one of the finest cookie bakers in the world,
Paula Kelly-Bourque
.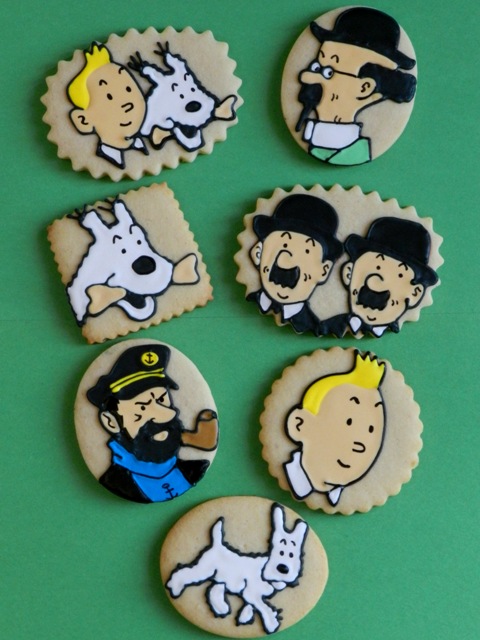 As a part of my compilation of 10 cookie recipes before Christmas to share with you, I invited Paula to a guest post on Baker Street. She is a real talent with sugar cookies. Her cookies have character. Like, literally. From Tintin to Batman to a most gorgeous Gingerbread Wreath, Paula wields her dough like Michelangelo did his paintbrush.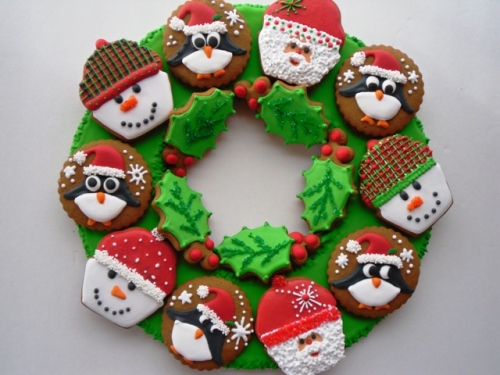 Paula is a self taught cookie decorator who followed her dream till the very end and now runs a very successful business. She's graces my blog today and in the spirit of the Holidays and teaches us how to make Christmas Elf Cookies accompanied by step-by-step photographs.
Take it away, Paula.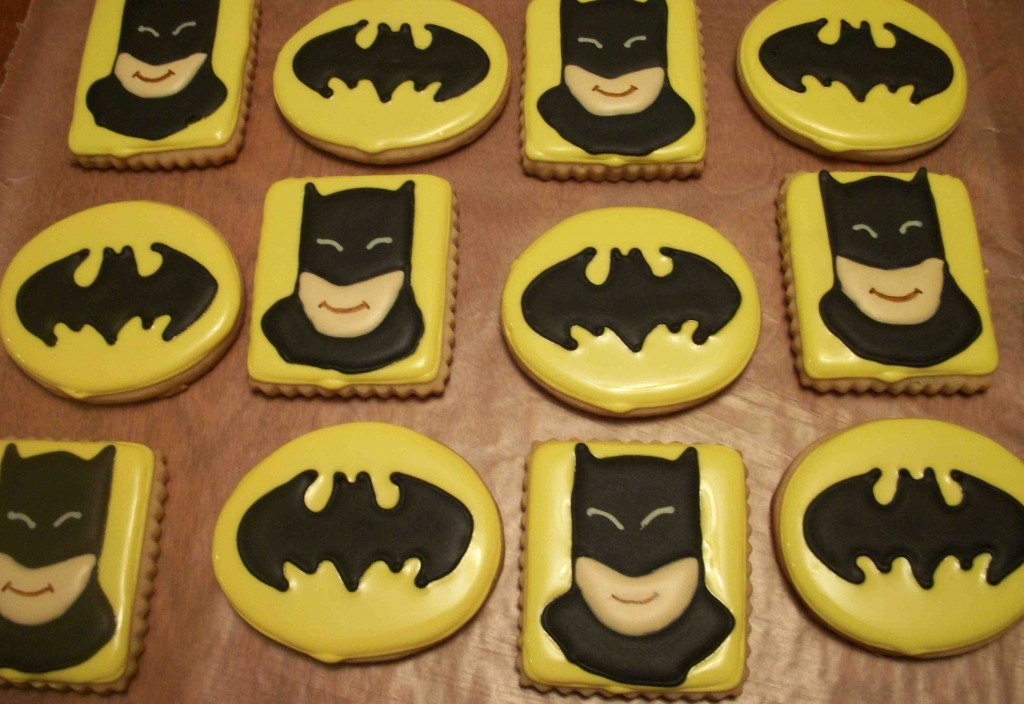 Hi Everyone! It really is a honour for me to have been asked by Anuradha to do a guest post for her. When she first asked me, I was a teeny bit hesitant as I was expecting her to request that I do a fabulous muffin, coffee cake, cheesecake or bundt that she is so very well known for. You see, while I love to bake and decorate sugar cookies, I do not bake other desserts very often and I especially to not bake a lot of muffins. I just can't seem to get the muffin texture perfect and as much as I love visiting An's site and seeing her wonderful desserts and muffins, I normally don't get much further than oogling her photographs with envy and wishing I had a slice of whatever she just posted on her site.
Now, sugar cookies, that's another thing altogether for me and when Anuradha requested that I do a cookie tutorial I was in my element and quite happy. So, without further ado, today I'm going to show you how to make a Christmas Elf cookie using two different cookie cutters. An ice cream cone and a heart cutter to be exact.
Are you ready, let's get baking and decorating!
First of all, bake a batch of your favourite sugar cookie recipe. Roll out the dough to 1/4″ thickness. Take your ice cream cone cutter and cut into your dough. Make two cut-outs using a small heart cookie cutter for each ice cream cone cookie you cut.
Next , with your ice cream cone upside down, you have to use your small heart cutter to cut out a section for the elf's ear.
Remove the cut section from the ice cream cone and place one of your heart cookies into the space.
Repeat this step for the other *elf's ear* and when completed, bend the tip of the cone (top of the *elf's hat) a little to the right or left.
Bake your cookies as directed by your recipe and let cool before decorating. You will need both piping and flood icing and some red and green sprinkles. I decorated a few elves for this tutorial and you may have noticed different coloured faces in the first picture. You can choose any colours you prefer for the elve's faces, hat's, etc.
When you cookies have cooled, it's time to pipe the outline of your elf's face, ears and hat. I used black piping icing.
Once the piping icing is dry you can begin to flood. I flooded the elf's face, ears and the top of the hat first.
Next step was to flood the rim of the hat and then the hair. Black piping icing was used to outline the inside of the ears.
At this point, you need to let the cookies dry overnight. But first, you can add two white icing dots for the elf's eyes. The next day it is time to add the finishing details. Use an edible food colouring pen to draw finish the eyes, nose and mouth and add a few lines in the hair.
The rim of the hat was brushed with clear corn syrup and then green sanding sugar was sprinkled over it. The same thing was done for the top of the hat with red sanding sugar.
For some of the elves, a few freckles were added with a brown edible food colouring marker.
And that is how to make a Christmas Elf using an ice cream cone and a heart cookie cutter. I hope you enjoyed this tutorial and that you are inspired to start your Christmas baking!
Thank you so much Anuradha for having me over to visit today! I appreciate it very much.
Note: Though my tutorial directs you outline your elf with black piping icing, in the last tutorial photo I show a cookie that was not out-lined in black. The best thing about cookie decorating is that your options are always open!
 _________________________________________________________________________________
I'm so inspired to go make my first batch of sugar cookies and hope they turn out half as nice as Paula's. You can head over to her blog for more tutorials or order a batch for the Holidays.
Happy Baking!