If you've just tuned in, let me quickly tell you a little about #BundtaMonth, an event by Baker Street and Cake Duchess. The basic idea stems from our love of baking bundt cakes. Lora and I are crazy about them and we decided to collaborate and host an event where we'll bake a Bundt cake with a different theme every month.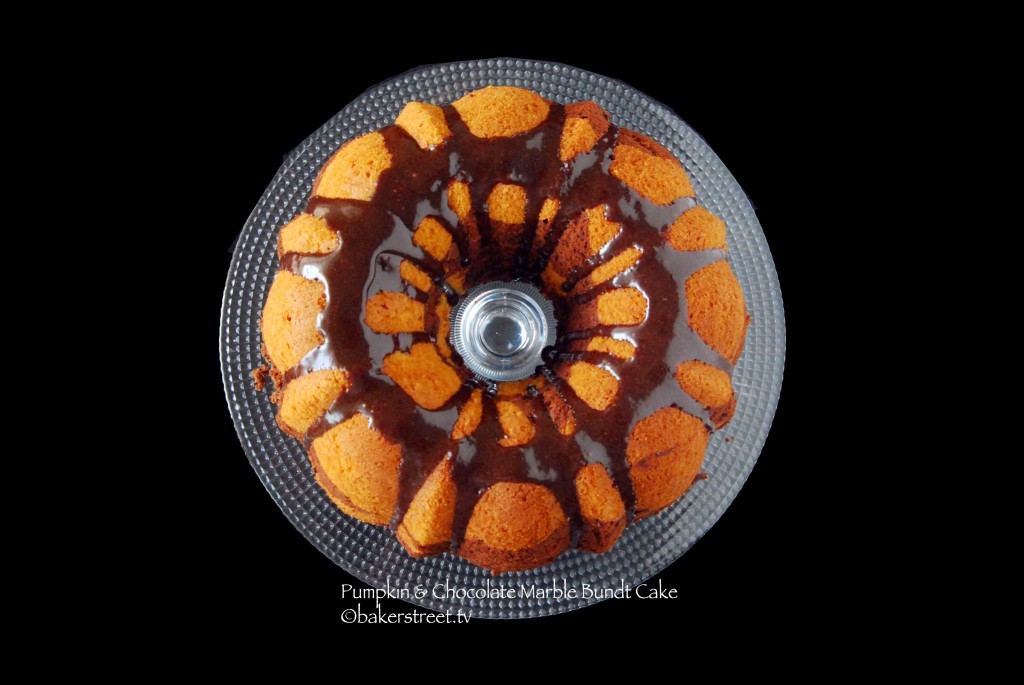 The challenge is fairly simple. We pick an ingredient and announce it in the first week of every month. All you need to do is use your imagination on how you'd like to incorporate it and bake a bundt – mini or big – to join the party. For this month's theme, we picked Pumpkin.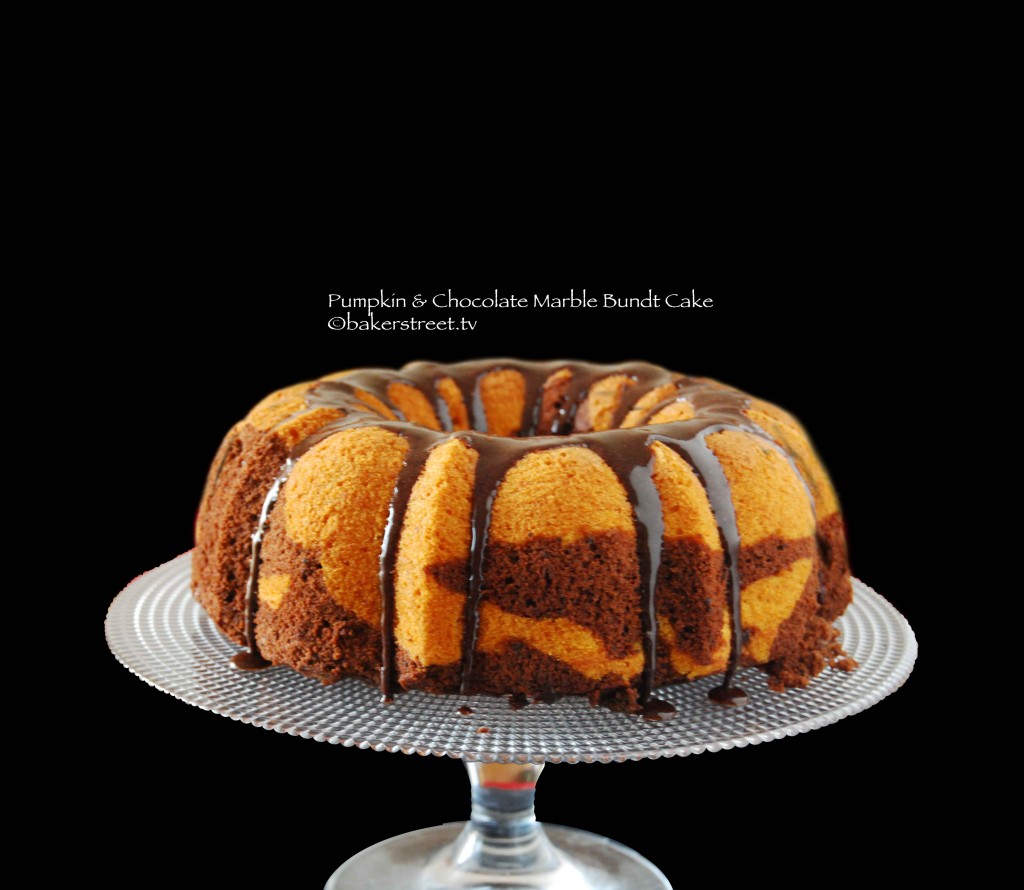 The recipe I'm featuring today hails from My Recipes. I picked a pumpkin and chocolate marble cake because both flavors compliment each other so well. There are two batters that are prominently flavored and the spice mix really helps blend them together. The only change I really made was substituting their list of spices with my homemade pumpkin pie spice mix and using freshly made homemade pumpkin puree instead of the canned one. Other than that, the batter comes together easily as does the chocolate glaze.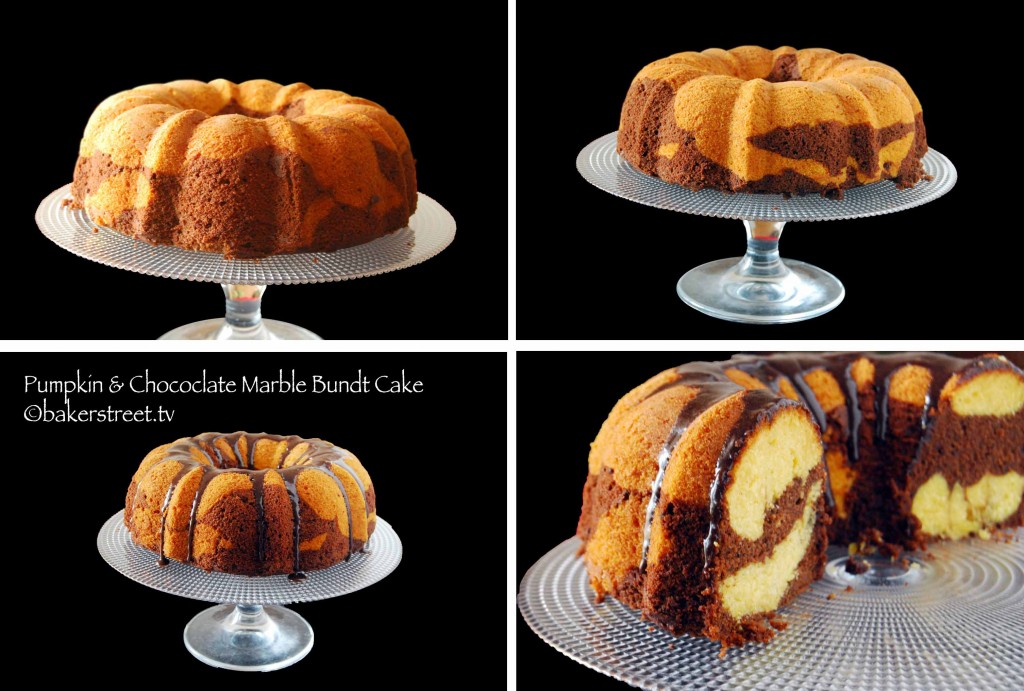 Kitchen tip – I always use a 1-2-3 step process when I bake a bundt cake so that it easily comes off the pan, without the bottom being stuck. Head over to my Bundt 101 post and read all about it.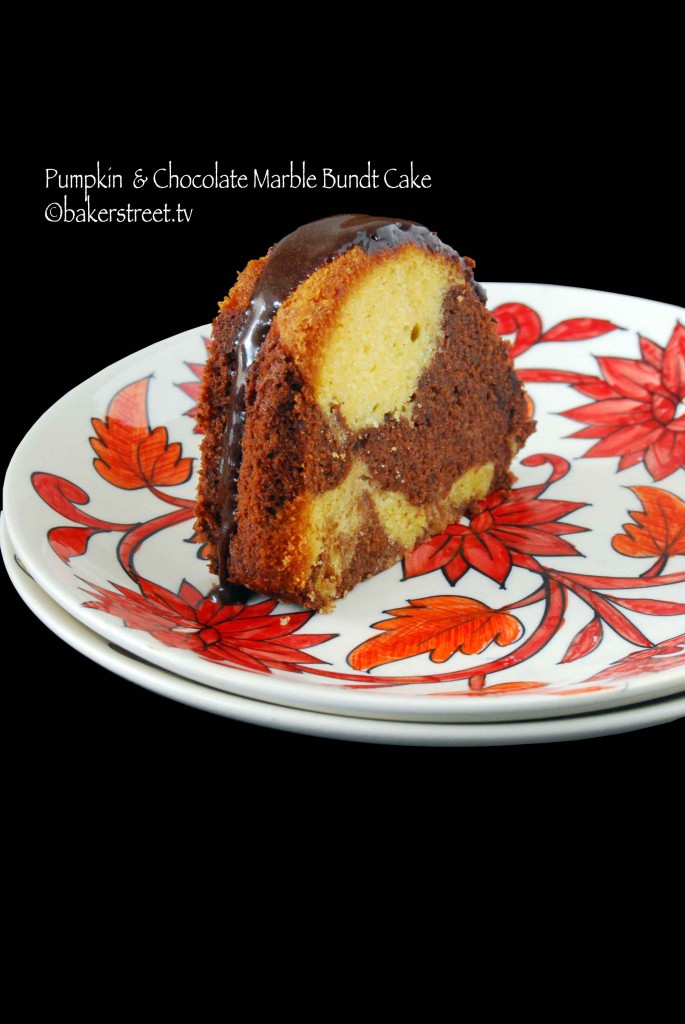 Here's how you can join the #BundtaMonth party:
– Bake your Bundt for October following the theme – Pumpkin. – Post it before October 31, 2012. – Use the #BundtaMonth hashtag in your title. (For ex: title should read – #BundtaMonth: Chocolate Pumpkin Bundt) – Add your entry to the Linky tool below – Link back to both Lora and my announcement posts.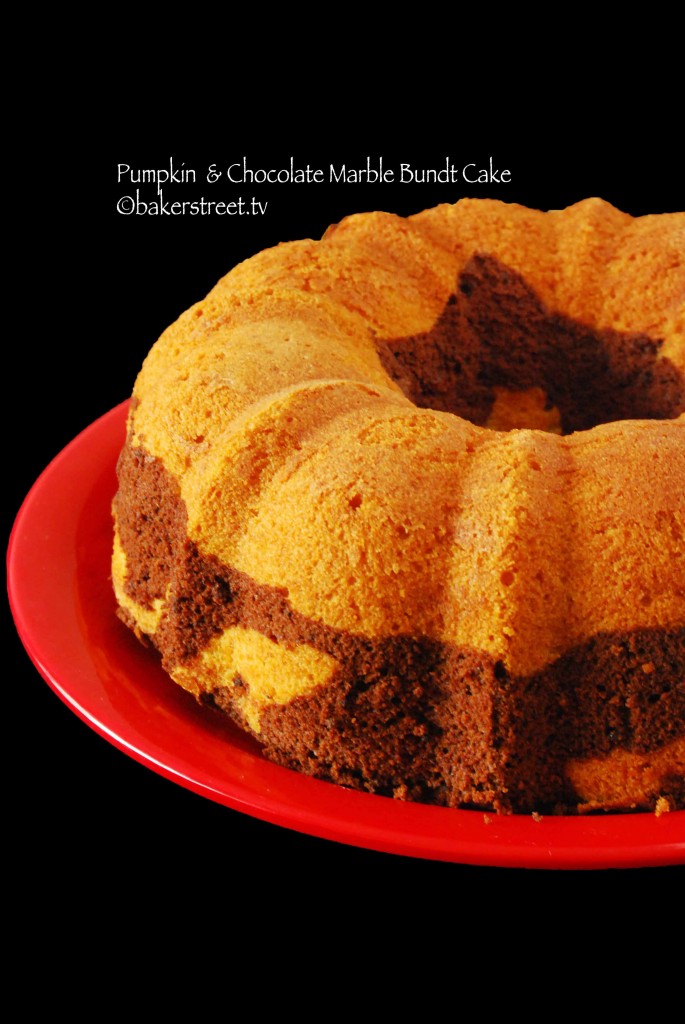 If you're out of ideas and are looking for inspiration you should check out our Pinterest board that has 150+ bundt cake recipes 
Pumpkin and Chocolate Marble Bundt Cake
Author:
adapted from my recipes
Ingredients
For The Cake:
1½ cups butter, at room temperature
3 cups sugar
6 large eggs
2 teaspoons vanilla
1¼ cups pumpkin puree
2¾ cups all-purpose flour
2 teaspoons baking powder
1 teaspoon salt
2 teaspoons pumpkin pie spice mix
¾ cup Dutch-processed unsweetened cocoa
⅔ cup buttermilk
For The Chocolate Glaze
½ cup chopped semisweet chocolate
½ cup heavy whipping cream
1 tablespoon butter
1 teaspoon maple syrup
Instructions
For The Cake:
Preheat oven to 350 degrees F and generously grease and flour a 12-cup Bundt cake pan. Set aside.
In a large bowl, beat butter and sugar until creamy.
Add in eggs one at a time, beating after each egg. Add in vanilla and beat until combined. Divide the batter into two bowls.
To make pumpkin batter: beat in the pumpkin mixture and stir together 1¾ cups of the flour, 1 teaspoon baking powder, ½ teaspoon salt and the pumpkin pie spice. Add flour to the bowl and mix just until incorporated.
To make chocolate batter: In a separate bowl, mix together 1 cup flour, 1 teaspoon baking powder, ½ teaspoon salt and the cocoa powder and then add alternating with the buttermilk (starting and ending with flour mixture) to the second mixing bowl and mix just until blended.
Spoon half of the pumpkin batter into a greased and floured 12-cup Bundt cake pan. Drop the chocolate batter into the pumpkin. Repeat by spooning pumpkin and chocolate until all batter is used.
Run a butter knife through the cake mixture center of the pan several times. Then swirl by running the knife the other way in strokes 10 or so times around the entire pan.
Bake at 350 degrees F for 55-60 minutes.
Allow to cool for 10-15 minutes before inverting and releasing the cake. Cover with warm chocolate glaze and allow to sit until glaze is set.
For The Chocolate Glaze:
In a double boiler, add chocolate, cream, butter and maple syrup. Melt and mix.
Assemble:
Pour warm chocolate glaze over the top of the cake, letting it drip down the sides. Sprinkle glaze with peanuts if desired.
Let stand until glaze is set, about 2 hours, or chill about 30 minutes.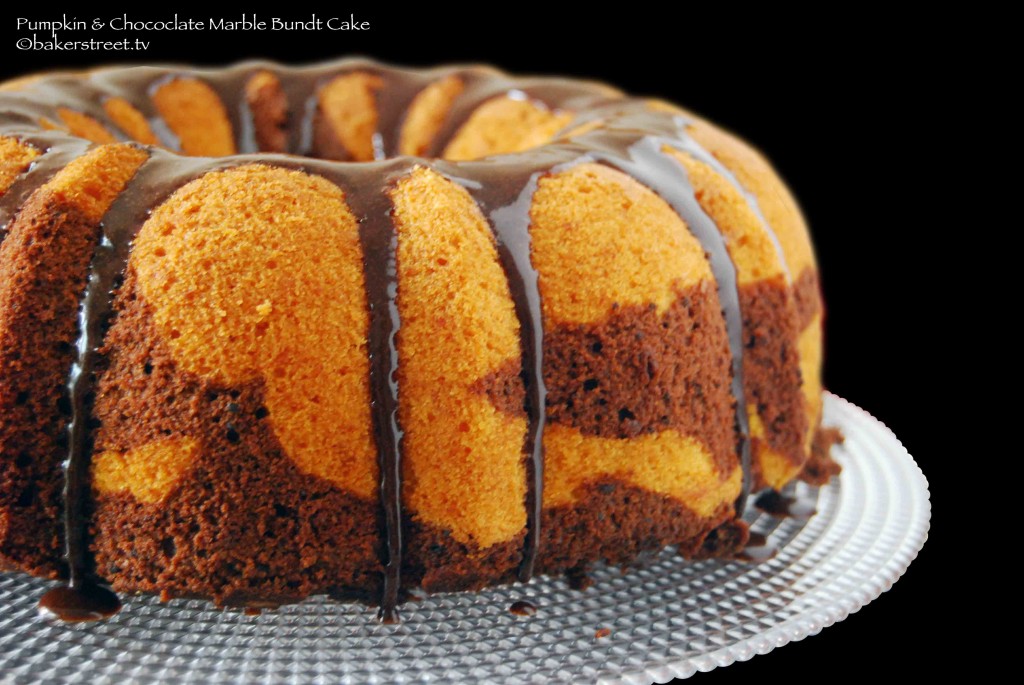 We have nine brilliant bakers baking with us for the announcement post this month. Hop over and check out their posts:
Anuradha
from
Baker Street
–
Pumpkin and Chocolate Marble Bundt Cake
Carrie
from
Poet In The Pantry
–
White Chocolate Cranberry Pumpkin Bundt Cake
Deb
from
knitstamatic
–
Pumpkin Orange Cardamom Bundt
Dorothy
from
Shockingly Delicious
– 
Spiced Pumpkin Pecan Bundt Cake with Maple Glaze
Kate
from
Food Babbles
–
Pumpkin Cream Cheese Bundt Cake
Katerina
from
Diet Hood
–
Pumpkin Spice Latte Bundt Cake with Espresso Whipped Cream
Karen
from
In The Kitchen With KP
–
Pumpkin and Nutella Bundt Cake
Lora
from 
Cake Duchess
 –
Pumpkin Streusel Bundt Cake with Pumpkin Glaze
Laura
from
The Spiced Life
 –
Glazed Orange Pumpkin Bundt Cake
Paula
from
Vintage Kitchen
–
Rum Glazed Pumpkin Orange Bundt Cake
Renee
from
Magnolia Days
–
Pumpkin Pecan Bundt Cake
<