"It should be on tables in restaurants along with salt and pepper. Anytime someone says, 'Ooh, this is so good – what's in this?' the answer invariably comes back, 'Cinnamon. Cinnamon. Again and again.'" – Jerry Seinfeld.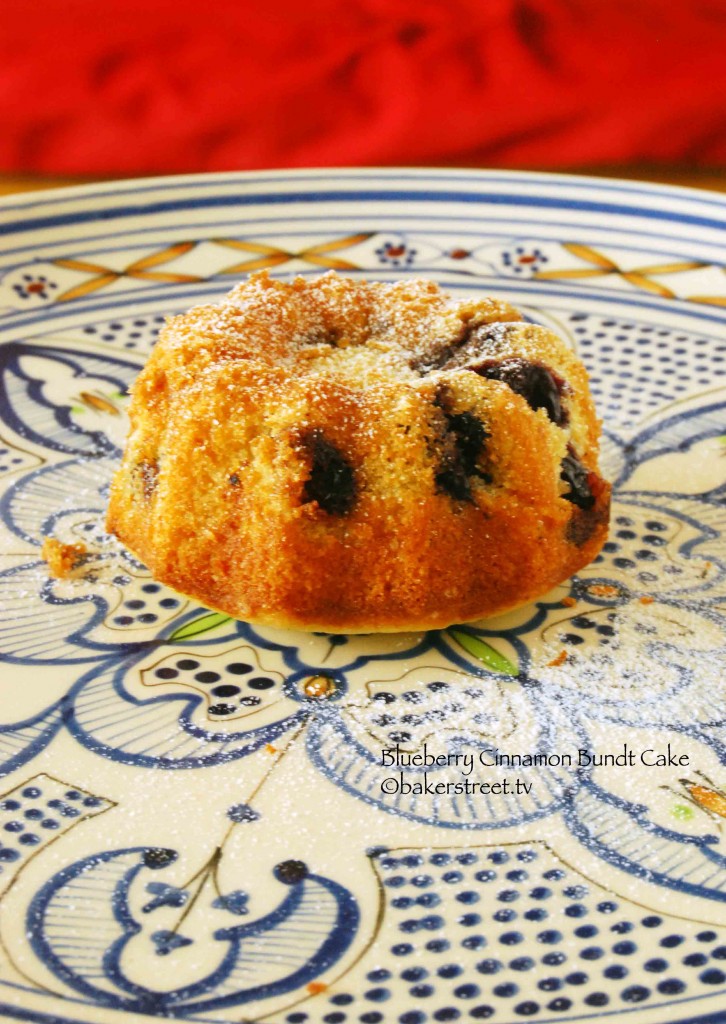 Seinfeld's a funny guy, but he was being honest and serious here. I completely agree with Jerry. Cinnamon is one of my favorite spices. When the kitchen fills up with its enchanting fragrance, I'm transposed to another world. If you like cinnamon as much as I do then you must try this recipe. Every bite is bursting with the warmth of the spice and sweetness of sugar.
I'm sharing one of my all time favorite recipes: Blueberry Cinnamon Bundt Cake. You need to keep a couple of things in mind when you're baking this:ensure the berries are well coated in cinnamon and throw in a couple of teaspoons of flour as well, so that the berries don't sink to the bottom.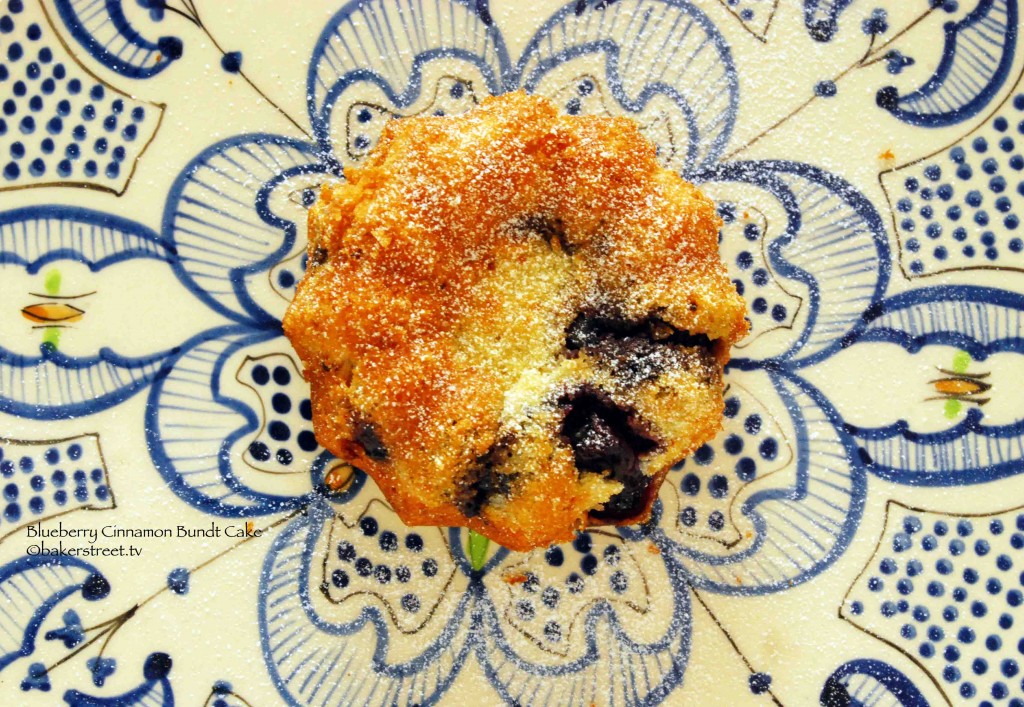 I'm all for the "the more berries the better" mantra, but in this case try not to over do it or you might end up with a squishy cake that gets stuck to the bottom.
Another tip: make sure you generously coat the bundt pan with the sugar mixture. I baked it a lower temperature than it required so it didn't darken. If you have trouble taking out bundt cakes from the pan, you can read my post with some neat tips and tricks to avoid such, er, sticky situations.
What I love about the recipe – The streaks of cinnamon that run through the batter and pair exquisitely with every bursting berry in your mouth.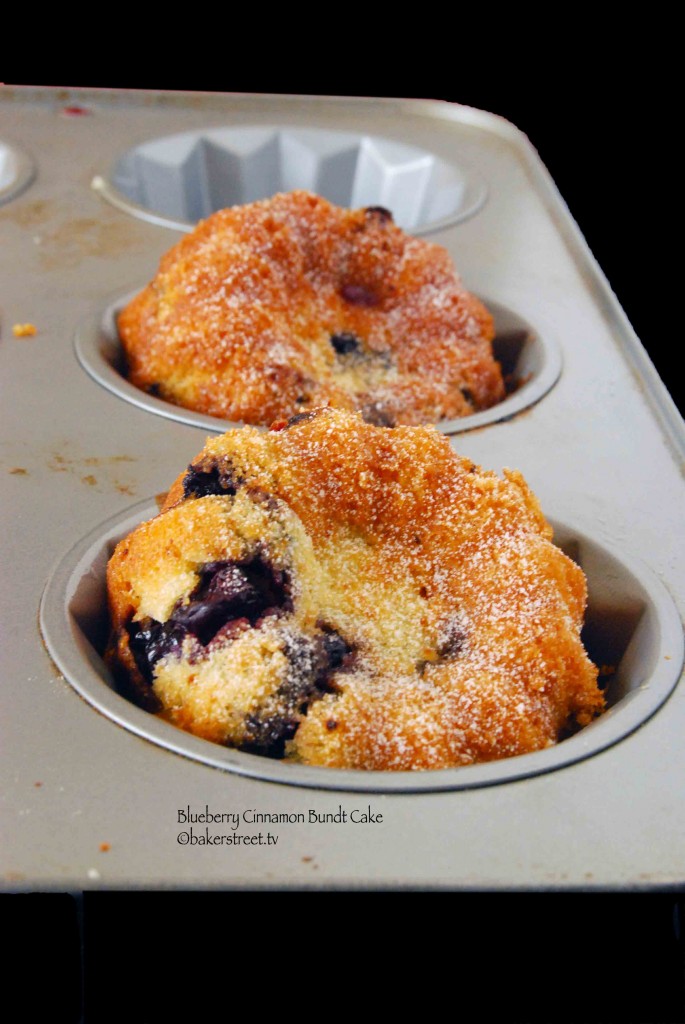 Lora and Me picked Spicy November as the theme for this month's #BundtAMonth. All you need to do is pick your favorite spice or a combination of spices and join the party. There was no doubt in my mind that I'd pick cinnamon but our bakers have done a phenomenal job with many other flavors as well including anise, cardamom, and ginger.
Apple Bundt Cake with an Attitude
by Deb |
Knitstamatic
Blueberry Cinnamon Bundt Cake
by Anuradha |
Baker Street
Cardamom Bundt Cake with Rosewater Glaze
by Paula |
Vintage Kitchen
Cinnamon Crown Bundt Cake
by Renee |
Magnolia Days
Ginger Pear Bundt Cake
by Holly |
A Baker's House
Gingerbread Apple Cake
by Lora |
Cake Duchess
Gram's Fig Spice Bundt Cake with Buttermilk Glaze
by Stacy |
Food Lust People Love
Italian Anise Bundt Cake
by Karen |
In The Kitchen with KP
Maple Pecan Bundt with Maple Glaze
by Jennie |
The Messy Baker Blog
Mexican Chocolate Bundt Cake
by Alice Choi |
Hip Foodie Mom
Moroccan Inspired Olive Oil Bundt Cake with Ras El Hanout
by Laura |
The Spiced Life
Nutmeg Bundt Cake
by Dorothy |
Shockingly Delicious
Peach and Roasted Cinnamon Bundt Cake with Cinnamon Sugar
by Kim |
Cravings Of A Lunatic
Spiced Dark Chocolate with Cinnamon Glaze
by Kate |
Food Babbles
Spicy Chocolate Bourbon Bundt Cake
by Carrie |
Poet In The Pantry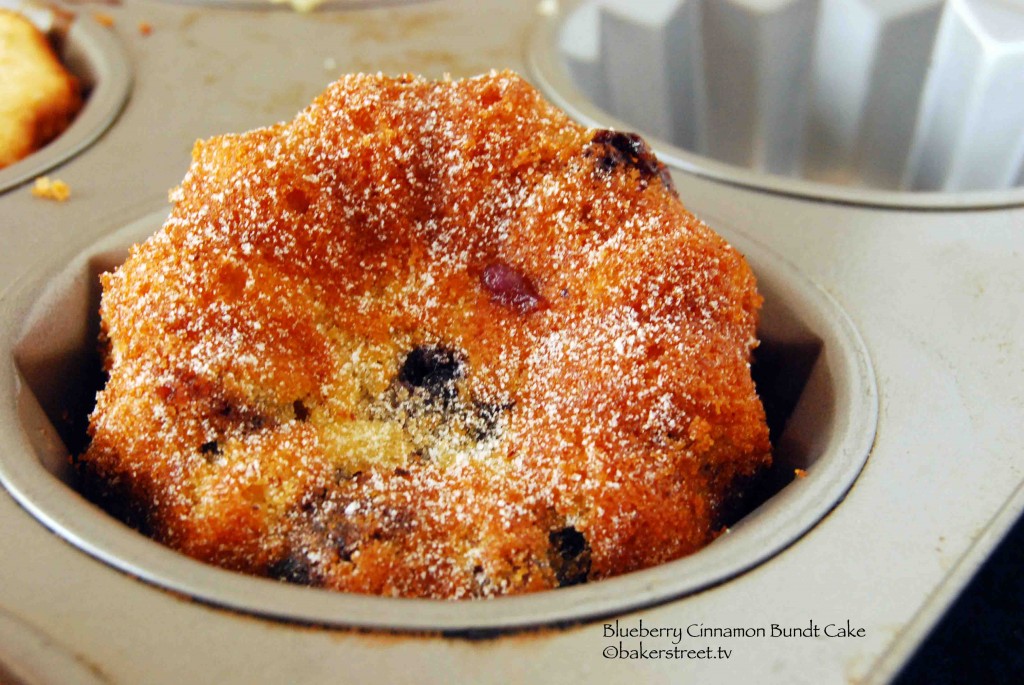 Have you preheated your oven yet? You know you want to join the party! Here's how you can join #BundtAMonth  –
– Bake your Bundt for November following the theme – Spice. – Post it before November 30, 2012.
– Use the #BundtAMonth hashtag in your title. (For ex: title should read #BundtAMonth: Chocolate Cinnamon Bundt)
– Add your entry to the Linky tool below – Link back to both Lora and Anuradha's announcement posts.  
Blueberry Cinnamon Bundt Cake
Author:
from canadian living
Recipe type:
Cake, Dessert
Ingredients
1 cup frozen blueberries, unsweetened
1 teaspoon cinnamon
1 teaspoon flour
½ cup butter, softened
1 cup granulated sugar
2 eggs
11/2 teaspoon vanilla
11/2 cups all purpose flour
2 tsp baking powder
¼ teaspoon salt
⅔ cup milk
Icing sugar for dusting
Instructions
Preheat the oven to 350F and generously flour and grease a 6 cup bundt pan or a mini bundt pan.
In a small bowl toss blueberries, cinnamon and 1 teaspoon flour. Set aside.
In a medium bowl, whisk together flour, baking powder and salt.
In a large bowl using an electric beater, cream the butter and sugar until light and fluffy.
Add in the eggs one at a time beating well after each addition.
Stir in vanilla along with the last egg.
Fold in the flour mixture into butter mixture alternately with milk, making three additions of each.
Fold in blueberry mixture, leaving some cinnamon streaks.
Spoon into greased 6-cup (1.5 L) Bundt pan or six 1-cup (250 mL) Bundt pans, spreading batter higher at edges.
Bake in a preheated oven for 40 to 45 minutes or 25 to 35 minutes for individual cakes or until top of cake springs back when pressed.
Let cool on rack for 15 minutes; invert and unmould.
Sprinkle with icing sugar and serve warm.
Hop over to my #BundtAMonth page which showcases all the gorgeous bundts we've baked so far or to our Pinterest board which features 300+ recipes.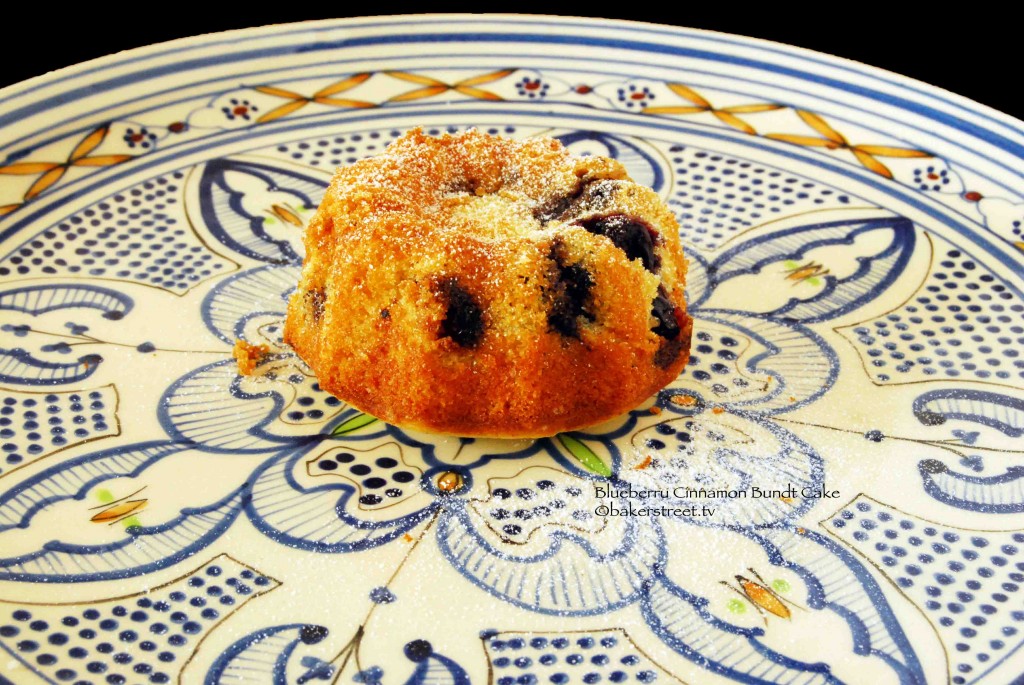 We are dedicating this month's #BundtAMonth to those who were impacted by Hurricane Sandy. If you would like to help, you can donate $10 by texting the word "RedCross" to 90999 or visit the American Red Cross website for more information.
Happy Baking!