I wouldn't know where to begin when it comes to introducing Nancy. She is an extraordinary cook and baker with a flare for stunning photography and the best money saving tips when it comes to shopping for groceries.
Her background of working at a grocery store helped her garner a lot of experience and she shares all these great tips on her blog – Coupon Clipping Cook.
The recipes and her step-by-step pictures really makes it tough to take your eyes off her blog. Her recent candy cookie cones will keep your eyes glued to a screen until they water.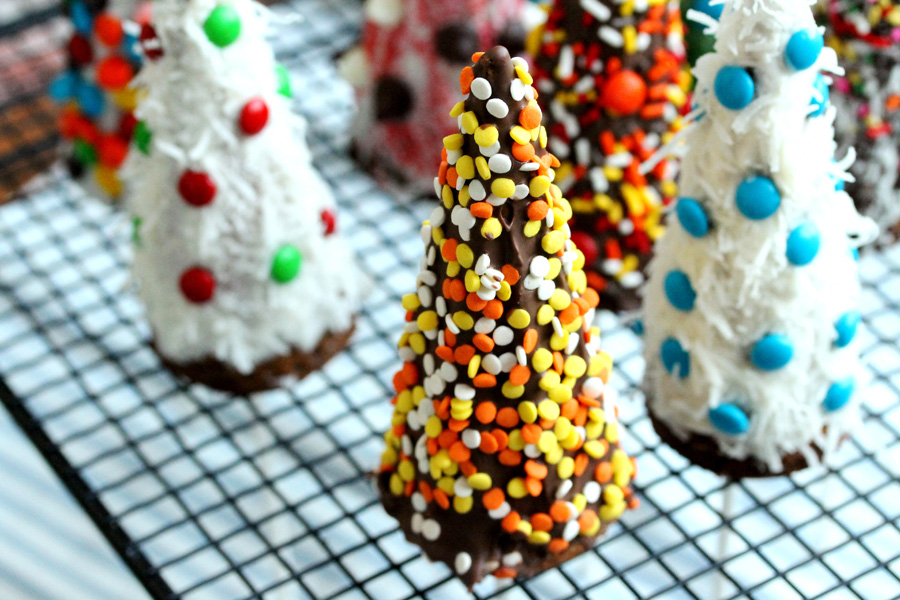 One of my all time favorite cookie recipes from her blog is this Cupcookie recipe. Baking in a cupcake tin is a fabulous idea but filling it with chocolate chips and  caramel is where the genius lies.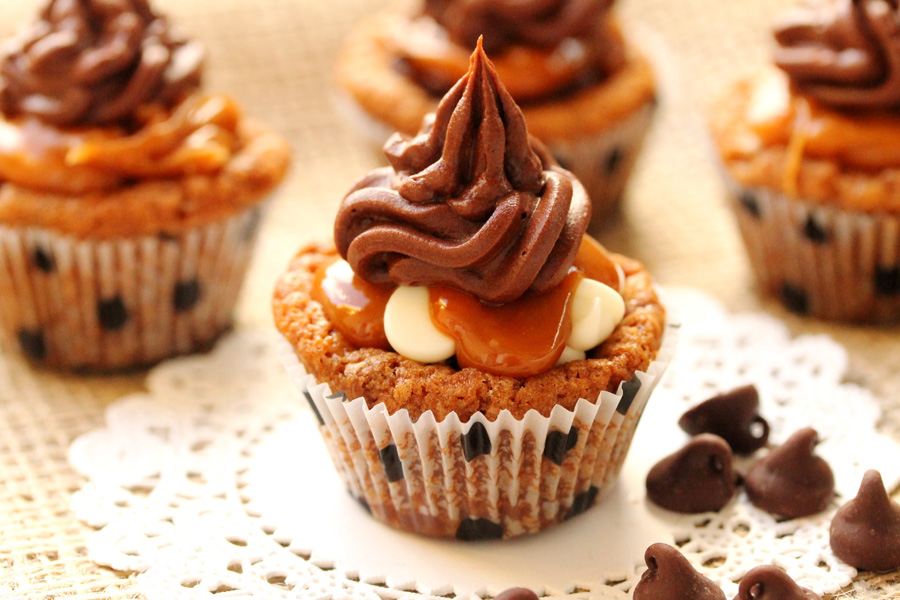 I bring to you another gorgeous guest post today. A part of the cookie series, this post focuses on simple and inexpensive packaging tips.
It's a privilege to be guest posting today on Anuradha's wonderful blog, Baker Street. Her blog is chock filled with nothing but deliciousness and amazing photography. No matter what the recipe is, when I look at Anuradha's pictures, I'm instantly craving the sweets or bread that she made.
Speaking of sweets, at the last minute have you ever wanted to give homemade cookies as a gift but didn't have one of those pretty tins on hand?
This has happened to me a number of times so I started keeping a roll of transparent packaging wrap on hand, along with some ribbon and problem solved.
Here are some packaging ideas where the transparent wrap and/or ribbon can come in handy.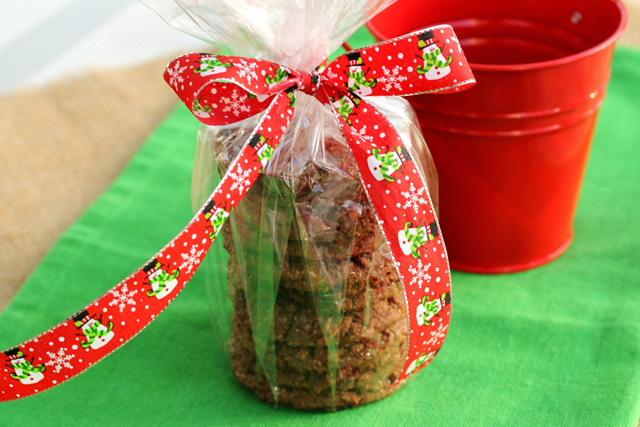 Sometimes it's fun to give small batches of cookies out to friends or family.
A quick way to jazz them up is to stack the cookies on a large piece of transparent wrap.
Then pull the corners of the wrap up and form a small "neck" just over the top of the cookies where you'll tie a ribbon.
Then "fluff" up the excess wrap that's on top of the cookies. If there's too much wrap on top, just cut some of it off.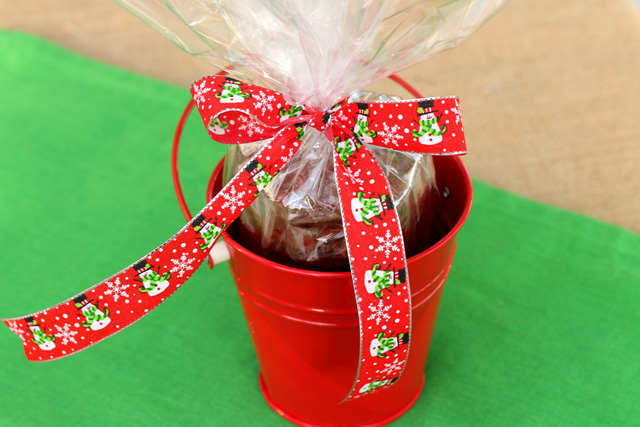 The wrapped cookies are cute enough as is.
But if you want to get fancy try putting the wrapped cookies in a cute container like a small bucket, mug, or Mason jar.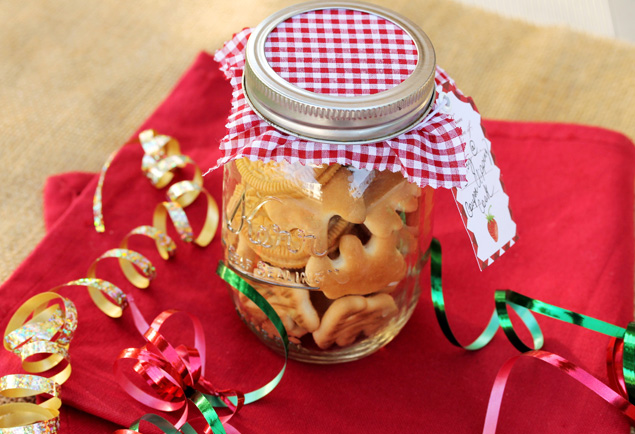 If the cookies are small, they may fit nicely in a Mason jar.
An added touch is to cut a piece of fabric in a square and lay it over the flat circular part of the lid. Then tighten the ring portion of the lid right over the fabric.
Holiday colored fabric works great for this.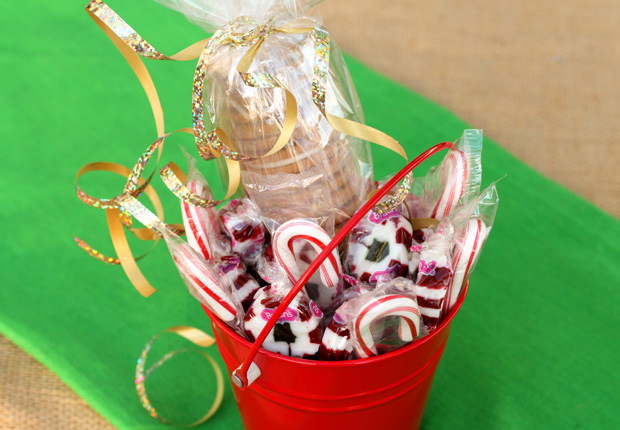 An easy way to add festive color when packaging cookies is to include Holiday candy around the cookies like in this little bucket….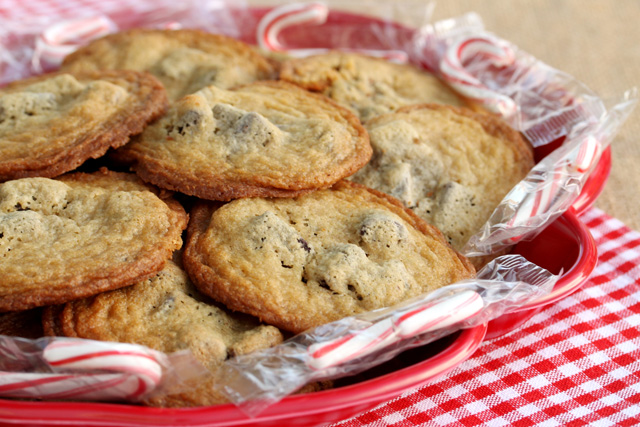 ….or,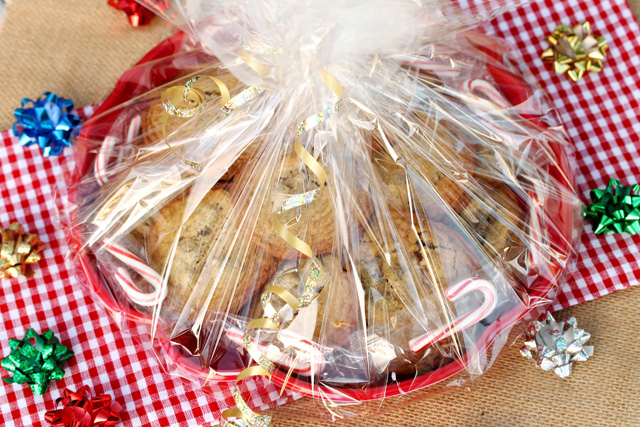 around this Holiday colored tray.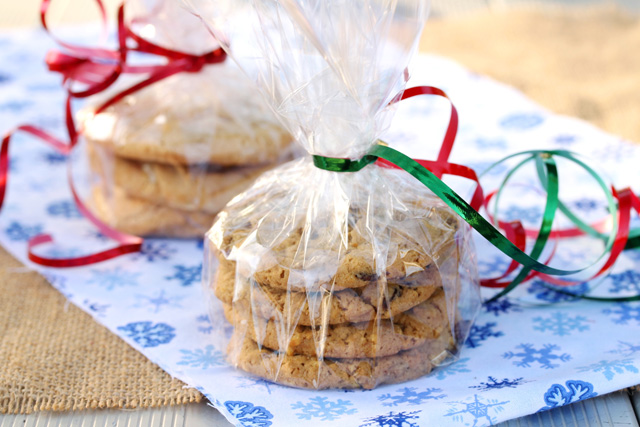 Gift baskets are one of my favorite things to make.
They don't need to be fancy schmancy either. Just a few items in the basket are fine.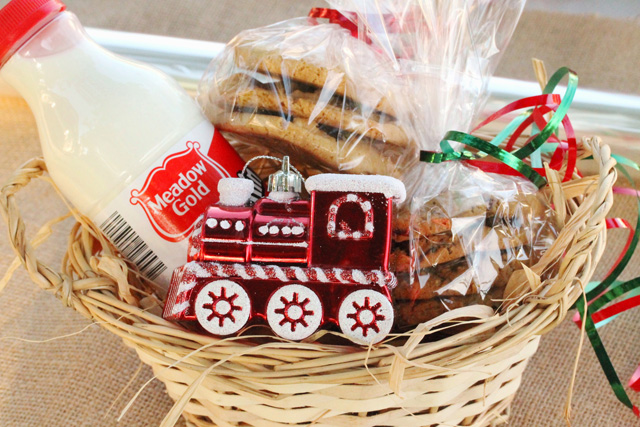 Here's a gift basket with cookies and milk….and a cute Holiday ornament for good measure.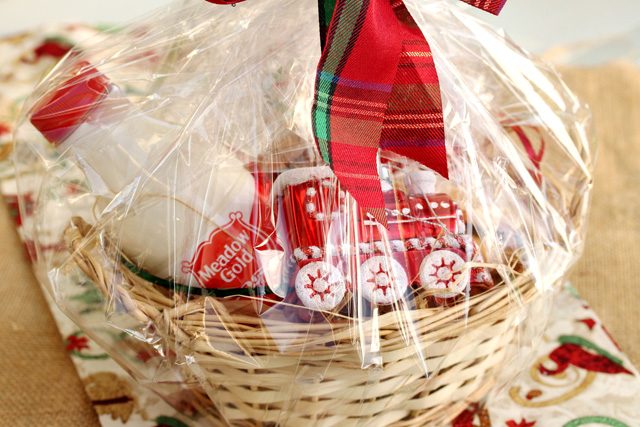 Before adding the goodies to the basket you can add raffia, or green Easter-type grass works great too.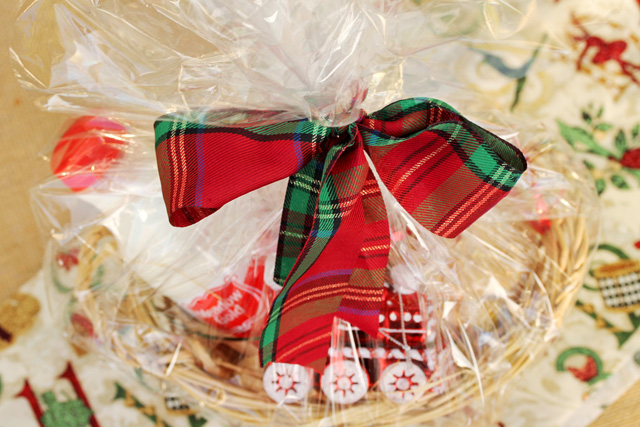 Then wrap the basket in the handy dandy transparent wrap with a ribbon and wella, a beautiful gift.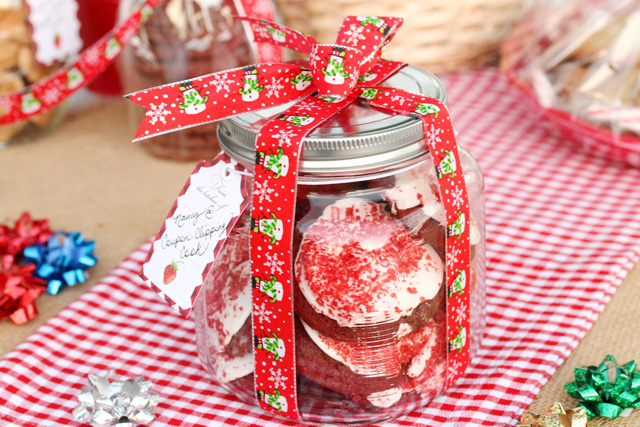 Another idea is to buy clear glass jar-type containers. They're inexpensive and really show off the cookies.
Just add a ribbon and a bow.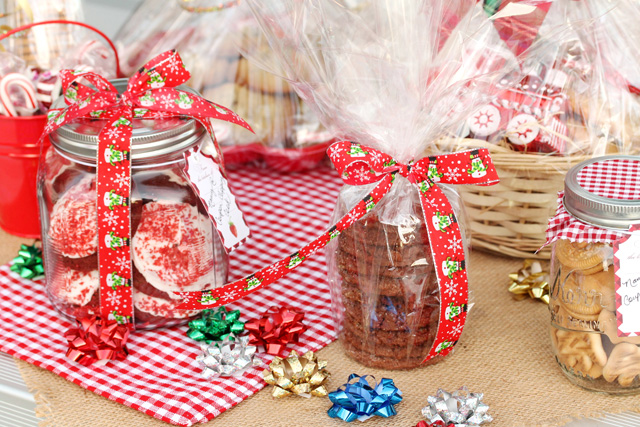 So there you have it. I hope you get cookie packaging inspiration from these ideas.
And a huge thank you to Anuradha for inviting me to guest post on Baker Street!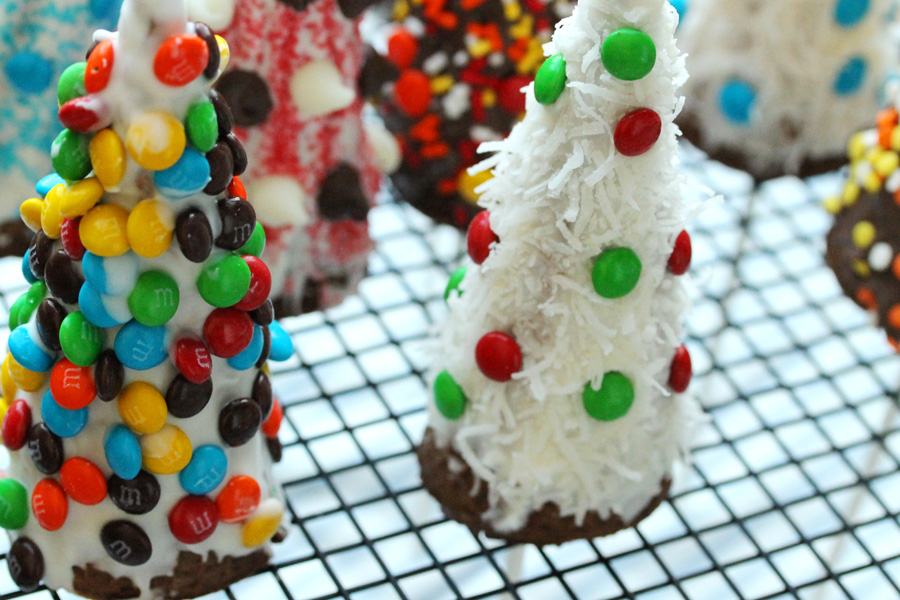 Thank you, Nancy. Your idea of milk and cookies in a basket is absolutely adorable.
Did you miss the two recipes I featured earlier on in this series? I featured two delicious recipes. Here is my twist on old-fashioned peanut butter blossoms: Biscoff Blossoms.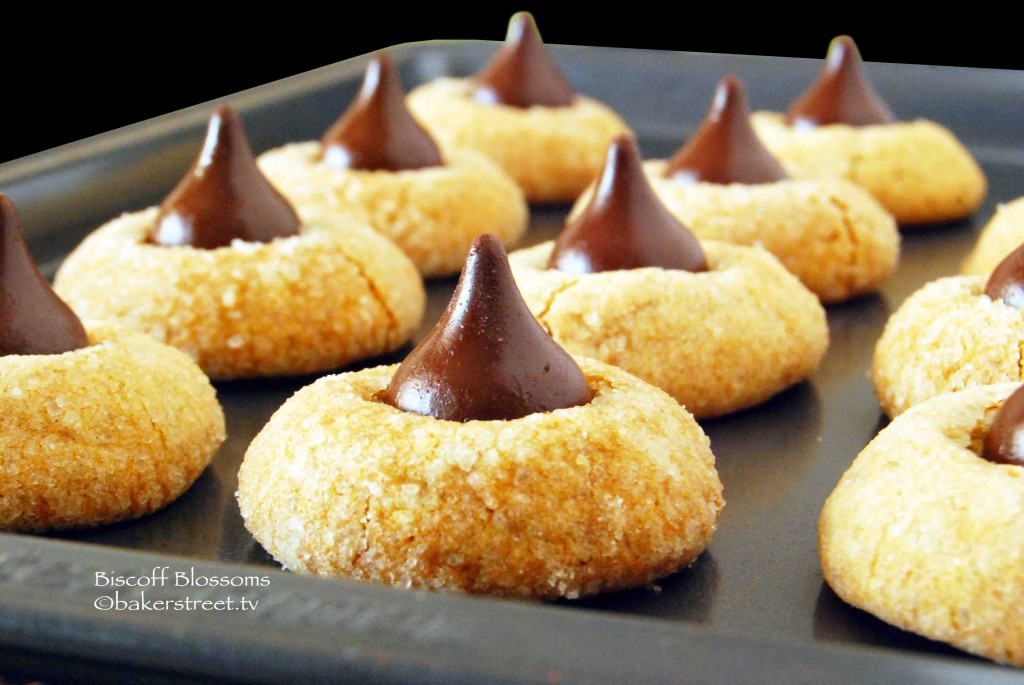 And here is the recipe for oozy gooey Monster Cookie Revel Bars, which is perfect for Halloween.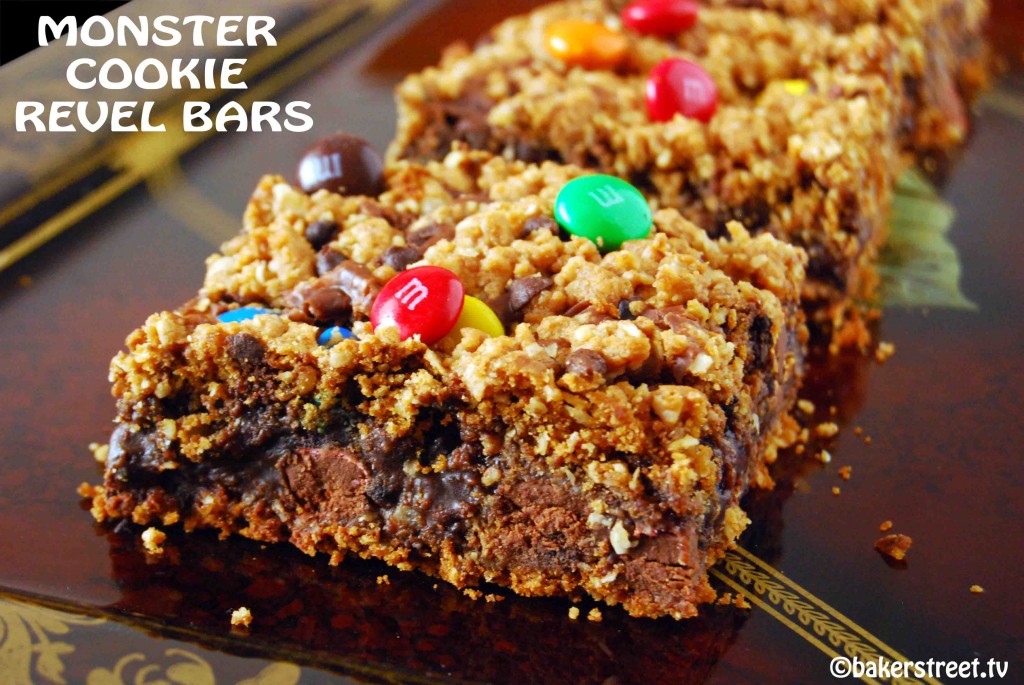 Click here for 8 variations (that's right, 8!) on the traditional chocolate chip cookie.
Happy Baking!