This recipe is for everyone. I love the traditional monster magic bars: you can't possibly resist a Graham cracker crust with a gooey chocolate layer.
But this one is just perfect for the child in you with oats, butter, nuts, cinnamon and chocolate coming together beautifully to make a delicious treat. Let loose and take a large guilty bite that you will not regret.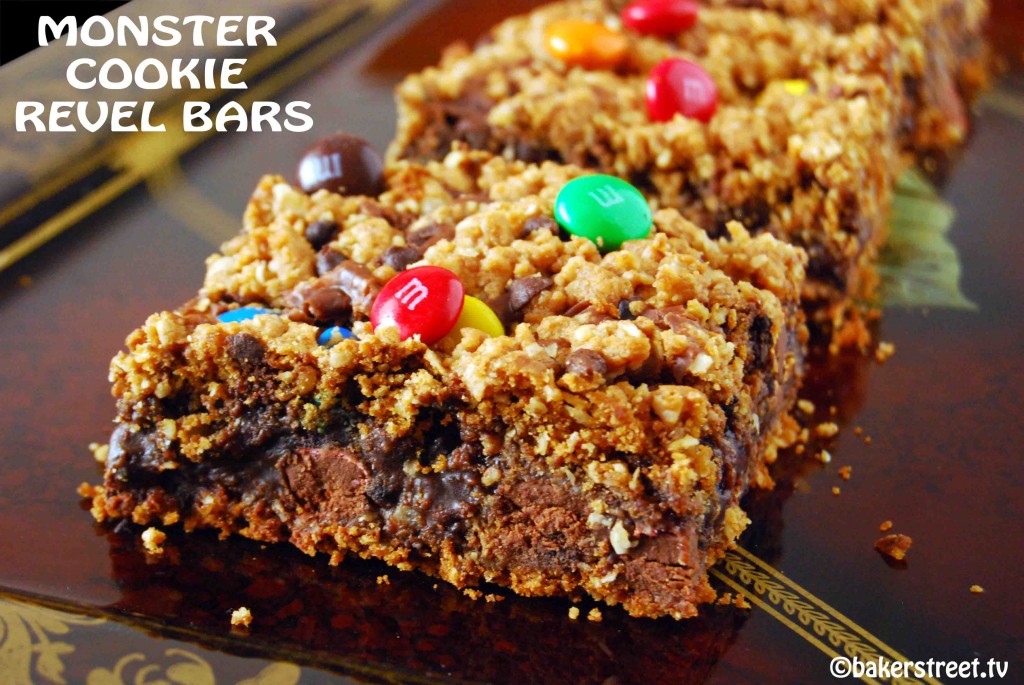 Perfect for the bake sale. The concoction of oatmeal, peanut butter, biscoff, M&Ms and condensed milk could be your feature item, guaranteed to sell out first.
Perfect for breakfast. Well maybe not every day. But say bye-bye to a sluggish morning with this punch-packing dose of sweetness.
The original recipe calls for peanut butter only. And am I glad that I expanded on it. I retained the peanut butter in the cookie layer but for the condensed milk and chocolate layer I added biscoff and it tasted like heaven.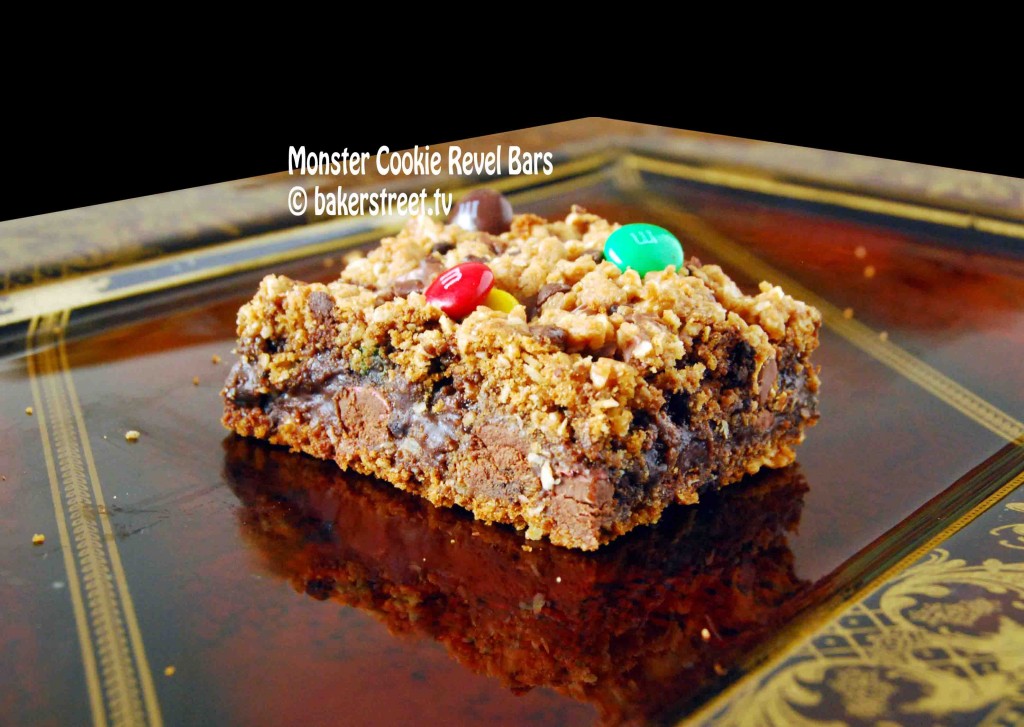 Perfect for Halloween. The treat will trump the trick.
Monster Cookie Revel Bars
Author:
minimally adapted from lorrie's mississippi kitchen
Ingredients
For The Cookie Base:
1½ cups quick cooking oats
1¼ cups all-purpose flour
½ teaspoon baking soda
½ teaspoon salt
½ cup butter, softened
¼ cup creamy peanut butter
1 cups packed dark brown sugar
1 egg
1 teaspoons vanilla extract
½ cup mini M&M's
½ cup mini chocolate chips
For The Chocolate Layer:
½ (14-ounce) can sweetened condensed milk
¾ cups semisweet chocolate chips
¼ cup creamy biscoff spread
1 tablespoons butter
¼ teaspoon salt
Instructions
Preheat oven to 350 degree. Spray a 9×13 inch baking pan with nonstick cooking spray.
For The Cookie Base:
In a medium bowl, combine the oats, flour, baking soda, and ¼ teaspoon salt in a mixing bowl; set aside.
In a large bowl, beat butter, peanut butter, and the brown sugar until light and fluffy. Beat in the egg and vanilla.
Gradually beat in the flour mixture until mixed. Stir in the candy and mini chocolate chips.
For the Chocolate Layer:
In a medium saucepan, heat sweetened condensed milk, chocolate chips, biscoff, butter, and salt over low heat, stirring until smooth. Remove from heat.
Assemble:
Pat ⅔ of the oat mixture into the bottom of the prepared pan. Spread chocolate mixture evenly over the top, then dot with remaining oat mixture. Its okay if its not evenly done.
Bake for 25 to 30 minutes until golden brown on top.
Let cool completely on a wire rack, then cut into bars.
This week we have a super fun #SundaySupper theme for you. Leslie from La Cocina De Leslie is hosting and leading the way this week. This post is going to become your one stop shop for Halloween recipes.
Bewitching Brews:
Ghoulish Gruel:
Haunted Snacks:
Spooky Sweets:
You can also head over to my
halloween
and
pumpkin
pinterest board where I have hundreds easy peasy halloween ideas and pumpkin recipes.
Happy Baking!