At this point, I'm sure you think I've gone nuts with baking cookie cakes but I couldn't help it. I mean, oreo stuffed ANYTHING should be shared right away. After baking the chocolate chip cookie cake and doing an M&M and chocolate chip version of it, I gave the chocolate chips a rest and used oreo cookies instead.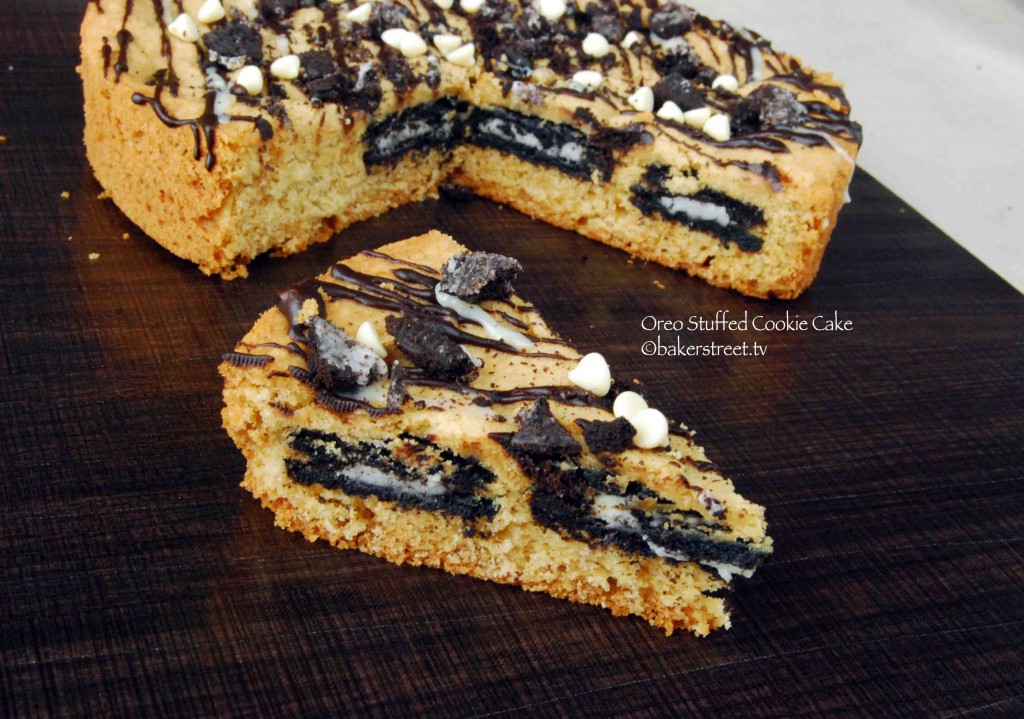 I recommend you bake this in a slightly bigger pan. Say an 10″ so that the batter is spread really thin and you get a minimal layer of batter enveloping the oreo cookies. Otherwise you could land up with too much batter on top and the cookies will just sink below.
There are two ways to use the oreo cookies in this recipe. You could either add crushed cookies to the batter before baking. In which case, they'll be evenly spread and you can bake it in a 8″ pan.
The other way to do it is the one I prefer: Pour half the batter in a 10 cm pan, layer it with whole oreo cookies and then cover it with the remaining batter. However, if you're using this method but baking in a smaller pan, then I recommend adding a cup of chocolate chips because you don't want to end up with too thick a layer of batter and no chocolate or cookie in it.
Enough said. Over to the recipe: A cookie cake stuffed with oreos!
Oreo Stuffed Cookie Cake
Ingredients
½ cup butter
¼ cup sugar
⅓ cup brown sugar
1 egg
½ teaspoon vanilla
1 cups flour, plus 2 tablespoons flour
½ teaspoon salt
½ teaspoon cream of tartar
½ teaspoon baking soda
¾ cups semi-sweet chocolate chips
8 to 10 whole oreo cookies
¾ cup chocolate chips (optional)
Instructions
Preheat the oven to 350F and lightly grease a 10 inch baking tin well.
In a medium bowl, mix flour, salt, baking soda, and cream of tartar. Set aside.
In a large bowl cream butter and both the sugars
Add egg and vanilla.
Add dry ingredients to the batter and mix until well blended.
Spread half the batter in a prepared baking tin and cover with whole oreo cookies. Top the cookies with the remaining dough and bake in a preheated oven for 20 to 25 minutes.
Notes
In case you're using Chocolate Chips: Then add a ¾ cup after the dry ingredients and mix with a spatula. For the topping: I used a light drizzle of bittersweet and white chocolate, crushed an oreo cookie on top and sprinkled a few white chocolate chips. ( This is completely optional)
Happy Baking!