The great thing about Facebook are the birthday reminders. Not so great? They tell you on the day itself. Right about then I realize that I have to bake a cake in double quick time. Other times, it's a gift or a request by someone in the family… and this happens all the time. What I'm sharing today is my Go To cake recipe.
I'm in love with the simplicity of this effort. The recipe demands pantry staples and with a quick whisk of ingredients you have a charming little cake in the oven, one I assure you tastes delicious. Another reason I go back to this recipe all the time is because I am yet to meet someone who will refuse a home-made chocolate cake. And this one is no-fuss, you don't really need a fancy frosting. A drizzle of chocolate sauce or powdered sugar does makes for instant appeal.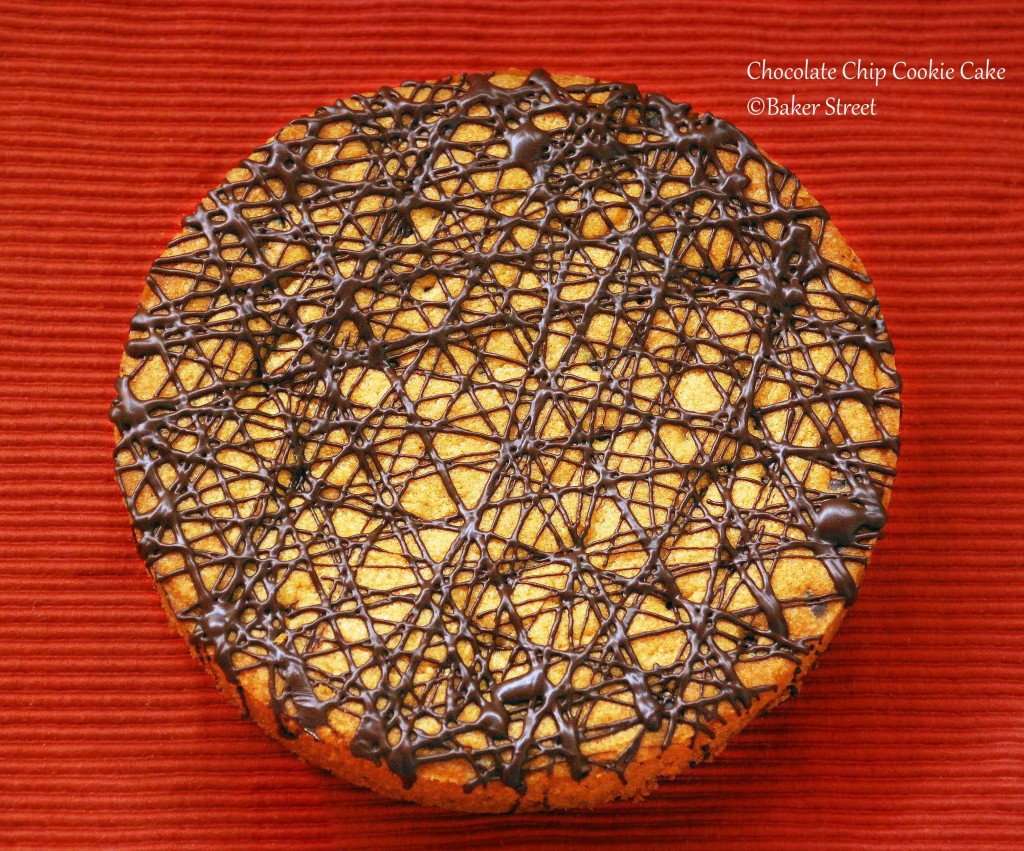 Chocolate Chip Cookie Cake
Author:
Adapted from Food.com
Recipe type:
Cake, Dessert, Chocolate
Ingredients
1 cup butter
½ cup sugar
⅔ cup brown sugar
2 eggs
1 teaspoon vanilla
2 cups flour, plus 4 tablespoons flour
1 teaspoon salt
1 teaspoon cream of tartar
1 teaspoon baking soda
2 cups semi-sweet chocolate chips
Instructions
Preheat the oven to 350F
In a medium bowl, mix flour, salt, baking soda, and cream of tartar. Set aside.
In a large bowl cream butter and both the sugars
Add eggs and vanilla.
Add dry ingredients to the batter and mix until well blended.
Stir in chocolate chips.
Spread the dough in a lightly greased cake tin and bake for 20 minutes.
Notes
Variations: I recommend trying this cake the way it is but if you like you can add raisins, nuts or dried fruits.
Happy Baking!
[Update 31st July: Also see M&M and Chocolate Chip Cookie Cake]