Another Monday and many new muffin lovers joining us. First-timers, welcome!  Do a couple of minutes to go through my Muffin 101 guide, which (hopefully) will help you with little tips and tricks to bake muffins.
To counterbalance the sinful mini jam filled muffins I'm baking today, I'll use this opportunity to re-plug last week's healthy granola muffins which were made using homemade granola.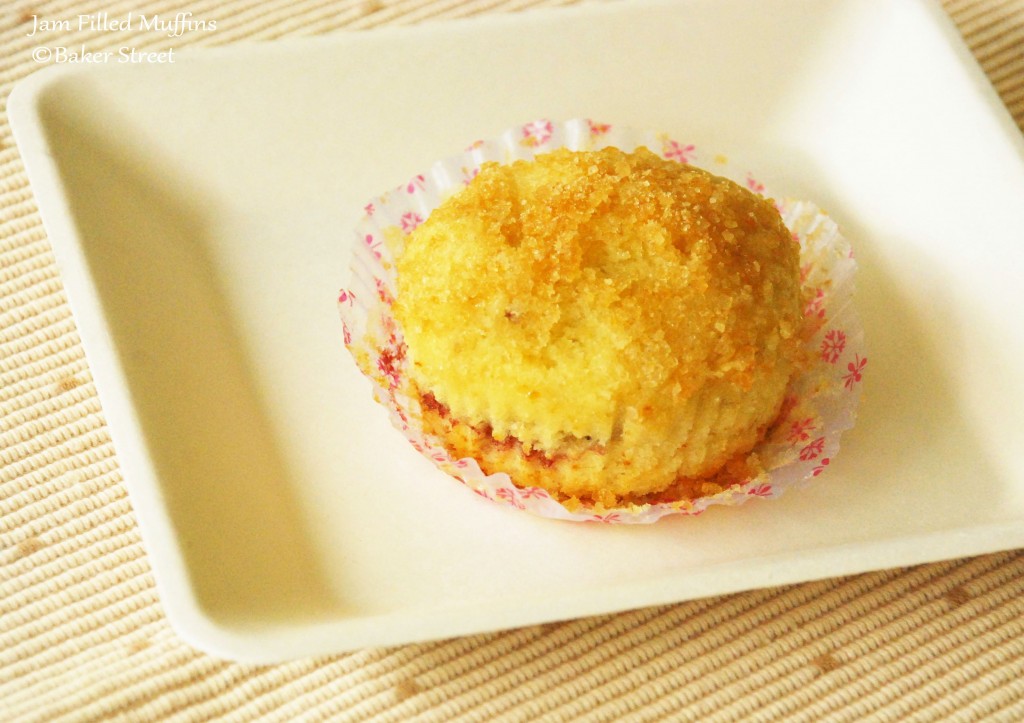 This recipe is basic and easily adaptable. You can add streusel, just sprinkle some brown sugar like I did, or jam and fresh fruit, or you could have a look at my round-up and see 13 versions of this muffin.  What would have made this super special is using homemade jam but honestly, my demanding day job did not leave any scope for that to happen this week. A homemade peach jam would have just been perfect! I used a raspberry and blueberry jam and they tasted great.
If you'd like to join us next Monday, click here and drop me a quick line.
Muffin Monday: Jam Filled Muffins
Author:
adapted from allrecipes.com
Recipe type:
Muffin, Dessert
Ingredients
13/4 cups Flour
½ cup sugar
1 tablespoon baking powder
½ teaspoon salt
⅔ cup milk
⅓ cup butter or margarine, melted
2 eggs
1 teaspoon grated lemon peel
½ cup jam ( of your choice)
Instructions
Preheat the oven to 400F
In a large bowl, combine flour, sugar, baking powder and salt.
In another bowl, lightly beat eggs, milk, butter and lemon rind.
Pour into the dry ingredients and the stir until moistened.
Spoon half batter, make a well, add jam, spoon the remaining batter and bake in a preheated oven for 20-25 minutes until the top is golden.
Muffin Monday: Round Up
Happy Baking!