Cookie Bars are an old favorite. Simply put, they are a concoction of instantly-identifiable flavors put together over a caramelized graham cracker crust.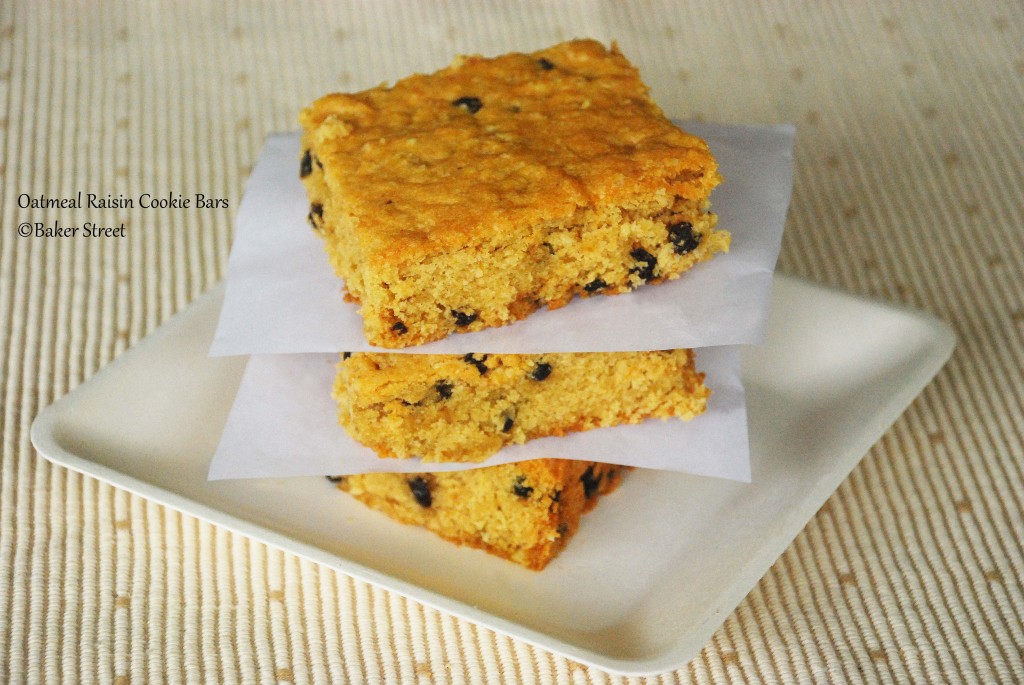 When I decided to put together a post on cookie bars, it was hard to pick a first. They are all so good. Bar cookies are like snowflakes, with a little experimentation, you can have nearly infinite flavors and combinations to try, with no two being the same.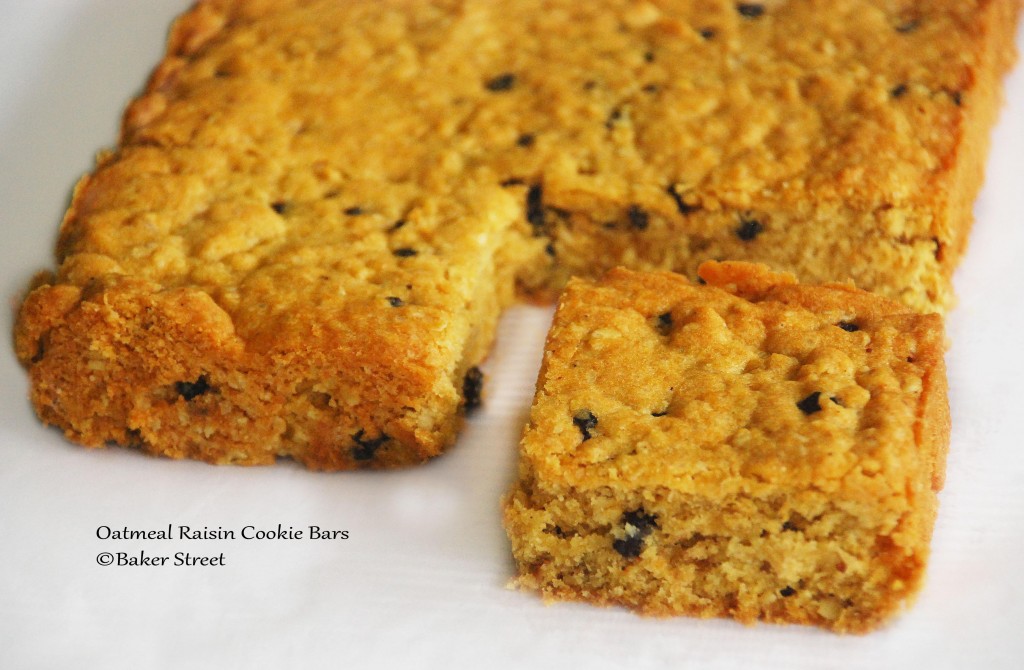 I baked these no fuss oatmeal raisin cookie bars: they are soft and chewy and the tiny raisins add a sweet and tangy flavor which make for a perfect breakfast treat.
Oatmeal Raisin Cookie Bars
Author:
Adapted from Food.com
Recipe type:
Bars, Breakfast, Dessert
Ingredients
½ cup butter
½ cup brown sugar
⅓ cup white sugar
1 eggs
½ teaspoon vanilla
¾ cup all-purpose flour
¼ teaspoon baking powder
½ teaspoon cinnamon
1½ cups rolled oats
¾ cup raisins
Instructions
Preheat the oven to 350F
Grease a 13 x 9 inch baking pan with oil or butter, then line with parchment paper or foil, pressing paper down firmly so it stays. Leave a slight overhang of paper so that it is easy to remove.
In mixing bowl cream butter until light. Add the sugars and beat until smooth. Add the egg and vanilla and mix in well.
In a separate bowl mix the flour, baking powder and cinnamon. Mix into the batter, then stir in the oatmeal and raisins.
Press dough evenly into the lined baking pan.
Bake in a preheated oven for 15 to 18 minutes, until golden. Bake a bit less for chewier bars, a bit more for crispy bars.
Let cool for 3 or 4 minutes, then lift gently out of the pan.
Let it cool down for a couple more minutes and then cut into squares.
Happy Baking!