For this week's theme, the #SundaySupper team is gearing up to prepare dishes with 5 ingredients or less. I think we'll all agree that you don't need a plethora of ingredients to make a dish taste good and that extends to every cuisine, course or method of cooking.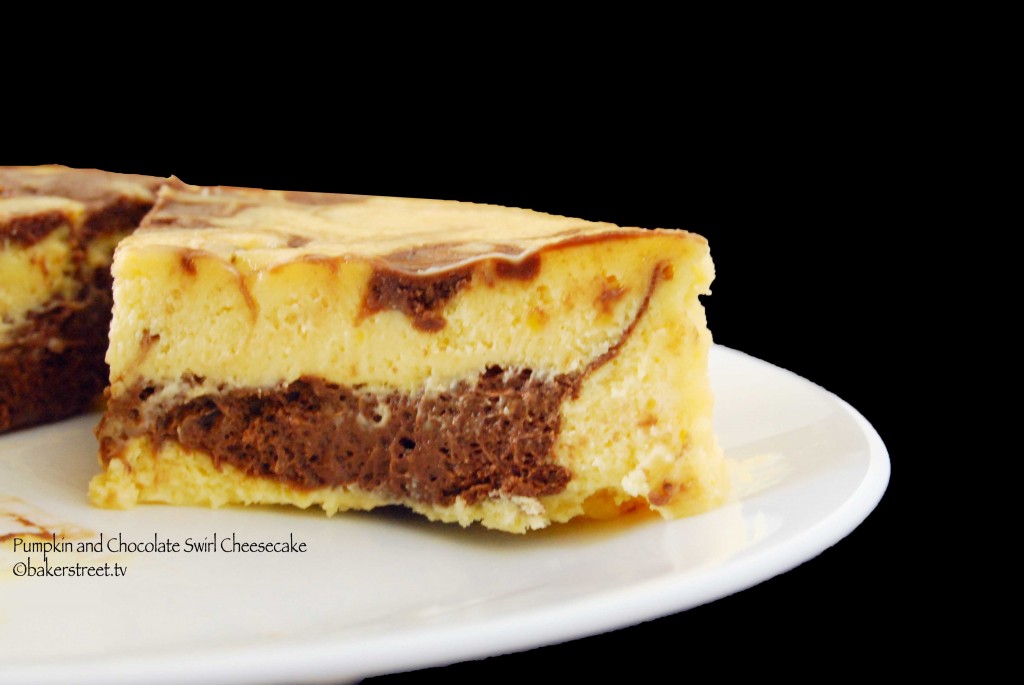 It extends to baking too. I can see how you'd imagine it being difficult to bake something with less than 5 ingredients, but one of my all time favorite books makes this totally possible. Abby's book, Desserts 4 Today, gives you over 100 recipes, with each of them calling for no more than 4 ingredients. I featured the Nutella Fudge Brownies from her book earlier. That one was a treat you could devour in under 30 minutes.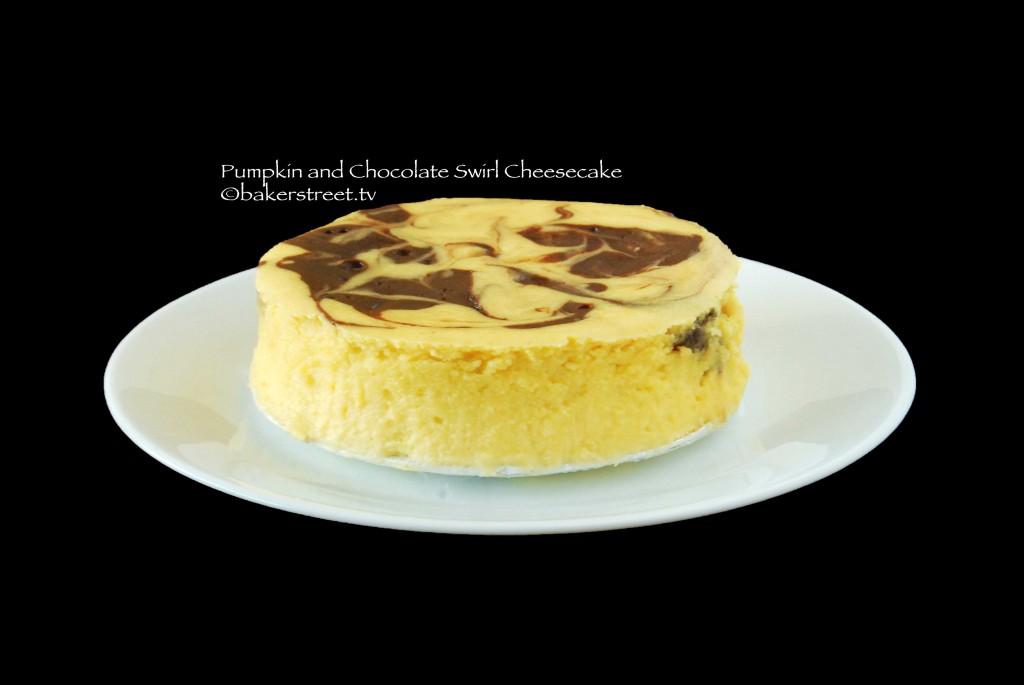 My twist of Abby's chocolate cheesecake was transformed into a pumpkin and chocolate swirl cheesecake. This recipe is so versatile – while I chose to bake it in a small loose bottom cake tin, it can easily be baked in small ramekins or foil muffin cups. You could also bake a double batch and store it in the freezer for a month. Just warm it up a little before you'd like to eat it.
If I haven't said it already, I LOVE cheesecake! This cheesecake is just perfect – its creamy and luscious. For this post I was bound by the 5 ingredient rule, but you're not. In which case I have some suggestions for you:
My first suggestion would be to not divide the batters. Make a simple and delicious all chocolate cheesecake (in which case you should use 4oz. melted chocolate).
Options for an all chocolate cheesecake: 
– Add the zest of an orange
– Use Mint or cherry extract
–  Make a chocolate or oreo cookie crust
– Use Nutella or white chocolate or both to drizzle on top.
– Add 1/2 teaspoon instant coffee granules dissolved in 1 teaspoon vanilla extract along with the cream cheese.
Options for a swirl cheesecake:
– Use a graham cracker or almond flour crust
– Skip the pumpkin and bake a vanilla and chocolate swirl cake
– Divide the batter using partly chocolate and partly your favorite spread – peanut butter, nutella, biscoff
– Serve with fresh berries and whipped cream.
Pumpkin and Chocolate Swirl Cheesecake
Author:
adapted from Abby Dodge | Dessert 4 today
Ingredients
8 oz cream cheese, at room temperature
⅓ cup granulated sugar
2 ounces chocolate (bittersweet or semisweet) – chopped, divided, and melted
1 large egg
¼ cup pumpkin puree
Instructions
Heat the oven to 300°F. Lightly grease a 6 inch loose bottom cake tin. (See Note 1)
In a medium bowl, beat the cream cheese with an electric mixer on medium speed until very smooth, about 2 minutes.
Add the sugar and beat until blended.
Slowly add the egg and mix until just incorporated. About 30 seconds.
Divide the batter into two bowls equally. Adding chocolate to one bowl and pumpkin puree to the other. Beat both the batters gently till they are properly mixed.
Spoon the batter alternatively into the prepared pan (of muffin tins if using) and bake in a bain marie till the centre of the cheesecake is barely jiggles til nudged – about 20 – 25 minutes. (See Notes)
Leave little part of the oven door open and let it cool completely. Cover and refrigerate until ready to serve or for up to 3 days (or freeze for up to 1 month).
Notes
1. In case you're using muffin tins – Line 6 standard muffin tins with foil liners and lightly grease with cooking spray. 2. If you're baking in muffin cups it wouldn't take more than 15 to 18 minutes. 3. Just before serving, drizzle 1 ounce melted chocolate (rewarmed, if needed).
Don't miss out on how the other cooks were inspired to play along with just 5 ingredients and create a delicious dish or dessert:
Breakfast, Starters, Butters and Jams:

Main Dishes:

Desserts:

Beverages:
Please be sure you join us on Twitter throughout the day during #SundaySupper. We'd also love to feature your easy go to recipes on our #SundaySupper Pinterest board and share them with all of our followers!
Sunday Supper is Isabel's mission to bring back Sunday Supper around the family table. This week's event was hosted by Amber Poole.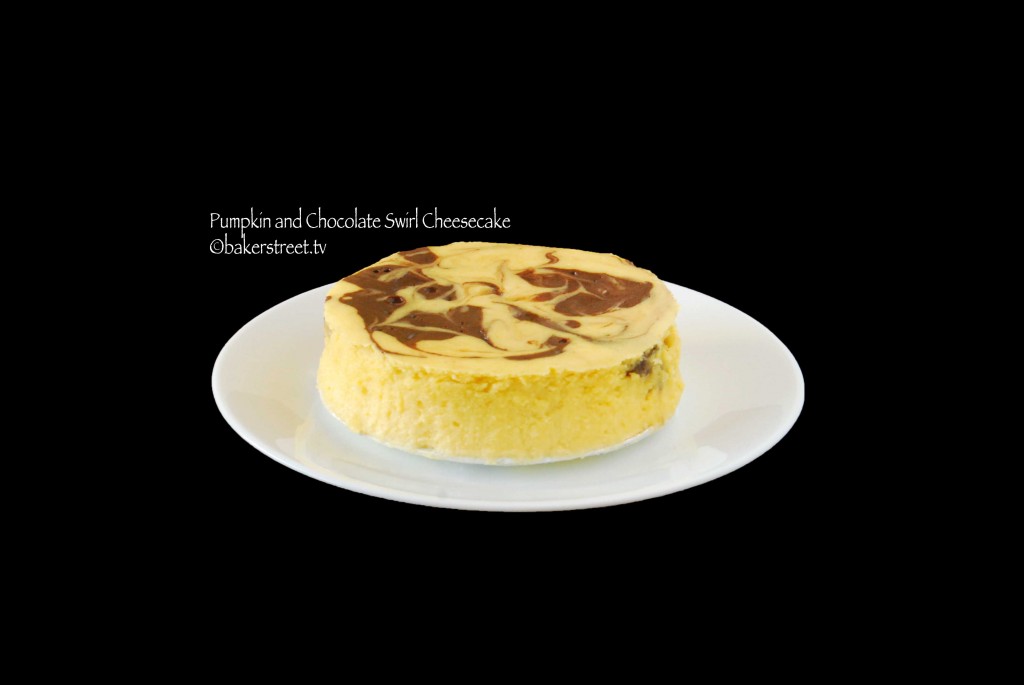 Happy Baking!