I'm on a major pantry cleaning spree and have decided to bake using everything that's available. I have a habit of randomly picking up things that I'd like to bake with, but if I don't find a recipe for them right away, they kinda run away into the quite corners of my pantry.I guess it's a factor of the right time and the right recipe. Does that happen with you to?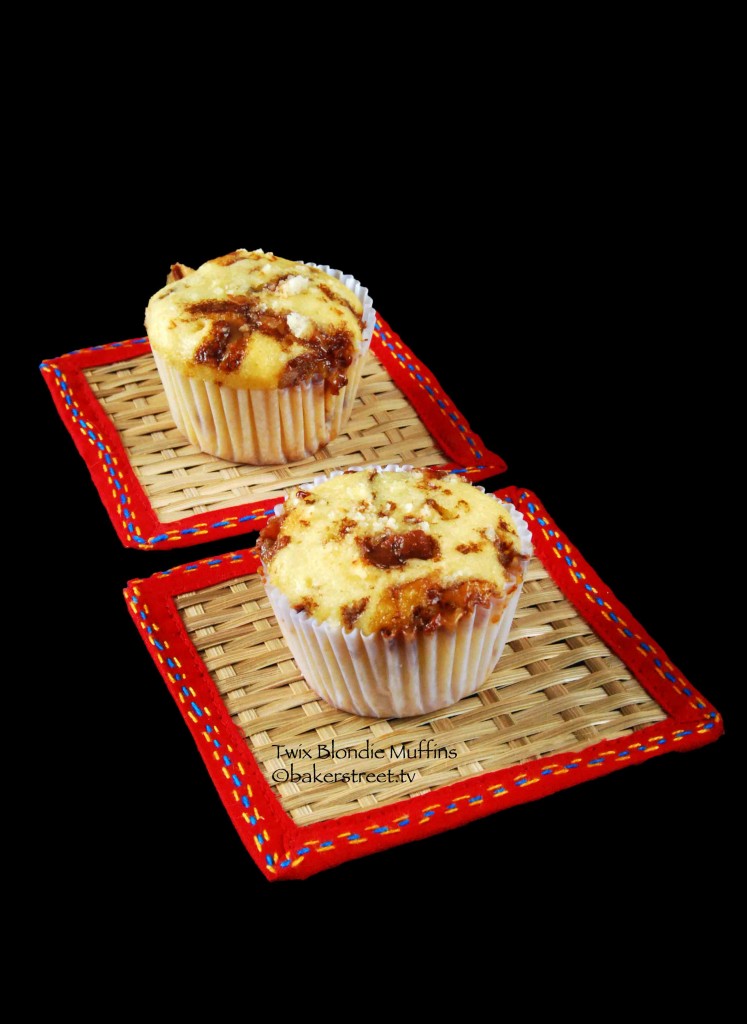 So I found these Twix bars that I had initially got to make brownies with. But the recipe I like (and I'll share it with you) is not quite a quick fix one. I really was in no mood to melt chocolate and all of that in the midst of my cleaning. I guess they're still lying because I really wanted to use them for baking, and not a midnight snack.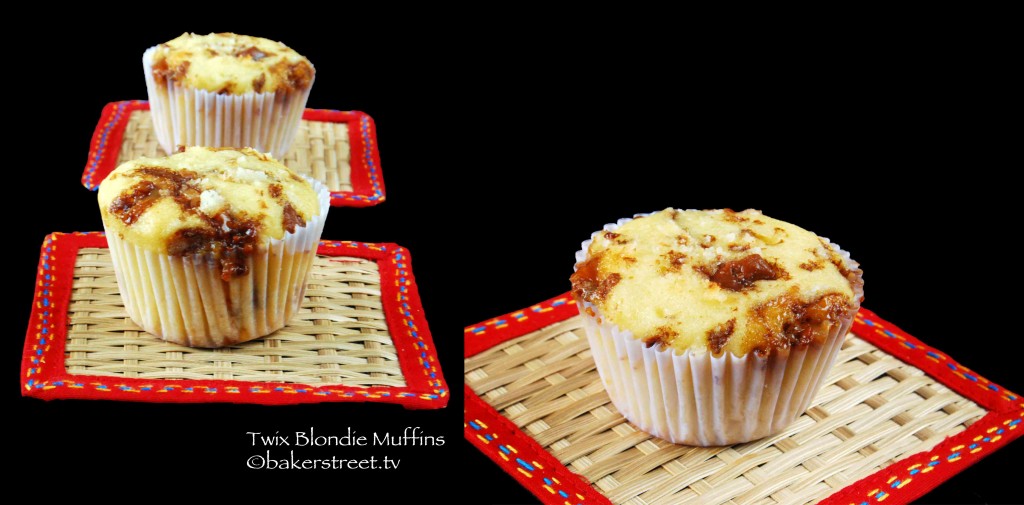 I feel adding candy bars in muffins was the best idea EVER! Imagine a tender crumb enveloping your favorite candy. Can you think of anything better to brighten up your mundane monday?
#MuffinMonday: Twix Blondie Muffins
Author:
adapted from chefkoch
Ingredients
1¾ cup flour
2 teaspoons baking soda
½ teaspoon baking powder
¾ cup sugar
½ cup of butter
1 egg
1 cup buttermilk
140 grams or 3 bars of Twix candy bars, chopped into small pieces
Instructions
Preheat oven to 375 degrees and line a muffin tin with paper liners.
In a large bowl whisk together the flour, baking soda, baking powder and chopped up twix bars.
In a medium bowl, cream together the butter and sugar. Add the egg and buttermilk and mix until combined.
Add the egg mixture to the flour mixture mix just until moistened.
Divide the batter equally among 12 muffin cups.
Bake at 375 degrees for 20-25 minutes. Cool on a wire rack
Notes
I exempted 3 tablespoons cocoa that the original recipe called for. If you'd like to add it in then mix it along with the flour.
Muffin Monday: Round Up