Nothing says how much you care and love someone better than a gift from the kitchen. And a jar of your berrilicious bread mix is one of the  perfect gift. Now I know most people love chocolate which is why I like to prep Brownies In A Jar. You can't go wrong with chocolate, right? But there are a lot of my friends who, like me, are not so big on chocolate. I have my moments with chocolate but I'd pick a cranberry almond bread over it on a regular day.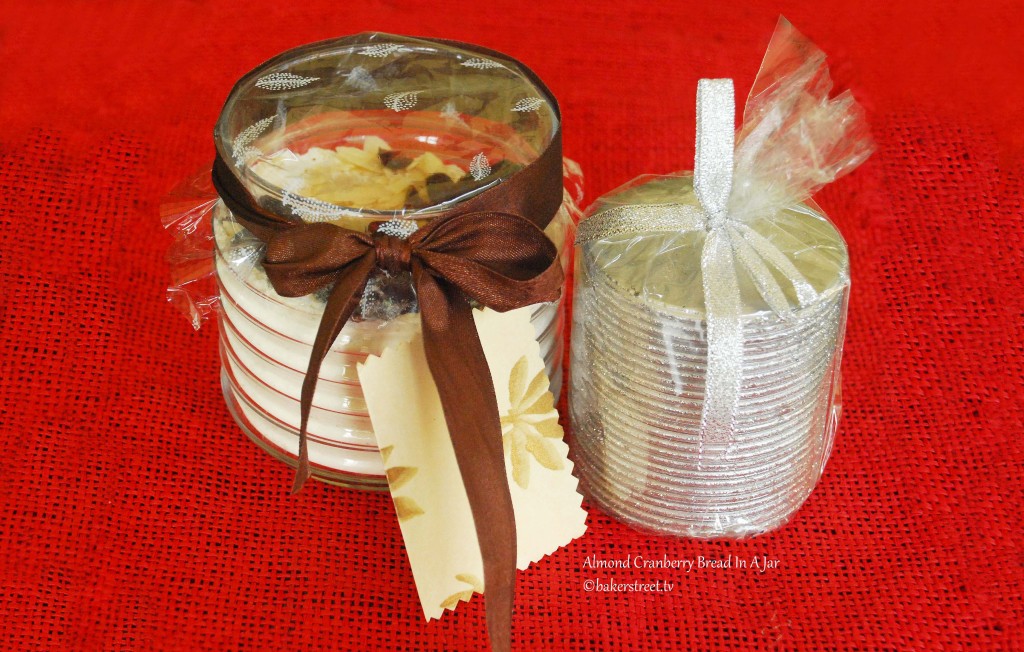 Even though this bread is easy to bake, you could go wrong with it. The key here is the mixing. Much like muffins, you cannot overwork the batter. That would yield a dry and hard bread. So it's okay if the batter is a little lumpy, they'll all go away while baking.
Variations: Substitute raisins, craisins or dried cherries in place of cranberries. Replace almonds with walnuts or pecans. Increase ground cinnamon to 1 1/2 teaspoons in mix.
If you plan to send this as a present or make it for yourself, remember to leave a note regarding the presence of gluten and nuts keeping in mind allergies. The mix keeps for a 30 – 45 days at room temperature.
Almond Cranberry Bread In A Jar
Ingredients
21/2 cups all-purpose flour
1 tsp. baking powder
1 tsp. baking soda
1 tsp. ground cinnamon ½ tsp. salt
1 cup oats (quick or old-fashioned, uncooked)
1 cup dried cranberries
½ cup blanched almonds
Ingredients for the Recipe Card:
¾ cup honey
¾ cup milk
12 tablespoon (1½ sticks) butter or margarine, melted and cooled
2 large eggs, lightly beaten
Instructions
For the Jar: In a large bowl, combine flour, baking powder, baking soda, cinnamon and salt; mix well. Add oats, cranberries and almonds; mix well. Transfer to a decorative jar with lid or other airtight container. Store in cool dry place.
Instructions for the Recipe Card:
Preheat oven to 350F.
Lightly spray four 6 x 3¾"disposable aluminum foil mini loaf pans with nonstick cooking spray. Or use two 8 x 4″disposable aluminum foil loaf pans.
Place bread mix in large bowl. In small bowl, combine honey, milk, butter and eggs with wire whisk or fork; mix well. Add to dry ingredients all at once; stir just until dry ingredients are moistened. (Do not overmix.) Pour into pans, dividing evenly.
Bake mini loaves for 23 to 27 minutes or regular loaves for 35 to 40 minutes or until tops of breads feel firm when touched and wooden pick inserted near center has a few moist crumbs clinging to it. (Do not overbake.)
Cool breads in pans on wire rack. Wrap tightly in aluminum foil. Store at room temperature up to 2 days. For longer storage, label and freeze. Makes 2 large or 4 mini loaves.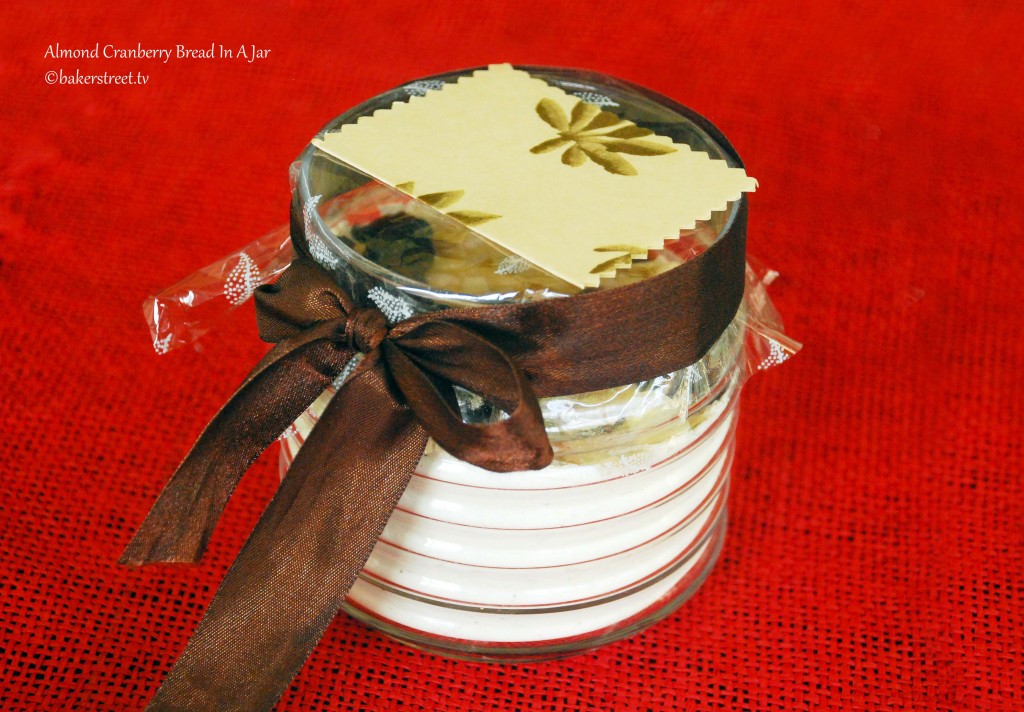 Happy Baking!