Bread Pudding is comfort food for K. Should there be traces of it in the house, he will make sure there will soon be none. Whether it's a weekday afternoon or midnight. I usually try not to make the same one over and over again to keep him guessing, though really the only thing he's concerned about is 'When next?' and not 'What next?'.  For a little weekend indulgence, we baked Nutella Bread Pudding sprinkled with walnuts with a creamy custard base and dusted with sugar.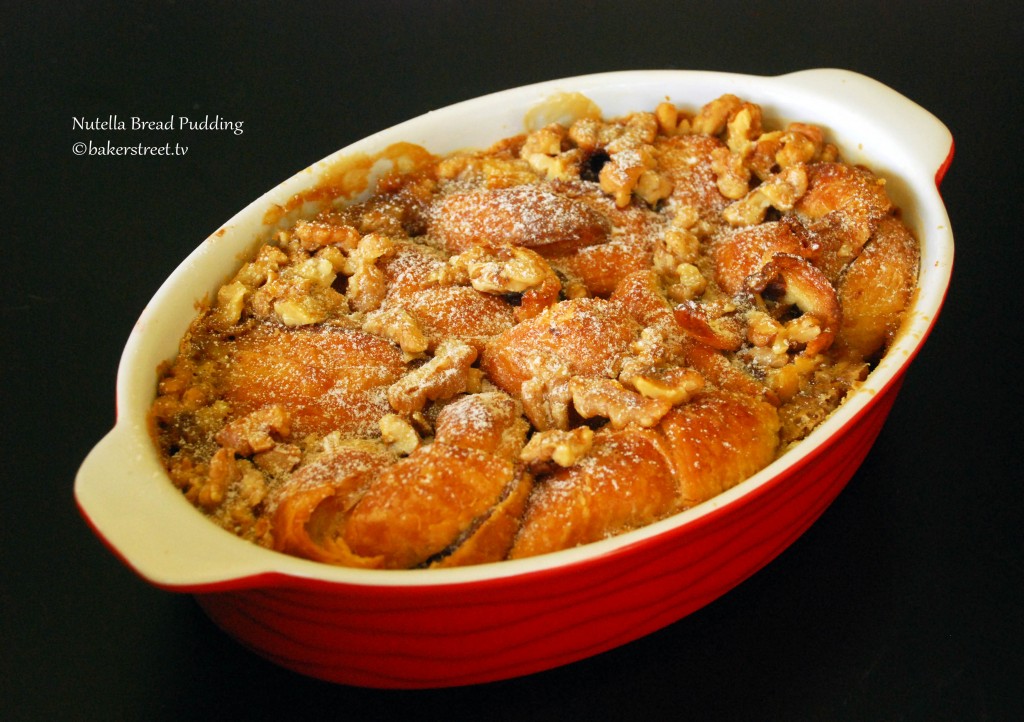 This recipe will not fail you. It's simple and a quick coming together of some pantry staples yields delicious results. I recommend that you stick this into the oven when your guests arrive or when you're an hour and a half away from dessert. This way the custard will still be oozing around the edges and the pudding will be warm. Perfect after a sumptuous dinner.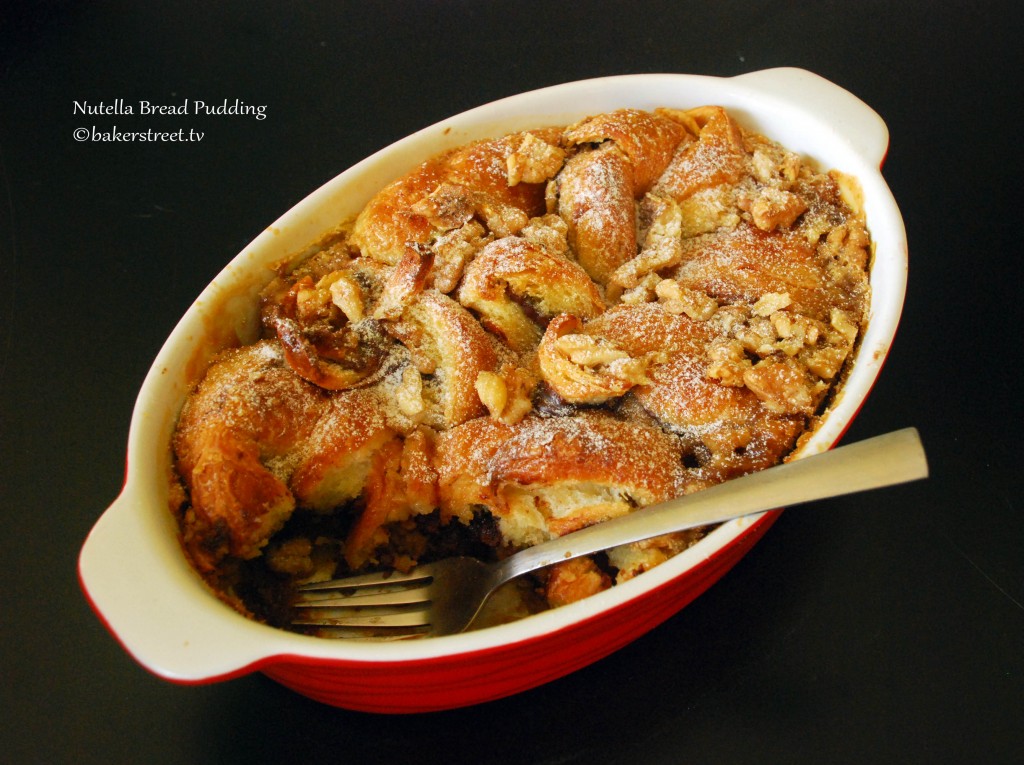 Changes and variations: You could switch the walnuts with pecans or any other nuts you like or avoid them altogether. If you're a nutellaholic, serve it with a drizzle of nutella or just plain vanilla ice cream or – you know you'll opt for this – both. You could also trade in the croissants with brioche, challah or French bread though I recommend the buttery croissants, which are always dependable.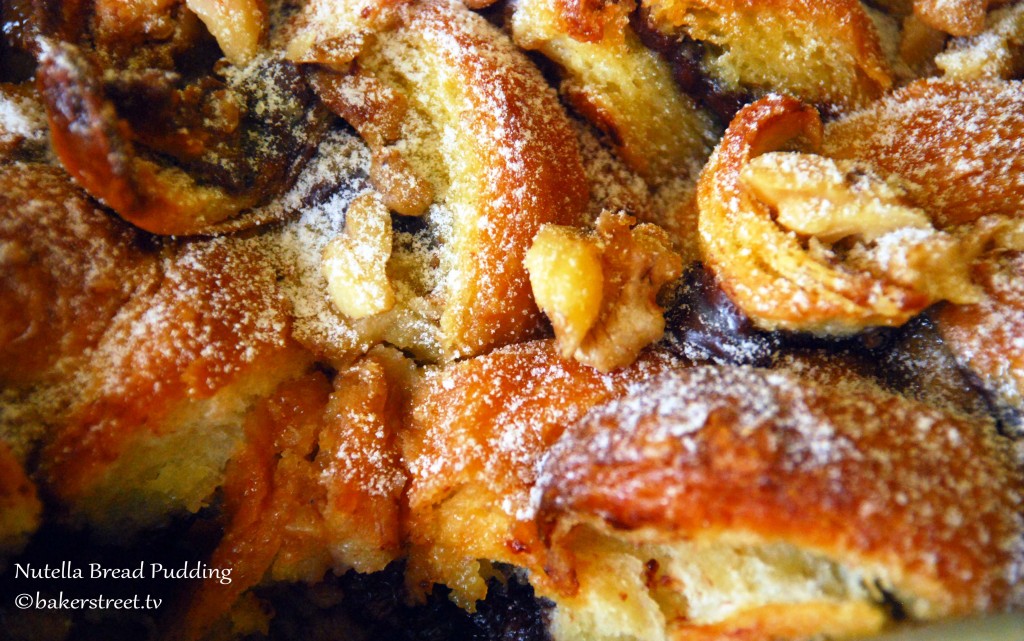 Onto the recipe: Nutella Bread Pudding: A nutellicious and creamy pudding that is decadent and perfect come rain or hail.
Author:
From Inspired Taste
Recipe type:
Dessert, Pudding
Ingredients
3 croissants (preferably 1-2 days old)
¾ cup Nutella
¼ cup pecan halves
2 eggs
1 cup cream
1 teaspoon vanilla extract
¼ teaspoon salt
½ cup powdered sugar
Instructions
Preheat the oven to 350 degrees F.
Slice each croissant in half lengthwise then slather one side with Nutella. Put the halves back together to make sandwiches and cut into 2-inch pieces.
Add sandwich pieces and pecans to a small baking dish (suggested: 10-inch x 5-inch loaf pan).
To make the custard, add eggs, cream, vanilla extract, salt and sugar to a medium bowl and whisk until combined.
Pour the custard over the sandwich pieces then gently push down the bread so the custard starts to absorb.
Cover with aluminum foil and bake in a 350 degree oven for 30 minutes then remove the foil and continue to bake uncovered for about 10 minutes until the bread pudding is golden brown, has risen slightly and the liquid has bee completely absorbed.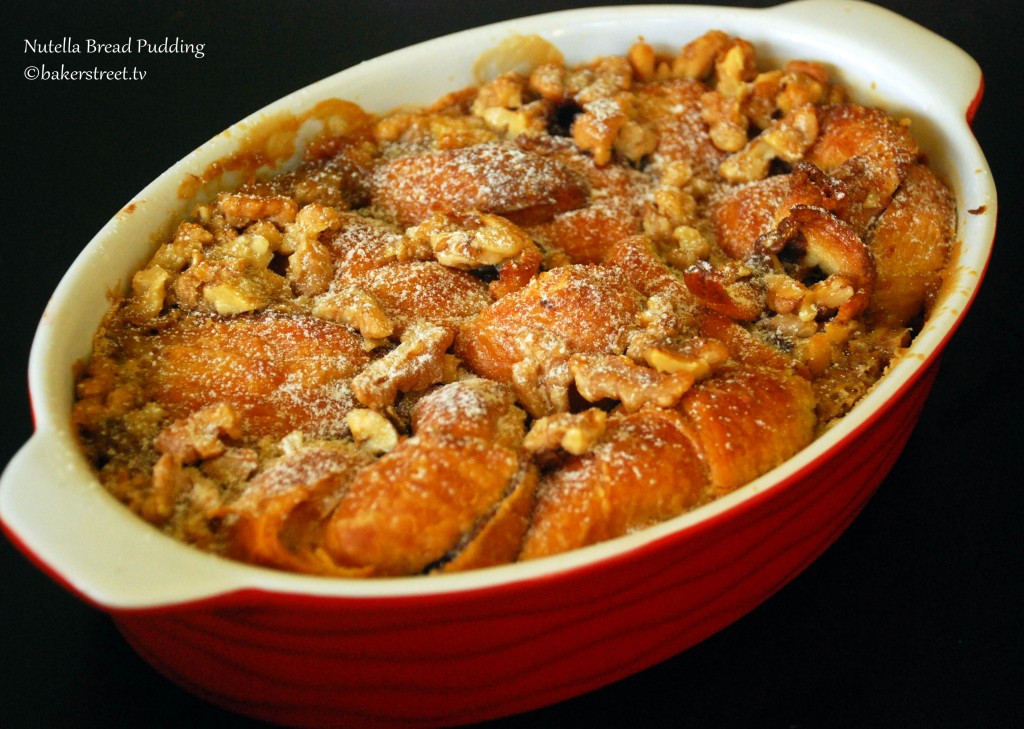 Happy Baking!