Windows, grey with frost. The morn, white. The north wind would have a color too if sharp and icy were of a color. She steps out. Her cheeks turn scarlet, ablaze in the sprinkle of snow. Her hair instantly dotted with white. She pulls her red faux fur closer. Her fingers spread evenly around a hot cup of hazelnut coffee.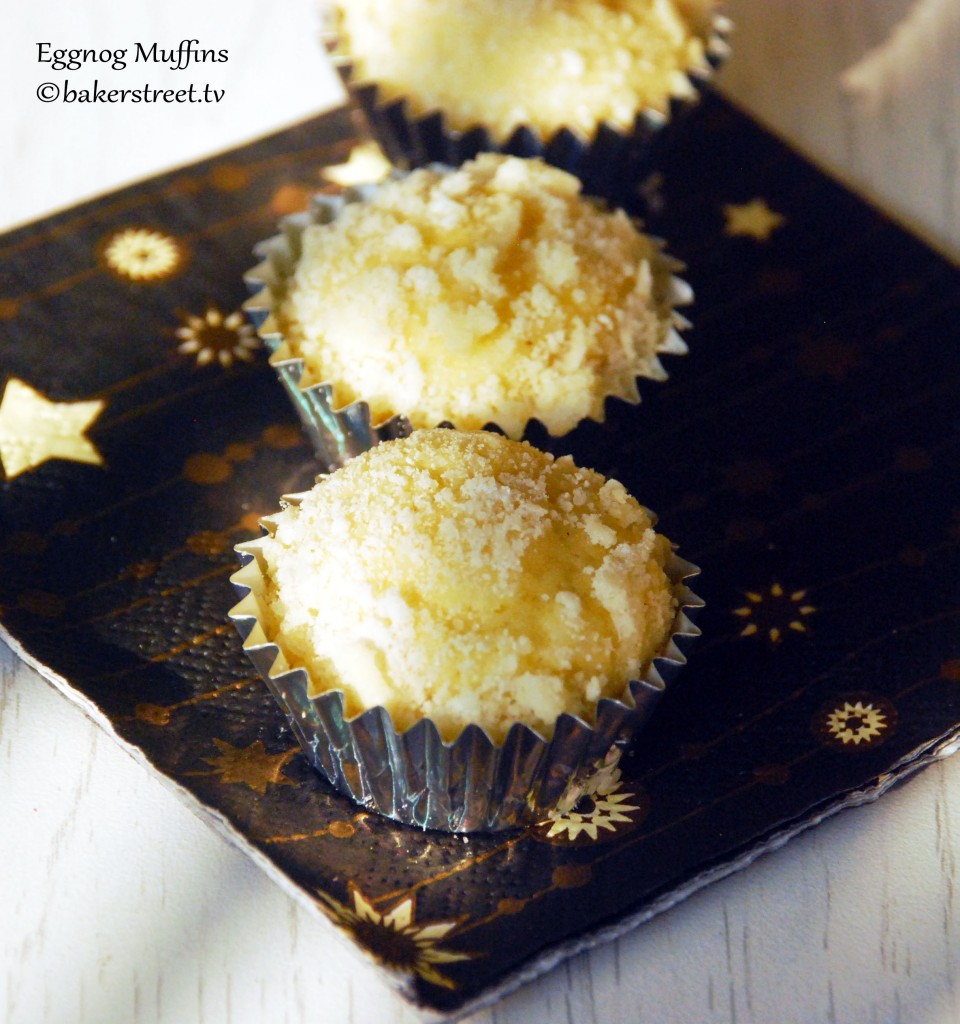 Carols sound faintly. So far, perhaps only a memory. Now a familiar voice rings in her imagination. A furry tree (not faux). Promise of presents. She turns back into her door. The house, warmer now with the scent of Christmas tickling her senses. The windows, clear.
A traditional holiday flavor in a streusel muffin, delicate and delicious.
Muffin Monday: Eggnog Muffins
Author:
From King Arthur Flour
Recipe type:
Dessert, Muffins
Ingredients
Batter
¼ cup (1/2 stick, 2 ounces) butter
¾ cup (5¼ ounces) sugar
2 large eggs
2½ cups (10½ ounces) King Arthur Unbleached All-Purpose Flour
2 teaspoons baking powder
1 teaspoon ground nutmeg
½ teaspoon salt
¼ teaspoon eggnog flavor or 1 teaspoon vanilla
1¼ cups (10 ounces) eggnog or half and half
Topping
½ cup (3½ ounces) sugar
½ cup (2¼ ounces) King Arthur Unbleached All-Purpose Flour
½ teaspoon nutmeg
⅛ teaspoon eggnog flavor, optional
3 tablespoons (1½ ounces) butter, melted
Instructions
Preheat the oven to 425°F. Line a muffin tin with 12 paper or silicone muffin cups, and grease the cups with non-stick vegetable oil spray; this will ensure that they peel off the muffins nicely.
In a medium-sized mixing bowl, cream together the butter and sugar till smooth. Add the eggs, beating for several minutes and scraping the bowl, till the mixture is smooth and light colored. Beat in the baking powder, nutmeg, salt, and eggnog flavor or vanilla.
Stir the flour into the butter mixture alternately with the eggnog or half and half, beginning and ending with the flour and making sure everything is thoroughly combined. Spoon the batter evenly into the prepared muffin cups.
Stir together all of the topping ingredients JUST till crumbly. Stir gently, and don't overmix; you don't want to turn this crumbly topping into a solid mass. Sprinkle the topping over the muffins.
Bake the muffins for 20 minutes, or until they're a pale golden brown. Remove them from the oven, and serve warm, or at room temperature.
Holiday Muffin Monday: Round Up
Happy Baking!