Most people I know, housewives/husbands or not, love to have a make-ahead dessert. One that is easy, delicious, no-fuss, uncompromising on taste and presentation, does not make a mess of the kitchen, doesn't call for fancy ingredients, and definitely one that you can have out the oven in 10 minutes. For times like these there I'm sharing with you … Brownies in a Jar.
What's the big USP here? This premix can be made days or weeks ahead (to be stored in an airtight container in a cool place) and ready for last minute use: where all you need to do is throw in the mix, a few eggs with a little butter and pop it into the oven.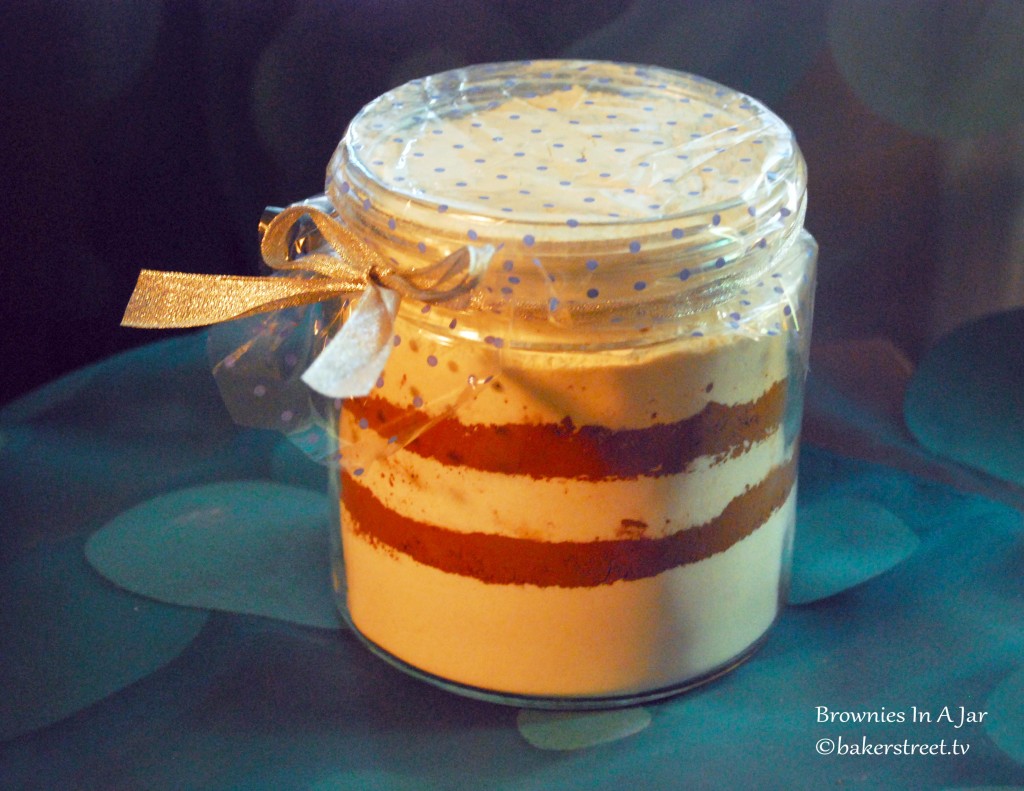 The base of this brownie welcomes additions and toppings of your choice including nuts, chocolate chips, a chocolate drizzle, a dusting of sugar, or a sprinkling of spice. Using a good quality cocoa powder will impart a rich chocolate flavor and comes highly recommended.
I've baked these fudgy brownies on several occasions, trying a different variation every time.
– Add a combination of dark and white chocolate chips to the batter or sprinkle on top once its in the pan
– Add 1/2 tsp mint extract for mint chocolate chip brownies. You could also sprinkle mint chocolate chips
– Add 1/2 cup of nuts of your choice. Walnuts, pecans, macadamia…
– Add 3/4 tsp cinnamon along with the dry ingredients for cinnamon chocolate brownies
– If you like it plain and simple, dust it with confectioner's sugar
– Drizzle it with either white and dark chocolate or both
– Serve it warm with a dollop of ice cream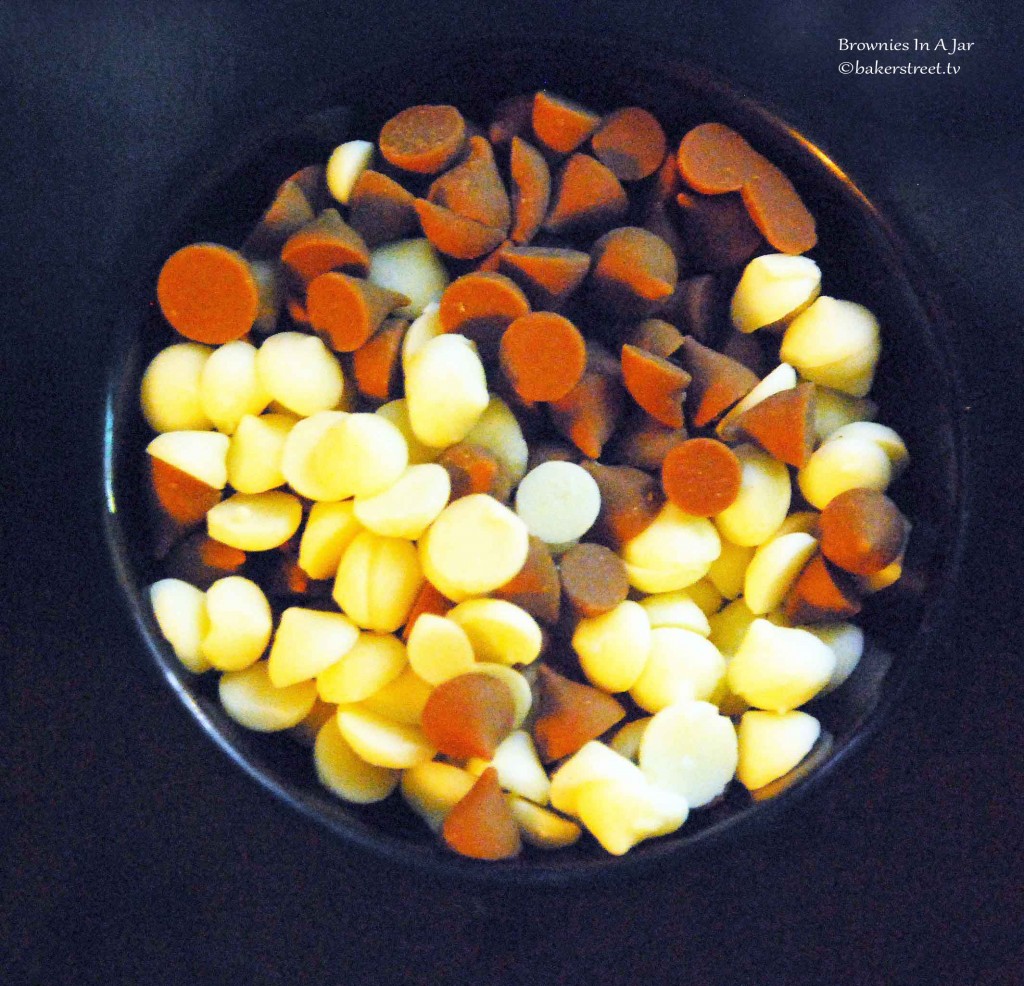 These make for an exceptional gift too. The recipe yields 2 dozen brownies. Make the premix, put it in a fancy jar, write a recipe card and present to a friend or two. Take care of the topping however, you don't want to be putting in nuts and giving it to a person who's allergic to them. You might also want to mention that you used all-purpose flour keeping in mind some people follow a gluten-free diet or are allergic to it.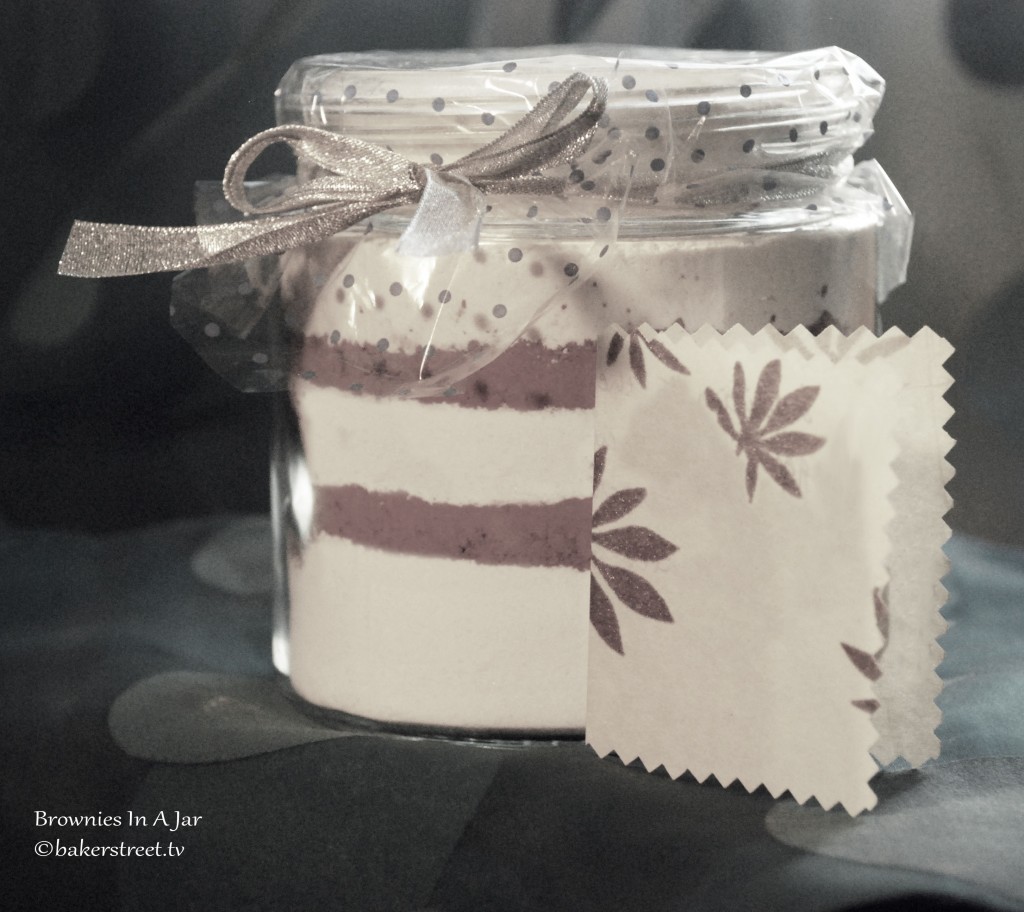 Brownies In A Jar
Author:
Marcy Goldman's Passion For Baking
Ingredients
For The Jar:
2½ cups sugar
⅔ cup premium-quality cocoa powder
½ cup chopped nuts, optional
⅛ tsp baking soda
⅛ tsp salt
1¼ cups all-purpose flour
Add Ons:
¾ cup unsalted butter, melted
4 large eggs, slightly whisked
Instructions
To prepare, pour sugar into a large Mason jar or other large jar. Add cocoa, nuts, baking soda, and salt. Spoon flour on top and press down. Seal jar.
Instructions for Recipe Card:
To make brownies, dump mix into a large bowl. Stir in ¾ cup melted unsalted butter and then 4 eggs. Spread batter in a lightly greased 13- x 9-inch or 11- x 8-inch pan. Bake at 350 F for 25 to 30 minutes. Cool at room temperature 20 minutes. Refrigerate 30 minutes and then cut.
The recipe yields rich, dense and gooey brownies. Simply irresistible.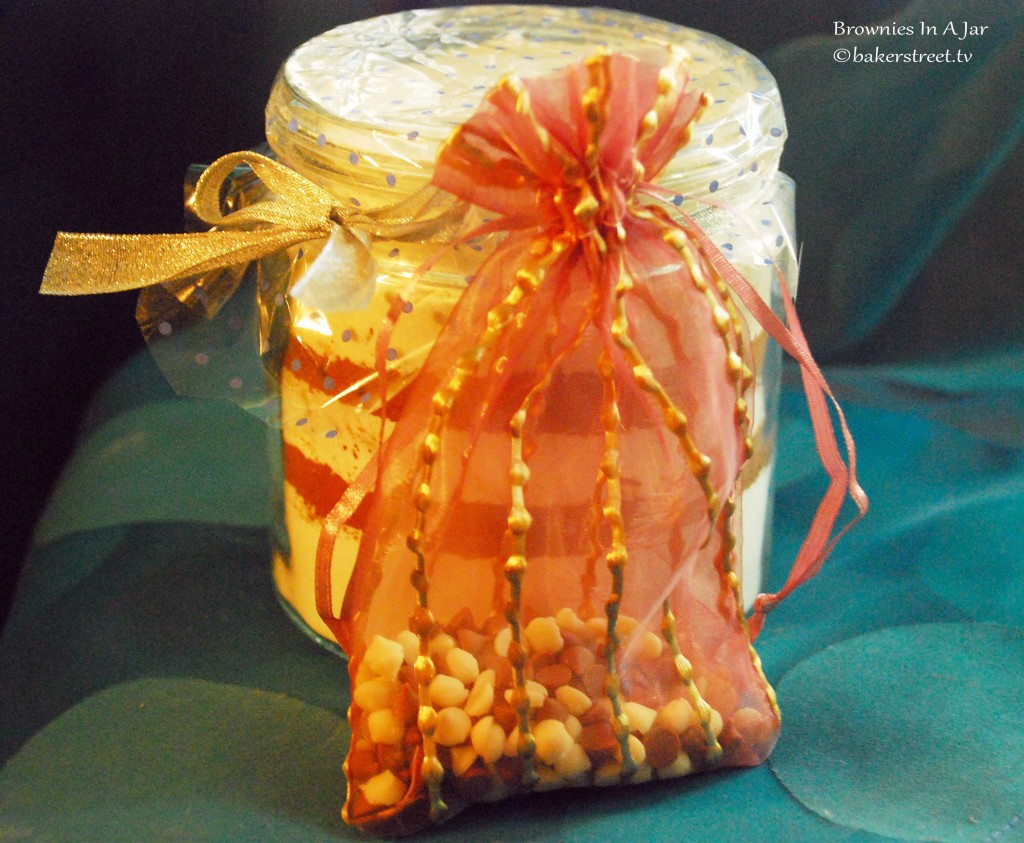 Happy Baking!