When it comes to Snickers, the first thought is of course to combine it with PB but we've already explored that combination. The next thought to flash in my head was chocolate (naturally, every second thought in my head is chocolate). What worried me however, was an image of the Snickers drowning and the caramel sticking to the bottom. And while I secretly love charred caramel scraped out from the the depths, it would be a total gooey mess and a less than presentable dessert to serve anyone.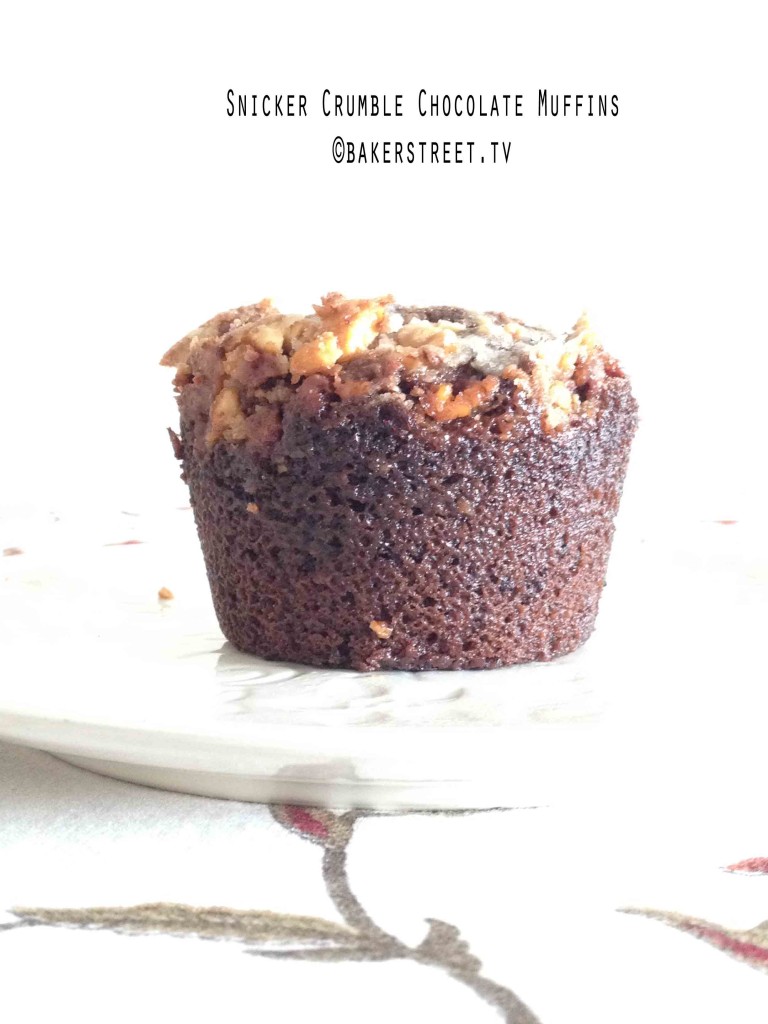 I decided to go with a Snickers crumble. Tiny bits of Snickers rolled in butter, sugar and flour. They melted as expected and didn't completely drown into the batter. The final result was little messy, but nothing that a scoop of ice cream could not cover up.
All in all – I would totally make this muffin again. An eggless, moist and chocolate-y muffin with divine Snickers crumble.
#MuffinMonday: Snicker Crumble Chocolate Muffins
Ingredients
For The Muffins
1 and ½ c all-purpose flour
1 c granulated sugar
1 tsp baking soda
1 tsp salt
⅓ c unsweetened cocoa powder
½ c vegetable or canola oil
1 c water
1 tsp vanilla extract
1 Tbsp apple cider vinegar or white vinegar
For The Crumble:
6-8 fun size snicker bars
2 tablespoons flour
1 tablespoon sugar
2 tablespoons cold butter, chopped roughly
Instructions
For The Crumble:
In a medium bowl, mix all the ingredients until well combined.
For The Muffin:
Preheat your oven to 350 degrees F.
Line mini cupcake pan with paper liners. Set aside.
In a medium mixing bowl, whisk together the dry ingredients (flour, sugar, soda, salt and cocoa).
In another mixing bowl, whisk together the wet ingredients (oil, water, vanilla and vinegar).
Add dry ingredients to wet ingredients and whisk together until smooth.
Fill cupcake liners about ⅔ full.
Bake cupcakes for 16 to 18 minutes (17 minutes was the magic number for me) or until the toothpick inserted in the center of each cupcake comes out clean.
Cool in pan for 2 minutes. Transfer onto a cooling rack to cool completely
#MuffinMonday: Round Up
Happy Baking!