Because cakes are the solution to world peace (though no one's realized it yet), there are important decisions to be made, extended debates to be had, and much research to be done in every kitchen around the globe.
Take this morning for instance… a critical verdict had to be reached, a resolution made: whether to pick a combination of chocolate and dark cherry or do a cream cheese pound cake and swirl the black cherry jam through it.
As you can imagine, the pressures of diplomacy combining with necessary aggression and willful participation is not a balance that is maintained by the faint-hearted.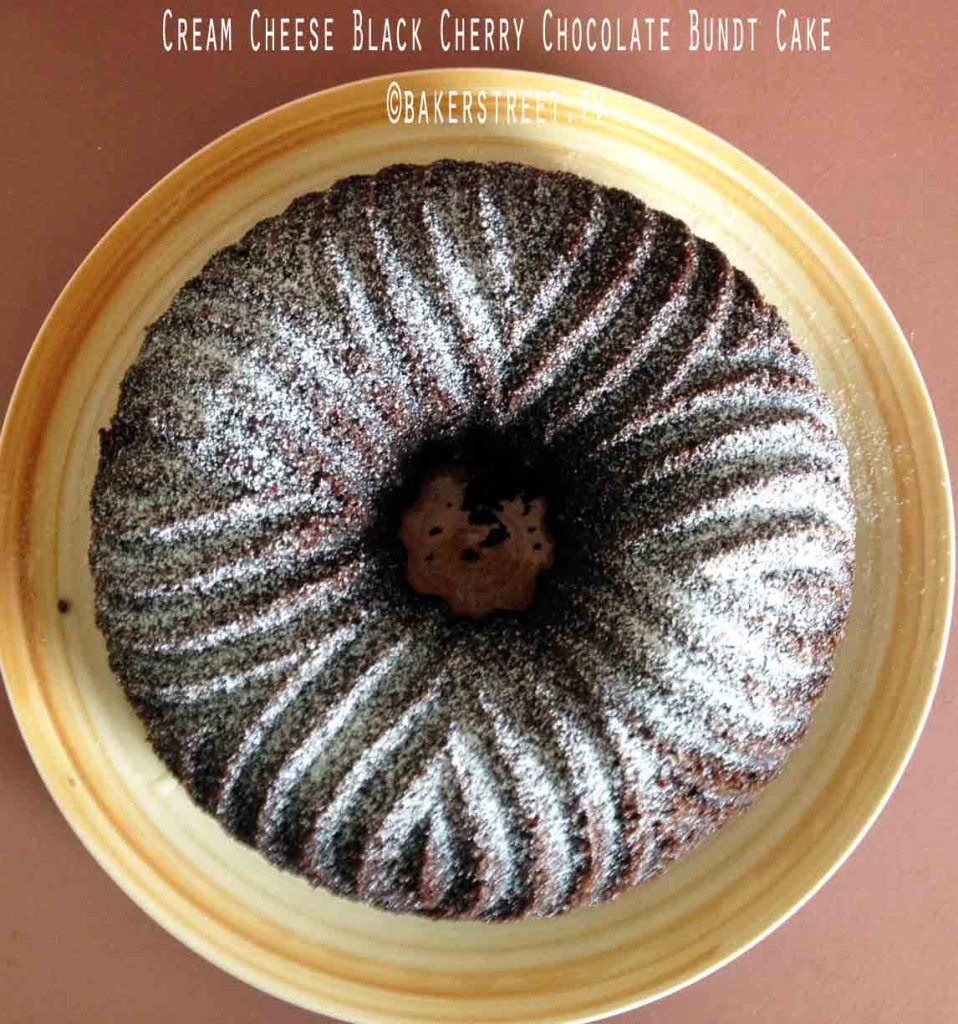 I was leaning towards chocolate but a last minute resolution and considering the prudence politics needs, I decided to go ahead with the cream cheese pound cake with a swirl of the cherry jam in it. The reason for tipping over to cream cheese decadence: apprehension that the lovely cherry swirl wouldn't show in the chocolate batter.
Oh but the best laid plans…. the cake – that missive of global peace – went another way and I landed up making a chocolate cream cheese batter and swirling the cherry jam through it! The batter was thick and luscious and firmly held the cherry swirl in, I had an inkling it would stick to the pan and burn but it didn't. I dusted the cake with powdered sugar and served us a warm slice with our coffee this morning. And the world was a better place.
Cream Cheese Black Cherry Bundt Cake
Ingredients
1-1/2 cups butter, softened
3 cups sugar
1 (8-oz.) package cream cheese, softened
6 large eggs
2 cups all-purpose flour
1 cup hersheys cocoa powder
½ teaspoon vanilla extract
⅔ cup black cherry jam
Instructions
Preheat oven to 350° and generously grease a 14 cup bundt pan.
In a medium bowl, combine the flour and cocoa powder and set aside
In a large bowl beat butter at medium speed with a heavy-duty electric stand mixer until creamy. Gradually add sugar, beating at medium speed until light and fluffy. Add cream cheese, beating until creamy.
Add eggs, 1 at a time, beating just until blended after each addition.
Gradually add flour mixture to butter mixture. Beat at low speed just until blended after each addition, stopping to scrape bowl as needed.
Stir in the vanilla extract.
Assemble:
Pour one-third of batter into a greased and floured 10-inch (14-cup) tube pan (about 2? cups batter). Dollop 8 rounded teaspoonfuls cherry jam over batter, and swirl with wooden skewer. Repeat procedure once, and top with remaining third of batter.
Bake at 350° for 1 hour to 1 hour and 10 minutes or until a long wooden pick inserted in center comes out clean.
Cool in pan on a wire rack 10 to 15 minutes; remove from pan to wire rack, and cool completely (about 1 hour).
Looking for inspiration? Here are some fantastic jammy bundts from the bundtamonth headquarters –
Aloha Cake
by Veronica at
My Catholic Kitchen
Blueberry and Lemon Bundt
by Holly at a
A Baker's House
Butter and Jam Bundt
by Anne at
From My Sweet Heart
Cranberry Pear Pumpkin Cake
by Kate at
Food Babbles
Crabapple Yogurt Bundt Cake
by Alice at
Hip Foodie Mom
Cream Cheese Black Cherry Bundt Cake
by Anuradha at
Baker Street
Cream Cheese Pound Cake with Blueberry Jam
by Sandra at
The Sweet Sensations
Guava Cream Cheese Bundt Cake
by Kathya at
Basic N Delicious
Peachy Keen Spice Cake
by Kim at
Ninja Baking
Raspberry Jam Bundt with Peanut Butter Glaze
by Lora at
Cake Duchess
Spiced Bundt Cake with Berry Jam & Cream Cheese Swirl
by Heather at
Hezzi D's Books and Cooks
Sticky Toffee Bundt Cake with Cranberry Jelly Glaze
by Felice at
All That's Left are the Crumbs
Sticky Fig Bundt
by Anita at
Hungry Couple NYC
Strawberry Jam Glazed Spiced Pound Cake with Buttermilk and Orange
by Laura at
The Spiced Life
Strawberry Lemon Bundt with Strawberry Jam Glaze
by Stacy at
Food Lust People Love
Triple Blackberry Bundt
by Tara at
Noshing with the Nolands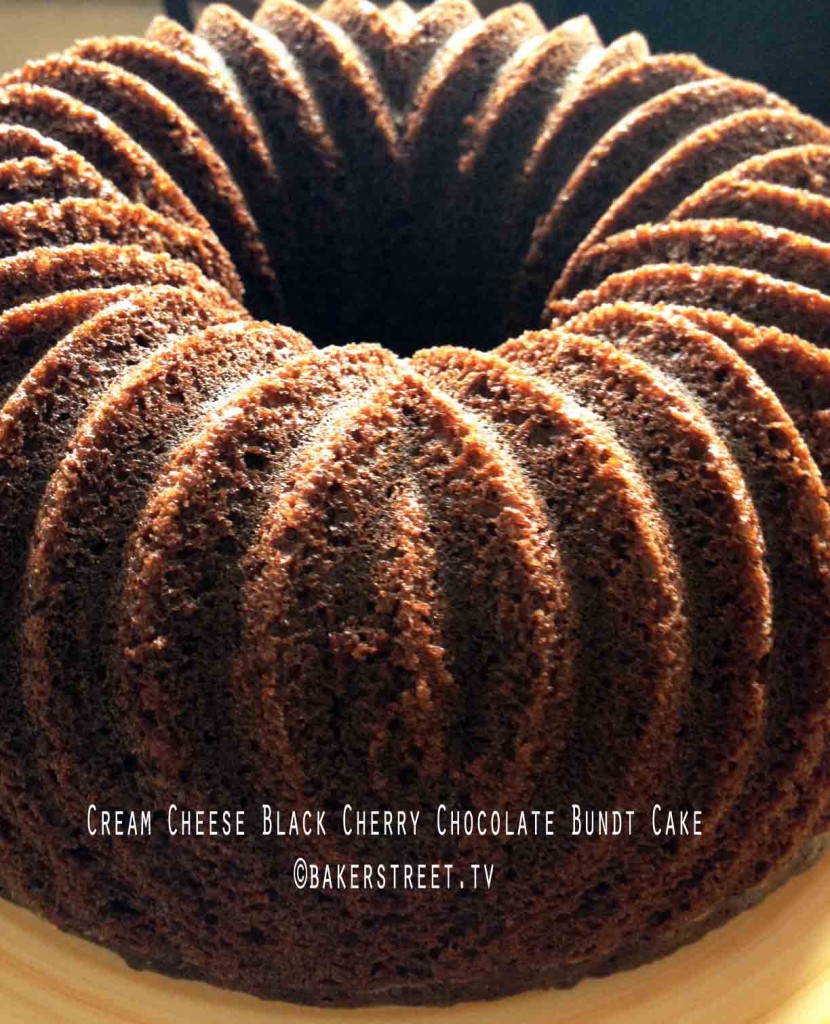 Here's how you can be a part of #BundtaMonth:
Simple rule: Bake us a bundt using your favorite jam
Post it before November 30, 2013
Use the #BundtaMonth hashtag in your title. (For ex: title could read – #BundtaMonth: Raspberry Jam Bundt with Peanut Butter Glaze
Add your entry to the Linky tool below
Link back to our announcement posts
Happy Baking!