Here at the BundtaMonth HQ, we've decided to go with a candilicious theme this month. All you need to do is pick your favorite candy or a combination of two or more and bake us a delicious bundt. While the opportunities are endless, I decided to go with a Kit Kat stuffed cake.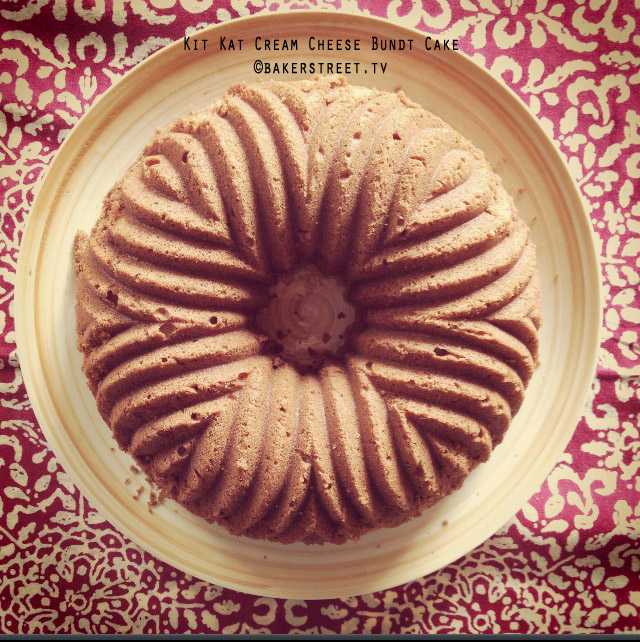 The reason I chose Kit Kat was because it would provide a little crunch along with the chocolate-y goodness. Also, I was apprehensive that an all chocolate candy would melt completely. Not that I would be complaining about the molten chocolate, I didn't want the candy to get stuck to the side, burn and eventually ruin the cake. I'm happy to report that kit kat worked out just fine.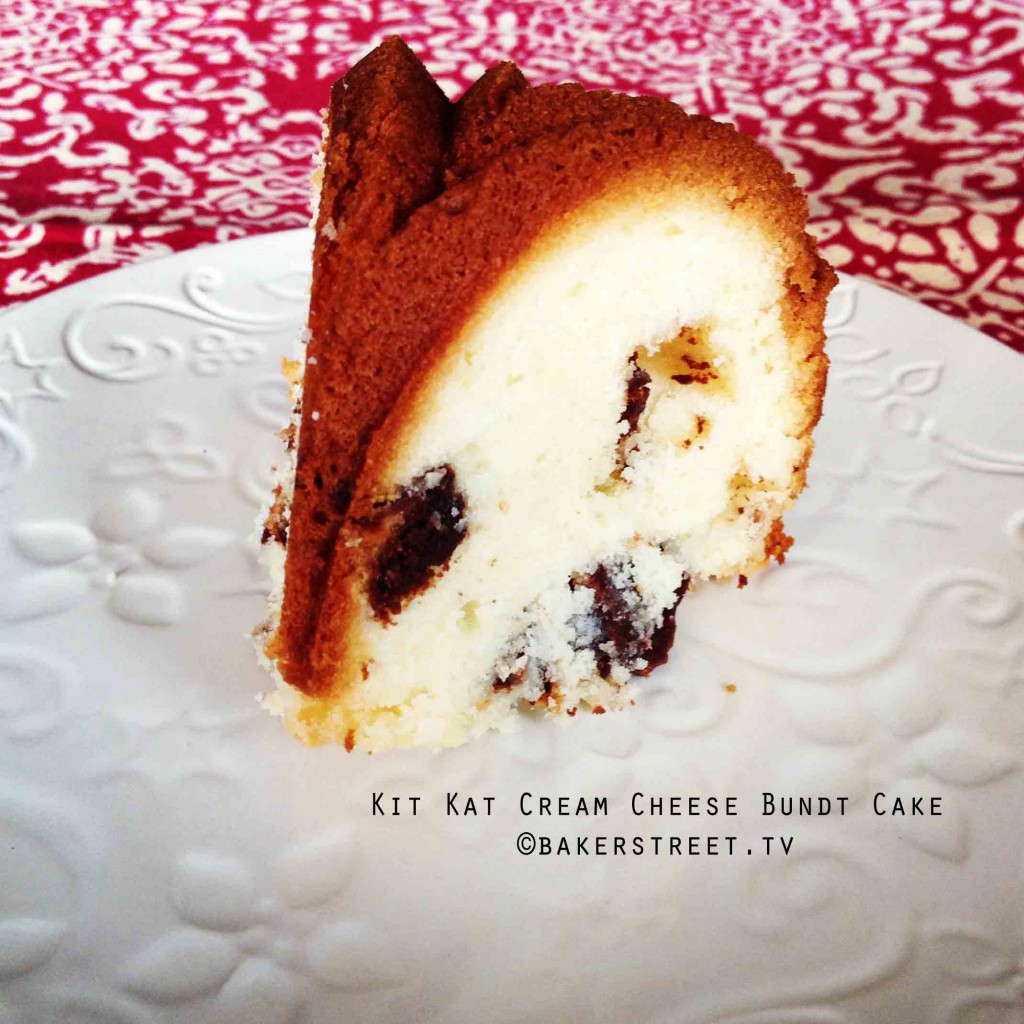 While I broke most of the chocolate into bite sized chunks and placed them away from the edges, I took some of the batter and used finer pieces of the candy to give the flavor through out. The base of the cake is a simple, rich and indulgent pound cake.
Ingredients
1½ cups butter, softened
3 cups sugar
1 (8-oz.) package cream cheese, softened
6 large eggs
3 cups all-purpose flour
1 teaspoon almond extract
½ teaspoon vanilla extract
12 Single Kit Kat Fingers, roughly chopped
Instructions
Preheat oven to 350° and generously grease a 14 cup bundt pan.
In a large bowl beat butter at medium speed with a heavy-duty electric stand mixer until creamy. Gradually add sugar, beating at medium speed until light and fluffy. Add cream cheese, beating until creamy.
Add eggs, 1 at a time, beating just until blended after each addition.
Gradually add flour to butter mixture. Beat at low speed just until blended after each addition, stopping to scrape bowl as needed.
Stir in the vanilla extract.
Assemble:
Pour one-third of batter into a greased and floured 10-inch (14-cup) tube pan (about 2? cups batter). Sprinkle a layer of kit kat. Repeat procedure once, and top with remaining third of batter.
Bake at 350° for 1 hour to 1 hour and 10 minutes or until a long wooden pick inserted in center comes out clean.
Cool in pan on a wire rack 10 to 15 minutes; remove from pan to wire rack, and cool completely (about 1 hour).
Looking for inspiration? Hop over and check out these gorgeous candilicious bundt cakes:
Banana Butterfinger Bundt Cake
by Dorothy at
Shockingly Delicious
Candy Corn Bundt Cake
by Holly at
A Baker's House
Caramel Apple Milky Way Bundt Cake
by Heather at
Hezzi-D's Books and Cooks
Chocolate Coconut Cake
by Kate at
Food Babbles
Chocolate Hazelnut Candy Bundt with Nutella Glaze
by Anita at
Hungry Couple
Chocolate Mini Bundts with Candy Coated Chocolates
 by Alice at
Hip Foodie Mom
Coconut Almond Bundt with Chocolate Drizzle
by Kathya at
Basic N Delicious
Honeycomb Crunch Honey Bundt Cake
by Stacy at
Food Lust People Love
Kit Kat Cream Cheese Bundt Cake
by Anuradha at
Baker Street
M & M Nutella Cake
 by Kim at
Ninja Baking
M&M Cream Cheese Pound Cake
 by Laura at
The Spiced Life
Pumpkin Bundt with Salted Caramel Chocolate Sauce
by Lora at
Cake Duchess
Reese's Peanut Butter Cup Bundt Cake
by Felice at
All That's Left Are The Crumbs
Snickers Bundt with Chocolate Caramel Peanut Sauce
by Tara at
Noshing With The Nolands
Twix and Tween
by Sandra at
Sweet Sensations
Here's how you can be a part of Bundt-a-Month:
Simple rule: Bake us a bundt using your favorite candy
Post it before October 31, 2013
Use the #BundtaMonth hashtag in your title. (For ex: title could read – #BundtaMonth: Fancy Bundt)
Add your entry to the Linky tool below
Link back to our announcement posts
Even more bundt fun! Follow Bundt-a-Month on Facebook where we feature all our gorgeous bundt cakes. Or head over to our Pinterest board for inspiration and choose from hundreds of Bundt cake recipes.
Happy Baking!