If you have 20 minutes, whip up these tasty little muffins with ingredients you mostly will have on hand. The combination of chocolate and orange are a timeless marriage where rich sweetness and tanginess knot up beautifully.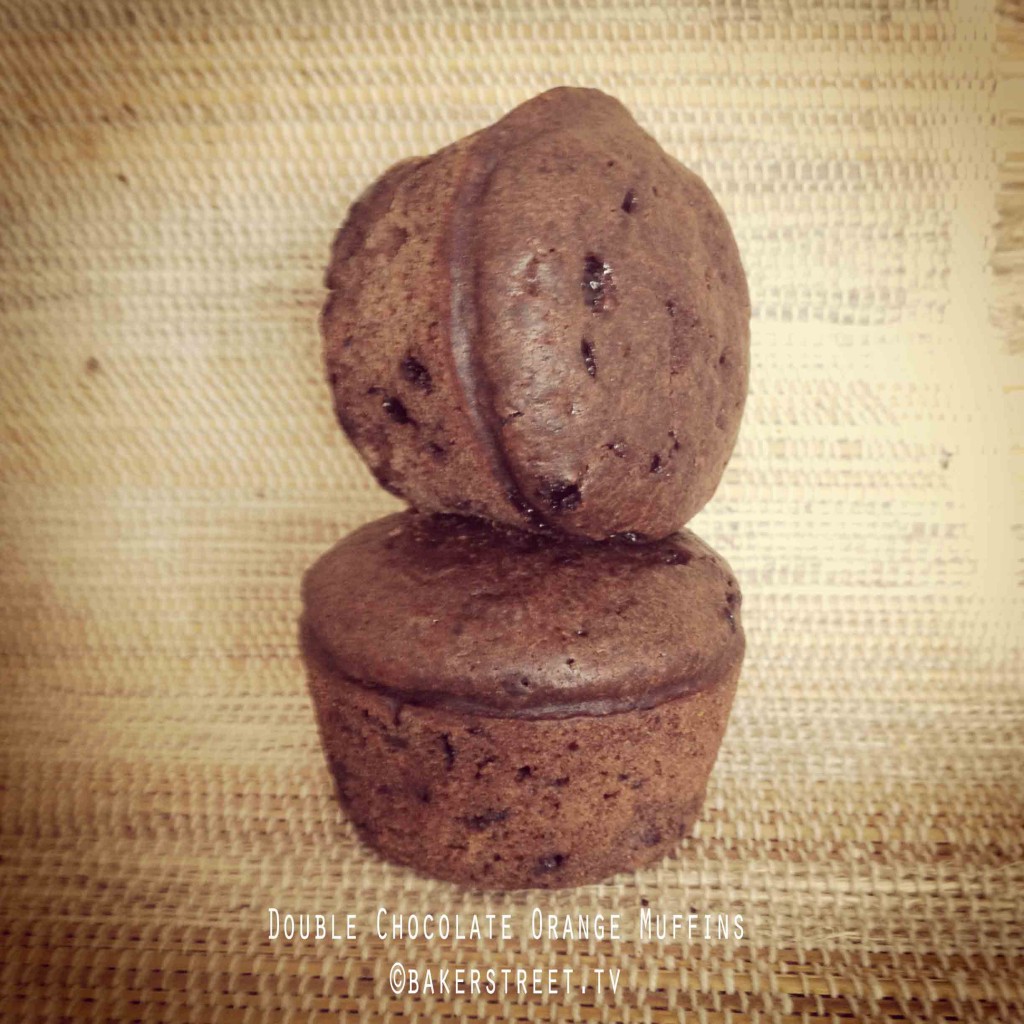 Author:
adapted from culinary arts
Ingredients
2 cups all-purpose flour (260 grams)
¾ cup cocoa powder
¾ cup granulated sugar
1 Tbsp baking powder
½ tsp salt
1¼ cups whole milk
2 large eggs, beaten
2 Tbsp butter, melted
⅓ cup vegetable oil
½ tsp orange extract
Zest of ½ orange
1 tsp pure vanilla extract
1 cup semi-sweet chocolate chips, plus ⅓ cup additional chocolate chips for sprinkling
Instructions
Preheat oven to 350° F.
Combine the flour, cocoa powder, baking powder, zest, sugar and salt in a large bowl.
Combine the milk and the melted butter. Then add the oil, and finally whisk in the beaten eggs and stir in the vanilla and orange extract.
Thoroughly grease and flour a muffin pan (or better yet, you can use paper muffin liners).
Add the liquid ingredients to the dry ones and mix no more than ten seconds. The batter should be visibly lumpy. That's OK! It's extremely important not to over mix the batter, or the resulting muffins can be hard or misshapen.
TIP: The dry and wet ingredients, respectively, can be mixed in advance, but as soon as the wet and dry ingredients have been combined with each other, the liquid will activate the baking powder and the batter needs to be baked right away.
With a rubber spatula, gently fold 1 cup of chocolate chips into the batter. Don't overwork the batter.
Carefully spoon the batter into the prepared muffin pan (you can use a small ladle or even an ice-cream scoop).
Finally, sprinkle the remaining chocolate chips onto the tops of the muffins, and transfer to the oven immediately.
Bake 18-20 minutes or until a toothpick inserted into the center of a muffin comes out clean.
Remove pan from the oven and let the muffins cool for five minutes in the pan. Then remove the muffins from the pan and let them cool another five minutes on a wire rack.
#MuffinMonday: Round Up
Happy Baking!