See the pictures yet? Oh yes, the new bundt pan is in the house – so excited! You know that inexplicable joy in that moment – that one tiny moment – when the cake pops out of the pan flawlessly even though it might be your 200th cake? That. With the first cake in a new pan with a new shape. So yes, take a moment and look at that gorgeous cake.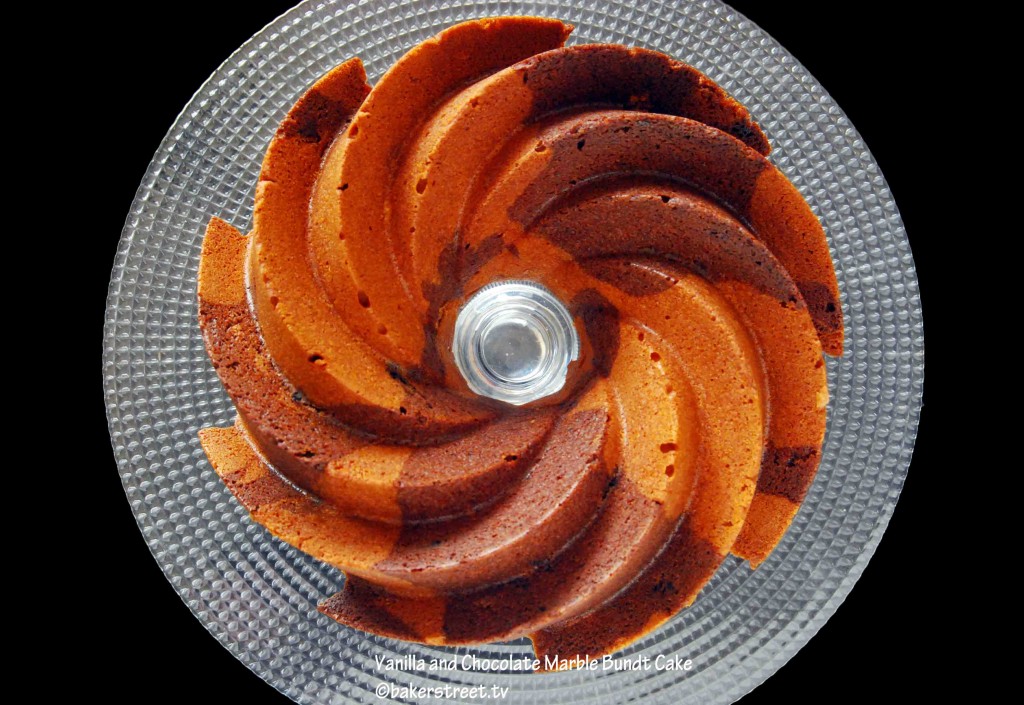 Have you found a recipe so good, that you want to bake it over and over again until it becomes your de factocomfort food? Even if you've just about finished the first cake and you are, once again, ready to create and relish the magic all over again? Because I think I just found that recipe.
The cake I baked for Bundt-a-Month last month was a Orange Strawberry Swirled Cream Cheese Pound Cake, a no-fail recipe. It was so appreciated that I decided to go with the same one but with a chocolate-y twist.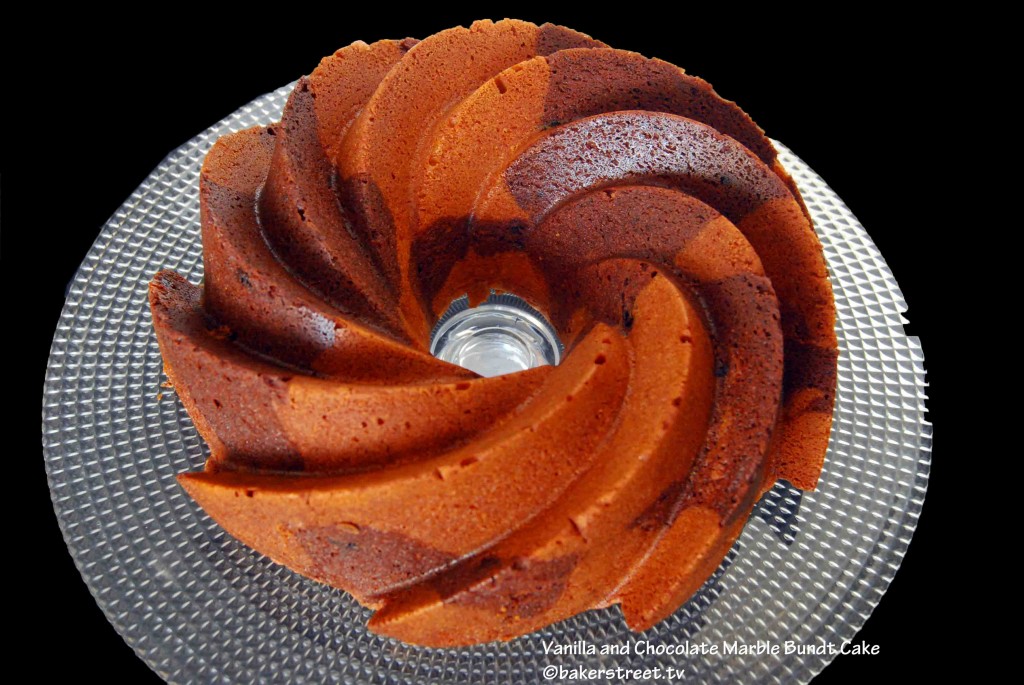 I had to make a few changes along the way of course. I reduced the flour by 1/4 cup, divided the batter into two, and added 1/2 cup of melted chocolate and 1 tablespoon of cocoa powder to one and vanilla to the other.
There was a debate in my head whether or not to give this one a glaze. A thick chocolate glaze went perfectly but I decided to serve it on the side and showcase the shape the cake as is.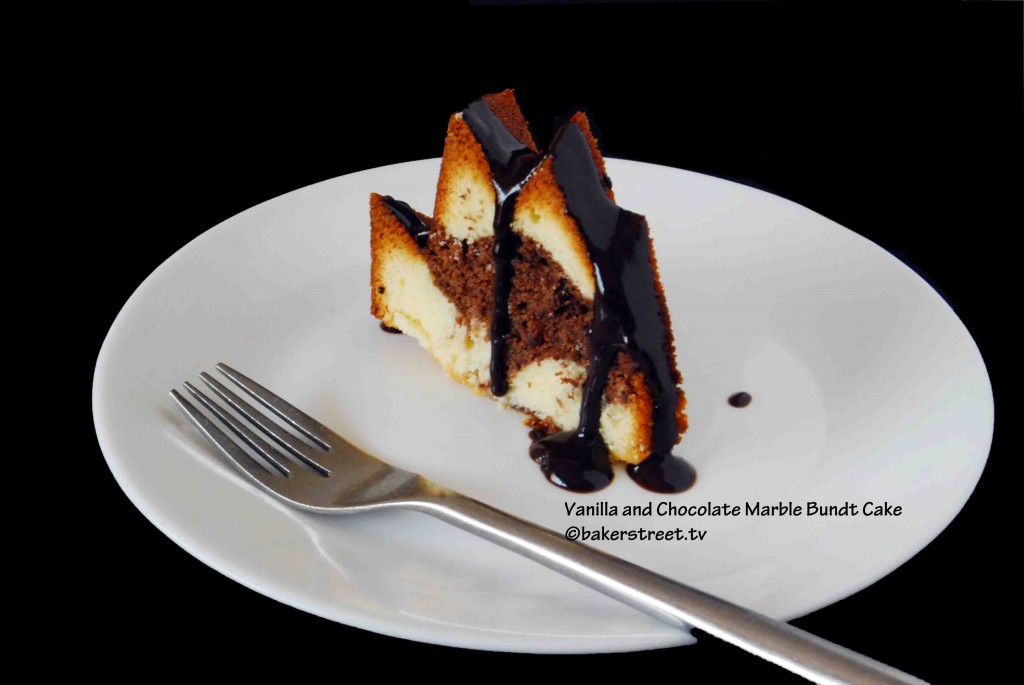 So here is it – Luscious swirls of sweet vanilla and sinful chocolate: One delicious marble cake.
Vanilla and Chocolate Marble Cake
Author:
adapted from my recipes.com
Ingredients
¾ cups butter, softened
11/2 cups sugar
4 oz cream cheese, softened
3 large eggs
11/4 cups all-purpose flour
½ teaspoon vanilla extract
½ cup semi sweet chocolate, melted and cooled
1 tablespoon cocoa powder
Instructions
Preheat oven to 350° and generously grease a 14 cup bundt pan.
In a large bowl beat butter at medium speed with a heavy-duty electric stand mixer until creamy. Gradually add sugar, beating at medium speed until light and fluffy. Add cream cheese, beating until creamy.
Add eggs, 1 at a time, beating just until blended after each addition.
Gradually add flour to butter mixture. Beat at low speed just until blended after each addition, stopping to scrape bowl as needed.
Divide the batter into two seperate bowls. Add the melted chocolate and cocoa powder to one and stir in the vanilla extract into the second bowl.
Pour the batters alternatively into a greased and floured bundt pan and swirl with wooden skewer.
Bake at 350° for 1 hour to 1 hour and 10 minutes or until a long wooden pick inserted in center comes out clean.
Cool in pan on a wire rack 10 to 15 minutes; remove from pan to wire rack, and cool completely (about 1 hour).
Looking for chocolate bundt cake recipes? Here's the stunning round from our bakers:
Chocolate Berry Bundt Cake
by Heather from
Hezzi D's Books and Cooks
Chocolate Bundt Cake with Balsamic Strawberry Sauce
 by Alice from 
Hip Foodie Mom
Chocolate Chobani Bundt Cake
by Carrie from
Poet In The Pantry
Chocolate Espresso Bundt Cake
 by Holly from 
A Baker's House
Chocolate Mini Bundts with Matcha Flowers
by Kim from
Ninja Baking
Chocolate Raspberry Swirl Bundt Cake
by Anita from 
Hungry Couple
Chocolate Rocky Road Bundt Cake
 by Tara from 
Noshing With The Nolands
Chocolate Turtle Bundt Cake
 by Kim from
Cravings Of A Lunatic
Deep Chocolate Be Mine Bundt
 by Stacy from 
Food Lust People Love
Double Chocolate Swirled Bundt Cake
 by Laura from 
The Spiced Life
Chocolate Peanut Butter Layered Bundt Cake
 by Karen from
In The Kitchen With KP
Red Wine Chocolate Bundt Cake with Mascarpone Whipped Cream
 by Kate from 
Food Babbles
Sour Cream Chocolate Bundt Cake
 by Renee from 
Magnolia Days
Quadruple Chocolate Bundt Cake 
by Dorothy from 
Shockingly Delicious
Vanilla and Chocolate Marble Bundt
Cake by Anuradha from 
Baker Street
White Chocolate Raspberry Bundt Cake
 by Paula from 
Vintage Kitchen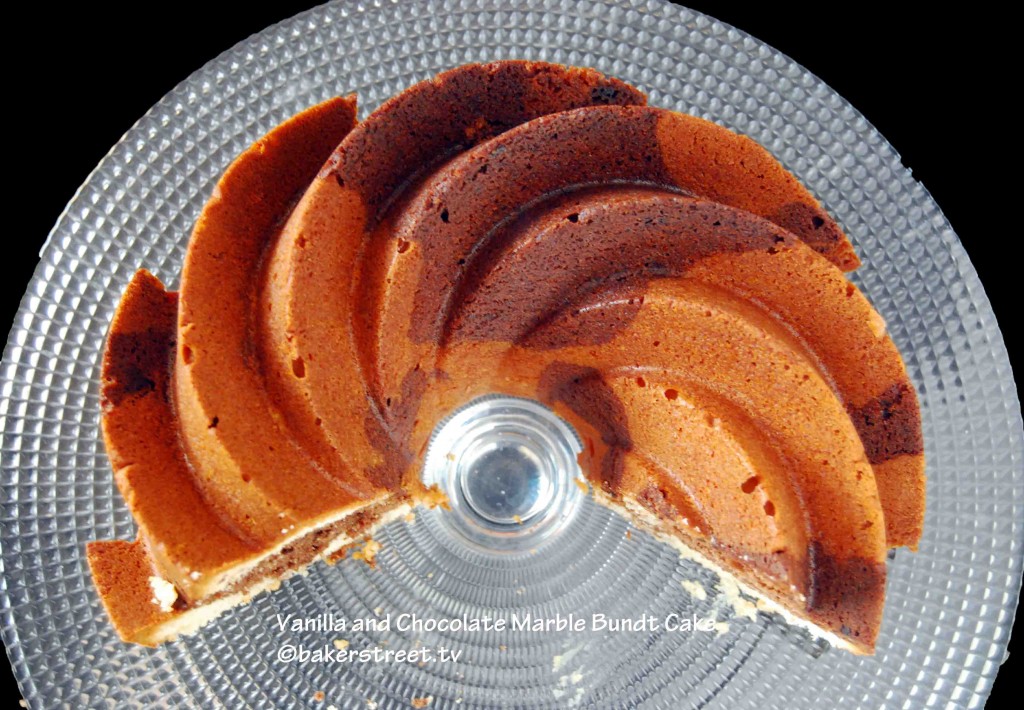 Here's how you can be a part of Bundt-a-Month: – Simple rule: Use chocolate – and bake us a Bundt for February – Post it before February 28, 2013 – Use the #BundtAMonth hashtag in your title. (For ex: title should read #BundtAMonth: Chocolate Cinnamon Bundt) – Add your entry to the Linky tool below – Link back to our announcement posts.
Follow Bundt-a-Month on Facebook where we feature all our gorgeous bundt cakes. Or head over to our Pinterest board for inspiration and choose from over 400 Bundt cake recipes.
Happy Baking!