85 consecutive weeks. That's how long we've been baking muffins. It's been fun, but like all commitments there were pockets of doubt and a lack of motivation to kept going relentlessly every Monday morning. But there are so many muffins to bake, one must soldier on and find delight in the challenge. And to be fair, most of the time we do.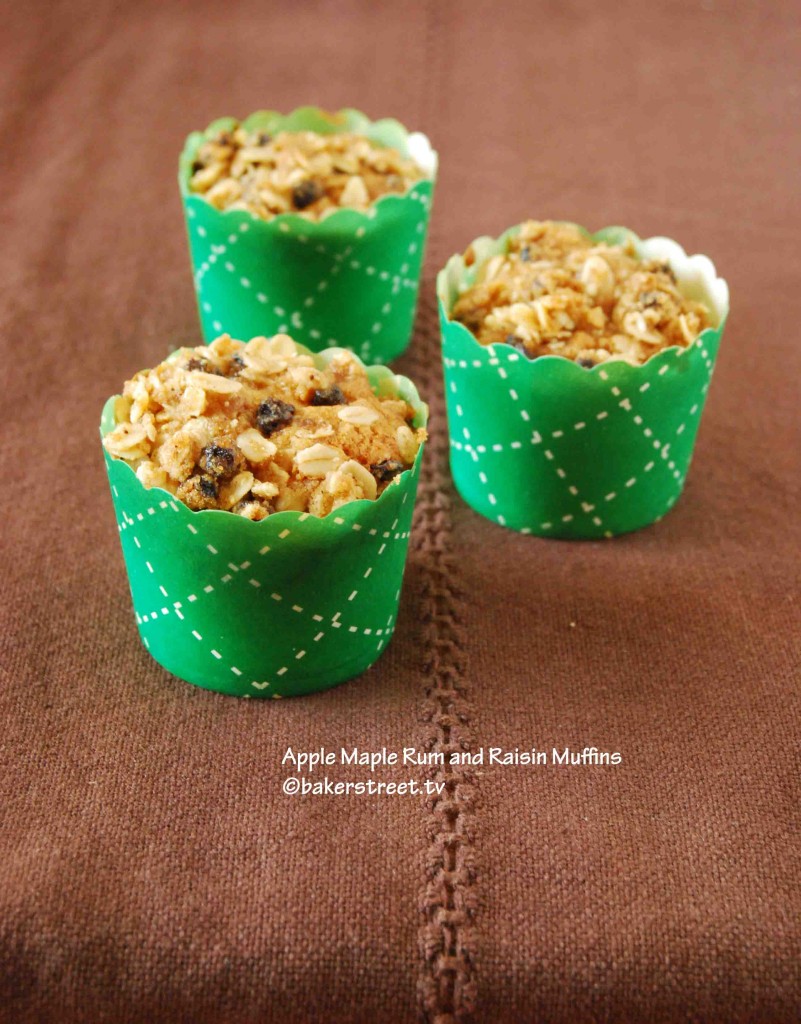 You would think after 85 weeks I would have a ton of muffin posts – planned, baked and ready to be published right? Let me tell you that most posts are put together in a couple of hours in real time – that involves baking, writing, pictures, editing, round up and publishing. Phew! It's quite a scene every week, one that has become a part of my routine and one that I've come to enjoy, on most Mondays. Some days I feel particularly lazy but the sheer weight of not breaking the momentum of 85 weeks keeps me going. On to today's little creations – the Apple Maple Rum and Raisin Muffin.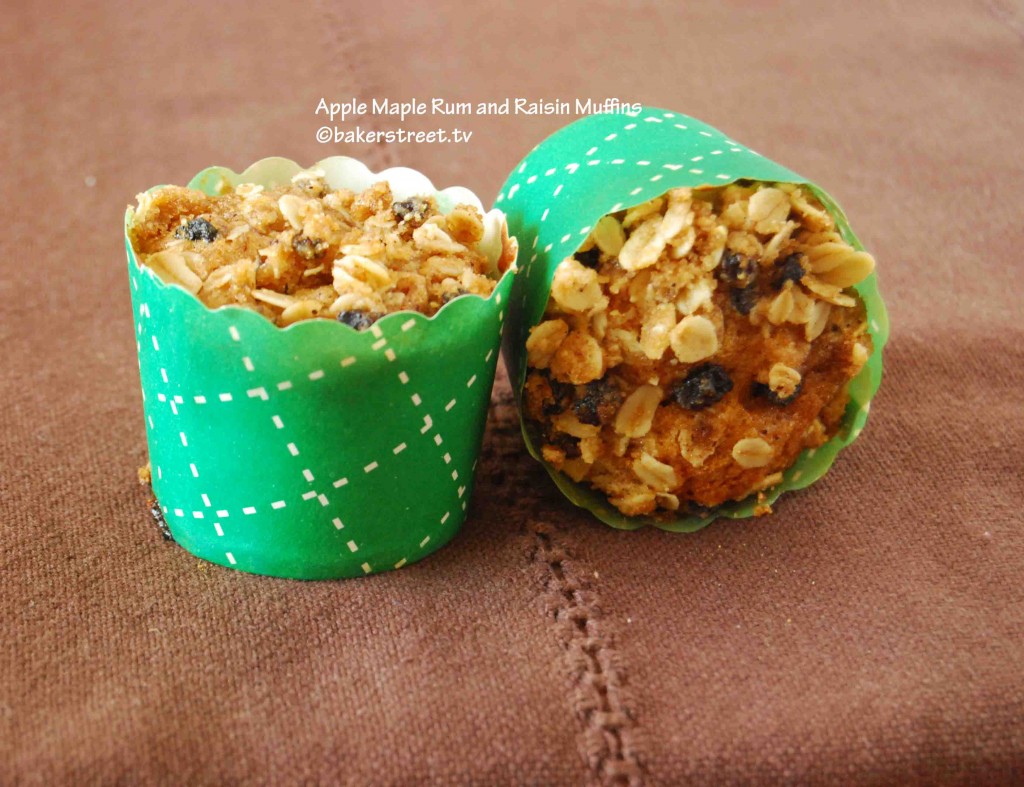 This morning my kitchen was filled with the aroma of sweet maple, apples and cinnamon being dunked into a buttery batter. I made very tiny changes to this excellent recipe – the first was using rolled oats instead of quick cooking. And I took tiny currants, soaked them in rum for 20 minutes, and  added them to the streusel.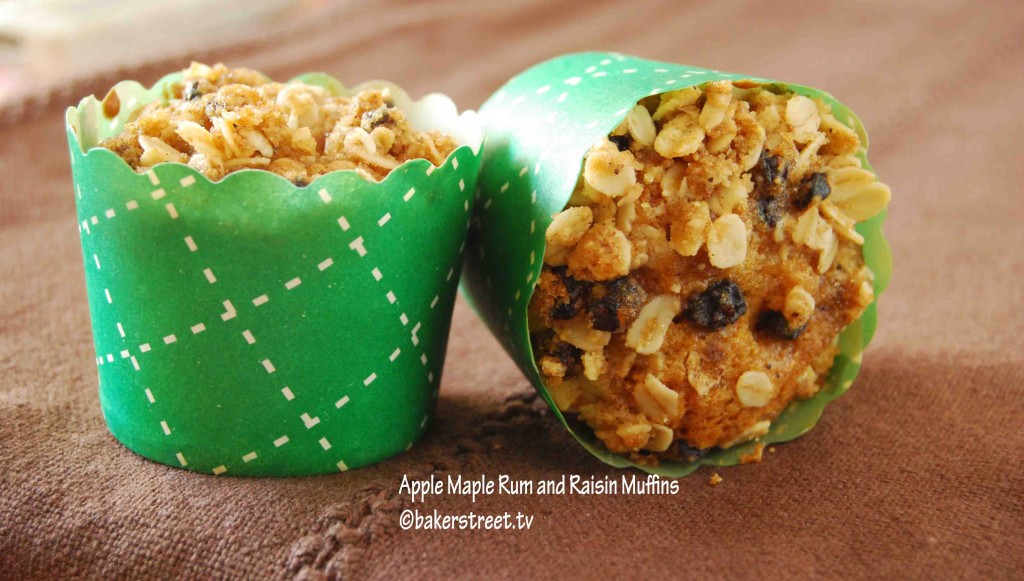 I divided the batter too – I baked 6 muffins and put the rest of the batter in a loaf pan, making for an excellent quick bread as well.
#MuffinMonday: Apple Maple Rum and Raisin Muffins
Author:
Minimally adapted from The Sweet Chick and Food Network
Ingredients
For the muffins
8 tablespoons(1 stick) butter
1 cup light brown sugar
2 large eggs
1 cup all purpose flour
1 cup whole wheat flour
1 teaspoon baking soda
1 teaspoon cinnamon
½ teaspoon salt
½ cup Greek yogurt (vanilla or plain)
1 teaspoon vanilla extract
½ cup pure maple syrup
2 cups chopped apples
For the topping
½ cup light brown sugar
¼ cup flour
¼ cup quick oats
½ teaspoon cinnamon
4 tablespoons butter (or maple butter)
⅓ cup currants (soaked in rum for 20 minutes to an hour)
Instructions
For the topping
In a small bowl mix together the sugar, flour, oatmeal, currants (discard the extra rum) and cinnamon. Blend with a fork, making sure there are no lumps.
Melt the butter in a glass container in the microwave for about 20 seconds. Then pour over the dry mixture. Blend with a fork until mixture becomes crumbly.
For the muffins
Preheat oven to 350º F. Fill muffin tins with liners.
In a stand mixer, cream together the brown sugar and the butter. Then add the eggs and mix on low until well blended.
In a large bowl sift together flours, baking soda, cinnamon and salt. Then slowly add the dry ingredients to the butter mixture while mixing on low.
Add yogurt and vanilla extract. Then add maple syrup and continue to mix on low until all ingredients are well incorporated.
Lastly, add the chopped apples and mix until apple pieces are well distributed.
Evenly distribute the batter into the muffin liners. Evenly distribute the crumble mixture over muffin batter.
Then place muffin tins in the oven and bake at 350º for 15-20 minutes, or until toothpick inserted in center comes out dry.
#MuffinMonday: Round Up
Happy Baking!