Unbelievably only seven weeks to go for until 2012 is history! Wasn't that quick? Muffin Monday bakers and I welcome you to the 75th week of Muffin Monday and the first edition of the Holiday Muffin series.
If you missed it last year, well here is why this series stands out and the trend we follow: The bakers get progressively indulgent as the weeks progress and we transform simple recipes into decadent muffins that match the intensity of the occasion.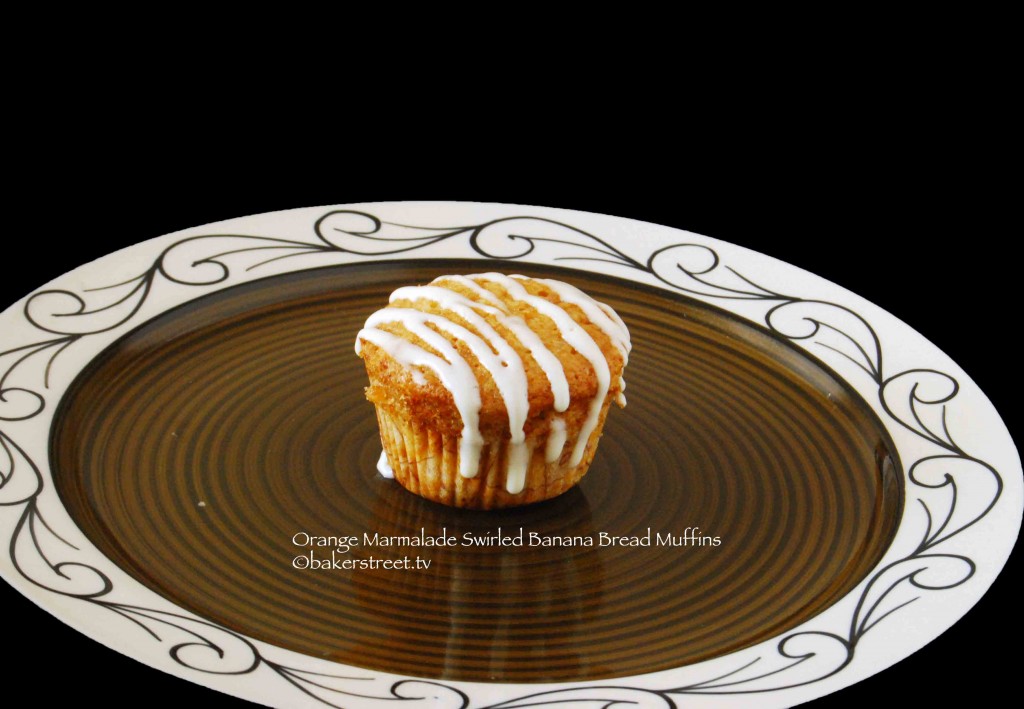 This week we tackle a Banana Bread recipe from Food Network and making these into muffins turned out to be a fantastic idea. The possibilities are endless and you will absolutely love what our bakers came up with…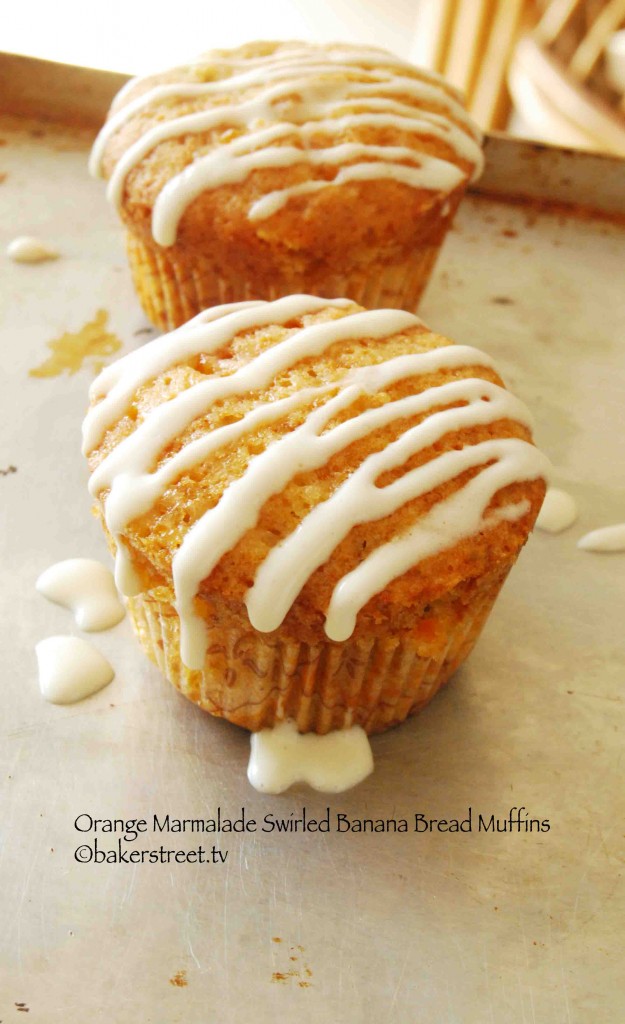 My take may seem elementary but one bite into it and you'll know it's perfect to grace the main stage of your holiday table. I made the muffin batter as described in the recipe, but before it went into the oven, a couple of spoons of orange marmalade were swirled into the batter. Don't over mix it, you don't want it to blend in, the tiny bursts of tangy orange compliments the sweet banana perfectly. I recommend you buy orange marmalade with the rind in it, for it adds great texture and flavor compared to others that are completely processed. And once the muffin had cooled down a little, I added a mildly lemon flavored cream cheese glaze.
Over to the recipe: Sweet bananas laced with tangy orange marmalade and the perfect finish of a lemon-y cream cheese glaze – perfect for the holidays, right?
#MuffinMonday: Orange Marmalade Swirled Banana Bread Muffins
Author:
adapted from Food Network
Recipe type:
Muffins, Dessert
Ingredients
1 cup granulated sugar
8 tablespoons (1 stick) unsalted butter, room temperature
2 large eggs
3 ripe bananas
1 tablespoon milk
2 cups all-purpose flour
1 teaspoon baking powder
1 teaspoon baking soda
1 teaspoon salt
4-6 Tablespoons Orange Marmalade
Instructions
Preheat the oven to 325 degrees F and grease a 12 hole muffin pan.
In a medium bowl, mix together the flour, baking powder, baking soda and salt. Set aside.
In a large bowl, cream the sugar and butter until light and fluffy.
Add the eggs one at a time, beating well after each addition.
In a small bowl, mash the bananas with a fork. Mix in the milk.
Add the banana mixture to the creamed mixture and stir until combined. Add the flour mixture, mixing just until flour disappears.
Drop spoonfuls of orange marmalade and using the tip of a knife swirl it around the batter gently.
Divide the batter into the muffin tins equally and bake for 20 to 25 minutes or until a toothpick inserted in the center comes out clean.
Set aside to cool on a rack for 15 minutes. Remove muffins from pan, invert onto rack and cool completely before glaze.
Drizzle with cream cheese glaze.
#MuffinMonday: Round Up
Happy Baking!