Are you ready for a whole new level of indulgence? We are into Week 2 of our Holiday Muffin series and have the ultimate cinnamon lovers' delight.
Let me deconstruct the layers of this delicious muffin for you – the muffin is light and filled with oats and white chocolate chips rolled in cinnamon (the original one recipe prefers cinnamon chips). A concoction of cinnamon and brown sugar makes for a divine filling pressed lightly into the muffin that is finally topped off with a brown sugar and rolled oats streusel.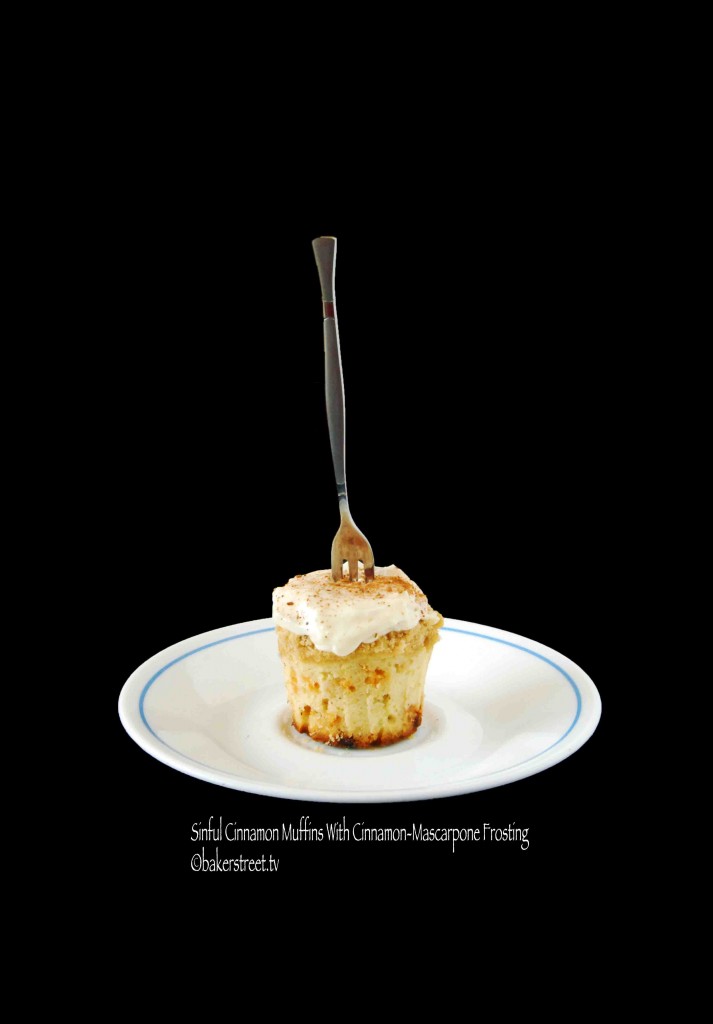 Apart from the white chocolate, I also added a mascarpone cinnamon frosting. I didn't have an exact measure of it but basically it was a couple of spoons of mascarpone, little sugar and tiny tiny pinch of cinnamon. The reason I recommend very little cinnamon is because a final dusting of cinnamon on top of the frosting just completes it perfectly.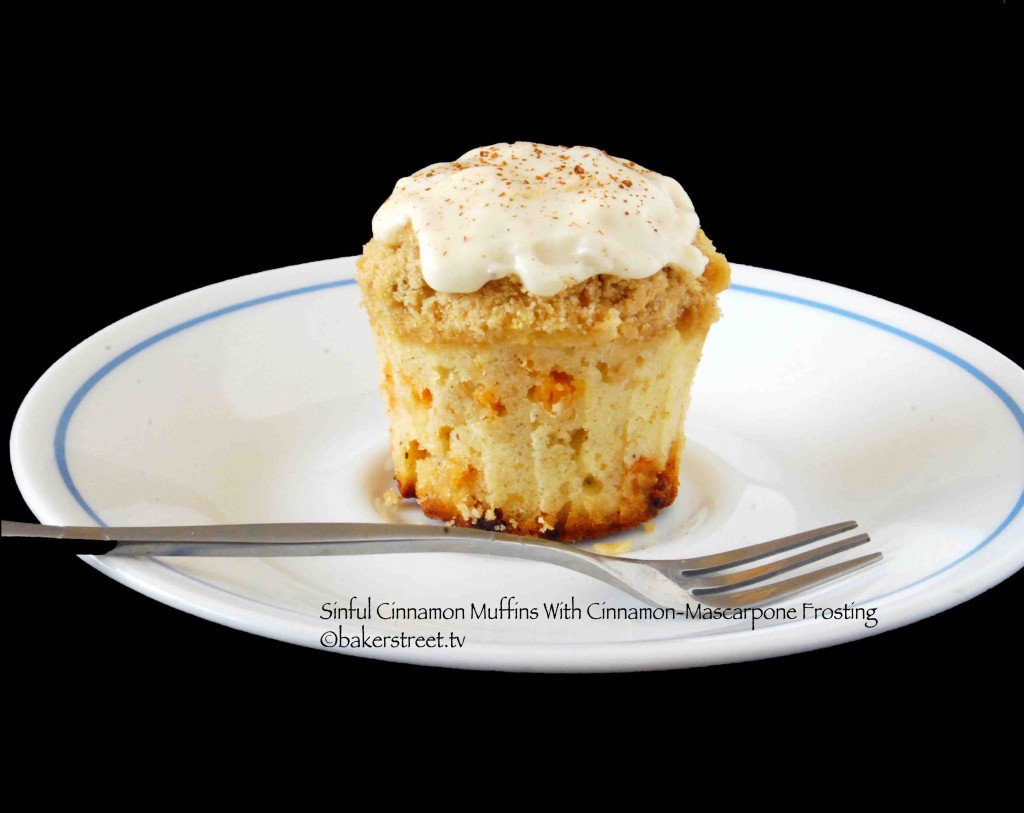 There you have it: A light and moist muffin with a rich cinnamon center and the perfect brown sugar streusel – Even the devil would find it sinful.
Sinful Cinnamon Muffins
Author:
King Arthur Flour
Ingredients
For The Streusel:
⅓ cup brown sugar, packed
¼ cup diced pecans
¼ cup rolled oats
½ cup King Arthur Unbleached All-Purpose Flour
3 tablespoons soft butter
For The Cinnamon Filling
½ cup Baker's Cinnamon Filling mix*
3 to 4 tablespoons water
*Or substitute 3 tablespoons butter, ½ cup brown sugar, and 1½ tablespoons ground cinnamon for the Baker's Cinnamon Filling mix and water.
For The MuffinBatter
½ cup (1 stick) butter, melted
¾ cup milk
2 large eggs
1¾ cups King Arthur Unbleached All-Purpose Flour
½ cup rolled oats
2 tablespoons Signature Secrets(r) Culinary Thickener or cornstarch
¾ cup granulated sugar
1 tablespoon baking powder
½ teaspoon salt
¼ teaspoon ground nutmeg
½ cup white chocolate chips tossed in ½ teaspoon cinnamon powder
Instructions
Preheat your oven to 400°F. Line a 12-cup muffin pan with cupcake papers, or grease it lightly.
Prepare the topping by mixing the ingredients together until crumbly. Set aside.
Prepare the filling:
Mixing the Baker's Cinnamon Filling with enough water to make filling with a soft, pudding-like consistency. Set it aside.
To make the batter:
In a large bowl, whisk together the melted butter, milk, and eggs. In a separate bowl, whisk together the dry ingredients, including the chips. Add the dry mixture to the liquid, stirring just until combined.
Divide half the batter evenly among the muffin cups. Dollop 2 teaspoons cinnamon filling onto each muffin, then top with the remaining batter. Sprinkle with topping, pressing it in lightly.
Bake the muffins for 20 to 25 minutes, or until they're golden brown. Remove them from the oven, and wait 5 minutes before transferring them from the pan to a rack to cool.
#Muffin Monday: Round Up
Happy Baking!