The inspiration for these muffins comes from my Apple Pie Bread. This week we chose to give our own twist to Dorie Greenspan's All Spice Crumb Muffin.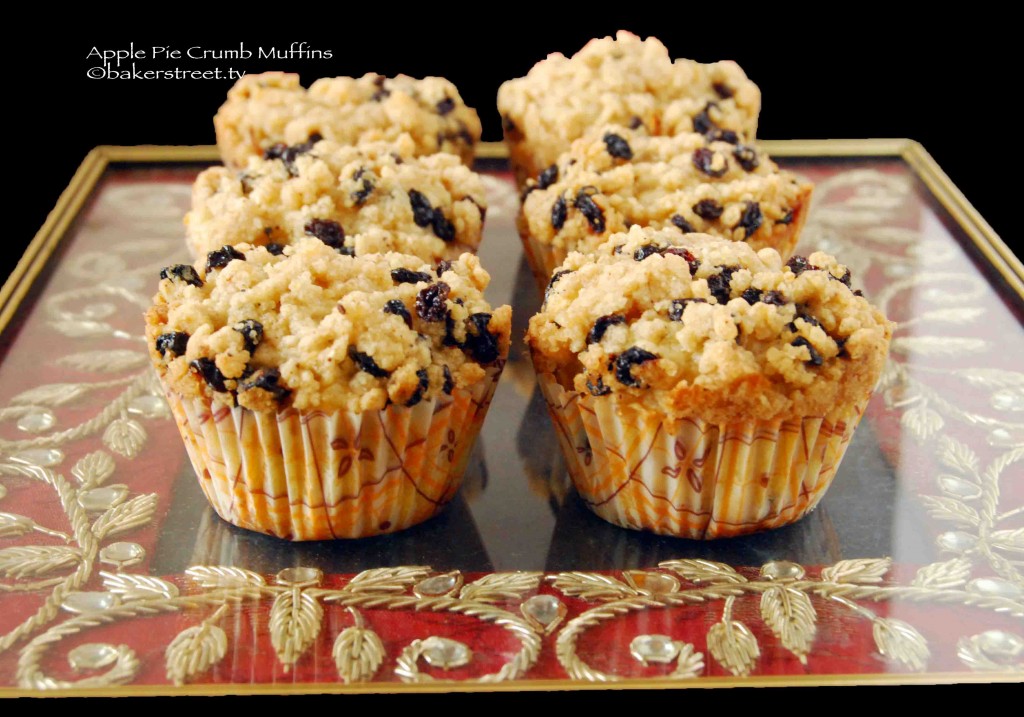 In my version, I just made a couple of minor changes to Dorie's recipe. I replaced the all spice with my homemade apple pie spice mix. And adding a shredded a medium size apple instead of cutting it into chunks; this ensured tiny nibbles of apples in every bite. One thing you may want to keep in mind is to drain off all the excess liquid from the shredded apple so that the batter doesn't become thin and watery. Adding nuts is always an option but I recommend adding currants. If you have the time, soak them in the excess apple juice for 20 to 30 minutes so that they take in all the flavors. And even though the original recipe lists lemon zest as an optional ingredient, I suggest not skipping it because it pairs exceptionally well with the sweet apples.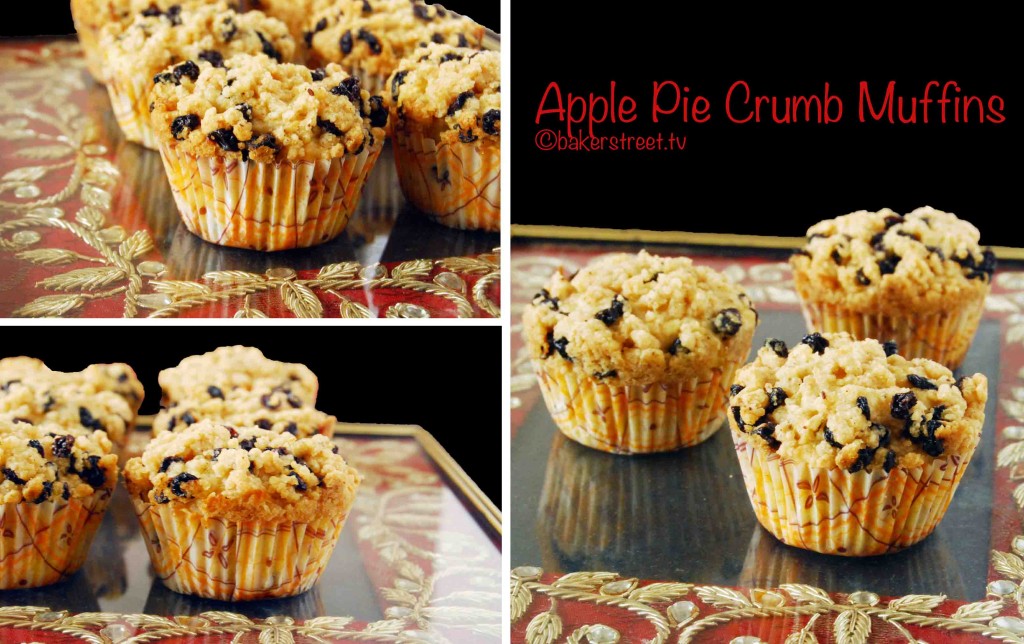 Another way to make these muffins would be to use an organic apple pie jam filling in the center, which would be a nice surprise in these cake like muffins. But I love the freshness of the fruit blending with the warm homemade blend of spices.
These muffins are so moist, sweet and absolutely divine. The sweet buttery streusel topping really gives it that crunch and balances perfectly with the soft and tender muffins.
#MuffinMonday: Apple Pie Crumb Muffins
Author:
Adapted from Dorie Greenspan's Baking From My Home To Yours
Ingredients
For the streusel:
½ cup all-purpose flour
½ cup packed light brown sugar
½ teaspoon apple pie spice mix
2 tablespoons currants
5 tablespoons cold unsalted butter, cut into small pieces
For the muffins:
2 cups all-purpose flour
½ cup granulated sugar
¼ cup packed light brown sugar
1 tablespoon baking powder
½ teaspoon apple pie spice mix
¼ teaspoon salt
1 stick (8 tablespoons) unsalted butter, melted and cooled
2 large eggs
¾ cup whole milk
¼ teaspoon vanilla extract
1 medium apple (shredded and liquid drained off)
⅓ cup currants
Grated zest of lemon
Instructions
Preheat the oven to 375 degrees F and generously grease or line a 12 hole muffin pan.
To Make the Streusel:
Put the flour, brown sugar and apple pie spice mix in a small bowl and sift them through your fingers to blend.
Add the bits of cold butter and toss to get irregularly shaped crumbs. Add the currants and mix and until evenly distributed.
Set aside in the refrigerator for the moment. (Kitchen Tip: You can make the crumbs up to 3 days ahead and keep them covered in the refrigerator.)
To Make the Muffins:
In a large bowl, whisk together the flour, sugar, baking powder, apple pie spice mix, brown sugar and salt. Mix well making sure there are no lumps. Add the currants and mix until evenly distributed.
In another medium bowl, whisk the melted butter, eggs, milk, shredded apples, and vanilla extract together until well combined.
Pour the apple mixture over the dry ingredients and whisk gently but quickly stir to blend.
Add the zest gently mix to combine. The batter would be lumpy but that's okay, do not overmix it.
Divide the batter evenly among the muffin cups.
Sprinkle some streusel over each muffin, then use your fingertips to gently press the crumbs into the batter.
Bake for about 20 minutes, or until the tops are golden or a toothpick inserted into the center of the muffins comes out clean.
Transfer the pan to a rack and cool for 5 minutes before carefully removing each muffin from its mold.
#MuffinMonday: Round Up
Happy Baking!