Boy, are you in for a treat today! The #SundaySupper team has over 60 apple recipes for you. Apple in a cookie? We got it. Apple in a soup or salad? We have that too. If its apple and pork or apple quesadilla – that's right, they're all here. And of course the round up wouldn't be complete without a pie, right?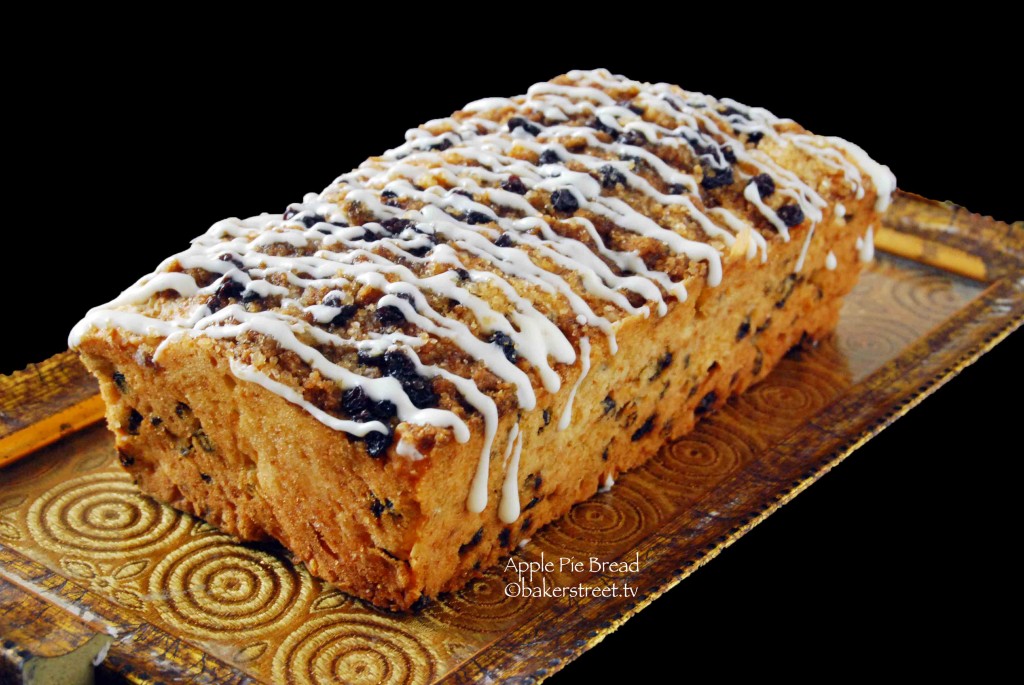 I'm baking a simple apple pie bread for the occasion. There are just so many things I like about this recipe. For one, it's a one bowl recipe. All you have to do is keep the ingredients ready and keep dumping them into a bowl. No need to mix the flour and baking powder separately or anything. Easy, right? The other thing I love is that the apples are grated so you can taste them in almost every single bite.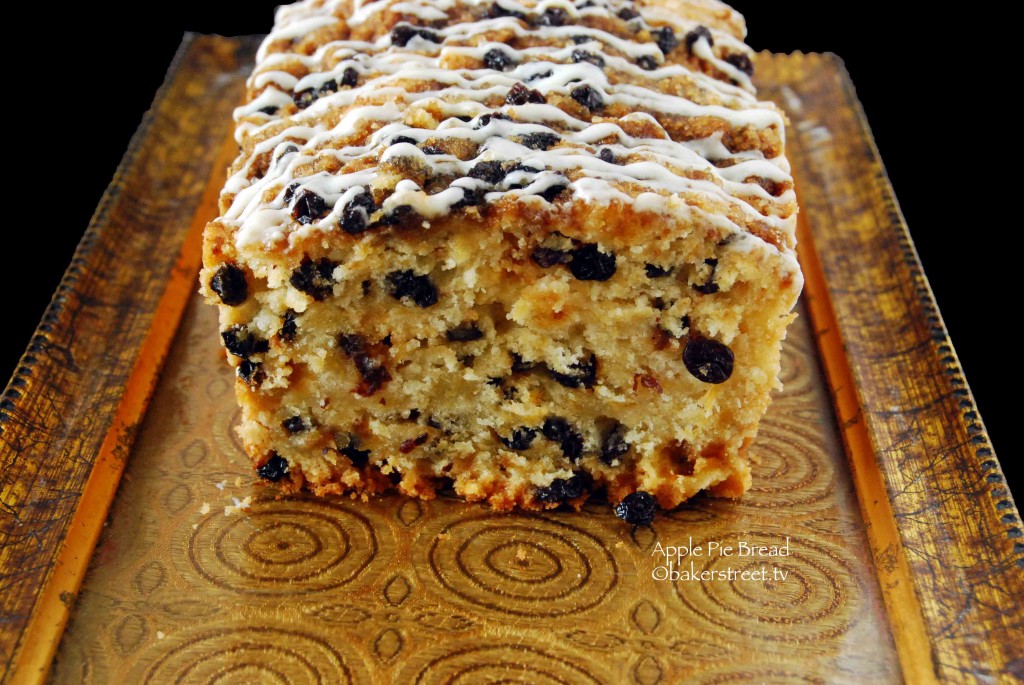 I did make a few changes to the original recipe from Better Homes and Gardens. The recipe did not call for any spices to be added, I added a teaspoon of my homemade apple pie spice mix in the bread and topping. For the streusel topping I added dark brown sugar that caramelized as the bread baked and formed a nice, slightly crunchy, caramel-y streusel layer. I omitted the nuts from the streusel and added tiny currants to the topping as well as the bread. And the final addition was my drizzle – an attempt to substitute the lattice topping with a cream cheese drizzle. A simple concoction of cream cheese, sugar and milk.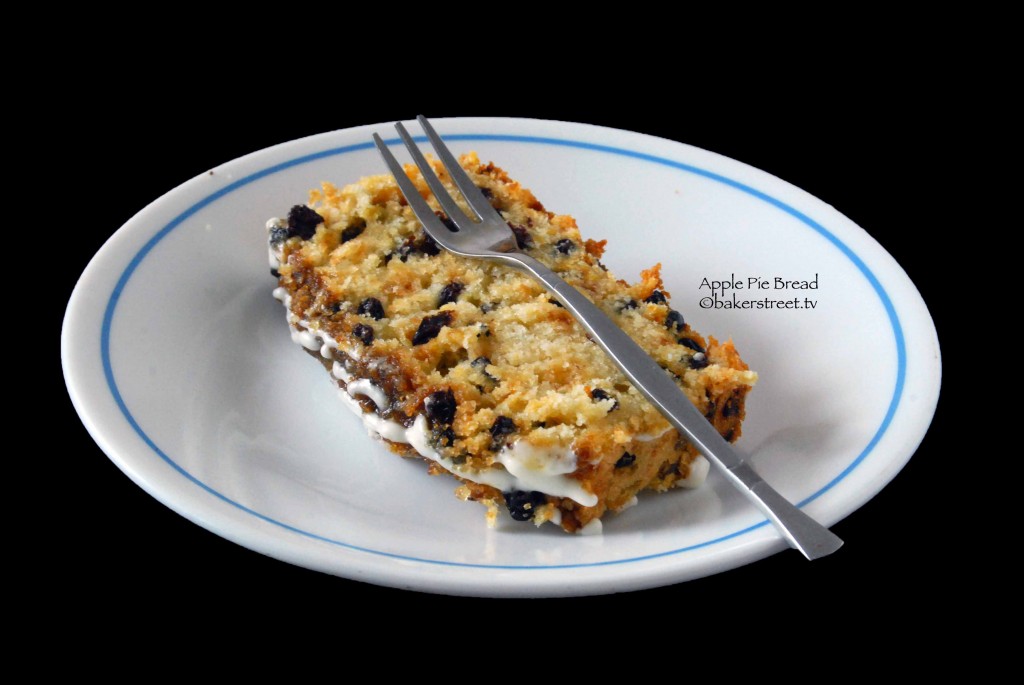 Best of both worlds, apple pie and bread, all in one. The bread is super soft, moist and melts in your mouth. It is perfect for Christmas, its perfect for fall. And then you have the taste of apple pie in bread – which makes it totally legal to eat pie for breakfast.
Apple Pie Bread
Author:
adapted from better homes and gardens
Prep time:
Cook time:
Total time:
Serves:
10 to 12 (1 loaf)
Ingredients
FOR THE BREAD:
½ cup butter, at room temperature
1 cup sugar
¼ cup buttermilk
2 teaspoons baking powder
2 eggs
1 teaspoon vanilla
2 cups all-purpose flour
1 teaspoon apple pie spice mix
½ teaspoon salt
2 cups shredded, peeled apple (about 4 medium)
1 cup chopped walnuts or pecans (optional)
½ cup raisins ( I used currants)
FOR THE STREUSEL TOPPING:
¼ cup packed dark brown sugar
3 tablespoons all-purpose flour
2 tablespoons butter
⅓ cup chopped walnuts or pecans OR 2-3 tablespoons raisins (optional. I used small currants)
FOR THE CREAM CHEESE DRIZZLE:
¼ cup cream cheese
1 tablespoon sugar
1-2 teaspoons milk
Instructions
Preheat oven to 350 degrees F. Grease a 9×5-inch loaf pan; set aside.
For the topping:
In a small bowl, combine brown sugar and flour. Using a pastry blender, cut in butter until mixture resembles coarse crumbs.
Stir in walnuts or pecans ( if using)
For the bread:
In a large bowl, beat butter with an electric mixer on medium to high speed for 30 seconds. Beat in sugar until combined.
Add buttermilk and baking powder; beat until combined.
Add eggs and vanilla; beat until combined.
Add flour, apple pie spice mix and salt; beat until combined.
Stir in apple, nuts(if using), and raisins ( or currants). Spoon batter into prepared pan; spread evenly.
Sprinkle streusel topping over batter and bake for 60 to 65 minutes or until a wooden toothpick inserted near the center comes out clean.
Cool in pan on a wire rack for 10 minutes. Remove from pan. Let it cool for further 20 minutes and in the meantime, make the cream cheese glaze.
For the cream cheese drizzle:
Beat the cream cheese and sugar until well blended. Add in the milk one teaspoon at a time and beat until you get spreadable consistency.
The #SundaySupper movement is Isabel's brainchild and today's event has been hosted by Cindy From Cindy's Recipes and Writing.
Soups, Salads, Starters and Breads
Main Meals
Sides
Desserts
Beverages
Happy Baking!