Baking with yeast is addictive. I prepared by reading as much as I could on the subject before gathering the courage to bake my very first bread. Happy to report it was a success! I may have tried but a simple focaccia but it was an exhilarating experience. Nothing like instant success to nudge you toward baking in unknown territory! And look at me now: sharing a step-by-step process of baking this sweet Cinnamon Wreath!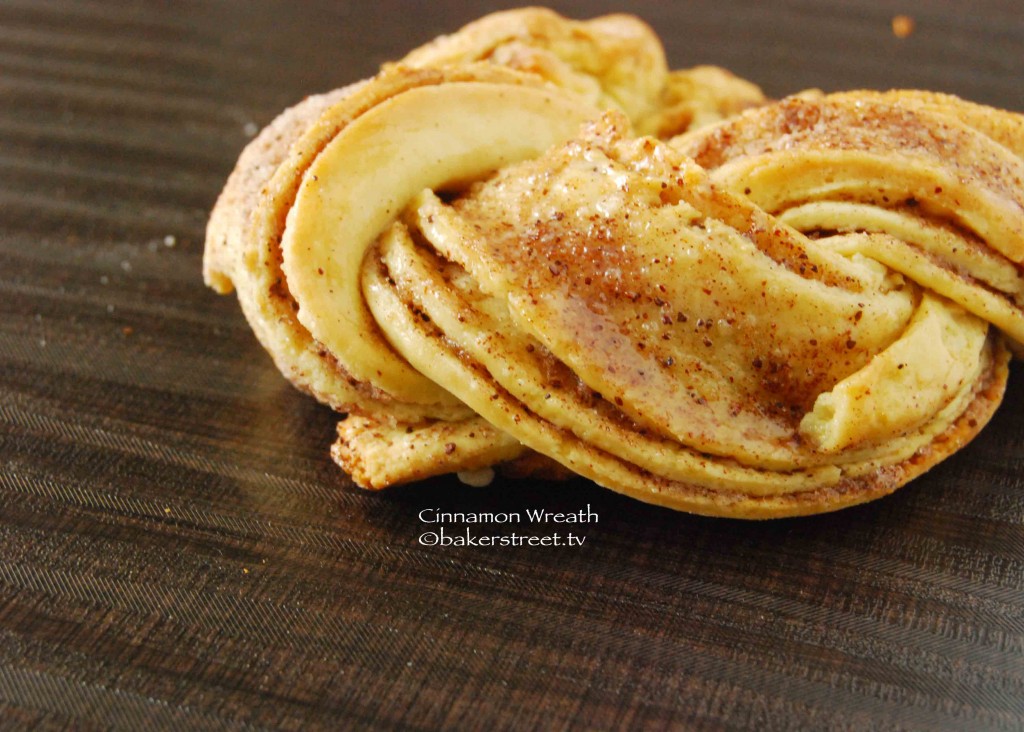 At a glance the recipe is simple, but as we go along there will be a few things that need you need to focus on. A mystery for me was the addition of milk in place of water, and using butter and egg yolk. But ingredients at hand, I went ahead and embarked on my little kitchen adventure.
I've made my own notes in this recipe, detailing it as much as I can and I hope they help you when you give this wonderful bread a try.
Step 1: Get ingredients together, make sure everything including the yeast is at room temperature. The recipe defines the milk at luke warm but if you're a beginner like me, then I recommend you use a thermometer and ensure it doesn't cross the 110F mark. Add yeast and sugar to the milk and wait for it to work its magic. It doesn't take more than 5 minutes.
Step 2: In a large bowl add the yolk, butter – it should be melted, don't mistake that for room temperature, ensure its pourable consistency – flour, salt and knead it till it forms a ball. In case you feel it's not coming together or the liquid content is too much, feel free to add in some more flour working it in tablespoon by tablespoon.
Step 3: Go read a book, make the filling and wait for the dough to rise and become double in size.
Ah… now this is where I deviated from the recipe, it calls for the entire dough to be rolled out and that would generate one huge wreath and I wasn't very comfortable with this, so I divided the dough into 2 making smaller wreathes, making the rolling and shaping easier to handle. Back to the recipe now…
Step 4: Dust the work surface, divide the dough into 2 equal parts and roll the dough out till you achieve a 1 cm thickness. Tip: Use your scale to be precise while dividing the dough.
Step 5: Spread the filling and gently roll up the dough into a log. Leave a tablespoon to brush on top of the bread too.
Step 6: Using a sharp knife cut the log into half, length-wise.
Step 7: Twist the two halves together, keeping the open layers exposed as seen in the photo tutorial. Roll it up into a round shape and then transfer on a baking tray.
Step 8: Brush the remaining filling on top and bake for 30 to 35 minutes in a preheated oven. Reduce the temperature to 350F after 5 to 10 minutes so it doesn't over brown.
Let it cool. You could give it a cream cheese glaze, dust it with icing sugar or warm it up and dip it in a little butter like I did.
There you go. A magnificent bread – buttery, cinnamon-y, a bite of which will make you feel everything in the world is right again.
Bread 101: Cinnamon Wreath
Author:
justlovecookin.com
Ingredients
For The Dough
2 cups flour
½ tsp salt
½ cup lukewarm milk
0.6 Oz fresh yeast or 1 envelope active dry yeast
⅛ cup melted butter
1 egg yolk
1 tbsp sugar
For The Filling:
¼ cup softened butter
4-5 tbsp sugar
3 tsp cinnamon
Instructions
Mix the yeast and sugar with the lukewarm milk and let it sit a few minutes while the yeast bubbles and foams up.
Add the egg yolk, the melted butter, the flour and the salt, then knead the dough and shape into a ball.
Place the dough in a large, greased bowl, then cover and place in a warm space and let rise until doubled in size (about 1 hour).
Preheat oven to about 400 degrees Fahrenheit. Divide your dough into half and dust your work surface with flour, and roll one part of dough out to a thickness of 1cm.
Spread the melted butter across all of the dough, then sprinkle the cinnamon and sugar mixture.
Roll up the dough, and using a knife, cut the log in half length-wise.
Twist the two halves together, keeping the open layers exposed as described in the photo tutorial. Give a round shape, then transfer to a baking tray (buttered or covered with cookie sheet). Repeat with the second part of dough.
Top the remaining butter and sprinkle some sugar and cinnamon mixture. Bake for 30 to 35 minutes, until the top is golden brown.
Reduce the oven temperature to 350 degrees Fahrenheit after 5-10 minutes to stop it burning. Top with icing sugar mixed with water if you want, just sprinkle some sugar or eat it dunked in butter.
Happy Baking!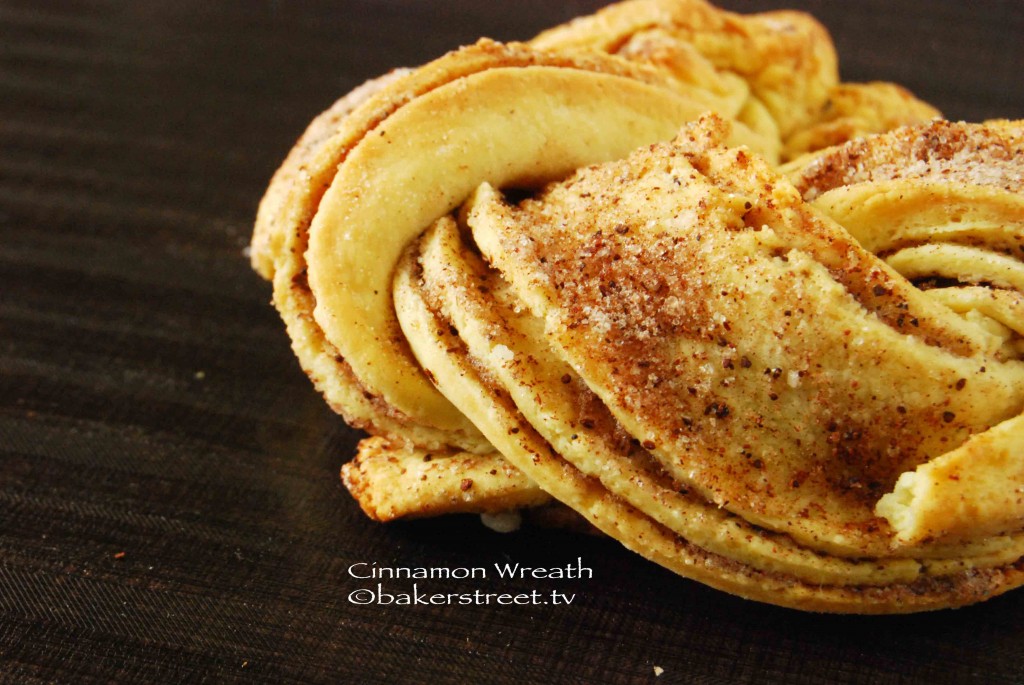 Did you notice a small piece of my bread broke? It was still warm and I wanted to get done with the pictures so while transferring, a little piece fell off and instead of adding it back, I just ate it.