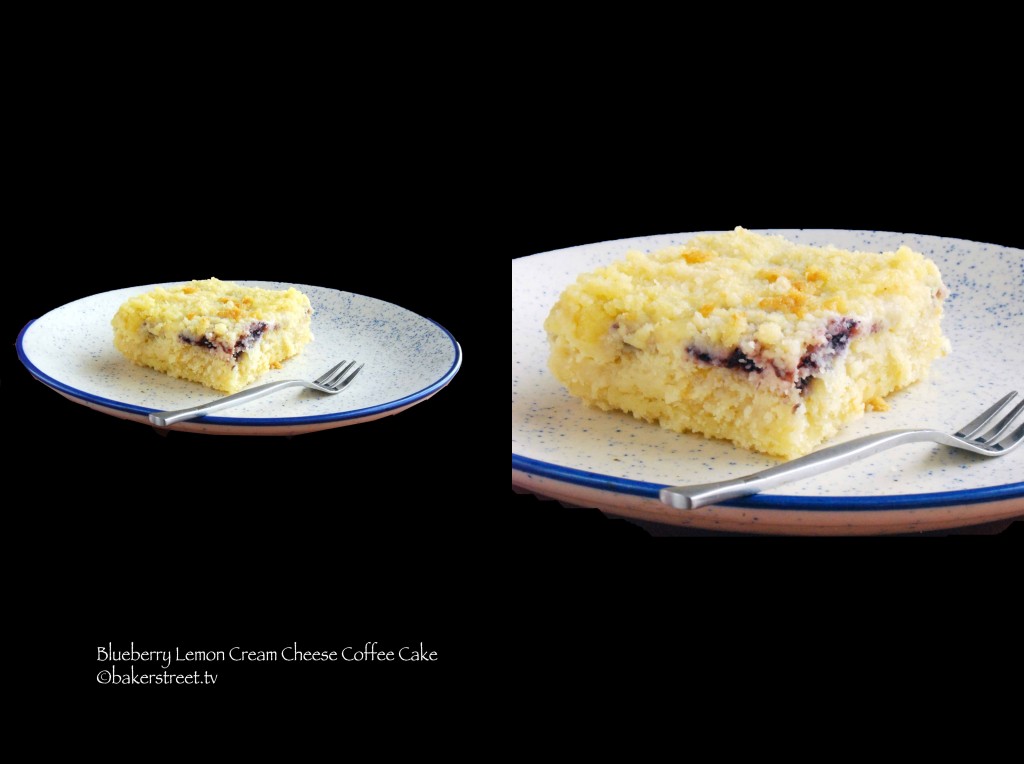 The #SundaySupper team is featuring Labor Day recipes this week and I can't think of anything better than this crumb topped coffee cake that also doubles up as the perfect way to mark the end of summer.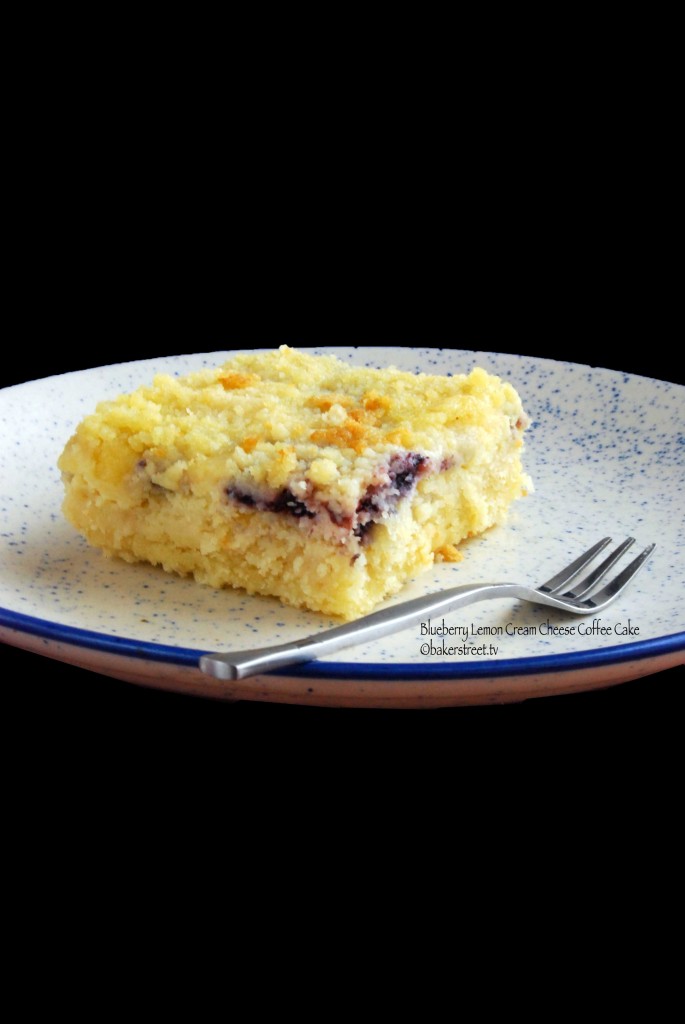 Changes and variations: you can think of this as a cross between lemon bars and cake. Interestingly, the original recipe doesn't call for lemon at all and if could eliminate it completely if you wanted but I like a little zing in the middle. You can replace the blueberry compote with any jam or preserve of your choice. You could also add half a cup of white chocolate chips to the crumb topping. The next time I make this (very soon) I think I'll add a lemon cream cheese or a white chocolate drizzle on top.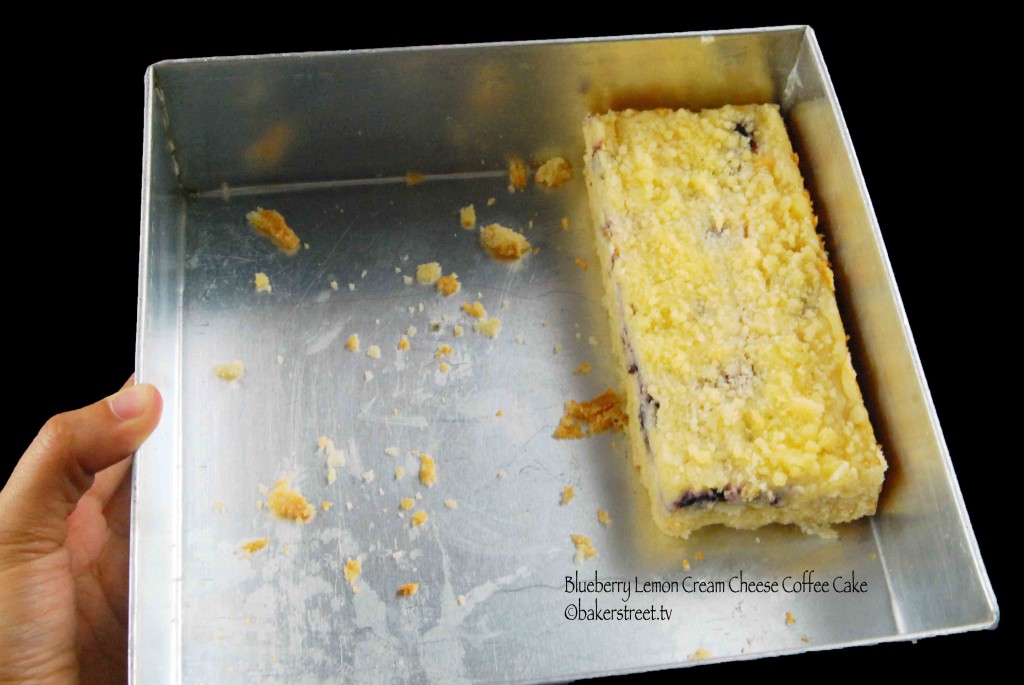 Over to the recipe: A tango of a buttery cake, lemon scented  cream cheese, and a luscious blueberry swirl with the perfect finishing of a crumb topping.
Blueberry Lemon Cream Cheese Coffee Cake
Author:
minimally adapted from pinch of yum
Recipe type:
coffee cake, cake, dessert
Ingredients
2¼ cups flour
¾ cup sugar
¾ cup butter
½ teaspoon baking powder
½ teaspoon baking soda
¼ teaspoon salt
¾ cup sour cream
1 egg
8 ounces softened cream cheese
¼ cup sugar
1 egg
½ cup homemade or store-bought blueberry jam
Zest and juice of one lemon
Instructions
Preheat the oven to 350F and lightly grease and flour a 9 by 13″ baking tin.
In a large bowl combine flour, sugar, and butter with a pastry cutter to make a crumbly mixture.
Remove 1 cup of the crumbs for topping, set aside.
Add with baking powder, baking soda, salt, sour cream, and 1 egg to the remaining mixture in the large bowl. Combine until smooth and spread evenly in the prepared baking pan.
Beat softened cream cheese, ¼ cup sugar, zest and juice of lemon and 1 egg until smooth.
Pour over the batter in the pan and spread in an even layer.
Spoon the jam over the cream cheese layer and swirl with a knife to make a marbled effect.
Sprinkle the reserved crumbs on top.
Bake in a preheated oven for 45-55 minutes until a knife inserted comes out clean.
Notes
If your jam is too thick to spread you can thin it out either by adding a few tablespoons of water or microwaving it for 15 to 20 seconds until it's easily spreadable.
If you're thinking of creating a Labor Day menu, look no further because here's a great round up for you to chose from:
Starters & Snacks

Salads & Sides

Drinks

Desserts

Wine Pairings

Labor Day Cookout Food And Wine Pairings by ENOFYLZ
Please be sure you join us on Twitter throughout the day during #SundaySupper. We'll be meeting up at 7:00 p.m. EST for our weekly #SundaySupper  live chat where we'll talk about our favorite cookout recipes!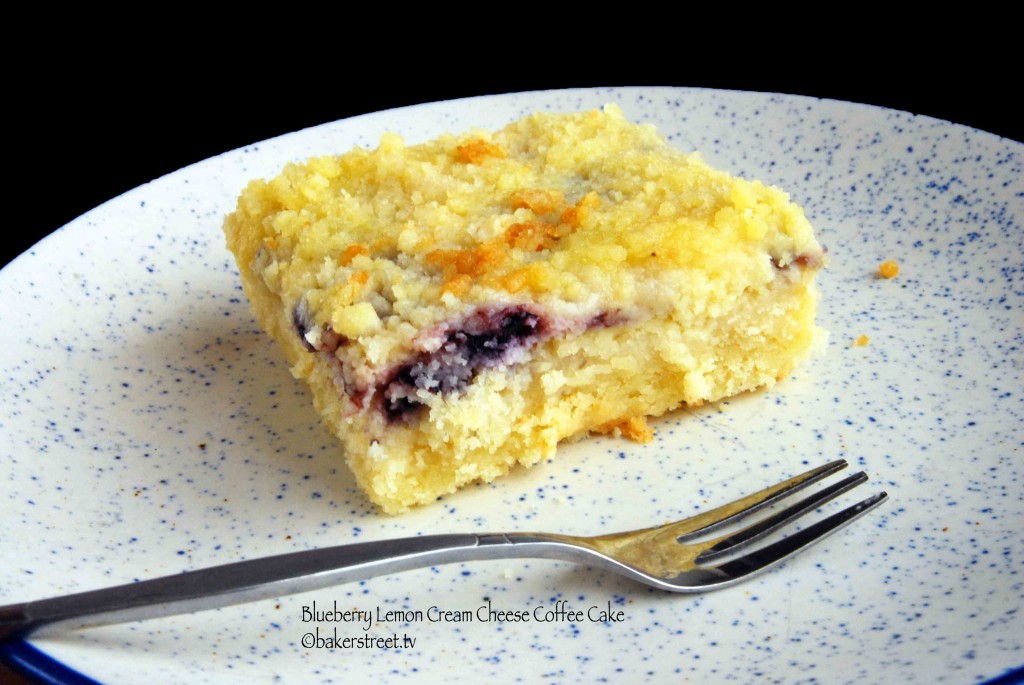 Happy Baking!