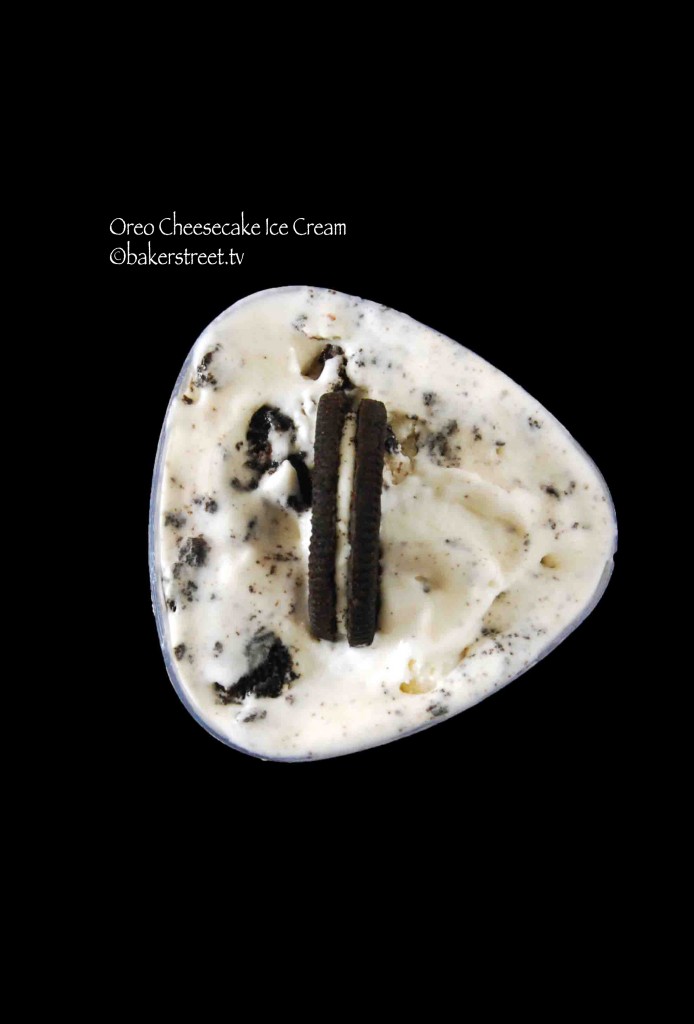 The blueberry cheesecake ice cream was a tremendous hit. Especially when it was served up in mini cups with a little bit of crust.
I did the same thing this week with my Oreo Cheesecake Ice Cream. Instead of the Graham cracker crust, used left over brownies (you could oreo cookies too) for the base and top off with a scoop of ice cream. And garnish with half a cookie.
I'm bending the rules a little and sharing the recipe.
Oreo Cheesecake Ice Cream
Author:
Original recipe from Baker Street
Recipe type:
Dessert, Ice Cream
Serves:
approximately 1 quart
Ingredients
8 oz cream cheese, softened
1 cup sugar
½ teaspoon vanilla extract
½ cup milk
1 cup heavy cream
Tiny Tiny pinch of salt
1 cup crushed oreo cookies
Instructions
In a measuring jug combine the milk, heavy cream, salt and vanilla extract.
In a large bowl, beat the sugar and the cream cheese together until smooth and creamy.
Add in the cream mixture and beat on medium speed until you have a thick and smooth consistency.
Refrigerate the custard for a minimum of 4-6 hours or preferably overnight.
Churn the chilled mixture according to your ice-cream maker's instructions.
To Assemble:
Add a third of the ice cream mixture in the air tight container, pour a thin layer of the crushed oreo cookies and repeat the process ensuring you have an ice cream layer on top. Freeze for at least 2-4 hours before serving.