Phew! I can't tell you how glad I am that the blog is finally up and running again. From Friday till Sunday evening, all I did was fret about the fate of bakerstreet.tv
It was a bittersweet moment really. Sweet because it was a bandwidth issue: meaning the site had more page views that it could handle (so yay!) Bitter because the hosting service provider [Bigrock.in] didn't extend any kind of help to increase the bandwidth temporarily or aid in moving the site in any way while I attempted an effort to switch servers.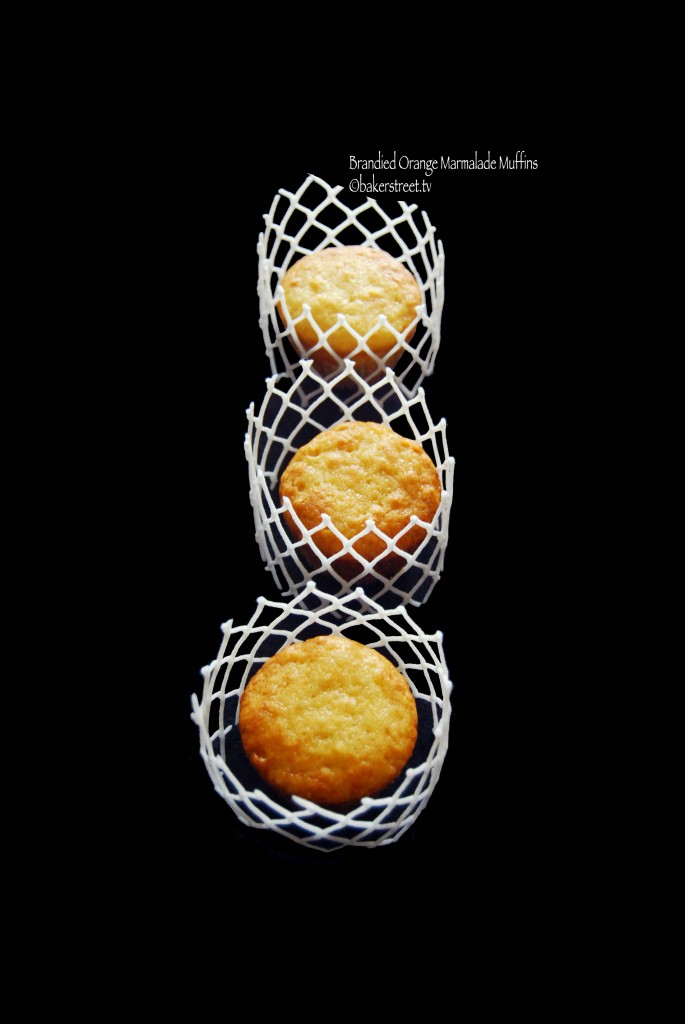 It seemed eons but we finally figured out a slow and painful process to get the site up again. Scary. I do take regular back-ups, but not necessarily every time the blog is updated with a post. And while my main concern was to recover all the data, I was hoping it would be up and ready by Monday. Blog gone and missing #MuffinMonday – that would have been disastrous.
But things worked out fine in the end – I'm glad I didn't have to miss a Monday because today's recipe is a real treat. It originates from Mark and Bruce's The Ultimate Muffin Book. I've baked quite a few treats from this book and I totally recommend you also try the Daiquiri Muffins, Quiche Lorraine Muffins, Rice Pudding Muffins and Roasted Garlic and Barbecue Ham Muffins.
I made tiny changes to today's recipe, I used brandy instead of cointreau and gave a little extra stuffing of orange marmalade in the centre. Hop over to the recipe for more variations and changes you can make in this very adaptable muffin.
#MuffinMonday: Brandied Orange Marmalade Muffins
Author:
From The Ultimate Muffin Book
Ingredients
21/4 cups all-purpose flour
¼ cup whole wheat flour or spelt flour
2 teaspoons baking soda
1 teaspoon baking powder
½ teaspoon salt
1 cup buttermilk (regular or low-fat)
¾ cup sugar
½ cup orange marmalade (see Note)
1 teaspoon grated lemon zest
2 large eggs, at room temperature
¾ stick unsalted butter, melted and cooled
3 tablespoons Brandy or (Cointreau or other orange-flavored liqueur)
1 teaspoon fresh lemon juice
Instructions
Preheat the oven to 400°F and grease or line a 12 hole muffin pan.
In a large bowl, whisk the all-purpose flour, whole wheat flour, baking soda, baking powder, and salt until uniform. Set aside.
In a food processor, blend the buttermilk, sugar, marmalade and lemon zest until the mixture is smooth (about 20 seconds)
Scrape down the sides of the bowl, then add the eggs, melted butter, brandy, and lemon juice. Process until smooth.
Pour the liquid mixture over the flour mixture; stir with a wooden spoon until the flour is incorporated. Do not overmix.
Fill the prepared tins three-quarters full. (See note 1)
Bake for 20 minutes, or until the muffins are pale brown with rounded, cracked tops and a toothpick inserted into the center comes out clean.
Cool on a wire rack for 10-15 minutes and serve warm.
Notes
1. Use additional greased tins or individual, ovensafe, greased ramekins for any leftover batter, or reserve the batter for a second baking. 2. Although the best marmalade is made with whole, round slices of candied oranges, it makes for poor baking. Instead, look for marmalade that has tiny shreds or small pieces of rind in the jelly; this far cheaper variety will spread evenly throughout the batter. 3. If storing or freezing the muffins, cool them completely before sealing in an airtight container or in freezer-safe plastic bags. The muffins will stay fresh for up to 24 hours at room temperature or up to 1 month in the freezer.
Muffin Monday: Round Up
Happy Baking!
I posted a Devil's Food Cake just before the site crashed. It is a lovely recipe, and I'm linking it just in case you missed it.