I am in love with the idea of this month's #ForeverNigella challenge: fridge-raiding snacks, Nigella style.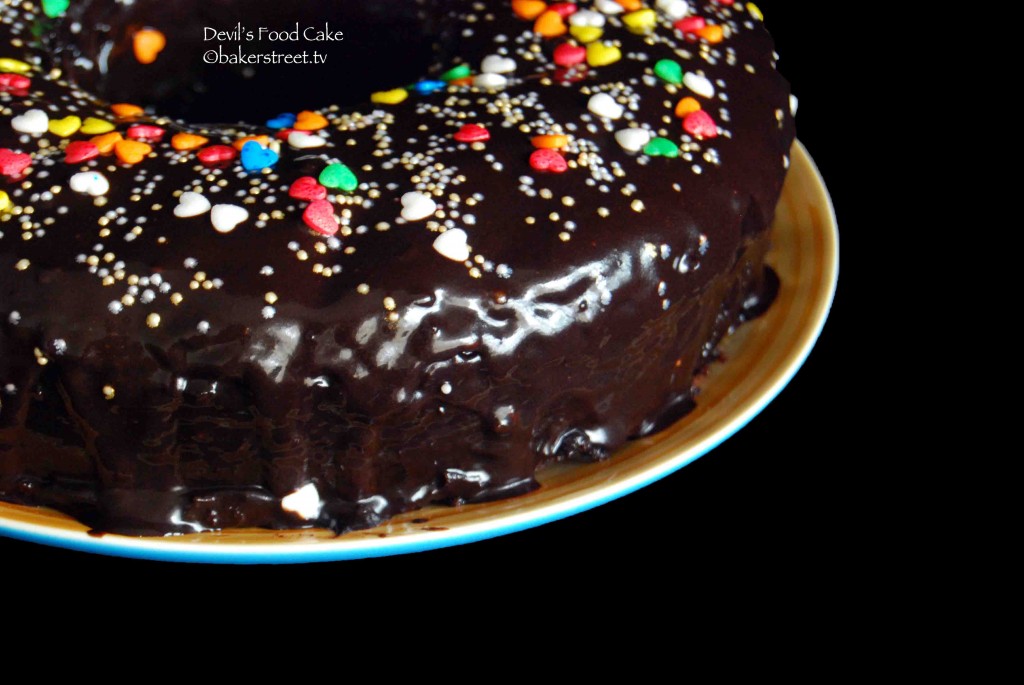 If you've ever seen an episode of any of Nigella's shows, it most likely featured in a satin nightgown raiding the fridge. And if you haven't seen this surreal (some would say delicious) sight, I bet you're picturing it now.
When it comes to raiding the fridge, for most of us, it is post-midnight when the pangs cannot be ignored any more. And it is in such circumstances one realizes the true taste and power of a simple piece of cake.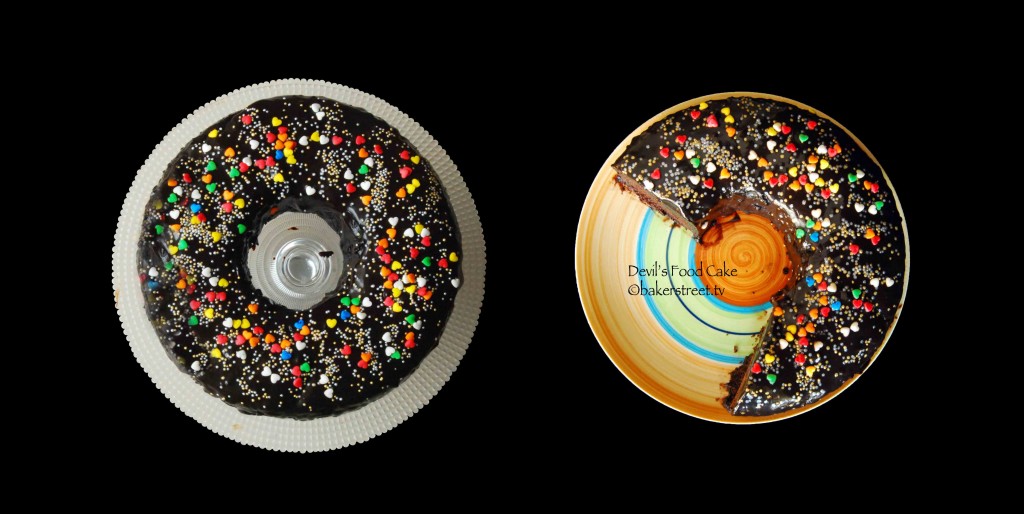 For my midnight indulgence, I baked a Devil's Food Cake with a tiny twist. I changed two things, one in the cake and one in the frosting. While chocolate is for everyone, I wanted to give it a good balance. I added a heaping tablespoon to the cocoa mixture (you'll read about it in the recipe) and a generous splash of Kahlua to the frosting. A bite of this after a long day's work is surprisingly rewarding.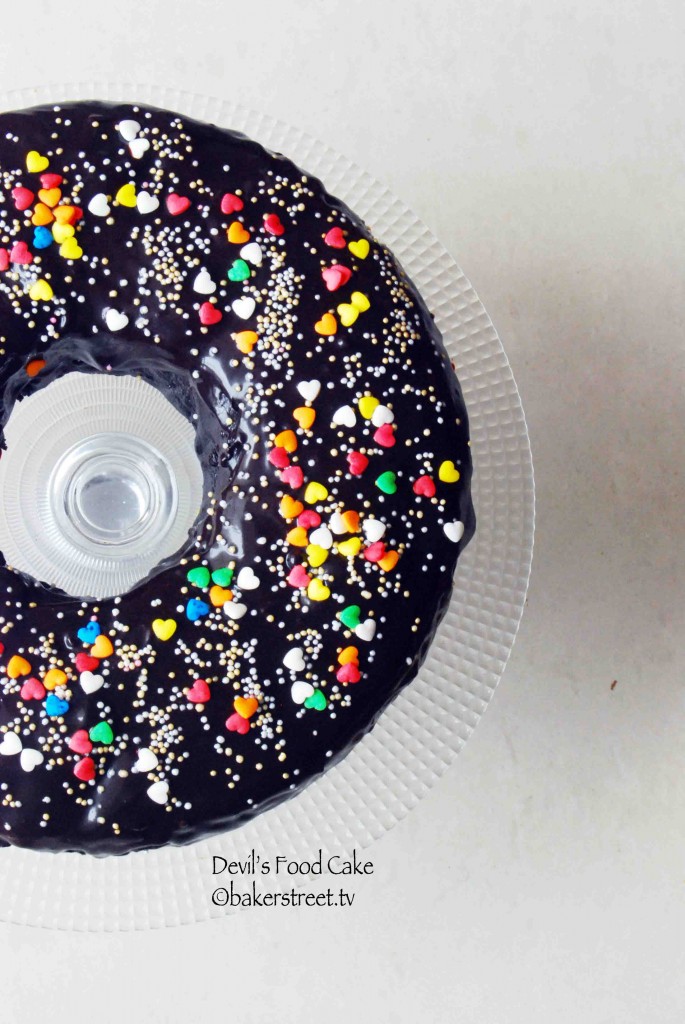 If you read her original recipe, making the frosting can be quite intimidating but I promise you it will eventually come together. Since I was using Kahlua, I reduced the water quantity or you could end up with a runny frosting.
Devils Food Cake w/ Chocolate Kahlua Frosting
Author:
Minimally Adapted from Nigella Lawson
Ingredients
½ cup best-quality cocoa powder, sifted (I use hershey's)
½ cup packed dark brown sugar
1 heaping tablespoon of ground coffee
1 cup boiling water
1 stick plus 1 tablespoon unsalted butter, at room temperature
¾ cup superfine sugar
11/2 cups all-purpose flour
½ teaspoon baking powder
½ teaspoon baking soda
2 teaspoons vanilla extract
2 eggs
FOR THE FROSTING:
⅓ cup water
2½ tablespoons kahlua
2 tablespoons dark brown sugar
¾ cup unsalted butter, cubed
2 cups chocolate chips
decorative sugar (optional)
Instructions
Preheat the oven to 350 degrees F. Generously grease and flour a 20″ cake tin.
In a medium bowl, combine the cocoa, coffee and ½ cup dark brown sugar. Pour in the boiling water. Whisk to mix and set aside.
In another bowl, sift together the flour, baking powder, baking soda and set aside.
In a large bowl, beat the butter and superfine sugar until light and fluffy, about 3-4 minutes.
Add in vanilla extract, add in one egg quickly followed by a spoon of the flour mixture.
Then add in the second egg and beat until combined.
Then keep adding in the flour mixture slowly while beating until all of it is incorporated.
Finally mix and fold in the cocoa mixture, scraping its bowl out well with a spatula.
Pour the batter into a prepared pan and bake for 35 to 40 minutes or until a cake tester comes out clean. Let it cool on a wire rack.
As soon as the cakes are in the oven, get started on your frosting:
In a saucepan, put the water, 2 tablespoons dark brown sugar and butter to melt on low heat
Once the mixture begins to bubble, take the pan off the heat and add the chopped chocolate, swirl the pan so that the chocolate melts and you have a nice smooth and glossy chocolate-y mixture.
Stir in the kahlua and let it stand for about 1 hour, whisking now and again – when you're passing the pan – by which time the cakes will be cooled, and ready for the frosting.
Spread the frosting generously on your cake and sprinkle with decorative sugar.
#ForeverNigella is Sarah's (from MaisonCupcake) brainchild. The month's challenge is hosted by Karen of Lavender and Lovage. Click here to see other fridge-raiding ideas.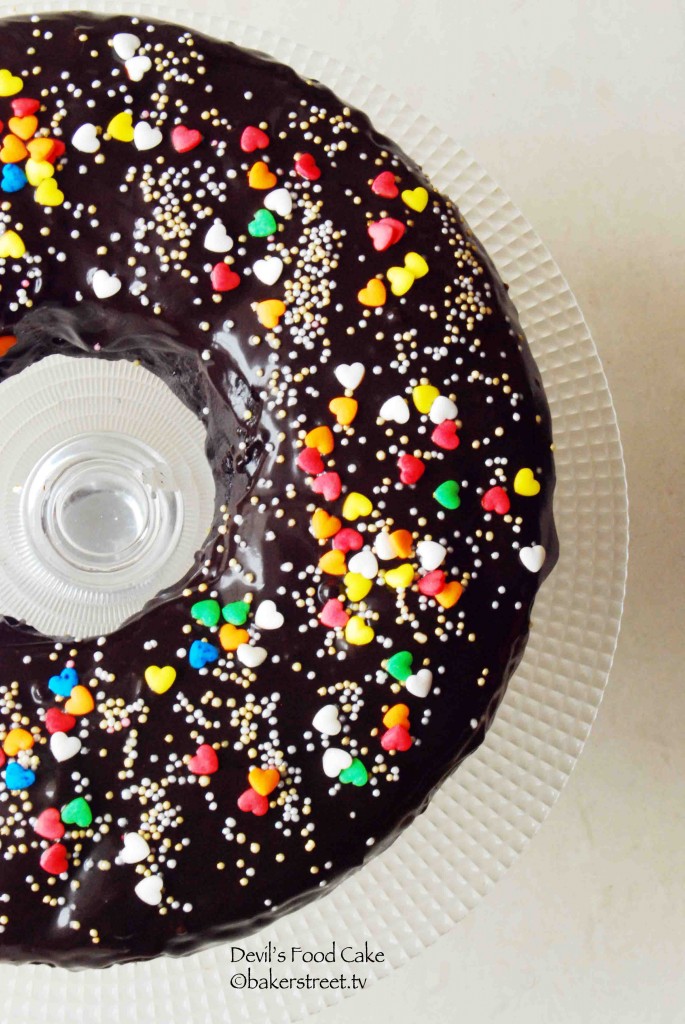 Happy Baking!