This happens every week when I pick up fresh produce: I pass shelves and shelves of granola bars and a variety of oatmeal just staring at my face with a "Make me!" expression. I calmly remind myself to make us a batch of granola, that healthy and delicious snack that should replace the junk food you resort to every evening.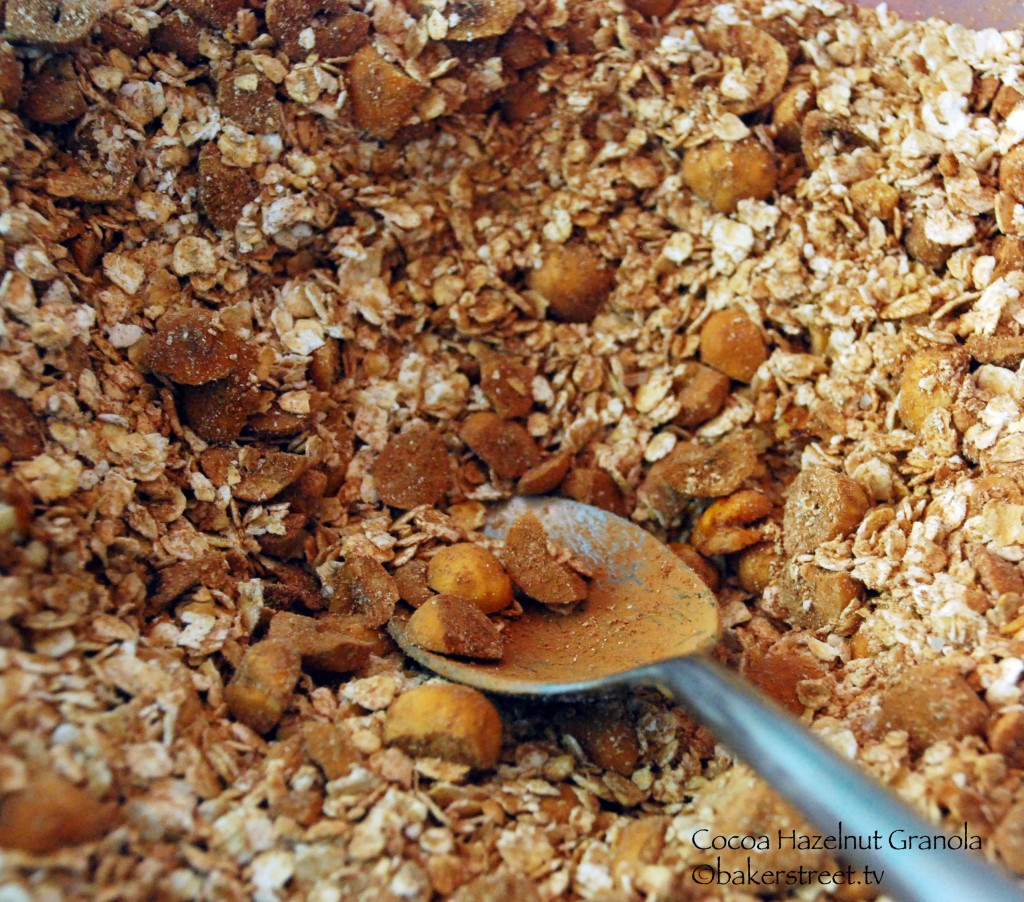 I'm all for homemade granola, the last recipe I tried was with coconut and dried fruit. It quickly became a household favorite. This time I had my mind set on a recipe that contained hazelnuts and Cocoa Hazelnut Granola was exactly what I was look for. It took me all of ten minutes to put the whole thing together, apart from the baking and cooling time of course.
I chopped up the hazelnuts into smaller pieces. No. Wait. This was my favorite part, I took a rolling pin and beat them down. It makes for such a healthy and delicious snack (and it gives your biceps a work out too). You could switch the hazelnuts for almonds or walnuts and add chocolate shavings if you want to indulge a little, but do this only after it has cooled down. It tastes great with a couple of scoops of yogurt or when soaked in milk.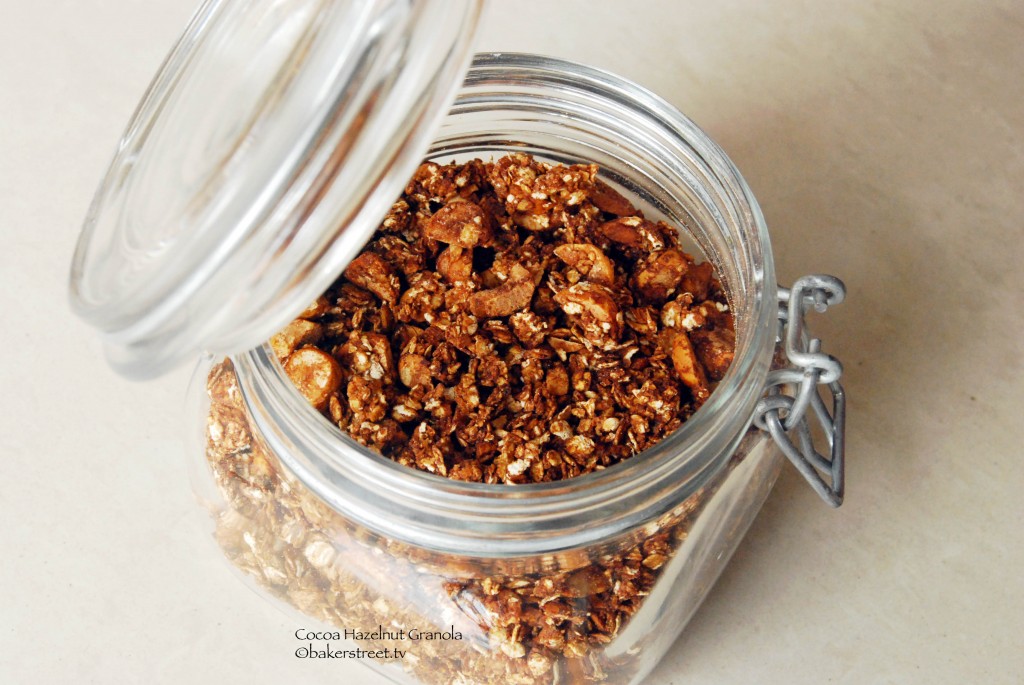 Over to the recipe: Toasted nuts, the sharpness of cocoa tossed with healthy oats loosely held together with maple making for the perfect go to snack!
Author:
from food in jars
Recipe type:
Granola, Breakfast
Ingredients
1 cup hazelnuts
3 cups rolled oats
2 tablespoons cocoa powder
¼ teaspoon sea salt
¼ cup canola or sunflower oil
½ cup maple syrup ( you can use cane syrup too)
Instructions
Preheat oven to 350 degrees.
Place the hazelnuts in a zip lock bag and give it a couple of whacks using a rolling pin. (You could leave them whole too)
Line the coarsely chopped nuts on a baking sheet and roast for 10 to 12 minutes or until they are slightly brown and fragrant. [See note 1]
In a large mixing bowl, combine hazelnuts, cocoa, oats and sea salt. Toss it all together with your fingers or a spoon, just to help the cocoa powder coat everything else.
Measure the oil out into a graduated 1-cup measure and swirl it around a little bit before pouring it into the mixing bowl. Then measure the maple syrup into the same, unwashed measuring cup. This will help you get a accurate measure while still getting the bulk of the sweetener into the granola.
Toss everything together with a silicone spatula or a wooden spoon or even a fork would work until the oil and syrup are evenly distributed.
Spread the cereal out onto an ungreased baking sheet evenly using your spatula.
Bake at 325 degrees for 25-30 minutes, stirring every 10 minutes or so, to ensure even baking.
When it well roasted, remove the baking sheet from the pan. Using a spatula, scoot the cereal together into the center of the baking sheet and press it down. Let it remain like this, undisturbed, until fully cool. This would ensure crunchy clusters.
When the granola is totally cool, store in an airtight jar or container, to protect the crunch. In case its stuck, use a sturdy metal spatula to break up the granola and scrape it off the baking sheet.
Notes
– If you're using skinned hazelnuts, then place them in a tea towel or colander and shake them around. (I used plain ones and avoided this step completely)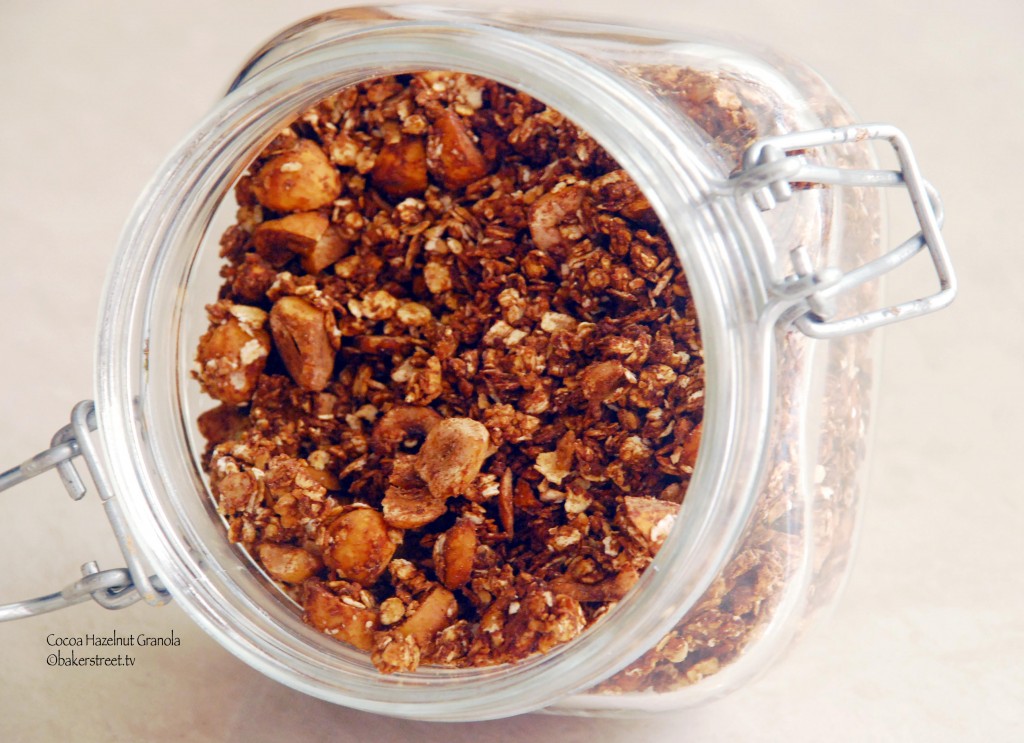 Happy Baking!