A savory treat is most welcome in my house. The familiar smell of bacon and eggs over cinnamon is a welcome change for me and breakfast for everyone is extra special. The original recipe was plain and simple cheese muffins and my first instinct was only to add bacon. A cheesy bacon muffin is the recipe for a Monday morning.
And I improvised further… upgrading to mac and cheese muffins. Of course I still added bacon, that dream could not be let off. But I restricted it to only half the batch in consideration for my vegetarian friends. Apart from that, I added a dash of freshly ground pepper.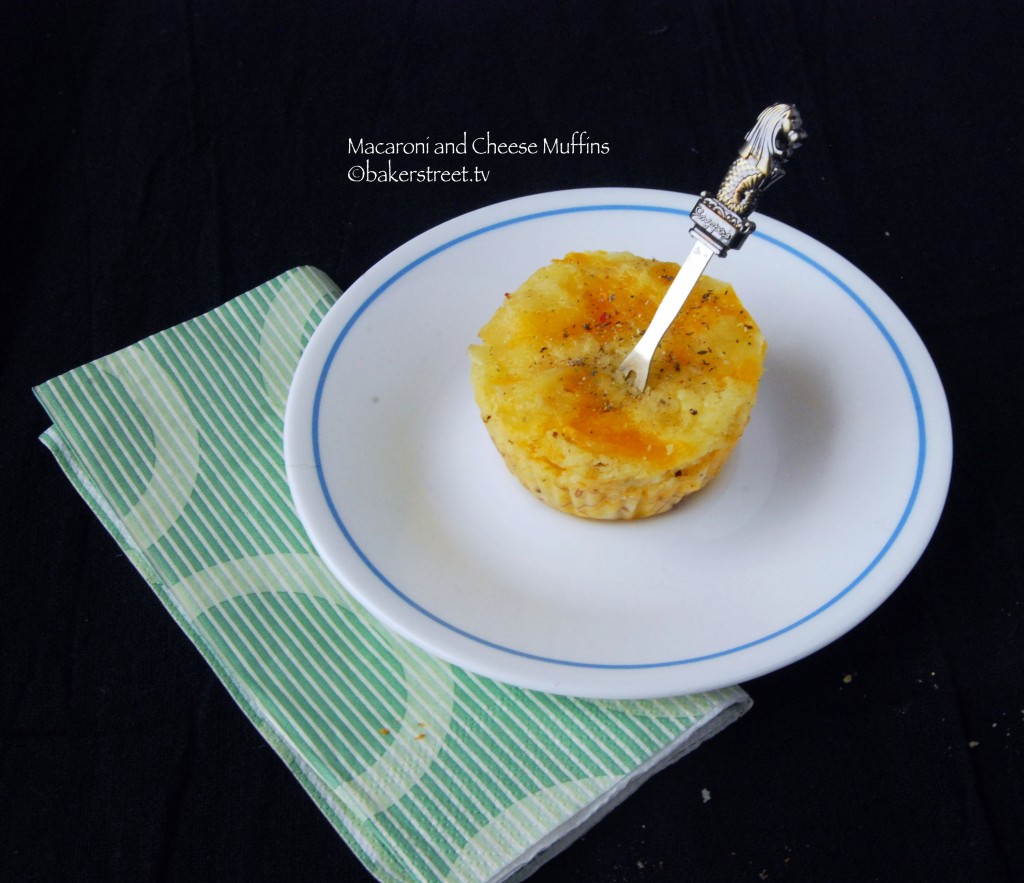 A couple of these creamy and cheesy muffins is an entire meal by itself. They could also be served along with  a bowl of warm soup or a nice pasta. It surely is the perfect treat to satiate all your mac and cheese cravings without feeling the guilt of an entire bowl.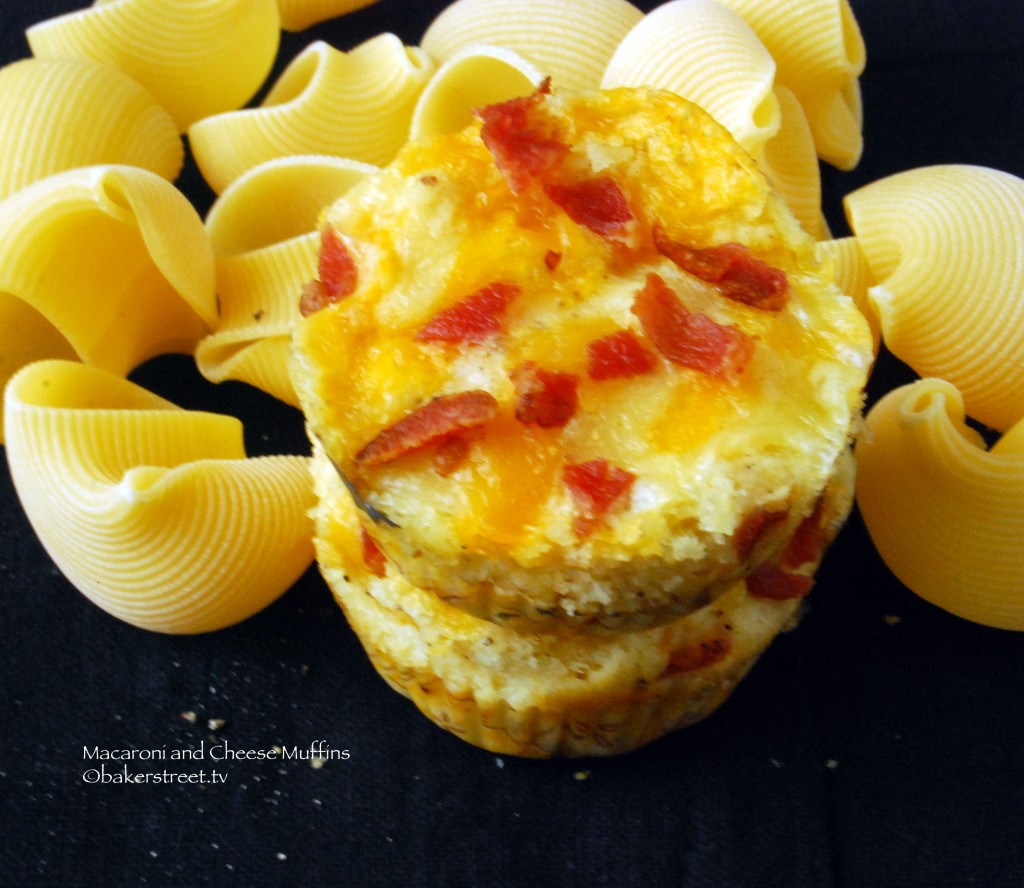 I do want to try these with more mix-ins. Some of the ideas I want to try the next time include:
– Adding a handful of caramelized onions to the batter sans the macaroni and bacon.  – Adding tiny bits of crispy spinach.  – Add diced ham or prosciutto.  – Tiny bits of parsley or basil.  – I imagine roasted peppers would make a great addition. 
Or of course, just eat them as plain cheese muffins.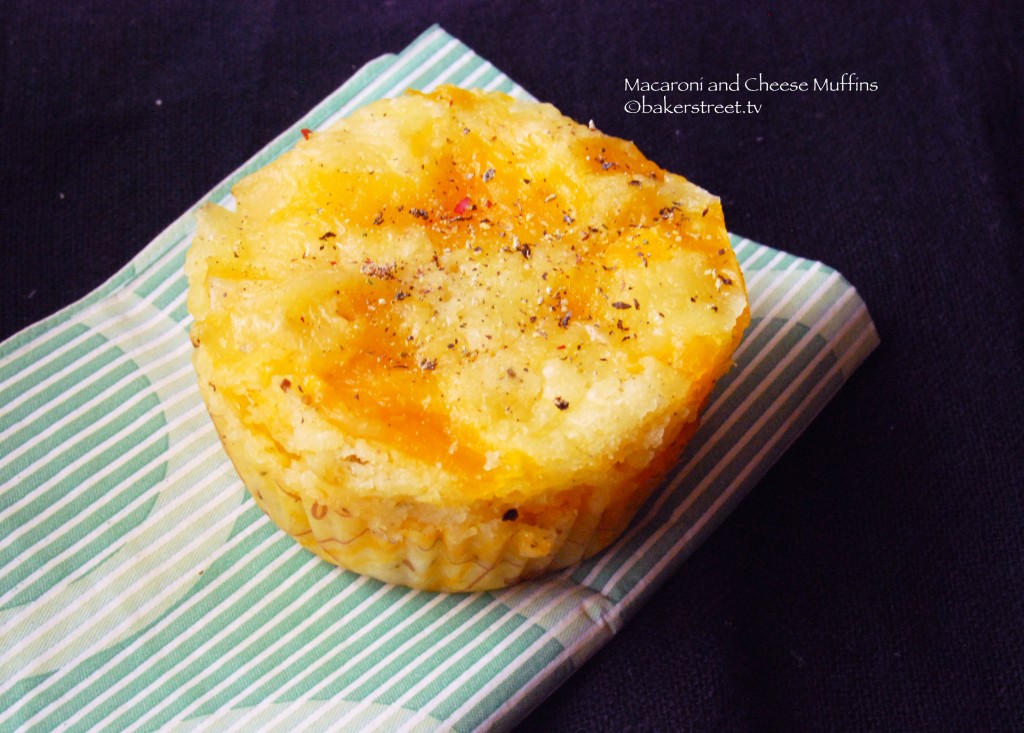 Over to the recipe: Bacon, Macaroni and Cheese: Comfort food at its best.
#MuffinMonday: Macaroni and Cheese Muffins
Author:
Adapted from The Pioneer Woman
Ingredients
1½ cups flour
1½ tablespoons sugar
1 tablespoon baking powder
½ teaspoon salt
¾ teaspoon freshly ground pepper
3 cups shredded colby-jack cheese
1 cup milk
1 egg
¼ cup (1/2 stick) melted butter (I used salted)
12 cooked pasta shells (I used jumbo shells)
Instructions
Preheat the oven to 375F and grease or line a 12 hole muffin pan
In a large bowl, whisk together flour, sugar, baking powder, salt and pepper. Stir in 21/2 cups of cheese.
In a separate bowl, whisk egg, milk, and butter together.
Pour milk mixture into dry ingredients and stir with a spoon to combine.
Scoop about 1 tablespoon of the batter into the muffin pan and add one pasta shell in each cup and then fill with another tablespoon until the cup is ⅔ full. Top with the remaining cheese
Bake for 20-25 minutes.
Notes
These are best served fresh and warm out of the oven. – If you're adding bacon, then prepare 2 to 3 bacon rashes and chop them roughly. Add it on top when sprinkling cheese.
Muffin Monday: Round Up
Happy Baking!