Chocolate and orange is one of my favorite combinations, where rich sweetness and tanginess are in a timeless marriage. I've wanted to capture these flavors in a cake forever now, since I started baking, and I'm glad I finally got around to it.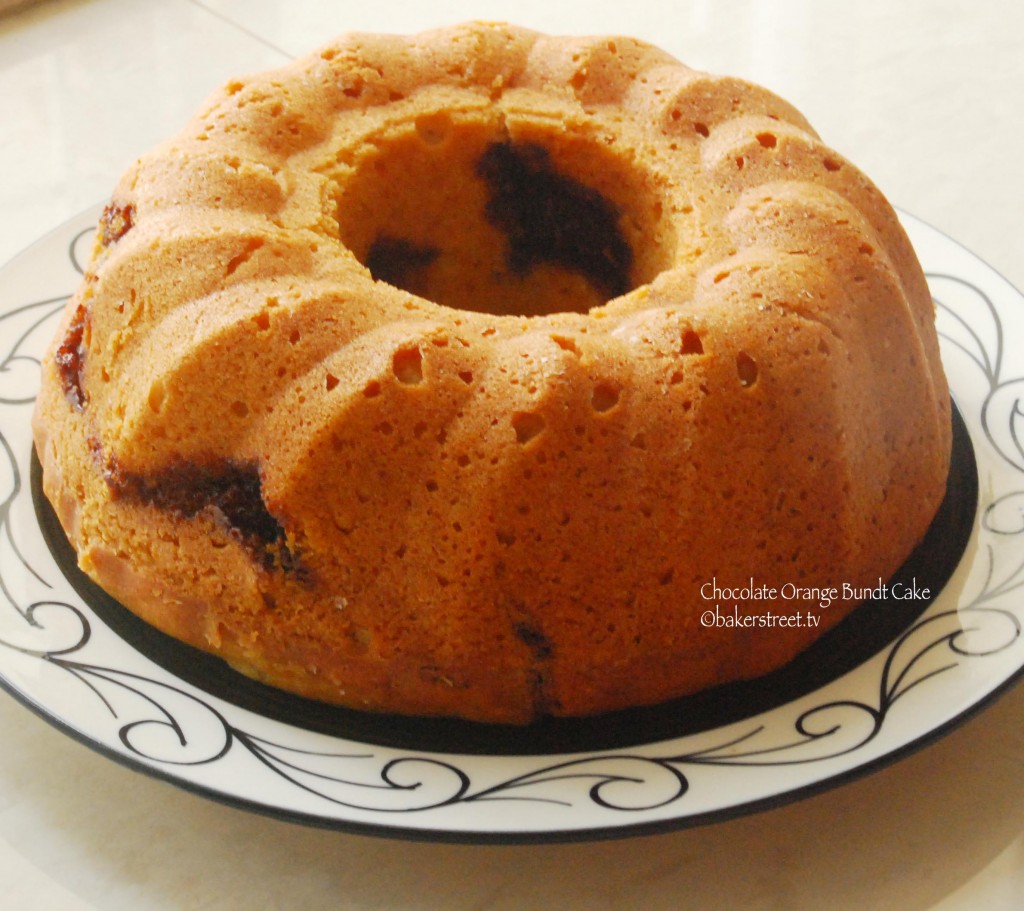 There are two ways to go about the recipe I chose. One way would be to execute it like any other marble cake – prep the batter, divide into two adding cocoa to one part and then alternating the batters to yield a marble effect. I originally did want to just stick to this method but I took a slightly different route and came up with astonishing results…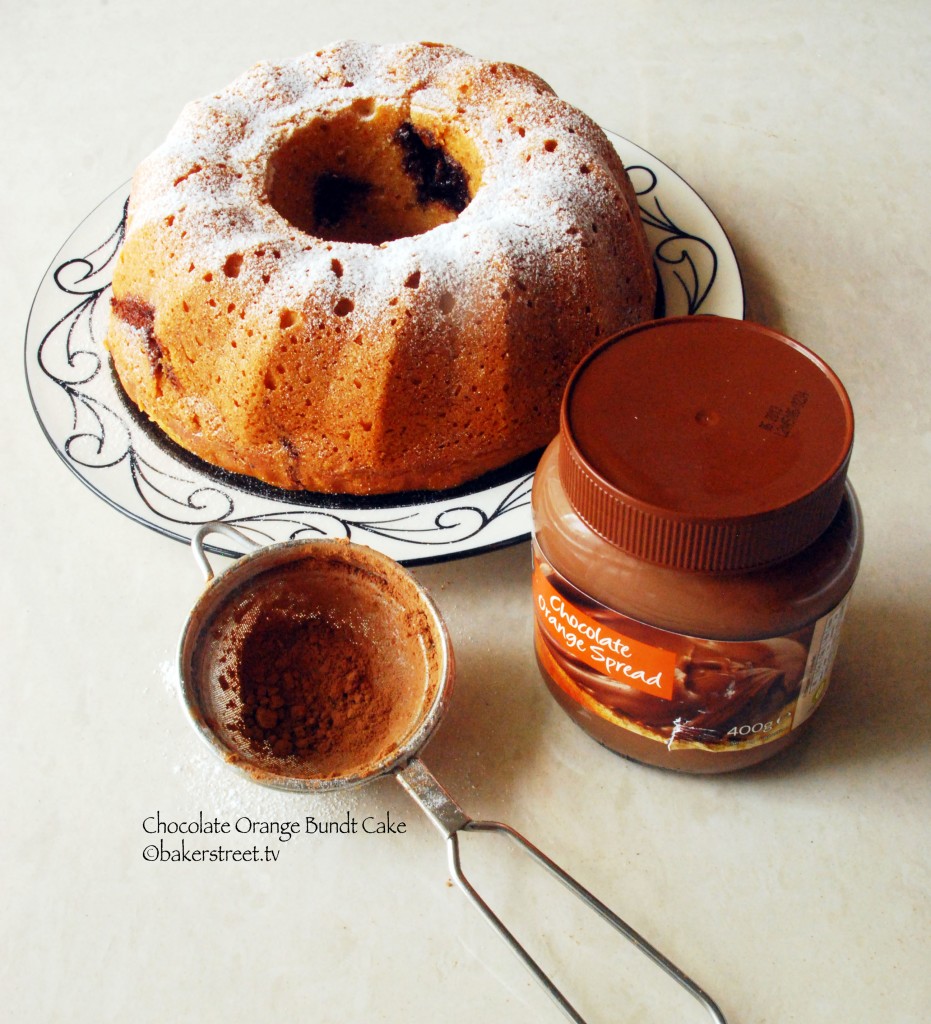 In my little adaptation, I skipped dividing the batters to avoid the use of cocoa altogether and used a chocolate orange spread instead. Only the method of pouring into the pan changes slightly. Layer the prepared pan with half the batter, top with spread followed by the balance batter and give it a little swirl to create the marble effect. The one aspect you need to be careful about is that the spread shouldn't touch the edge of the pan so that it doesn't burn or sticks to it.
The spread turned out perfect with its Nutella-like consistency. It does not overpower in taste or change the texture drastically. You can give it a whiz in the microwave to make it of spreadable consistency.
And if you have an issue taking out your bundt cake from the pan, here's my earlier post on this exact problem: solved in 3 easy steps for you to produce a pretty cake.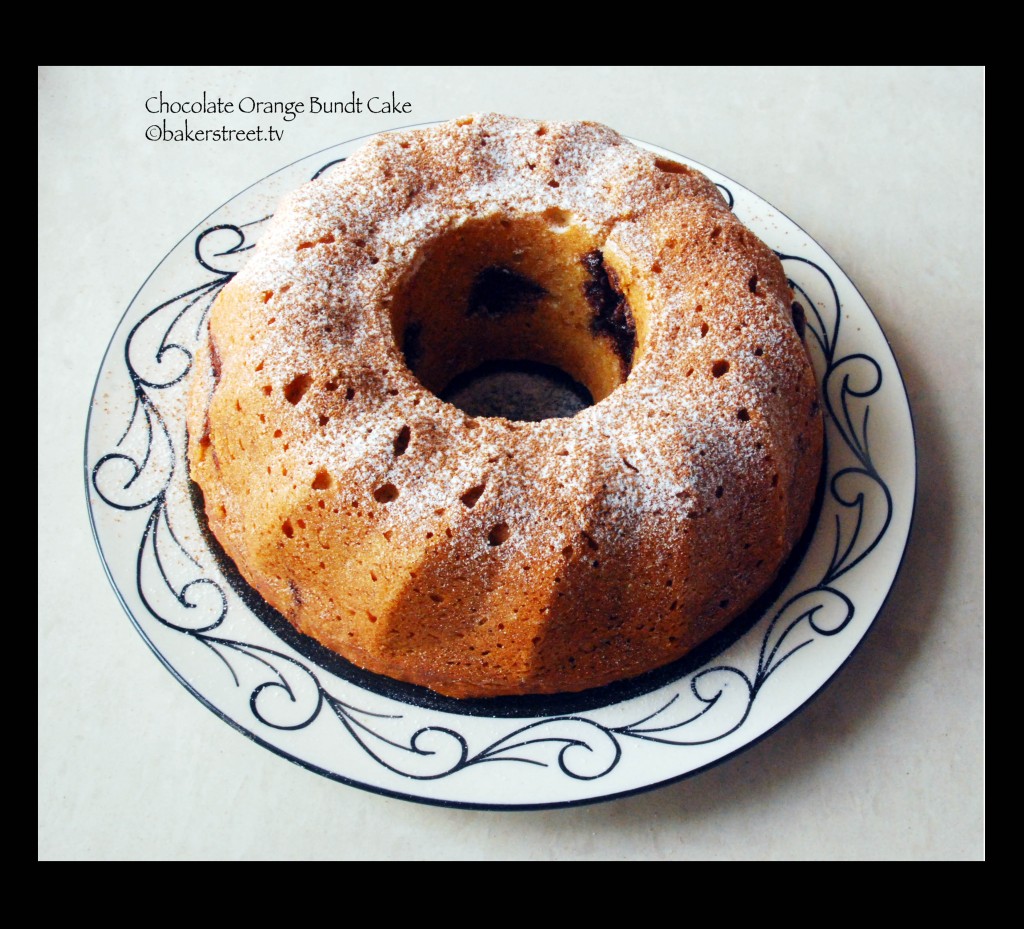 Over to the recipe: A rich, dense, marbled and devilishly delicious cake that is moist and a feast for all your senses.
Chocolate Orange Bundt Cake
Author:
Minimally adapted from Joy The Baker
Recipe type:
Bundt Cake, Dessert
Ingredients
2 sticks unsalted butter, softened
2 cups sugar
4 large eggs, room temperature
2 teaspoons vanilla extract
3½ cups cake flour
1 Tablespoon baking powder
¾ teaspoon baking soda
1 teaspoon salt
2 cups sour cream
½ teaspoon orange extract
zest of 1 large orange
chocolate orange spread
Instructions
Preheat the oven to 350F.
Generously grease and flour a 12 cup Bundt pan and set aside.
In a medium bowl, sift together flour, baking powder, baking soda and salt; set aside.
In a large bowl, beat together butter and sugar with an electric mixer at medium speed until pale and fluffy, about 3 minutes.
Add eggs one at a time, beating well after each addition, then beat in vanilla.
Reduce speed to low, add half of flour mixture and sour cream alternatively starting and finishing with the flour mixture and mix until smooth.
Add the orange zest and orange extract and mix until incorporated.
Pour ½ the batter into the prepared bundt pan, then generously add dollops of the chocolate orange spread, pour the remaining batter. Give it a little swirl using the tip of a knife.
Bake in a preheated oven for 45 to 60 minutes or until cake is springy to the touch and a wooden pick inserted in the center comes out clean
Remove from oven and cool cake in the pan for 30 minutes. Invert onto a cooling rack and cool completely.
Notes
In case you like to make it with cocoa powder: Ingredients: – 4 tablespoons cocoa powder -1/2 cup chocolate chips Instructions: – After step 6, Divide the batter evenly into two bowls. In one bowl add the orange zest and orange extract and stir to combine. In the other bowl add sifted cocoa powder and chocolate chips and stir to combine. – Then pour the batters alternatively into a prepared pan. Swirl using a tip of a knife and bake for 45 to 60 minutes.
Happy Baking!