Learning the Tang Zhong method has always been on my list. The Tang Zhong method (also known as water roux method) was introduced by Japanese author, Yvonne Chen. A method basically using a slightly warm water roux (a combination of water and bread flour) which helps generate a light and tender loaf of bread. Her book 'The 65º Bread Doctor' popularized the method and revealed the secret to produce a soft and fluffy loaf.
The method of mixing water and flour sounds simple right? But knowing my history with yeast, it would be very easy to go wrong. To learn the tang zhong method and all about its history I called upon an expert, Rosa. She's here today to teach us step by step on how to power through it. The process takes about two days but looking at the moist crumb and the fact it still retains that homemade feel makes it totally worth the effort.
I share with you a very special guest post from my Anglo-Swiss friend, Rosa from Rosa Yummy Yums. Rosa hails from Geneva and  is extremely passionate about photography and food. One look at her blog and you'll know what I'm talking about. Her blog focuses on sharing what her country has to offer culturally and culinary wise through her magical pictures. In today's post, Rosa shares with her kitchen secrets and shows us the Tang Zhong method with her exceptional step by step pictures.
Take it away, Rosa.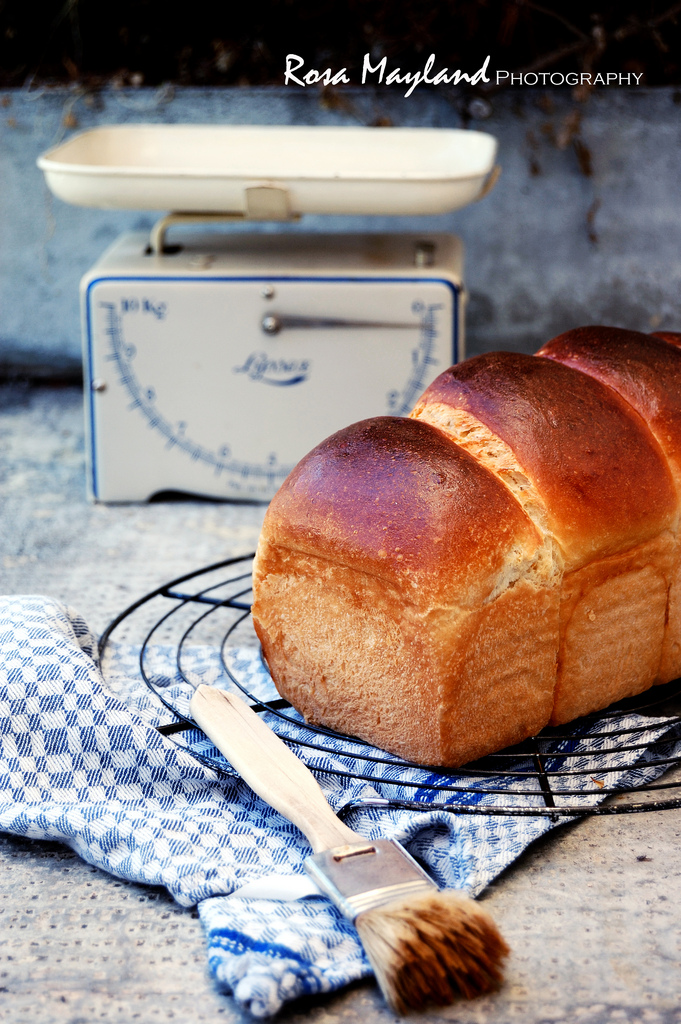 At the moment, I regularly receive e-mails from bloggers who ask me to write posts for them. It is certainly a pleasant sensation to know that you are"notorious", but the downside of it is that, as a consequence, the  requests have been piling up lately and I have the impression that I'm slowly drowning in them. Dealing with them is hard, because Rosa's Yummy Yums is currently keeping me busy and to make things worse, coping with the way weeks pass (too fastly) is already challenging enough. Anyway, although it usually takes me quite a while before I am able to grant my consorts' demands, I nonetheless always try to please my foodie buddies by offering them the best of myself as a token of respect and appreciation.
So, when Anuradha at Baker Street proposed me to show her how straightforward it is to toil with yeast and help her get rid of her uneasiness when it comes to handling this seemingly treacherous leavening agent, I could not refuse her proposition. As a fellow gastronome and kitchen dweller, it is my duty to encourage my Indian friend to take the bull by the horns and turn her into a confident dough puncher.
This Friday, I am extremely thrilled to present you with my most recent edible "coup de coeur" and I wish to warmly thank Anuradha for opening the doors of her lovely platform to me. It is a true honor to be your guest today and to have my work hosted by such a fabulous individual like her! Hopefully, my step-by-step ""Cardamom & Orange Brioche Bread (Tang Zhong Method)" recipe will be as much of a revelation for you and your readers as it was for me…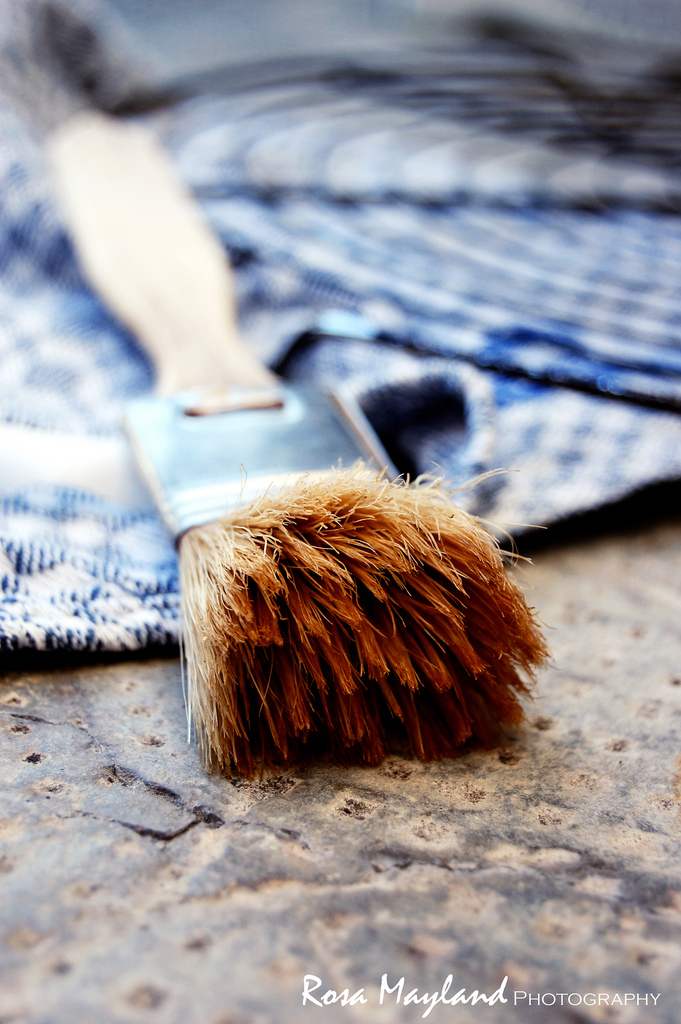 Bread is the king of the table and all else is merely the court that surrounds the king. The countries are the soup, the meat, the vegetables, the salad but bread is king.
– Louis Bromfield, American novelist (1896-1956)
Good bread is the great need in poor homes, and oftentimes the best appreciated luxury in the homes of the very rich.
– "A Book for A Cook", The Pillsbury Co. (1905)
Asians can't live without rice and the majority of white people could not envisage an existence devoid of bread. For most Westerners, it is an important staple which's consumption can be traced back to the prehistoric era and which has been eaten on a daily basis since the emergence of agriculture. It belongs to those edible goods that form the basis of all civilizations' diets due to its significant nutritional properties – poor in fat, but rich in complex carbohydrates, plant protein, fibers, vitamins and essential minerals -, cheapness and simplicity.
As an Anglo-Swiss person, it is one of the foods that is part of my European heritage, thus it has forged my identity and it characterizes me. An age-old tradition here. For instance, Switzerland is supposed to have more varieties of breads than any other country on the planet – between 200 and 300 different kinds – and our nation have been tackling dough for over 6000 years. Every canton has its own specialities and each celebration its particular loaf to which a multitude of stories as well as customs are linked. We are definitely no novices in that department. Great Britain is also very fond of that doughy aliment and there too, the art of breadmaking has seen the light of day during the Stone Age. As a matter of fact, it is one of UK's favorite eats – 99% of the households buy bread and 12 million loaves are sold each day. You'll find many bakeries across the kingdom and thanks to the vast range of British flour available, the Queen's subjects have no reason of being jealous of the Helvetic folks as over 200 types of breads are said to be produced nationwide.
At home, we rarely bought bread from the bakery or the supermarket because our weekly supply was baked by my mother, a devoted housewife who cooked our meals from scratch and shunned industrial grub. Both my mom and dad believed that homemade fare is wholesomer than what you get from stores as you have total control over the quality of the ingredients (organic or integrated and regional) you use, hence the flours (wholewheat, rye, spelt, etc…) were selected with utmost care and so were the seeds (pumpkin, sunflower, sesame, etc…) which were incorporated for extra nutrients, flavor and bite.
The smell of good bread baking, like the sound of lightly flowing water, is indescribable in its evocation of innocence and delight…
– M.F.K. Fisher, from The Art of Eating
My mama was perhaps not an exceedingly adventurous homecook, yet she never failed to tinkle our taste buds with scrumptious eats. She cherished a certain routine and it was not rare that the same recipes were employed week after week (wholewheat & plain white loaves, Butterzopf, Salée A La Crème & Taillaule). Nevertheless she made damn good bread that was really fragrant and incredibly morish.
I remember coming back home from school on Fridays and being welcomed by the divine and exhalirating smell of freshly baked bread which announced the beginning of the weekend and respite from my hebdomadary grind. A sweet promise of freedom! None of my classmates had a culinary background like mine and I consider myself lucky to have been brought up in a gourmet environment that allowed me to develop my gustatory senses. A privilege only a few are granted in our modern society, thus regardless of the reasons that led me to cut the bridges with my parents and despite our differences, I will forever cherish those memories and be grateful for this priceless legacy…
On both sides of my family, bread was enjoyed for breakfast, brunch, lunch or supper. It wasn't uncommon for us to savor bread twice in 24 hours. In the morning, it was generally accompanied by seasonal jams, honey, mashed banana, Nutella, Cenovis (a yeast extract produce similar to Marmite). At dinner time, it was served with light dairy products (cottage cheese, quark, sérac, etc…) and fresh seasonal vegetables(tomatoes, cucumber, celery, carrots, etc….). And in the evening, cheese and a salad were the accompaniments off choice.. Of course, every slice was slathered with a generous layer of unsalted butter before any spread or topping was added – this taste exhaustor is essential and no "tartine" will ever be complete without it.
Nowadays, eventhough I don't quotidianly feed on bread anymore (only on weekends) because I try to limitate my ingestion of carbs, my undying passion for this delicacy is still well alive and intact. It is no secret that I'm an avid and daring bread baker who has an oven fetish and a crush on yeasty delights whether they are sweet or savory. Just check out my blog to see if I'm lying!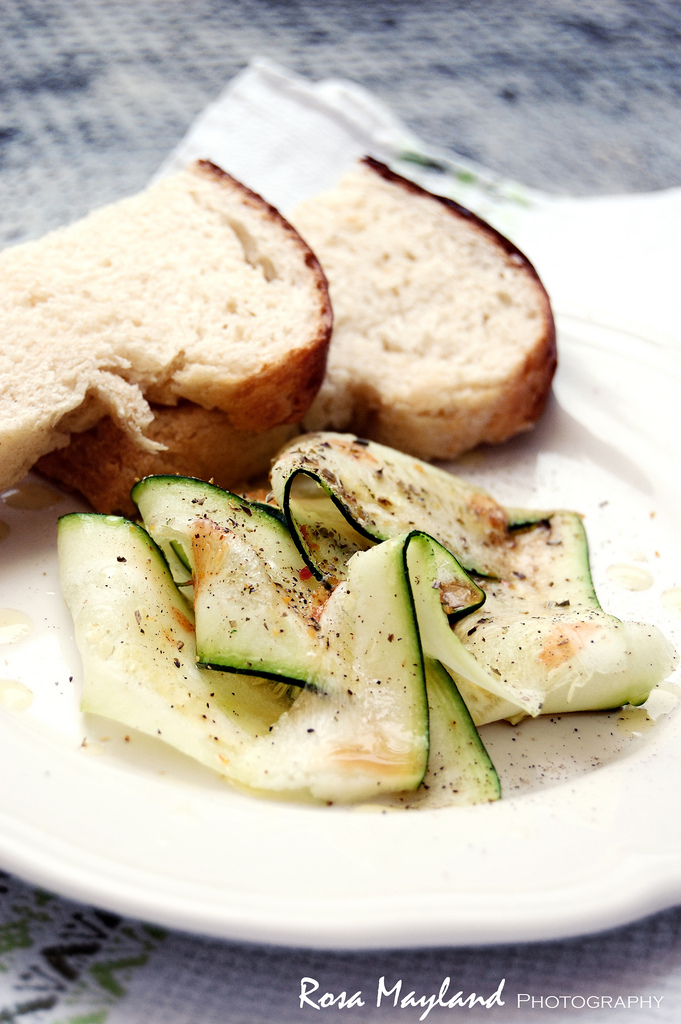 Good bread is the most fundamentally satisfying of all foods; and good bread with fresh butter, the greatest of feasts.
– James Beard (1903-1985)
For me bread made from scratch is quasi-holy. It is the food of the gods and a labor of love. A victual that should be treated with respect and not wasted as it is the fruit of intense and harsh work (farmers grow and harvest the cereals, millers grind them and bakers convert flour into marvelous loaves and rolls) as well as a gift from nature. So humble, yet heavenly tasting and wonderfully versatile. Something that puts a smile on our faces and comforts us even in times of turmoil. Pure perfection.
In my opinion, bread-making is a particularly healthy activity that can be compared to meditation or yoga. A certain dose of effort has to be put into the task, but meticulosity and concentration are also required. Dough needs a great deal of care and attention. One should nearly worship it in order to obtain good results. If you don't put your heart into the job, there is a big chance that you'll get a mediocre loaf. But, on the contrary, if you are having a blast then the final outcome will be flawless.
Breadbaking is one of those almost hypnotic businesses, like a dance from some ancient ceremony. It leaves you filled with one of the world's sweetest smells… There is no chiropractic treatment, no Yoga exercise, no hour of meditation in a music-throbbing chapel that will leave you emptier of bad thoughts than this homely ceremony of making bread.
– M. F. K. Fisher, "The Art of Eating"
I would say to housewives, be not daunted by one failure, nor by twenty. Resolve that you will have good bread, and never cease striving after this result till you have effected it. If persons without brains can accomplish this, why cannot you?
– "Housekeeping In Old Virginia" Marion Cabell Tyree ed. (1878) 
Anyone can bake bread. Sadly, a myriad of people believe that it is a difficult enterprise which cannot be mastered and prefer not to give it a try when in fact it is a child's play. The key to success is to rigourously follow the guidelines/formula and keep in mind that it is a strict science which tolerates no mistake or misdirection. Once you've assimilated the essential rules (for ex.: respecting ratios, knowing the processing order, influence of weather/climate and altitude, etc…), you'll be able to be creative and invent original recipes without any problem.
Yes, Anuradha, I am convinced that you will soon conquer your fear of yeast once and for all as it is absolutely not a fatality! Every novice baker is afraid that his/her bread will not rise and there is nothing abnormal about having such apprehensions. However in order to learn from your failures and master the technique you have to take the plunge, experiment a lot and practice a heap. Your efforts will fastly be rewarded and you'll be proud of your achievements. That is what I did 14 years ago and not one minute do I regret the sweat I have shed or those moments of self-doubt when you think that you are never going to succeed.
Seeing you progressing and slowly letting go of all your mental blocks would fill me with happiness. It is the reason why I've accepted to share my latest discovery on your platform: the amazing tang zhong (??) or water-roux method. This ancient procedure originates from Japan and was introduced to the rest of the world by Yvonne Chen who wrote the book "Bread Doctor" in which she reveals her "secret" for increasing moisture in bread, and keeping it fresh as well as soft for long (up to 5 days). It was so successful that shortly after her publication was released (in 2004), the baking and blogging community could not stop raving about that extraordinary starter.
A craze I can totally understand and which I support as this brioche has a striking texture, is unique, unbelievably delicious, extremely addictive and is unlike any bread I have ever tasted. The crumb is so delicate, bouncy, tender, fluffy, cottony and pillowy that I had problems to cut neat slices. Simply dreamlike!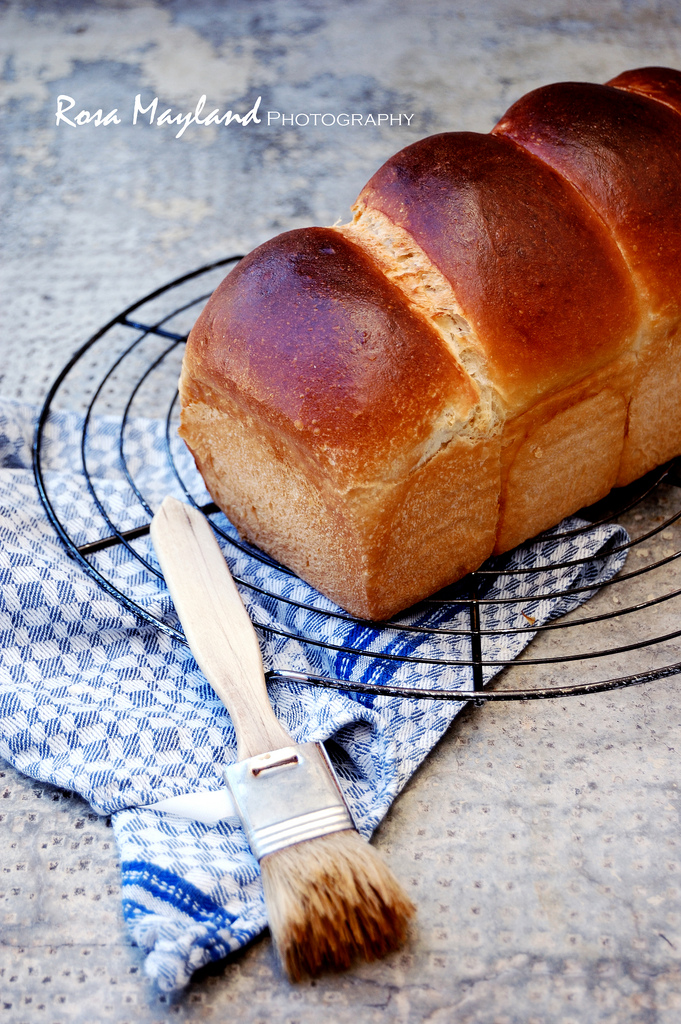 Cardamom & Orange Brioche Bread (Tang Zhong Method)
Recipe adapted from "Un Dimanche A La Campagne" and "Kirbie's Cravings".

Yields 1 loaf and takes 2 days to make.
Ingredients For The "Tang Zhong":
1/3 Cup (25g) Bread flour
1 Cup (125g) Water (distilled preferably)
Ingredients For The "Dough":
125g (125ml) of Full fat milk 120g of Tang zhong 1 Large egg (63g) 2 1/2 Cups (350g) Bread flour 3 Tbs + 1 Tsp (50g) Castor sugar 1 Tbs Powdered milk
1 1/4 Tsp Ground cardamom The zest of 1/2 an orange (or 6g/1 packet Dr. Oetker's Orange Peel) 1 1/2 Tsp Instant yeast (or 15g/½ oz fresh yeast) 1 Tsp Fine sea salt 3 Tbs (45g) Unsalted butter, cut into small pieces and at room temperature 1 Tbs Peanut oil, for greasing the bowl 1 Egg + 1 Tbs Milk, for the glaze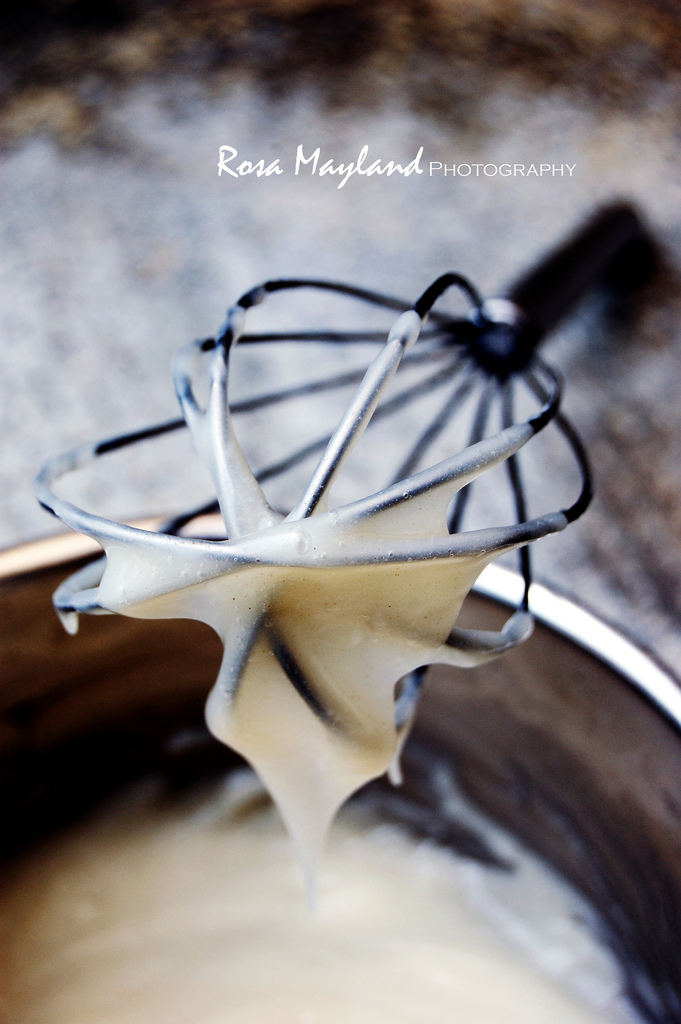 Method For The "Tang Zhong":
1. In a small pan, mix the flour and water together. Whisk until the flour is completely dissolved and no lumps remain.
2. Place the pan over medium heat and stir constantly as the mixture heats up (it will begin to thicken). When the temperature of the mixture reaches 65° C (149° F) and the whisk leaves a trail in the "roux", turn off the stove and let the tang zhong cool. Then, pour it into a small bowl and cover the top using plastic wrap (place the wrap directly onto the tang zhong so as to keep it from drying out) and refrigerate for at least 6 hours or overnight.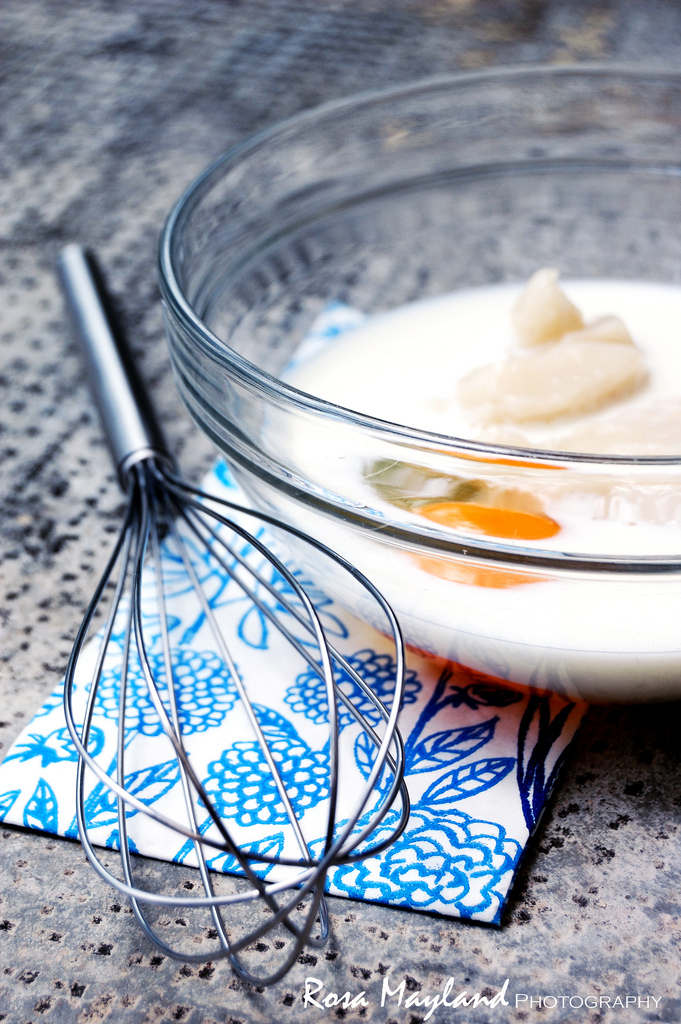 Method For The "Dough":
3. The next day, get the tang zhong out of the refrigerator and bring it back to room temperature (it will take about 30 minutes).
4. In a medium bowl, whisk together the milk, tang zhong and egg.
5. In the bowl of your stand mixer, mix together the flour, sugar and powdered milk.
6. Make a well, then add the liquid mixture, instant yeast (or crumbled fresh yeast), cardamom and orange zest. Start to knead.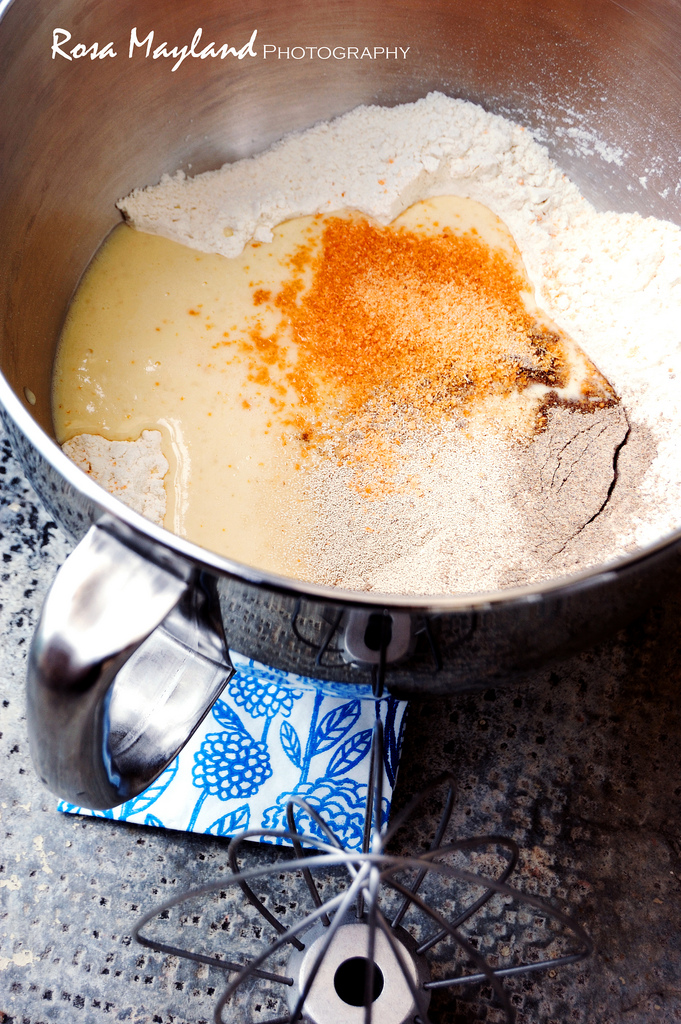 7. After a few minutes, add the salt and then knead for another 5-10 minutes or until dough is elastic and smooth.
8. Add the softened butter and knead again until the dough pulls away from sides of bowl, about 10 minutes (it should pass the windowpane test.
9. Shape the dough into a ball and place it into a large bowl that you have previously greased with oil. Cover the dough with plastic wrap and cover the bowl with a damp cloth. Let the dough rise in a warm and draft-free place until it has doubled in volume, about 40 minutes to 1 hour depending on the weather (it will rise fastly if it's hot and rise slowly if it's cold).
10. Deflate the dough and transfer it to a clean surface. Shape it into a simple sandwich loaf (see method) or divide the dough into 3 equal portions. Flatten each portion with your hands to drive the air out, then shape them into a boule (see method) and place them side by side into the mould.
11. Cover with plastic wrap and leave to rise, in a draft-free place, for about 40-60 minutes or until doubled in size (to know if your dough has risen enough, press your finger into the dough – if it springs back somewhat, but leaves a discernable indentation, then has proofed properly).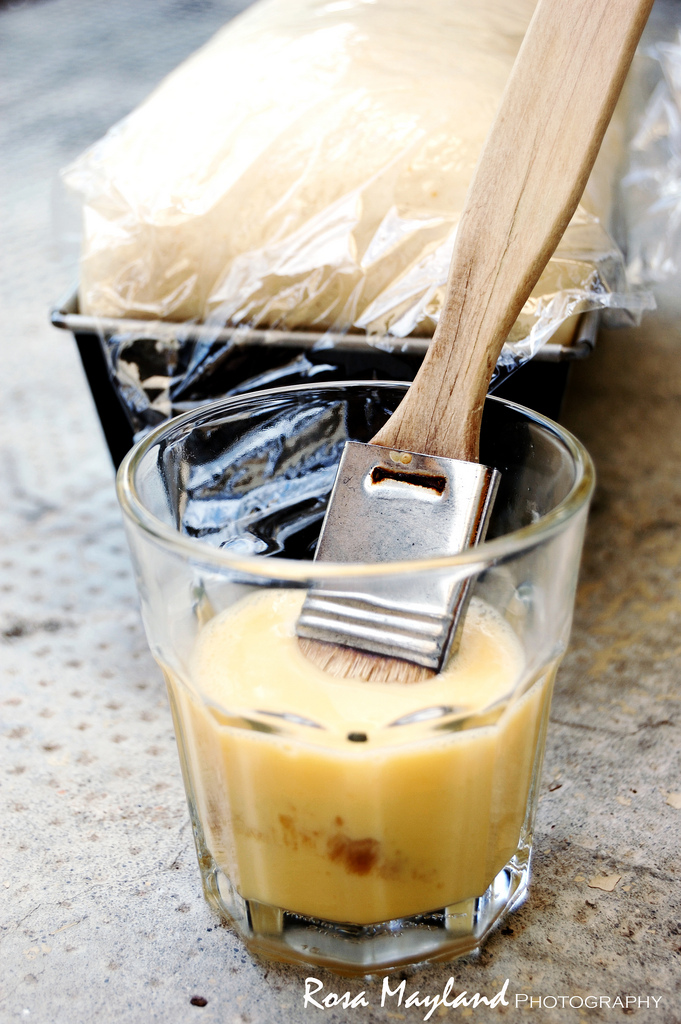 12. Beat an egg with 1 tablespoon milk and brush the top of the loaf with that mixture (it will give your brioche a shiny finish).
13. Put the pan in the oven, then throw 1/4 -1/2 cup of water onto the bottom of the hot oven and immediately close the door. Bake at 180° C (350° F) for approximately 30 minutes, or until the bread sounds hollow when tapped with a finger.
14. Let cool on a rack.
Remarks:
– The cardamom and zest are optional. – At the beginning, the dough will be very sticky. Don't worry, it is normal. Keep kneading until the dough is smooth and is elastic, about 15-20 minutes with a stand mixer and 30 minutes by hand.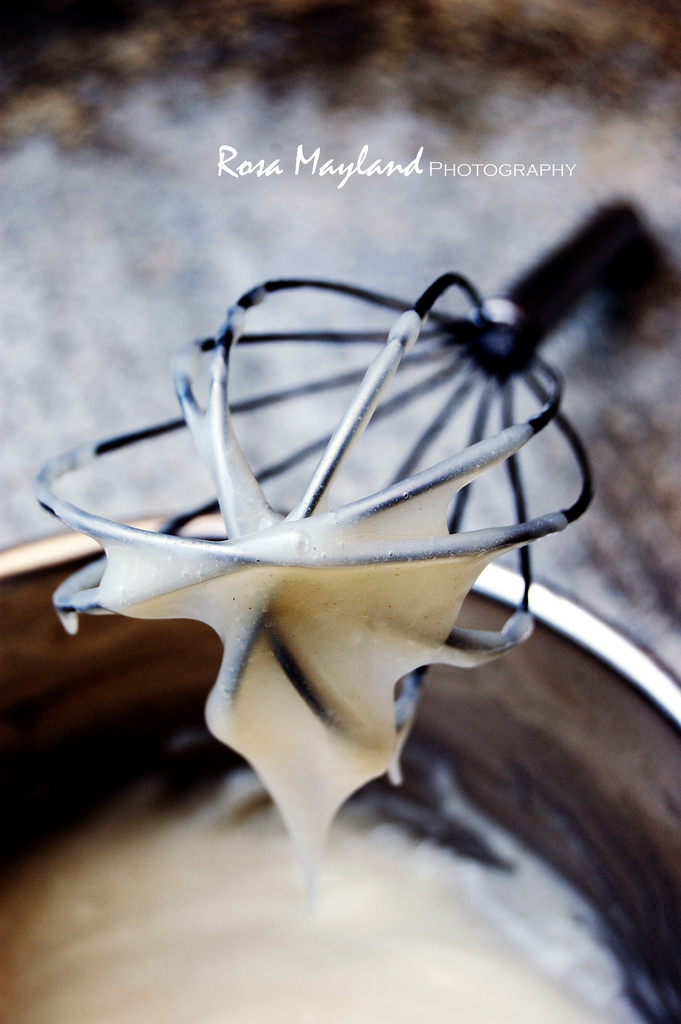 Serving suggestions:
Eat for breakfast or brunch with some cheese, jam, Nutella or the spread of your choice.
This brioche is perfect for making bread pudding or French toasts.
Interesting and helpful links:
Sourdough Companion
The Bread Circle (KAF)
The Fresh Loaf
Troubleshooting Tips
Wild Yeast
Thank you, Rosa for a great post. Your unique recipes and photographs continue to inspire me.
Rosa also freelances and writes for the well known, daily international food chronicle and online newspaper  – The Rambling Epicure. You can follow her on twitter and check out her fabulous recipes here.