Muffin Monday has had its fair share of savory muffins (okay, not entirely fair) and over the last year we stumbled upon and shared some fantastic recipes. Here are my top 3 savory muffins of the year gone by:
At number three: Spinach and Feta Muffins:
On second position is: Bacon Crusty Cheese and Onion
And number one, the numero uno savory muffin of the year goes to: Pesto Pine Nut and Parmesan Muffins
In fact the Pesto Pine Nut and Parmesan Muffins are from the fantastic book, 1 Mix 100 Muffins which I'm giving away today. A superb book with a hundred basic, no-fail recipes of a great mix of healthy, savory and decadent muffins. 100 recipes from a single mix, you're thinking, wouldn't that get repetitive and boring switching spices or adding and replacing the berries? Absolutely not. You're in a for a real surprise and a treat.
Continuing our celebration of Muffin Monday completing a year, we have 3 weeks of giveaways. This one is a gift from me to my readers. I'm sponsoring two copies of Suzanna Tee's 1 Mix, 100 Muffins. And this one is open to everyone.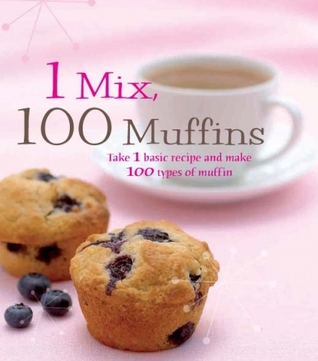 This book can be yours. All you have to do is leave a comment and answer this simple question: What is your favorite muffin?
For additional entries; leave a separate comment for EACH of your entries.
*If you're already following me on Twitter, Facebook or Pinterest and/or already subscribe to Baker Street leave a comment for that counts as an entry too.
You will also need to:
– Follow Baker Street on Pinterest.
– Join Baker Street  on Facebook.
– Share on Facebook: Win a copy of 1 Mix, 100 Muffins #Giveaway via @bakerstreet29 & celebrate #MuffinMonday 's 1st anniversary
– Follow Baker Street on Twitter.
– Tweet away: Win a copy of 1 Mix, 100 Muffins #Giveaway via @bakerstreet29 & celebrate #MuffinMonday's 1st anniversary
– Follow Baker Street on Stumbleupon and give this post a like
– Subscribe to Baker Street via email.
– Follow Baker Street on Google+
Remember:
– This giveaway is open to everyone, no matter where you are in the world. – It will be open until Sunday, June 24 at 11:59 pm EST. – Winner will be generated via a random number generator and will have 24 hours to respond to the email. – Make sure you leave a valid email address. – The books will be shipped by me therefore, I will send at my convenience.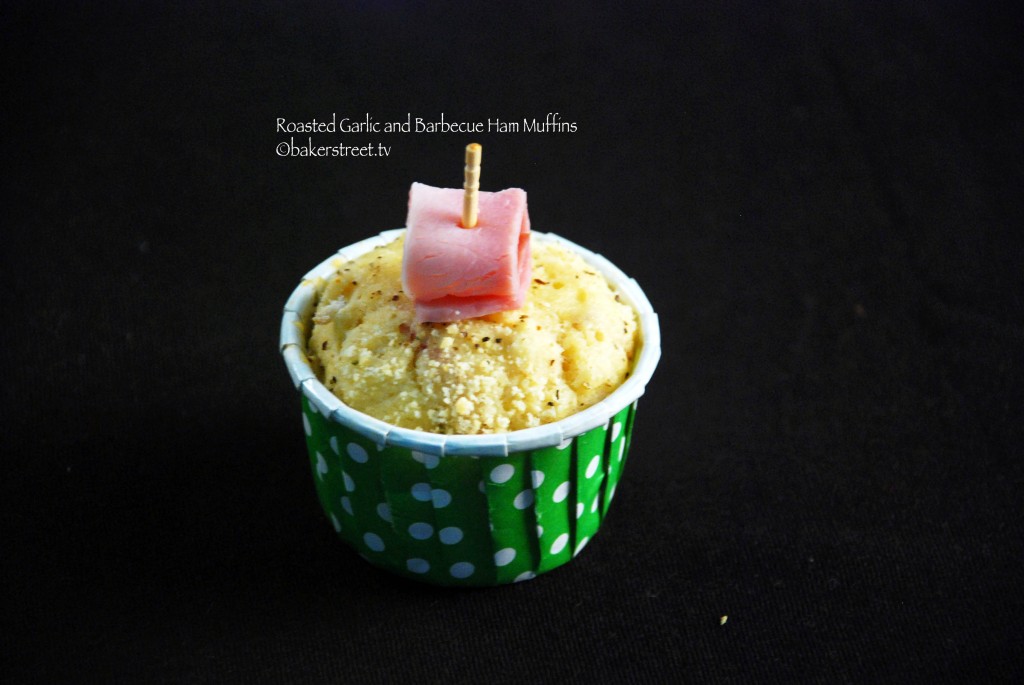 Now onto today's recipe: we share yet another savory delight. The recipe is from Mark Scarbrough and Bruce Weinstein's The Ultimate Muffin Book. Allow me to present to you, the Roasted Garlic and Barbecue Ham Muffin.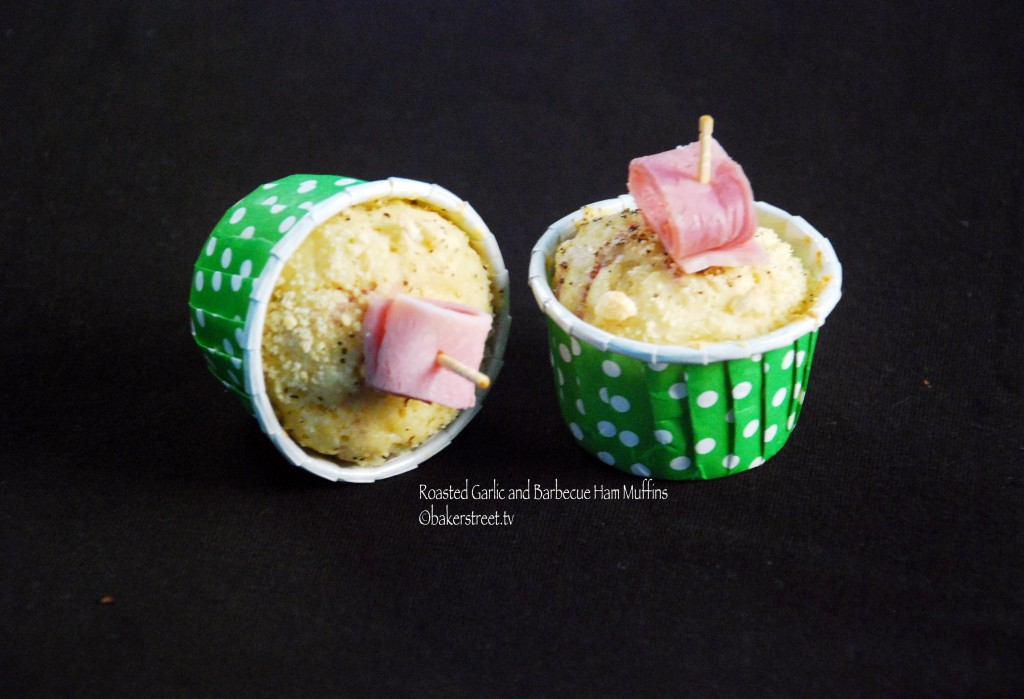 Changes and Variations: The original recipe is a vegetarian's delight – Roasted Garlic muffins but I adapted it in a way that would be make a perfect breakfast for my husband. I added a huge slice about 1/3 cup of barbecued ham and sprinkled some fresh pepper and parmesan before it when into the oven. You can also, try adding basil, bacon, sun dried tomatoes or pine nuts.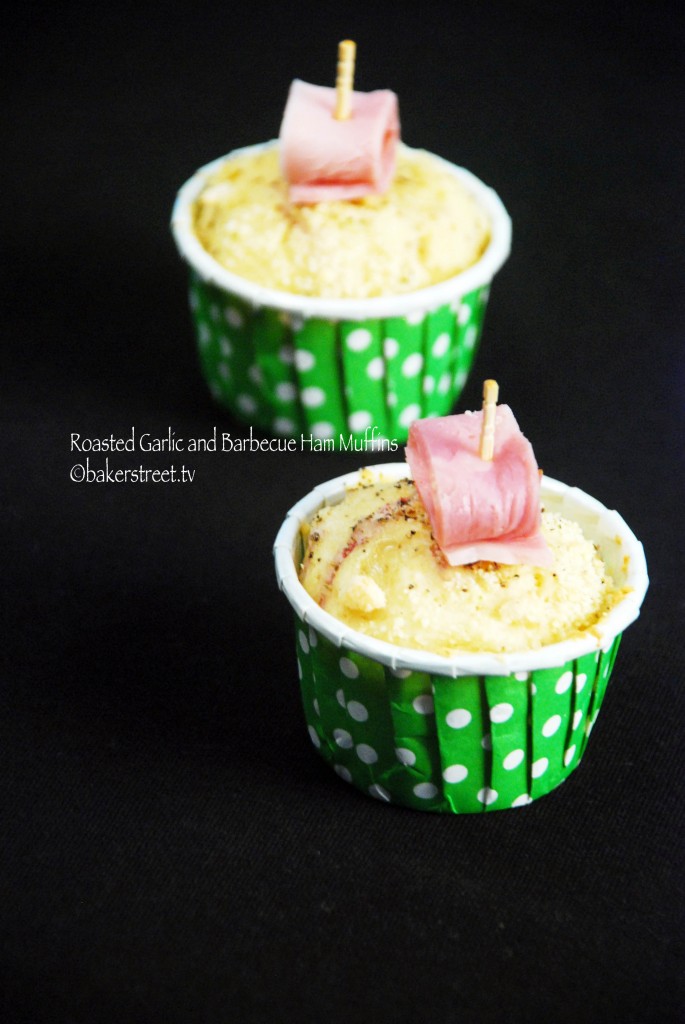 #MuffinMonday: Roasted Garlic and Barbecue Ham Muffins
Author:
From The Ultimate Muffin Book
Recipe type:
Breakfast, Muffins
Ingredients
1 medium garlic head (about 3 ounces)
¼ cup plus 1 tablespoon olive oil
Nonstick spray or paper muffin cups
2 large eggs, at room temperature
¾ cup milk (whole, low-fat, or nonfat)
¾ cup small-curd cottage cheese, or cream-style cottage cheese (regular or low-fat, but not nonfat)
11/2 cups all-purpose flour
½ cup whole wheat flour
¼ cup grated Parmigiano-Reggiano (about 1 ounce)
2 tablespoons sugar
1 tablespoon baking powder
½ teaspoon salt
⅓ cup chopped barbecue ham
Instructions
Position the rack in the center of the oven and preheat the oven to 400°F.
Cut the top quarter off the garlic head so that the cloves are exposed. Discard the top quarter. Place the garlic on a small sheet of aluminum foil, drizzle with 1 table- spoon of the olive oil, then fold and seal the sides of the foil to create a pouch around the garlic. Place directly on the oven rack and bake for about 35 minutes, or until the garlic smells sweet and the cloves are soft. Remove from the oven and cool for 15 minutes without unwrapping. Maintain the oven's temperature.
To prepare the muffin tins, spray the indentations and the rims around them with nonstick spray, or line the indentations with paper muffin cups. If using silicon muf- fin tins, spray as directed, then place the tins on a baking sheet.
Squeeze the cooled pulp from the garlic cloves into a large bowl, discarding the papery husks. Mash the garlic with a fork, then whisk in the eggs, milk, cottage cheese, and remaining ¼ cup of the olive oil. Set aside for 10 minutes to infuse the garlic flavor into the mixture.
Whisk the all-purpose flour, whole wheat flour, Parmigiano-Reggiano, sugar, baking powder, ham and salt in a small bowl until uniform. Stir this dry mixture into the garlic mixture with a wooden spoon until moistened.
Fill the prepared tins three-quarters full. Use additional greased tins or small, oven- safe, greased ramekins for any leftover batter, or reserve the batter for a second bak- ing. Bake for 20 minutes, or until the muffins have lightly browned, rounded tops and a toothpick inserted in the center of one muffin comes out with a crumb or two attached.
Set the pan on a wire rack to cool for 10 minutes. Gently rock each muffin back and forth to release and remove it from the tin. Cool the muffins for 5 minutes more on the rack before serving. If storing or freezing them, cool them completely before sealing in an airtight container or in freezer-safe plastic bags. The muffins will stay fresh for up to 24 hours at room temperature or up to 1 month in the freezer.
Notes
More variations you can try: – Roasted Garlic Basil Muffins: Add 2 tablespoons chopped fresh basil with the eggs. Roasted Garlic Pine Nut Muffins: Add ½ cup toasted pine nuts with the flour. – Roasted Garlic Prosciutto Muffins: Add ½ cup finely chopped prosciutto with the eggs. – Roasted Garlic Provolone Muffins: Omit the Parmigiano-Reggiano.Add ½ cup finely diced provolone (about 2 ounces) with the eggs. – Roasted Garlic Sun-Dried Tomato Muffins: Add ⅔ cup finely chopped, drained, marinated sun-dried tomatoes with the eggs.
Muffin Monday: Round Up
Happy Baking!