This week's recipe is from 1 Mix 100 Muffins. I chose yet another savory muffin this week and I have to say I wasn't disappointed. My little tweak to the recipe was too add some homemade pesto and this elevated the flavor for me.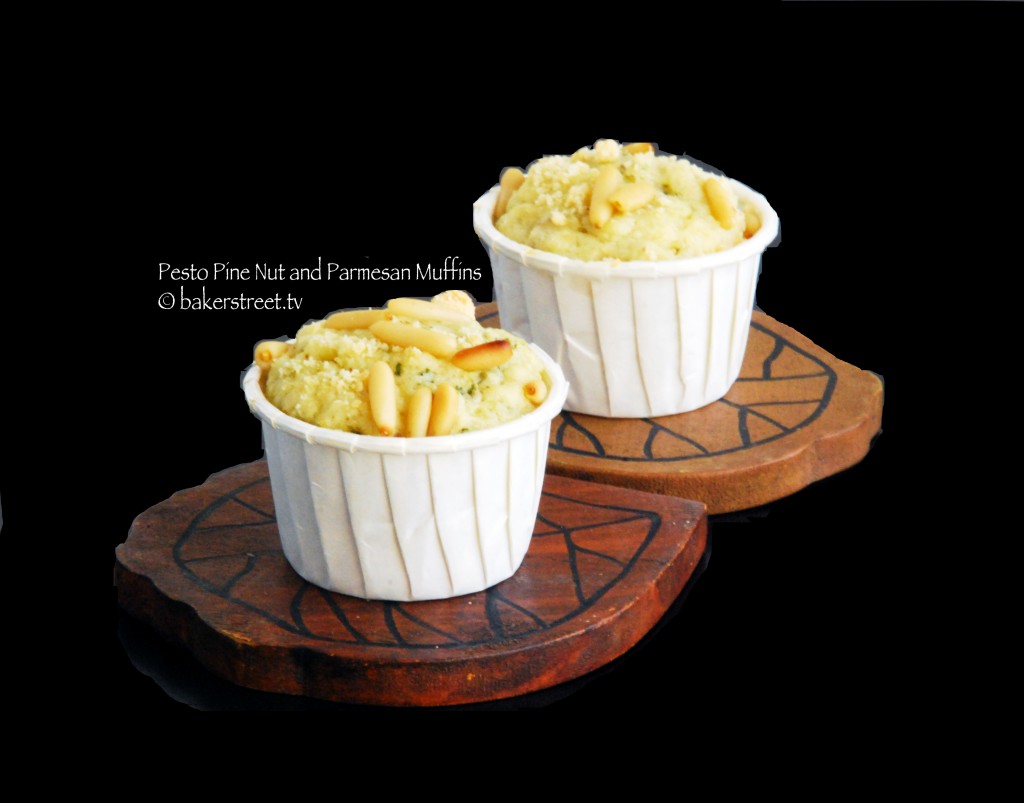 If you have all ingredients in your pantry, it would take no more than 10 minutes to whip up these muffins, all you need to put together a scrumptious breakfast treat. I also added a combination of canola oil and pine nut oil to give it a more nutty flavor. To begin the week on a positive note, I recommend eating them warm, smeared with some butter. Or serve alongside your soup.
Over to the recipe: Pestolicious, toasted nuts and the scent of fresh parmesan, makes these savory treats perfect for a light breakfast.
Muffin Monday: Pesto Pine Nut and Parmesan Muffins
Author:
adapted from 1 Mix, 100 Muffins
Recipe type:
Muffin, Breakfast
Ingredients
Oil or Butter for greasing (if using)
2 cups all purpose flour
1 tablespoon baking powder
⅛ teaspoon salt
freshly ground black pepper
¾ cup freshly grated parmesan cheese
½ cup pine nuts
2 large eggs
1 cup buttermilk
6 tablespoon sunflower oil or melted butter cooled (I used canola and pine nut oil)
2-3 tablespoons pesto
4 tablespoon freshly grated parmesan cheese
¼ cup pine nuts
Instructions
Preheat the oven to 400F. Grease a 12 cup muffin pan or line it with muffin paper liners. To make the topping mix together parmesan and pine nuts and set aside.
To make Muffins: Sift together flour, baking powder, salt and pepper to taste in a large bowl.. Stir in the parmesan cheese and pine nuts
Lightly beat the eggs in a larger pitcher or bowl, then beat in the buttermilk and oil. Make a well in the center of the dry ingredients and pour in the beaten liquid ingredients. Add the pesto and stir gently until just combined; do not overmix.
Spoon the matter into the prepared muffin pan. Scatter the topping over the muffins. Bake in a preheated oven for about 20 minutes until well risen, golden brown and firm to touch.
Let the muffins cool in the pan for 5 minutes then serve warm.
Muffin Monday: Round Up
Happy Baking!