In case you missed last week's post, then please click here to view the first part of Muffin 101. In continuation, and taking all feedback into consideration, here is part II: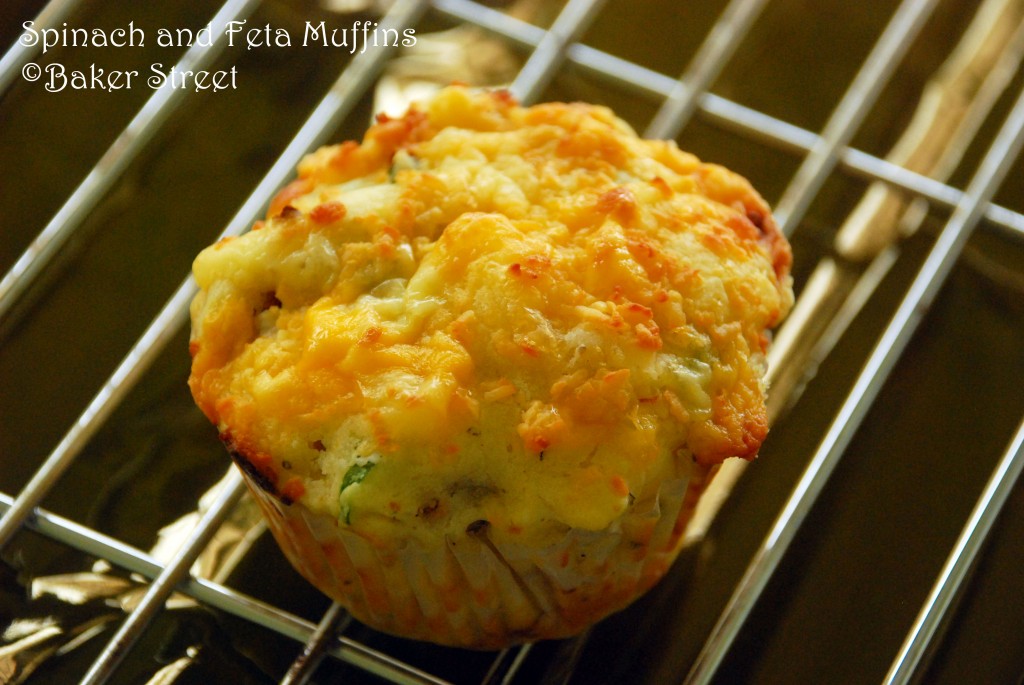 Muffin Mixing Methods:
1. Muffin Method
A basic batter made using two bowls. One bowl to to mix the dry ingredients and a second one for the wet ones. The fat usually is liquid, like melted butter or oil. Once mixed individually, they are then combined.
Mixing is the most important part and has a big effect on the final product. If  the ratio of the liquid to flour is high, you will tend to over-mix the batter. It is perfectly acceptable for the batter to be a little lumpy as traces of flour disappear while baking.
Over-mixing leads to:
1. Over-development of gluten in the flour resulting in muffins with a compact texture
2. The batter becoming stringy, forming long strands and making it hard for the baking powder or soda to work. This would result in muffins with tunnels
3. Apart from not rising earlier while baking, the muffins will have a lighter slick crust and top which will be misshapen and have peaks. It'll also look dull. Anywhere between 8 to 12 strokes should do the trick while mixing
2. Cake- Like Method
As the name suggests, the method is similar to baking a cake.
Cream the butter and sugar till its light and fluffy. Add eggs to combine. Alternate the dry and the wet ingredients and voila… you're done. The fat content in these muffins are usually higher tenderizing it to produce richer and softer muffins.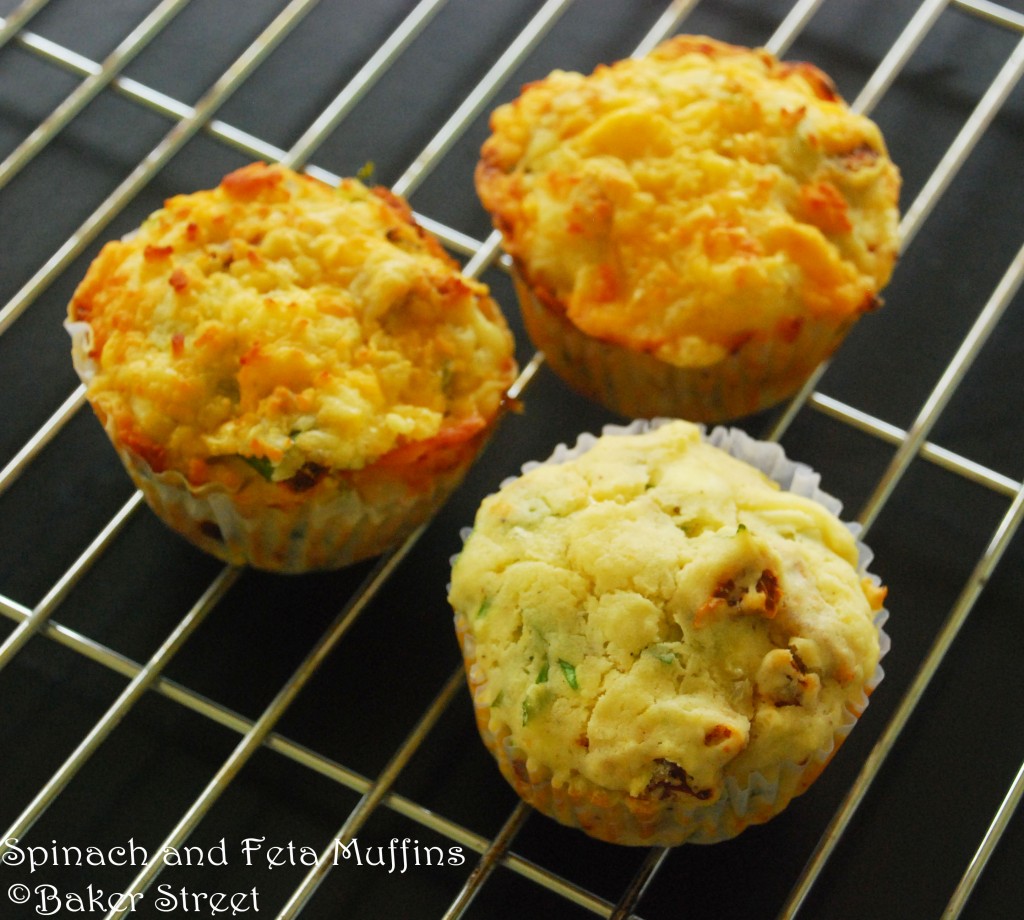 MUFFIN TIPS!
A few more pointers to baking muffins:
– Always preheat the oven and let it reach the desired temperature before you put your muffins in
– Place the tray in the center of the preheated oven
– Resist opening the oven door during baking
– Ensure all your ingredients are measured accurately
– Don't add more baking powder, thinking the muffins will rise more. Too much can cause them to over-rise and then collapse as muffins are top-heavy
– Don't over-mix the ingredients as this will cause the muffins to be tough and the texture compact
– Once the dry and wet indgredients have been mixed, bake immediately as the baking powder starts to work by relaxing the dough and allowing it to rise.
– Don't over-bake. Resulting muffins will be dry
– If using a dark colored pan, reduce the temperature by 20 degrees as they absorb more energy and transmit heat faster
– If there are unused cups, fill them half with water to prevent over-browning muffins or warping the pan
– The best test to determine the 'doneness' is to insert a wooden toothpick in the centre and if the toothpick comes out clean or with a few moist crumbs. This is a sign that the muffin is ready
– After taking out the pan from the oven, do not leave them in the muffin pan. Instead let the muffins sit on a wire rack for 5 to 10 minutes.
– If your muffins stick to the pan, try placing the pan on a wet tea towel for 5-10 minutes allowing it to loosen the muffins
– When baking more than one pan of muffins, ensure you allow enough room around and in-between each pan for heat to circulate. Also you will need to rotate the pans during baking
– If you want your muffins to have crusts, avoid paper tins and grease or lightly wet the bottom of the depressions in your cooking pan with cooking spray
– Chopped nuts, fruit and other small ingredients may be combined with the dry ingredients or folded gently into the batter near the end of
mixing
– For muffins of consistent sizes, use either a gravy ladle, measuring cup or an ice cream scoop to spoon the batter into cups.
Storing Muffins
Muffins store very well. After cooling you can put them in an airtight container at room temperature. However, refrigerate them if they contain perishable items.
You can refresh your day-old muffins by either heating it in the microwave at 50% power until they are warm or wrap them in a foil loosely and bake in a preheated 325F oven. Muffins will harden if overheated, so keep a close eye.
You can also freeze them for 2-3 months by using plastic wrap tightly and using an airtight freezer bag. They can be thawed in their wrapping and then unwrapped and baked loosely in a foil in a preheated oven at 225F for 10 to 15 minutes depending on the size of the muffin. They'll be as fresh as new!
As I said earlier, I'm no expert and this is just my take after some experience and consulting blogs, websites and books. I hope this helps. Here's to muffins baked in every corner of the world.
This week we baked Spinach and Feta Muffins. A perfect blend of spinach, feta, sun dried tomatoes makes these muffins just perfect breakfast.
My variation: I added 1/2 tsp each of paprika and dried oregano in addition to 2 tablespoons of sweet corn. I saute-d the corn in a teaspoon of butter. The lovely sweet and buttery corn balanced the salt of the feta and sun dried tomatoes perfectly. the I also topped half the batch with sharp cheddar which formed a lovely crust.
Muffin Monday: Spinach Feta Muffins
Ingredients
375g (2½ cups) self-raising flour
250g (about ½ bunch) Spinach, trimmed, washed, dried, shredded
150g feta cheese, crumbled
110g (1/2 cup) chopped semi-dried tomatoes (optional)
2 tablespoons finely grated parmesan
2 tablespoons sweet corn
330ml (1⅓ cups) milk
90g butter, melted
1 egg
1 tablespoons chopped fresh dill (optional)
2 tablespoons finely grated parmesan, extra (Optional)
Instructions
Preheat oven to 200°C.
Line with muffin liners or brush twelve 80ml (1/3-cup) muffin pans with canola oil to lightly grease.
In a large bowl, sift flour and add shredded spinach, feta, tomatoes, sweet corn and parmesan, stir to combine.
In a measuring jar or another bowl whisk together milk, butter, egg and dill until well combined. Add milk mixture to flour mixture and use a metal spoon to stir until just combined (do not over mix).
Spoon mixture into prepared pans. Sprinkle with extra Parmesan. Bake for 20 minutes or until a skewer inserted into the center comes out clean. Turn out onto wire rack to cool.
Serve warm or at room temperature.
Notes
– Using feta and sun dried tomatoes might make the muffin too salty. I added sweet corn to balance it. – Saute the corn with 1 teaspoon butter – I topped half the batch with sharp shredded cheddar instead of the parmesan
Muffin Monday: Round Up
Five super talented bakers are joining me this week. Each one has such an interesting variation.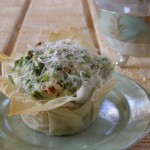 Caroline from When Adobo Met Feijoada has a very interesting take. She baked the muffins in phyllo pastry. I think that's a great idea that I will surely try out soon. Click here to view her post.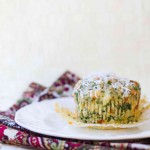 Ah.. We have a new member in the Muffin Monday Team. Please welcome Xai, author of Xai Eats A Lot. X has just relaunched his blog and done a fabulous job of it. Please click here to view her post.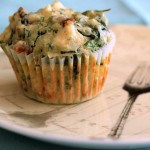 Jasmine from CookThatBook is back this week with her gorgeous muffins. I abosulely love how she adapted the recipe. J sauted onions and spinach in butter giving it a lovely caramelized flavor. Click here to view her post.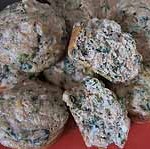 Kristen from Mind Your Bees and Trees managed to bake despite the horrible typhoon that hit the tiny island during her vacation. Using wheat flour and everything else she could find in her pantry she stayed in with a friend and enjoyed these delicious muffins. Click here to view her post.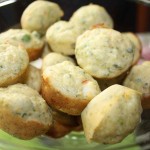 Elizabeth from Asian American Cooking is serving us some lovely Gazpacho along with her tiny bites of heaven. E subtituted the sun dried tomatoes with red bell peppers and added tiny beads of green peas too. Delicious right? Click here to view her post.
Happy Baking!