Raise your glasses, Muffin Monday completes a year today! A toast then, to our magical Monday mornings; here's to the year gone by and to the one ahead.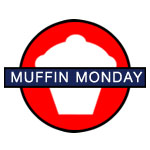 What an incredible journey it has been. 52 weeks, 52 unique muffins. Rain or shine, every Monday we baked together and realized delicious recipes, all without missing a beat. On more than one occasion I cut it close, a voice in my head whispering that I'm not going to manage it this Monday, but then 51 muffins out of 52 weeks would be entirely missing the point, wouldn't it?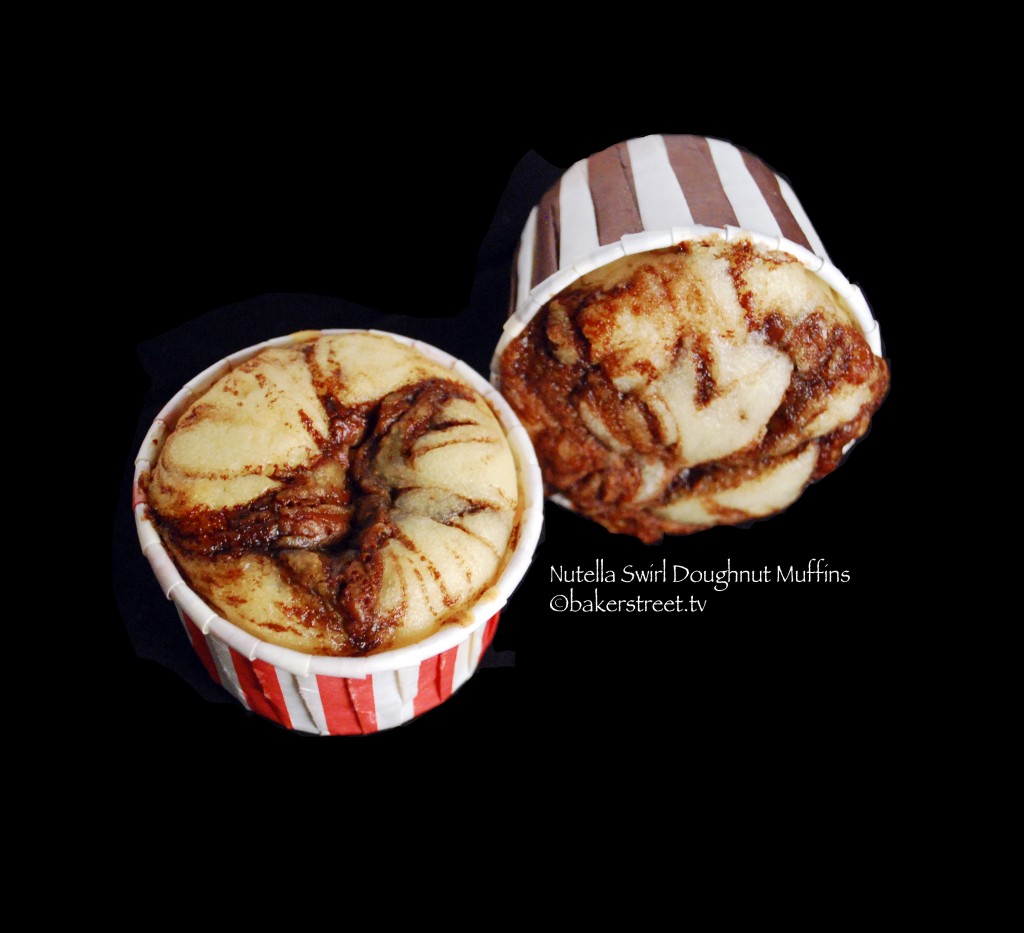 So what does Year 2 hold for us? We welcome suggestions from readers to help shape the road ahead for Muffin Monday. In the meanwhile there is a surprise towards the end of the post. Read on.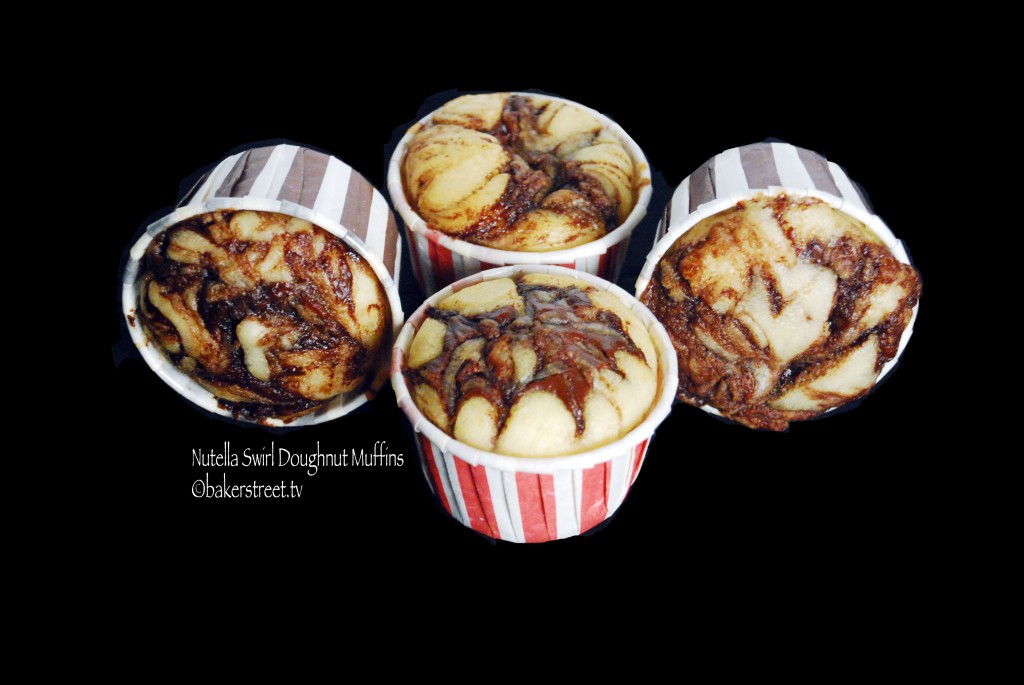 What recipe does one pick for such a moment? Is there such a thing as a celebratory muffin? Oh yes, indeed.
One of my all time favorite muffin variation is the doughnut muffin. Why? Well for starters it's dunked in butter and rolled in cinnamon sugar. Enough said, really but I still wanted to take this experience to another level and that is exactly what this recipe does. I present to you a Doughnut Muffin with a luscious Nutella swirl. I popped one in my mouth the moment my first batch was out the oven and when I bit into it, the heavenly taste of Nutella exploded on my palette.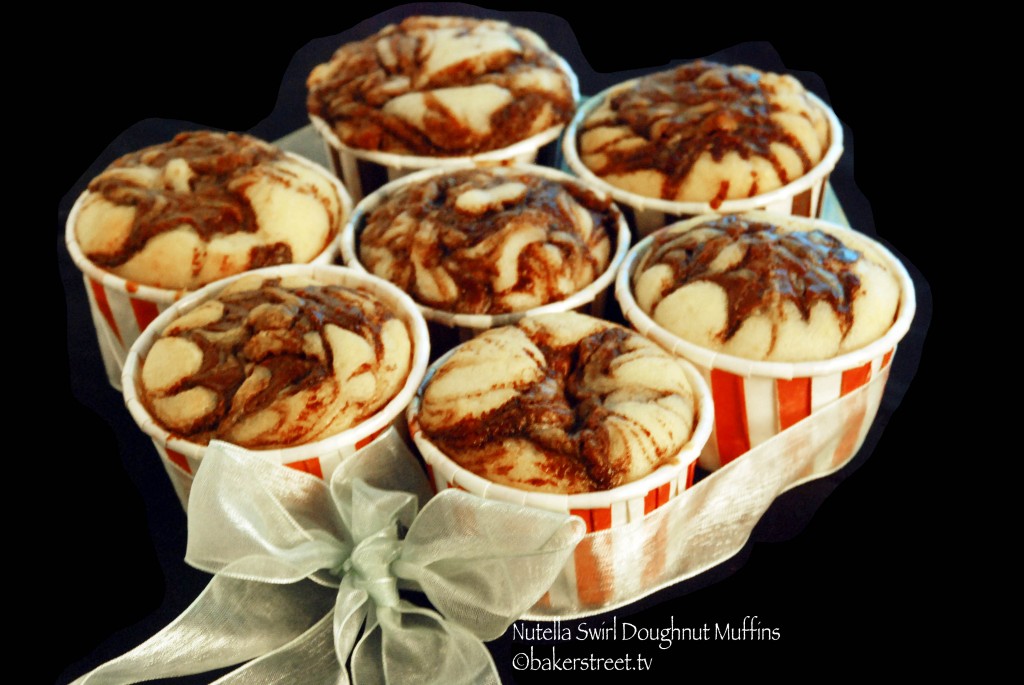 And the best part? No butter and very little oil. Yes, we have a winner!
The batter is not tough and dry, instead it's runny and comes together easily. I recommend giving the nutella a 10-20 second whiz in the microwave to get it to spreadable consistency.
Over to the recipe: Doughnuts + Nutella with a morning cuppa. The ultimate way to kick start your week.
#MuffinMonday: Nutella Swirl Donut Muffins
Recipe type:
Dessert, Muffins
Ingredients
¾ cup sugar
1 large egg
1½ cups + 2 teaspoons all purpose flour
2 tsp baking power
¼ tsp salt
¼ tsp ground nutmeg
¼ cup vegetable oil
¾ milk
1 tsp vanilla extract
About ⅓ cup nutella
Instructions
Preheat oven to 350F. Grease and line a muffin tin with cooking spray.
In a large bowl, whisk together sugar and egg until combined. Add in flour, baking powder, salt and nutmeg. Mix until combined.
Add in the vegetable oil, milk and vanilla extract.
Fill each mini muffin cup about ⅔ full with batter. Add a dollop of nutella to each muffin and swirl it around a few times with a toothpick or a knife.
Bake for 12-15 minutes.
Cool muffins on a wire rack before serving
To celebrate Muffin Monday's anniversary, we have a massive giveaway. Trust me you don't want to miss this one… so without much ado – here is one the slickest food processors in the market – Magimix by Robot-Coupe.
Made in Burgundy, France it is your one stop machine – from mincing herbs to grating cheese; it will make you a smoothie, whisk your egg whites or knead your dough. Just the friend a home baker/cook needs.
So now, how can this Magimix by Robot-Coupe 12 Cup Food Processor be yours?
It's very simple. All you have to do is leave a comment and tell us what would be the first thing you will make with this gadget. If you're like me, I always make my first use of a new kitchen gadget a special, memorable one.
For additional entries; leave a separate comment for EACH of your entries.
*If you're already following me on Twitter, Facebook or Pinterest and/or already subscribe to Baker Street leave a comment for that counts as an entry too.
You will also need to:
– Join Baker Street and Magimix on Facebook.
– Share on Facebook: Win a #Magimix by Robot-Coupe 12-cup Food Processor #Giveaway via @bakerstreet29 & celebrate #MuffinMonday 's 1st anniversary su.pr/6kY0qe
– Follow Baker Street on Twitter.
– Tweet away: Win a #Magimix by Robot-Coupe 12-cup Food Processor #Giveaway via @bakerstreet29 & celebrate #MuffinMonday 's 1st anniversary su.pr/6kY0qe
– Follow Baker Street on Stumbleupon and give this post a like
– Subscribe to Baker Street via email.
– Follow Baker Street on Pinterest.
Remember:
– This giveaway is open to United States residents only. – It will be open until Sunday, June 17 at 11:59 pm EST. – 
Winner
 will be generated via a random number generator and will have 24 hours to respond to the email. – Make sure you leave a valid email address. – The processor will be shipped by Magimix.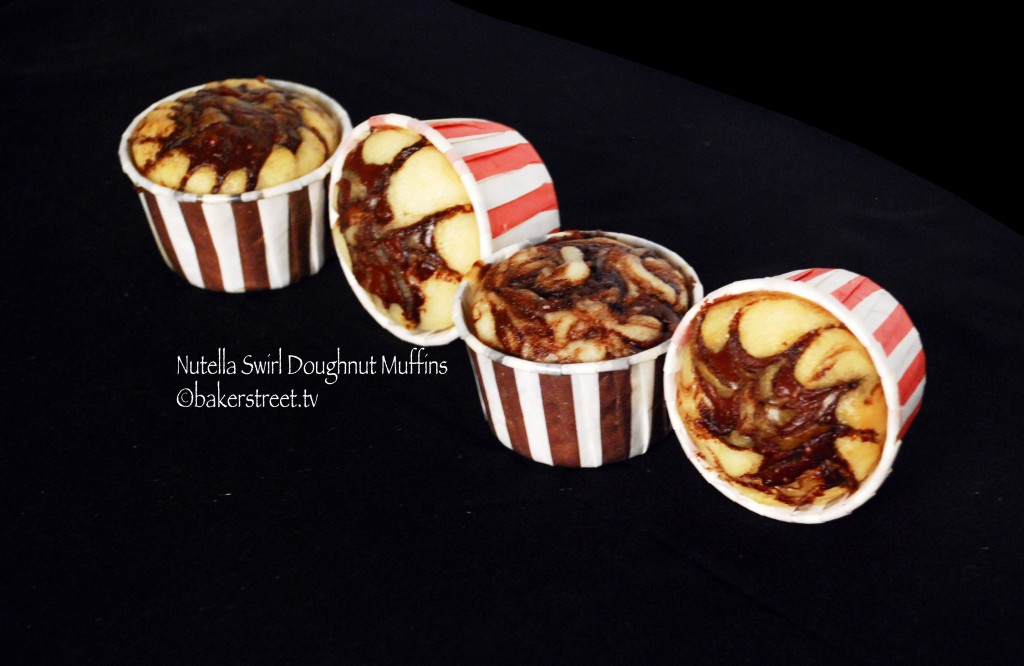 And lastly, a huge shout out to all my Muffin Monday bakers who continue to inspire me week on week. We did it! They keep me on my toes, and are always there when you need them. I'm glad to have run into these fabulous bakers; who I now call friends.
We are open for any suggestions you have for Muffin Monday! And If you would like to join us on this journey, drop in a line here with a few details.
We are celebrating our anniversary next week too so be back for more giveaways and delicious recipes.
Happy Baking!
*GIVEAWAY CLOSED*