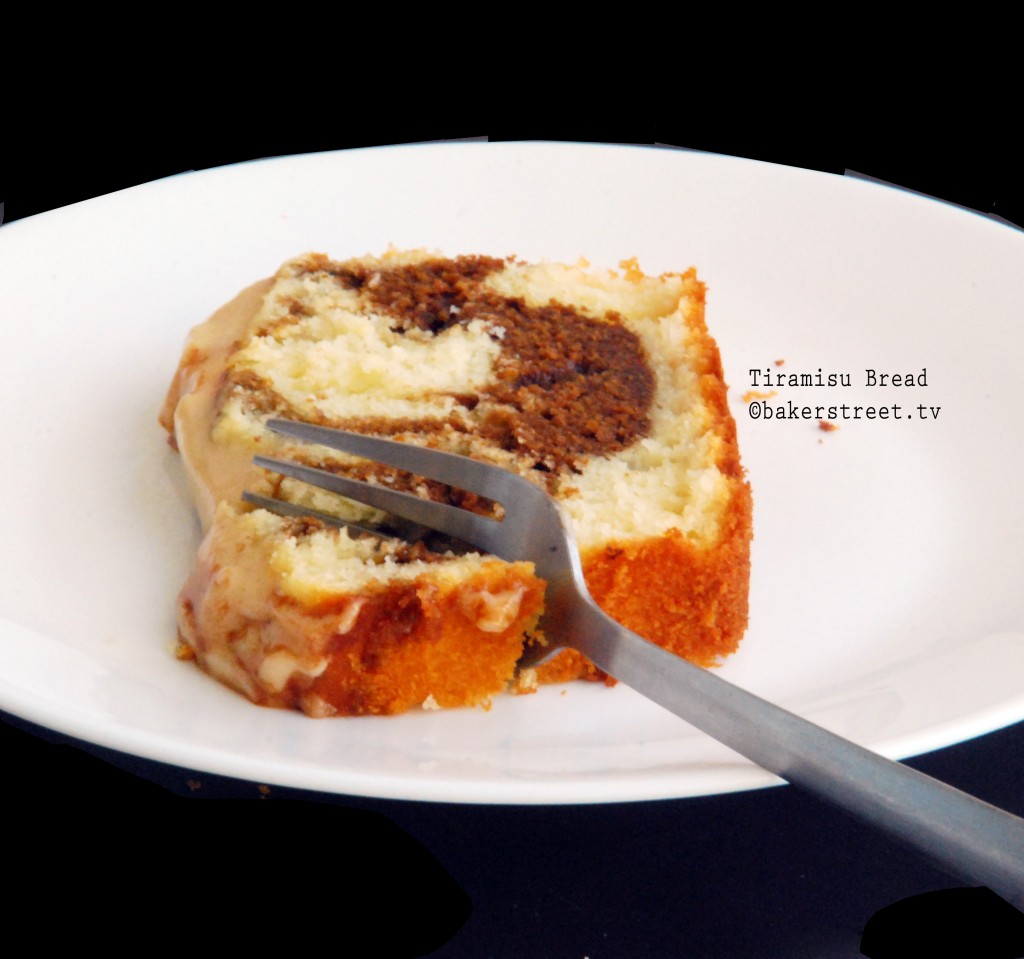 I don't lick the batter from the bowl. Generally speaking, that is. The wait for the finished product makes the first bite even more enjoyable. But hey, there are many batter lickers out there who're perfectly nice people and who am I to judge? In fact, just to prove that I'm no batterlickerphobe, here is a recipe just for the occasion. Not only will you end up licking off the bowl, I'll wager you will even try the beater. So here you are: enjoy the whipped butter and sugar, take a finger of the strong espresso gently once it's poured into the batter and savor the flavors as it fills your kitchen with their sweet aroma.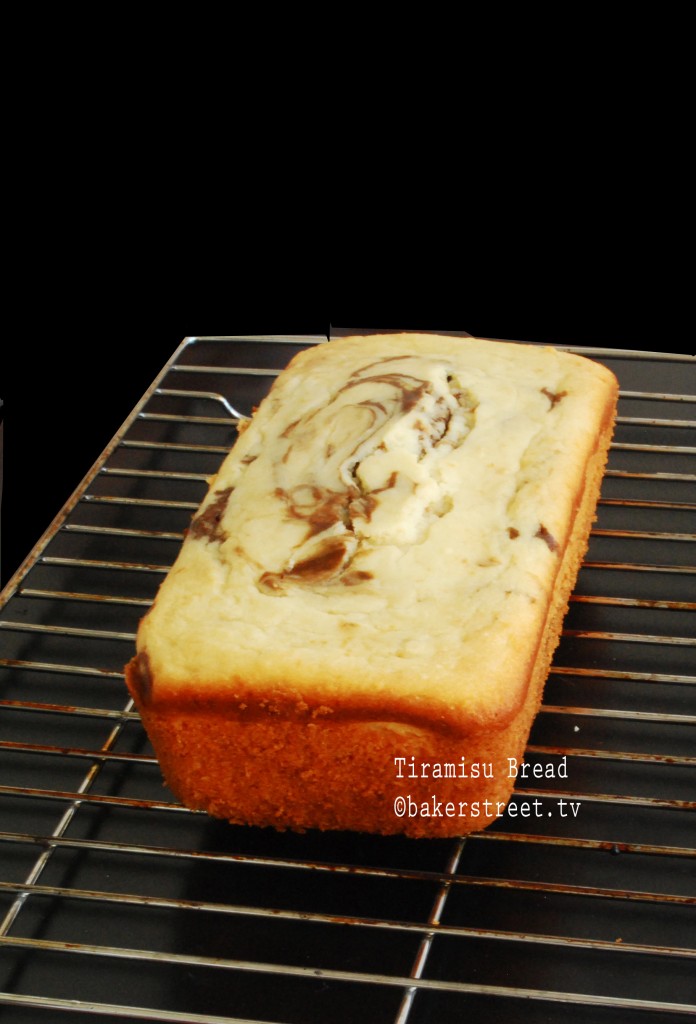 The bread has a nice tight crumb, gorgeous swirls, uses a tub of mascarpone and a little bit of Kahlua – these are only <sings> a few of my favorite things </sings> and reasons I chose to bake this today. It captures the essence of Tiramisu beautifully. Like earth in am Ansel Adams photograph, like the sea on a Turner canvas. It has a strong flavor of espresso, uses a light brushing of Kahula as soon as it is baked and a generous frosting and a mocha drizzle that pairs perfectly with this bread. Even though the recipe recommends the use of Kahlua or espresso is optional right after the bread is ready, I recommend you don't skip this step if you want to avoid a dry bread.
The recipe for the frosting is my all time favorite. I have used it so many times, and still now when I have that first bite, it chooses to surprise me by how delicious it is. I used a Kahlua Mascarpone Frosting. (click here for recipe) and a mocha fudge ripple to dress the bread.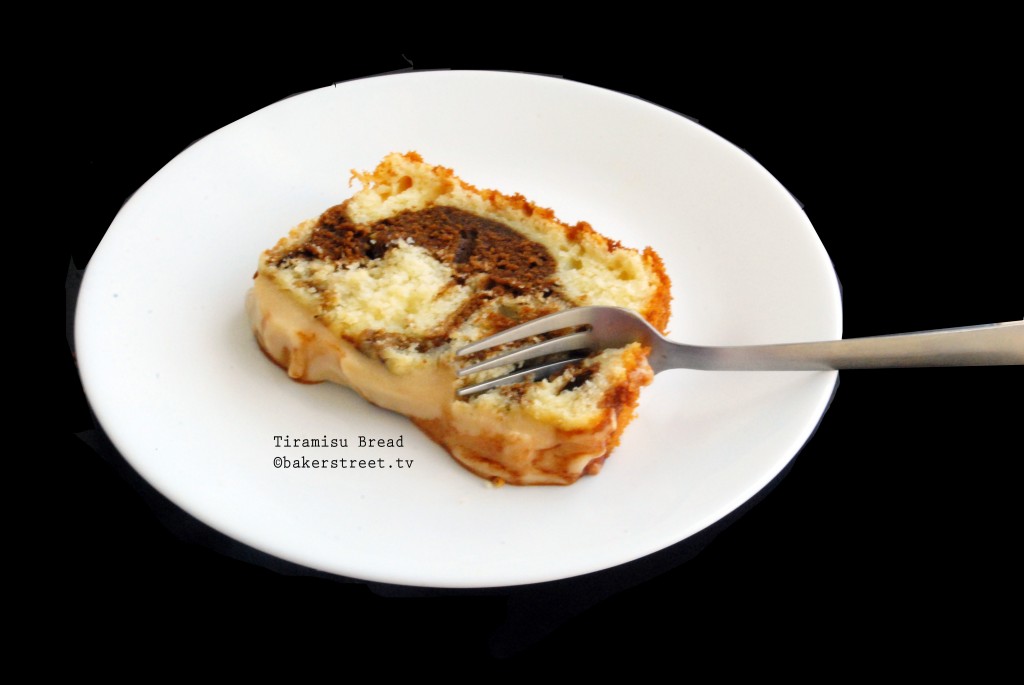 Over to the recipe: Luscious swirls, a fine crumb capturing the essence of the Italian dessert finally topped with a Kahlua Mascarpone Glaze.
Author:
adapted from a foodie affair
Ingredients
11/2 cup all purpose flour
1 teaspoon baking powder
½ teaspoon baking soda
¼ teaspoon table salt
8 oz Mascarpone, room temperature
¾ cup sugar
2 eggs
1 teaspoon vanilla extract
1 tablespoon unsweetened cocoa powder
2 teaspoon instant espresso powder
1 tablespoon water
½ cup buttermilk
Kahula or Espresso (optional. you won't need more than 1-2 tablespoon)
Instructions
Preheat oven to 350° F. Grease an 8-1/2 X 4-1/2 inch loaf pan.
In a medium bowl, whisk together flour, baking powder, baking soda & salt in a bowl; set aside.
In a small bowl, combine cocoa and espresso powder in a bowl; stir in water to dissolve. Set aside.
In a large bowl, beat mascarpone and sugar with a mixer on medium speed until fluffy, approximately 3 minutes.
Add eggs, one at a time, mixing after each addition. Mix in the vanilla along with the last egg.
Alternately add flour mixture and buttermilk to creamed mixture (starting and ending with flour mixture) until combined.
Divide batter in half, transferring half in to a separate bowl. Stir cocoa mixture into half of batter until combined.
Alternately, spoon batters in to prepared pan, ten swirl together with a skewer or knife to marble.
Bake in a pre heated oven for 45 to 50 minutes or until a toothpick inserted in the center comes out clean, 50-55 minutes.
Using a fork or skewer, poke small holes all over the top of bread and pour the kahula. (If using)
Let bread cool in the pan for 15 minutes, then transfer on a wire rack. Do not frost until completely cool.
Tip: Once you've used the frosting, store the bread in the refrigerator. It should keep for 2-3 days.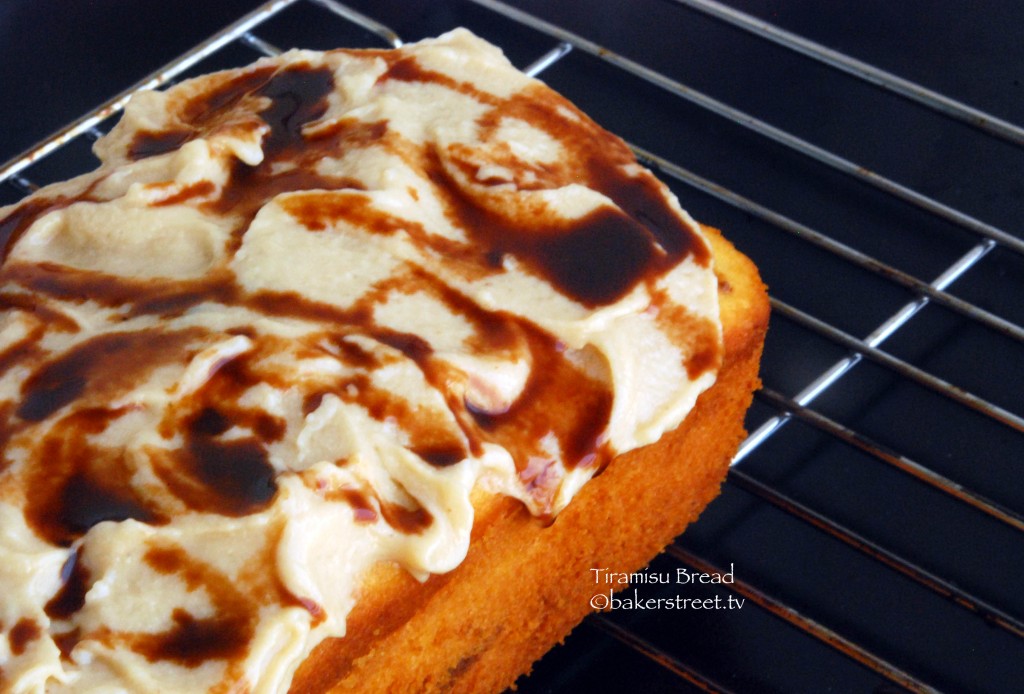 Happy Baking!