It's been raining lately. On and off. On and on. A shower here, a thunderstorm there. There are few moments of joy in the world like an icy morning in the midst of summer with rain pattering against your windows. Work mornings can be difficult: needing a Herculean task to get out of bed but a cup of coffee and a warm muffin out the oven can surely do the trick.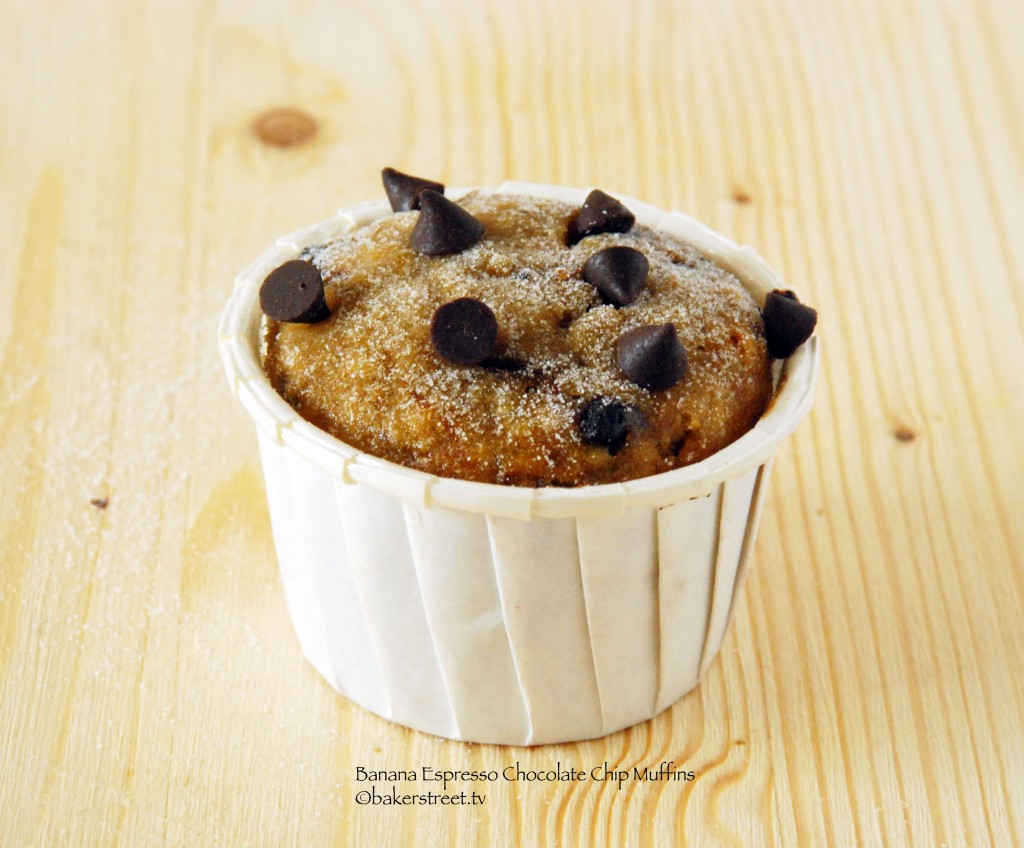 This recipe hails from Baked: New Frontiers In Baking, and it is impossible to go wrong with. I had a lot of ideas when I read the recipe but made no changes at all because it is quite perfect as is.
A slight kick of coffee, sweet banana and the hint of bittersweet chocolate makes these muffins an excellent treat on a cold and rainy Monday morning.
#MuffinMonday: Banana Espresso Chocolate Chip Muffins
Author:
From Baked: New Frontiers In Baking
Recipe type:
Muffins, Dessert
Ingredients
1½ cups mashed, very ripe bananas (about 4 medium bananas)
½ cup sugar
¼ cup firmly packed light brown sugar
½ cup (1 stick) unsalted butter, melted
¼ cup whole milk
1 large egg
1½ cups all-purpose flour
1 teaspoon instant espresso powder
1½ teaspoons baking soda
1 teaspoon salt
1 cup (6 ounces) semisweet chocolate chips
Instructions
Preheat the oven to 350 degrees F.
Line a 12 hole muffin pan with muffin liners or grease with nonstick cooking spray.
In a medium bowl, stir together the bananas, sugars, butter, milk, and egg; Set aside.
In another medium bowl, whisk together the flour, instant espresso powder, baking soda and salt.
Make a well in the middle of the dry ingredients. Pour the wet ingredients into the well and stir just until combined. Fold in the chocolate chips.
Fill each cup about ¾ full. Bake in the center of the oven for 20-25 minutes, until a toothpick inserted in the center of the muffin comes out clean.
Move the muffin pan to a cooling rack, and let cool for 15 minutes. After 15 minutes, remove the muffins from the pan and let them finish cooling on the cooling rack.
Now onto today's fun part. Muffin Monday is partnering with Quaker this week which has come out with 5 very new and exciting products. Quaker is giving away two very special hampers which include:
Quaker Whole Hearts Cereal
Quaker Oatmeal Squares Honey Nut Cereal
Instant Quaker Oatmeal Chocolate Chip
Quaker Yogurt Granola Bars
Quaker Stila Bars & Bits
Quaker Cookies
Quaker Soft Baked Bars
** The product flavors included in this special product pack may vary.
All you need to do is tell us what is your favorite Quaker product?
For additional entries; leave a separate comment for EACH of your entries.
*If you're already following me on Twitter, Facebook or Pinterest and/or already subscribe to Baker Street leave a comment for that counts as an entry too.
You will also need to:
Remember:
– This giveaway is open to residents of USA – It will be open until Sunday, July 1, 2012 at 11:59 pm EST. – Winner will be generated via a random number generator and will have 24 hours to respond to the email. – Make sure you leave a valid email address.
Muffin Monday: Round Up
My Muffin Monday bakers have some very interesting variations that I'd like to share:
Happy Baking!
And finally, I'd like to congratulate Katherine Martinelle on winning the Magimix by Robot-Coupe 12 cup food processor.
*GIVEAWAY CLOSED*