Before I head into today's post, a quick note: If you'd like to be a part of Muffin Monday, click here and drop in a line with a link to your blog. The mission is to share a new, wicked, delicious muffin recipe every week. This is our journey to make the world smile and beat glum Monday mornings week after week, one muffin at a time.
For this week's recipe, we chose Dorie Greenspan's Chocolate Chip Peanut Butter Swirl Muffins. A chocolate lover's dream come true. Its rich, fluffy and decadent. This one really deserved to be shared earlier. I made minimal changes to the original recipe and chose to go with a biscoff spread instead of peanut butter. The hint of cinnamon infused in this magical recipe makes it perfect. I recommend you take these out of the oven slightly underdone leaving them tender and ready to melt-in-your-mouth. These are the ultimate dessert muffins and pair perfectly with a scoop of tiramisu ice cream.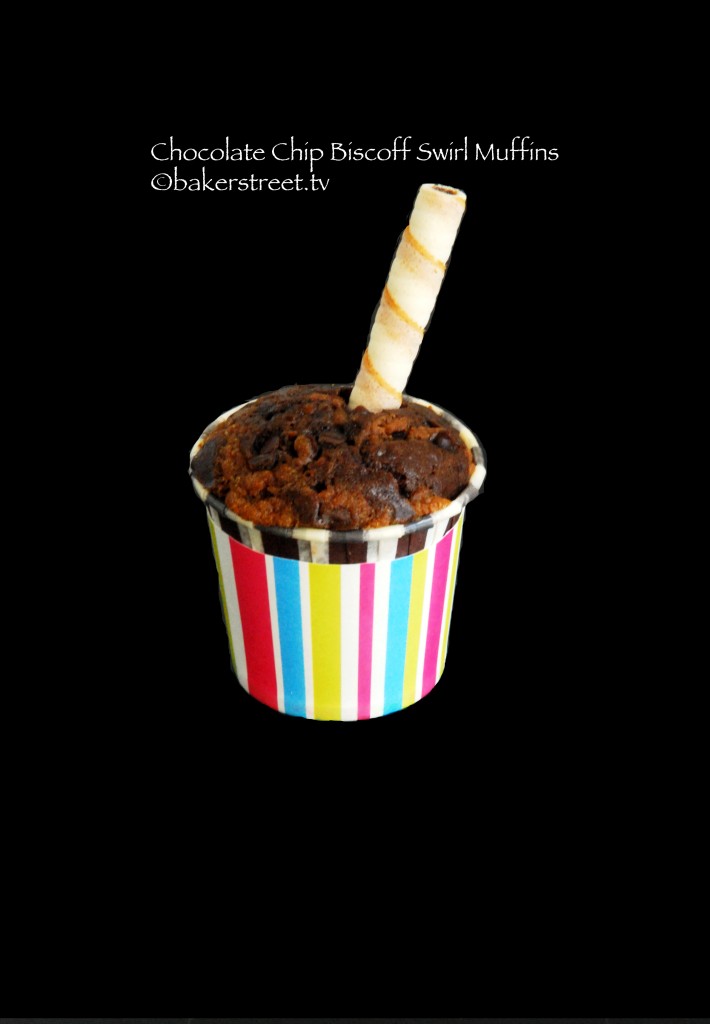 Over to the recipe: Rich and fluffy, a taste of cinnamon-y biscoff enveloped in a luscious chocolate muffin and speckled with chocolate chips.
Muffin Monday: Chocolate Chip Biscoff Swirl Muffins
Author:
From Dorie Greenspan's Baking From My Home To Yours
Recipe type:
Muffin, Dessert
Ingredients
6 tablespoon unsalted butter, at room temperature
⅔ cup semisweet chocolate chips, divided
2 cups all-purpose flour
⅔ cup sugar
⅓ cup unsweetened cocoa powder
1 tablespoon baking powder
½ teaspoon baking soda
½ teaspoon salt
11/4 cups buttermilk
1 large egg
2 teaspoon vanilla extract
⅓ cup biscoff spread
1 tablespoon unsalted butter, melted
½ cup confectioners' sugar
1 tablespoon milk
Instructions
Preheat the oven to 350? F. Line muffin tins with paper liners.
Combine the butter and ⅓ cup of the chocolate chips in a heatproof bowl set over a pot of simmering water. Heat, stirring occasionally, until the chocolate and butter are melted and smooth. (Alternatively you can microwave in 20-30 second intervals, stirring in between, until melted and smooth.) Set aside.
In the bowl of an electric mixer combine the flour, sugar, cocoa powder, baking powder, baking soda, and salt. Whisk or mix briefly to combine. In a liquid measuring cup, combine the buttermilk, egg and vanilla and whisk until combined.
With the mixer on low speed, blend in the buttermilk mixture just until combined. Blend in the melted chocolate mixture. Stir in the remaining chocolate chips with a spatula. Divide the batter between the prepared paper liners, filling each no more than ⅔ full.
Combine the biscoff and butter in a heatproof bowl and microwave briefly until smooth.
Whisk in the confectioners' sugar and milk until smooth.
Drop a small spoonful of the biscoff mixture on top of the chocolate muffin batter. Swirl together using a skewer or knife.
Bake 20-22 minutes or until a toothpick inserted in the center comes out clean. Let cool in the pan 10 minutes, then transfer to a wire rack to cool completely.
Muffin Monday: Round Up
Happy Baking!