For this week's #SundaySupper I bring to you an original creation, the Mango Swirl Cheesecake.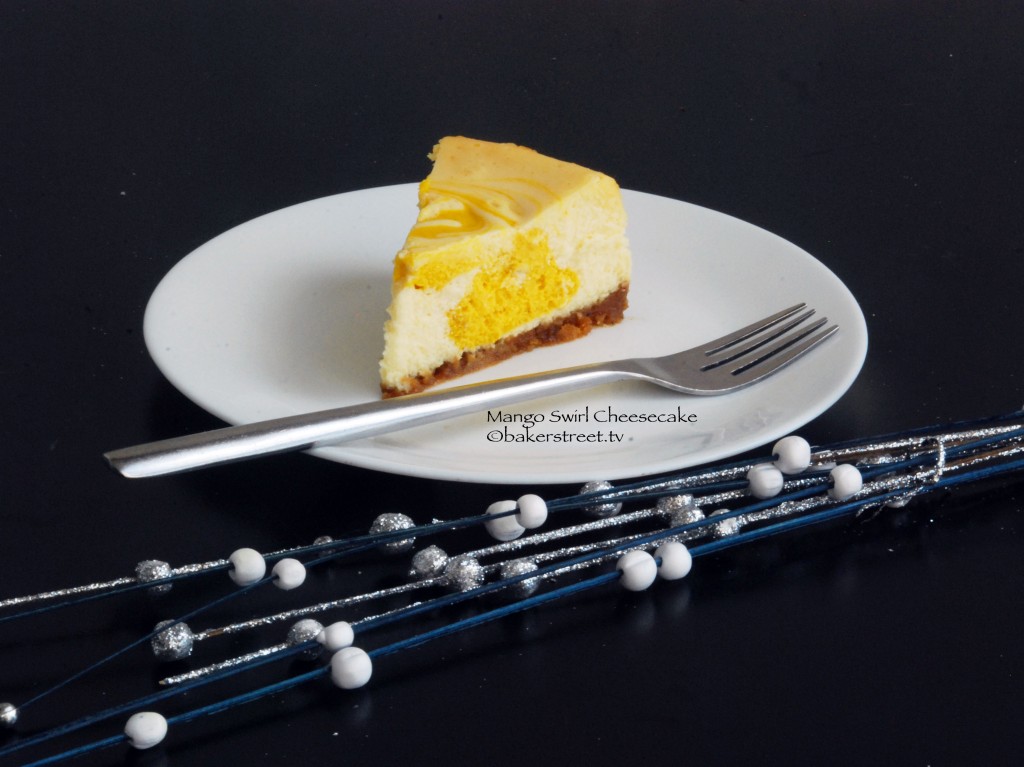 Let me put it on the record that if you're expecting real mango pieces, then you're going to be disappointed. But I promise you this: it will still be entirely worth your while. The flavor comes from the fruit itself: I used a puree of one fresh mango and blended it with a part of the cream cheese batter separately. Then I poured the batters alternatively and gave it a little swirl. The rich mango comfortably compliments the decadent vanilla batter. The one thing you should keep in mind is that both batters should be more or less of the same consistency. Don't let the mango batter be too runny – that could result in it settling down and baking unevenly.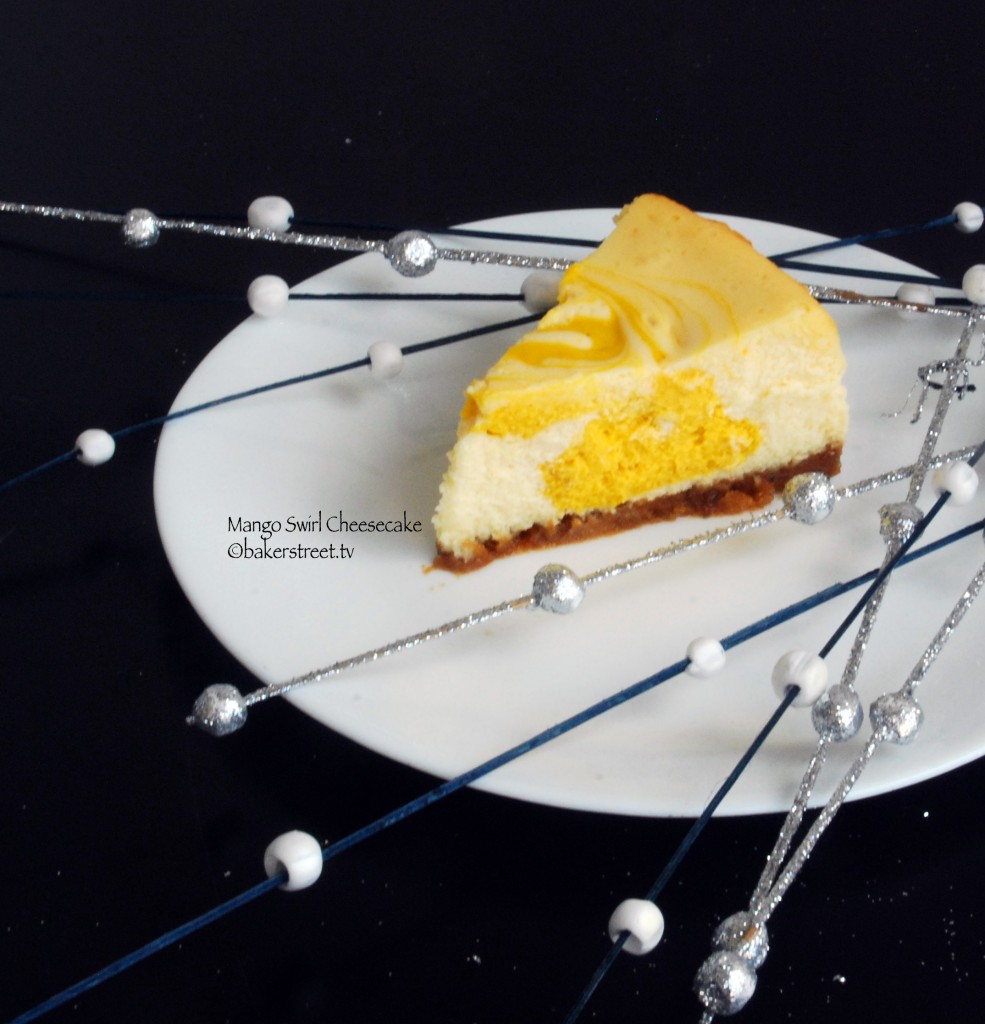 Feel free to dress it with a mango or raspberry sauce, some maraschino cherries or keep off the clutter and eat it simple and pristine. The mango in this recipe could be substituted with raspberries, strawberries, blackberries, blueberries, peaches. …  the possibilities are endless.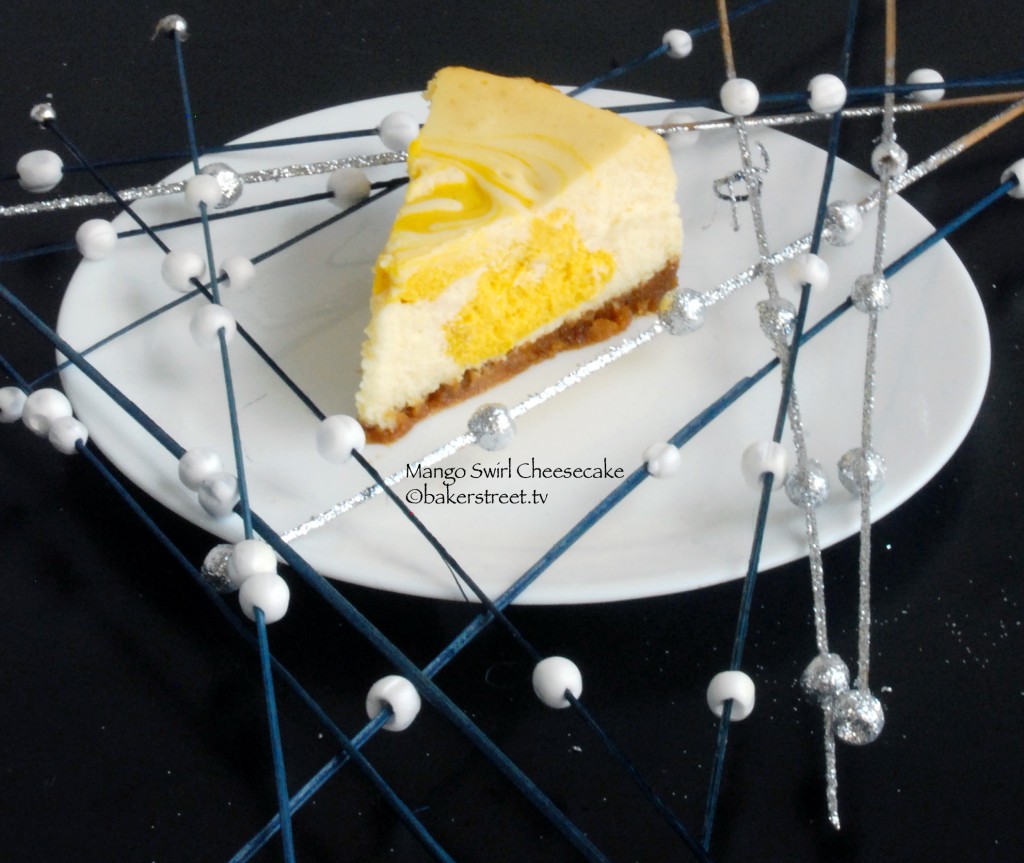 Over to the recipe: Rich and creamy, vanilla and mango playing on your tastebuds in this scrumptious cheesecake.
Recipe type:
Cheesecake, Dessert
Ingredients
10 – 12 digestive biscuits
½ teaspoon cinnamon
2 tablespoons brown sugar
½ stick (1/4 cup) butter
3 * 8 ounce cream cheese, softened
1 cup + 2 tablespoons sugar
1 Mango, peeled and pureed
11/2 teaspoon vanilla essence
3 eggs
Instructions
Tip all the ingredients in a food processor and blitz until finely processed. Press it into a springform pan and bake it at 300F for 10 minutes or until slightly brown.
Preheat the oven to 300F
In a large bowl, beat the cream cheese and sugar until light and fluffy
Add the eggs one by one beating after every addition until incorporated. Add in the vanilla essence along with the last egg.
Remove ½ cup of the batter and blend it with the pureed mango.
Pour ½ of the vanilla batter over the pre baked crust, then pour the mango batter and finally the left over vanilla batter. Using a knife, make a couple of swirls. Make sure you don't over mix the batter.
Pour warm water in a big baking pan. Place the tin in the baking pan and bake for 70 to 80 minutes.
After your cake is done, let it remain in the oven for an hour.
Remove, let it cool and refrigerate it for at least four to five hours or overnight.
The theme for this week's #SupperSunday is dedicated to Memorial Day and we are bringing you a fabulous spread. When I was reading through the list, I could only think of is all of us coming together for a pot luck. Can you imagine what a crazy party that would be?
Perfect Cocktails:
Salads:
From the Grill:
Classics:
Desserts:
Our recipes will be perfectly paired by Wine Everyday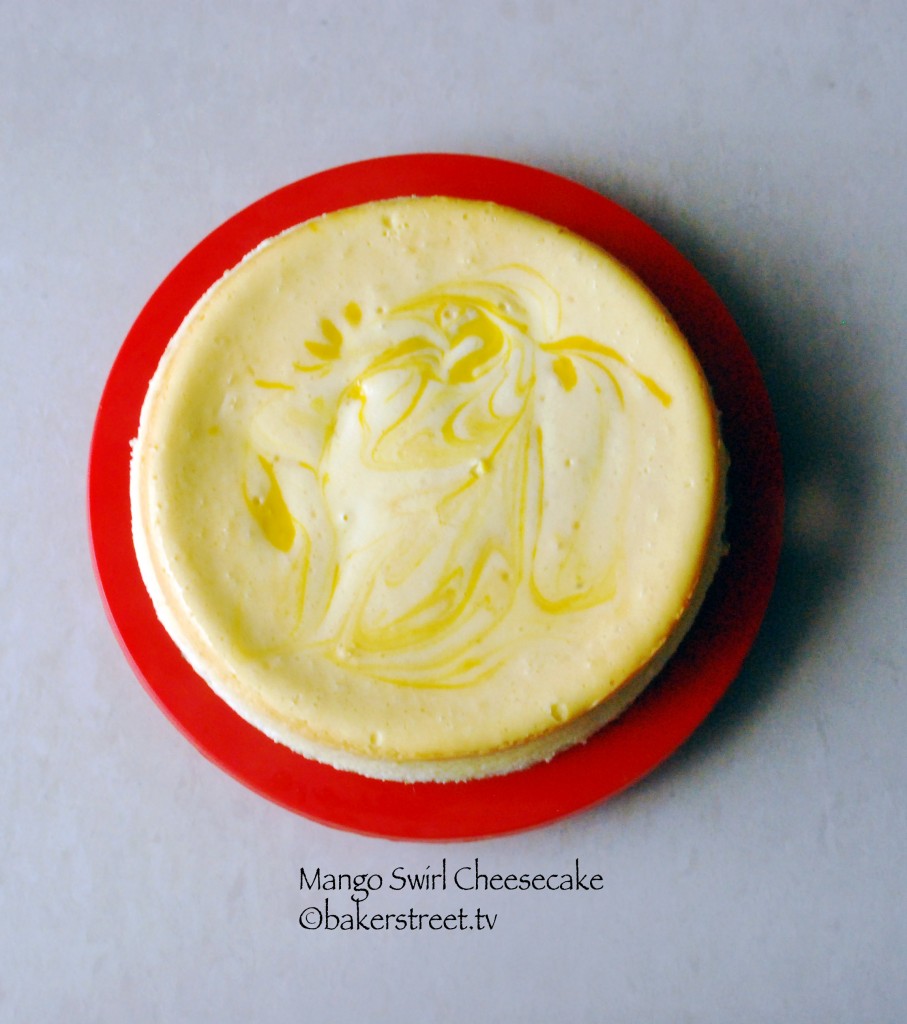 Happy Baking!