Bread 101 today is featuring a classic, Brioche. Even though it is categorized as bread, Brioche is truly much much more. It's versatile and can be moulded in any shape or size. The rich French pastry is actually considered a luxury bread, with all its butter and eggs. It also automatically becomes one of my personal favorites because it uses a tub of butter with ease and elegance, giving it a sort of flaky crust and a tender crumb.
I love how the butter is used in the process: slowly and little by little in small quantities making the dough soft and smooth as it comes along. Using your hands to knead doesn't really cut it for a brioche. From what I've seen almost every recipe recommends the use of a mixer with a dough hand attached. This post is only Part I as we cover just one style, shape and size. I'll be back with more recipes for the classic fluted bottom and a topknot soon.
Our guest today is Simone from JungleFrog Cooking. A professional food photographer from Netherlands, she finds time to blog about delicious recipes, sharing photography tips and hosting the Donna Hay Challenge every month. This year she's going to start workshops for food bloggers which will teach them all about styling. I'm in the hope I can attend one of them but if you'd like to know more, click here to reach out to her.
Like me, she too is often uncomfortable with yeast. So when I told her about my project, she immediately said she'd want to cover brioche. In fact there's a lot to learn from her first experience. She unfortunately took out the bread a little early and it left a big gaping hole in the middle. Also, she imagined it would be softer. I'm thinking baking at a lower tempature for a longer time may have done the trick. I'm going to let Simone take it way and present to you a rich man's brioche topped with ricotta and fresh berries.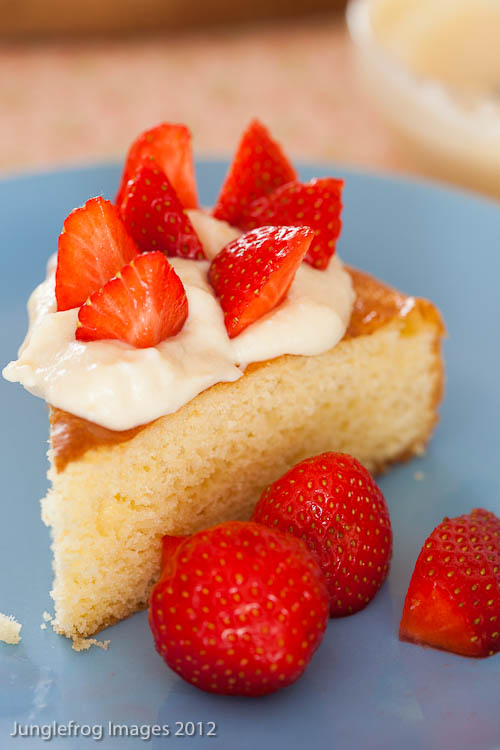 ­­
Me and yeast are not best friends…. Well either that or I am just to plain ignorant of the rules. I've already done a few workshops where the topic was bread and how to deal with it but as of yet… it still scares me!
So when Anuradha from Baker Street contacted me to ask if I wanted to write a guest post featuring a recipe with yeast I had to laugh. Was this a coincidence or had she read my mind?
Her goal was to overcome her own fear of yeast so it did seem like the perfect opportunity to work on my own fears too. I love Anuradha's work and her series on muffins has me drooling every single monday!
Now over to my adventure with the brioche. I picked a brioche as it has always intrigued me a bit and I thought it would be a fitting test case for me to work on. I had a friend coming over for a afternoon of cooking on friday so that would be the perfect time to start working on the brioche or so I thought..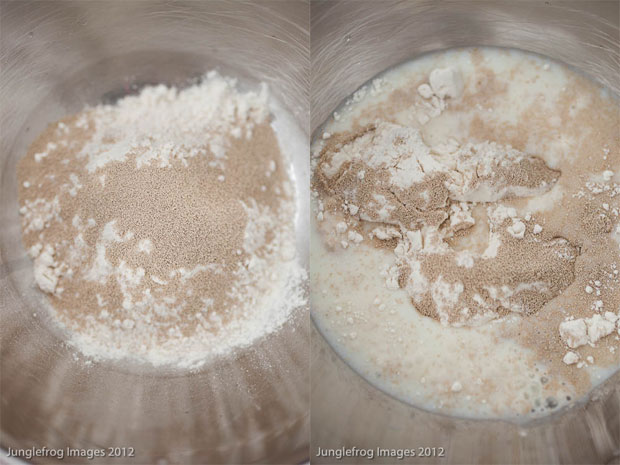 Preparing the dough
It would have helped somewhat if I had actually read the recipe before starting but it doesn't help finding out that something needs to cool for 4 hours before being able to handle it!
But ok, let's start at the beginning; I got a recipe from Esmee who blogs at Esfactory.nl. A Dutch blogger who has a real funny way of writing and I had asked her for a good brioche recipe. She handed me the Rich Man's Brioche.
The recipe itself is fairly straightforward; you make a pre-dough existing of flour, yeast and milk. Now that – my friends – was already the point where it started to go wrong. Nothing happened! Given the fact that the mixture would have to start rising with 9 grams of yeast it stayed remarkably flat. My guess is that the milk, coming from the fridge, was far too cold to do anything.
Instead of starting over, I persevered, turned on the heat, put the mixture on top and waited…waited a little longer and then just continued with the next step. Patience has never been my strong virtue.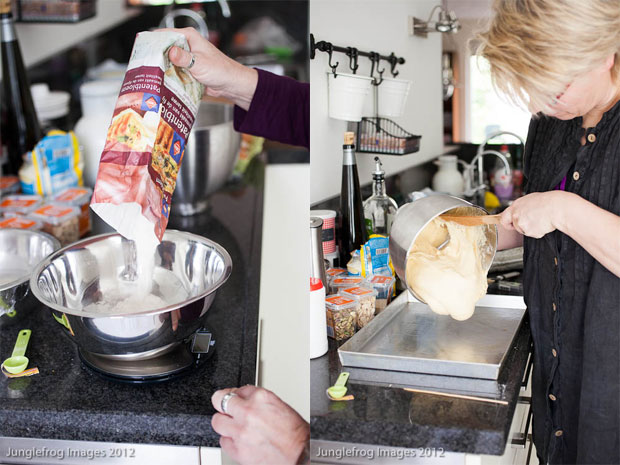 So we proceeded to step 2 and made the dough, added eggs into the kitchen aid and proceeded to mix, adding butter (lots of butter!) into the bowl. What we were left with was a pretty soft and sticky dough as you can see from the mixture that comes from the bowl. I turned it out onto the baking tray and put it in the fridge for the next 3 hours. It was supposed to be for at least 4 but we also wanted to bake the bread sometime that same day so time was of the essence.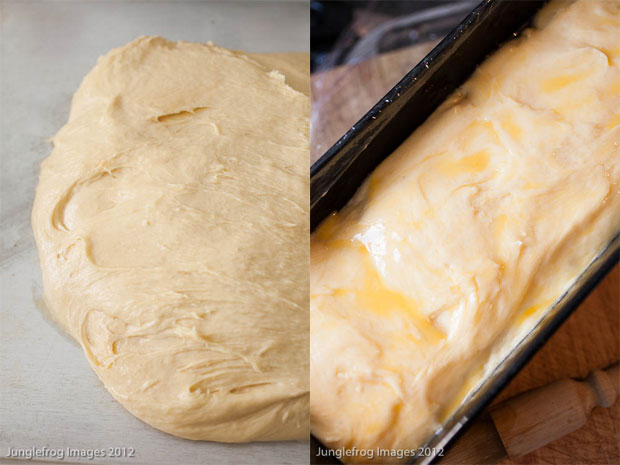 When you take it out of the fridge the dough has become very firm and cold, which is essential for this particular dough to work with. A sure sign that we had not waited long enough was the fact that the dough was still a little too wet and sticky in certain part but it was just about manageable so we could put it into four different baking tins. I opted for tins as the recipe clearly stated I should use tins. Once it is in the tin it has to rest and rise for another 2 hours and miraculously – while very slowly – the dough did rise in the tins!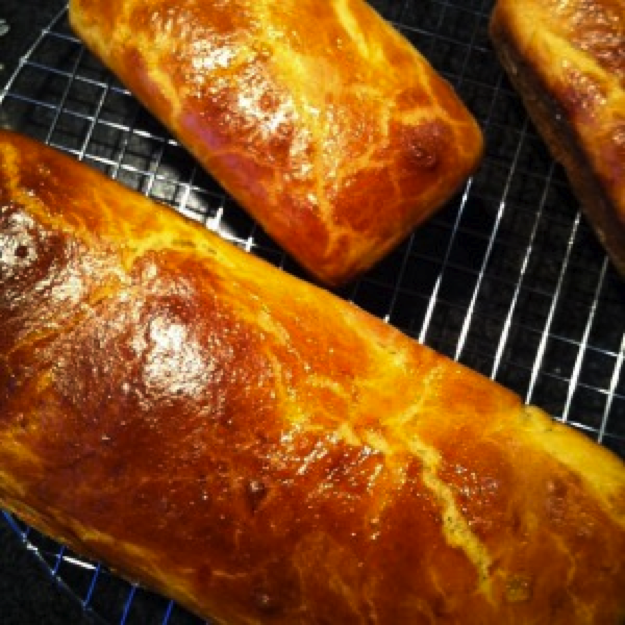 Out of the oven!
I totally forgot to take a pic right after they came out of the oven, other then with my Iphone so here is the Instagram shot of the brioche after they just came out of the oven. To be honest I was totally surprised at the fact that anything decent came out of the oven after we had abused the whole process so much. As it turns out it is a little more forgiving than you might think. The brioche itself was quite good although maybe it could have been a little softer. What we also found is that one of the larger tins looked fine on the outside but once I cut into it the next morning it turns out that right in the middle there was a big hole where it had not cooked properly.
You can very clearly see that in the below picture where the brioche shows in the background. The other forms were all fine, cooked completely so I think I should have just left it in longer.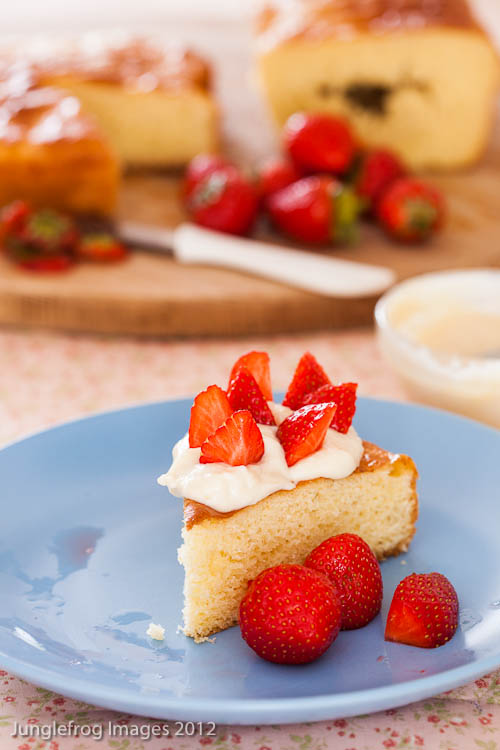 See that gaping hole in the back?
Now it is clear that I still have a lot of learning to do when it comes to baking bread. You bet I will follow Anuradha's series very closely for tips and such but in the end I do think it all comes down to getting over the fear and start baking!
Recipe Rich Man's Brioche
Ingredients
For the Pre-dough:
65 gr flour
9 gr of dry yeast
115 gr milk
For the Dough:
5 large eggs (around 235 gr), roughly mixed
456 gr flour
36 gr of sugar
10 gr salt
456 butter, at room temperature in small pieces
Extra: 1 egg, stirred to coat the dough before baking
Instructions
Pre Dough: Make a wet dough by mixing all the ingredients together. Stir everything well so all the flour is desolved in the milk. Put plastic over the bowl and leave to stand for at least 20 minutes. The pre dough has to rise and should collapse when you tick the bowl.
Mix the predough with the eggs until it is a smooth mass.
In another bowl mix the flour with the sugar and the salt.
Now the next part is easiest done with a kitchen aid or other foodprocessor but can be done with a wooden spoon. Mix the flour mixture bit by bit with the eggs. Blend every step before adding the next. Everything should be blended well. This takes about 2 minutes.
Now leave the dough to relax the gluten for about 5 minutes.
Mix the butter in, in four parts. Make sure each part is completely mixed with the dough before adding more butter.
Leave the machine on to turn for an additional 6 minutes. Scrape the dough from the sides of the bowl if needed. The dough will be soft and very sticky.
Grease a baking tray with oil and put the dough on it. Form this into some sort of rectangle (roughly 15 by 20 cm) Cover the dough with clingfilm that is also coated in some oil. Put this in the fridge and leave there for a minimum of 4 hours, but better overnight.
Shaping:
Form the dough when it is really cold, if it heats up put it back in the fridge. This much will make about 14 to 16 mini 'Petit Brioches a tete", or 2 to 4 large ones. Coat the surface of your workbench with a little flour before you start shaping.
You can also form a normal sized bread. This will be enough for 3 of them.
Don't forget to grease the tins before putting the dough in. The tins should be filled roughly half, since the dough will still rise.
RISING
Cover the bread or the buns with greased clingfilm. They should rise so much that they fill almost the entire tins. Small buns will rise quicker then large ones. Depending on the temperature this should take about 1,5 to 2 hours.
Preheat the oven to 200 C for small buns and 180 C for large breads.
When they almost fill the tins, coat them with the extra egg. Cover again and leave to rise for an additional half hour before popping them into the oven.
Bake them until golden brown. This should be 15 to 20 minutes for small buns and 35 to 50 minutes for large breads.
Remove immediately from the baking tins once out of the oven. Leave to cool!
I had this brioche with a ricotta, lemoncurd, honey mixture with strawberries. And it was delicious despite all the trouble!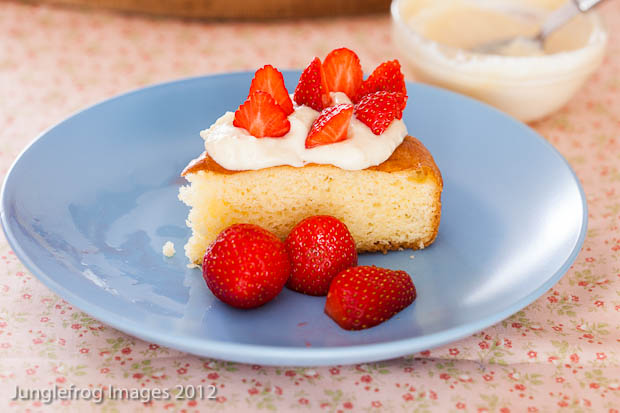 Happy Baking!