This week's #SundaySupper is special. We're featuring only Cristina Ferrare recipes. I was overwhelmed to receive a book signed by her.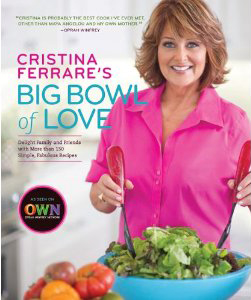 As soon as it arrived, I bookmarked a dozen pages of what I must bake / cook. For today's post, I had a tough choice to make between the luscious flourless chocolate cake and a divine carrot cake with cream cheese frosting. Obviously chocolate won. It's rich and decadent – a chocolate lovers' dream come true.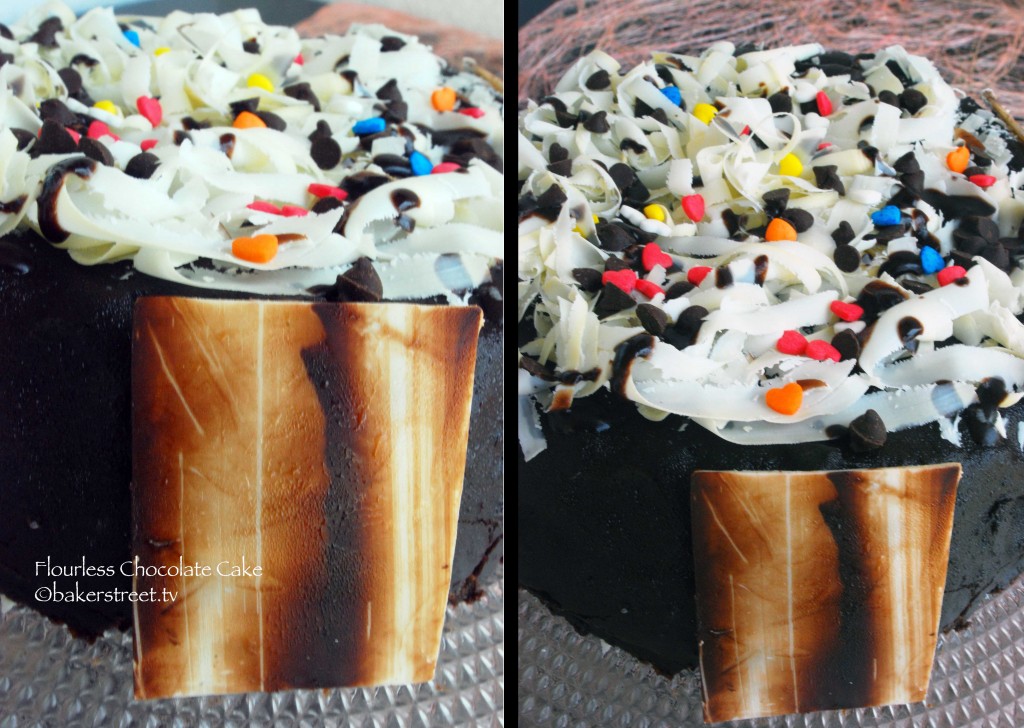 Be warned: it's rich, don't get alarmed by the amount of butter the recipe calls for. The process is simple. Follow the rules and make sure you grease and line the pan properly. Try not to over mix the egg whites into the chocolate mixture and lastly, wait to it to cool completely.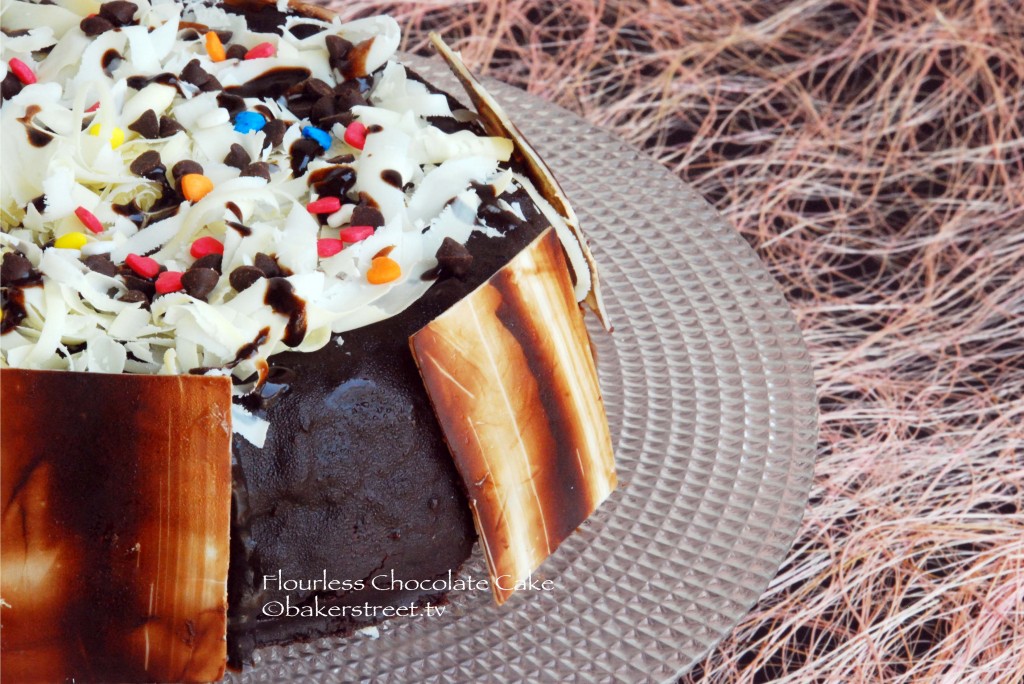 The recipe calls for 1/2 cup of espresso but only 1 tablespoon of it is used in the batter. I used the balance in the chocolate ganache since the recipe didn't specify what to do with the rest. I availed of a slightly dome-shaped pan hence the shape looks different. In any case, I suggest using a 9″ pan. Whether it's round or dome, doesn't matter as long as there is enough room to rise.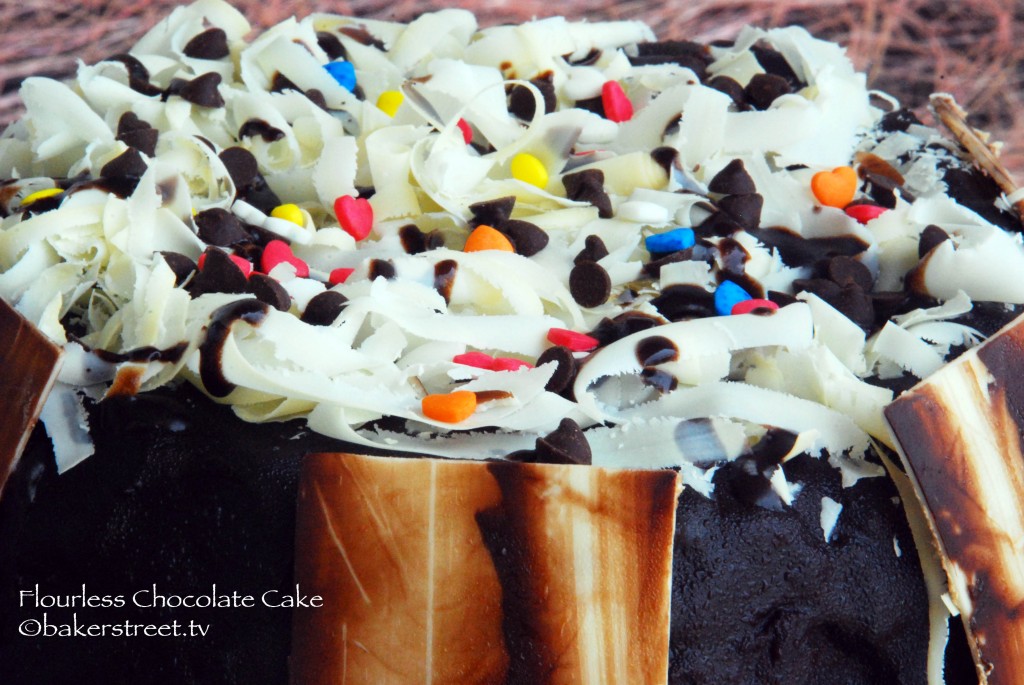 I recommend you serve thin slices of this cake. You can serve it with a raspberry sauce or a couple of cherries or a scoop of ice cream. I used all of the ganache on the cake saving 1 tablespoon then dressed it simply with a heap of white chocolate shavings, drizzled the leftover ganache, threw on a couple of chocolate chips and sugar hearts to give it the finish it richly deserves.
Over to the recipe: Rich and dense, A gluten free dessert, filled with chocolate goodness – just the perfect weekend treat.
Author:
by Cristina Ferrare
Recipe type:
Cake, Dessert
Ingredients
¾ cup (12 tablespoons) unsalted butter cut into pieces
4 * 11/2 tablespoons unsalted butter for greasing the pan
2 tablespoons unsweetened cocoa powder
10 ounces bittersweet chocolate, finely chopped
5 large egg yolks, at room temperature.
3 egg whites
¼ cup + 2 tablespoons sugar
1 tablespoon instant espresso disolved in ½ cup hot water
1 teaspoon vanilla
Pinch of salt
½ cup (8 tablespoons) unsalted butter, cut into pieces
8 ounces bittersweet chocolate, chopped into small pieces
2 tablespoons light corn syrup
Instructions
Preheat the oven to 300F.
Use the 11/2 tablespoons butter to grease the inside of an 8 or 9 inch round pan. Line the pan with parchment paper; grease the paper with with the other 11/2 tablespoons butter and dust with cocoa powder
In the top of a double boiler over simmering water, combine the chocolate and ¾ cup of butter, and melt completely. Mix together well and set aside to cool, about 20 to 30 minutes.
Using a mixture with a wire whisk on medium high, beat the egg yolks, ¼ cup sugar, 1 tablespoon of the coffee, the vanilla and salt for 3 minutes until the mixture is pale and thick. With the mixture on medium low slowly add the cooled chocolate mixture, beat until incorporated.
In a clean bowl, beat egg whites using a wire whisk until foamy. Gradually add 2 tablespoons of sugar, beating until medium-firm peaks form. Gently fold half of the egg whites into the chocolate mixture. Fold in the remaining egg whites just until no streaks remain.
Spread the batter in the pan. Bake for 40 minutes until the cake puffs up slightly and a toothpick inserted into the center comes out moist. Do not overbake. Cool on a rack for 30 minutes.
Run a knife around the insides of the pan to loosen the cake and then invert onto a flat plate. Gently lift off the pan and peel off the paper. Cool at room temperature for 1 hour and refrigerate for 3 – 4 hours.
Combine the butter and the chocolate in a double boiler over simmering water and melt, whisking until smooth. Whisk in the corn syrup until the glaze is smooth and shiny. Set the cake on a wire rack over a large baking sheet. Pour the warm glaze over the center of the cake. The glaze should cover the surface evenly spilling over the edges and down the sides, with all the excess falling onto the baking sheet.
Refrigerate for 2 hours or until firm.
Slice the cake into small pieces (its very rich), dipping your knife into hot water and wiping it dry before you cut each slice.
We have quite a spread for you this week. If you're wondering what you'd like to cook for this evening then all you need to do is look at this menu and I'm sure inspiration will strike somewhere:
Tomato Mozzarella Tower with Shallot Bacon Dressing, Chicken Marsala with Angel Hair Pasta and melon Medley with Lemon Sorbet 
The Primlani Kitchen
 Roasted Beet Wild Arugula with Goat Cheese Salad 
Sue's Nutrition Buzz 
Pesto Pasta 
Katherine Martinelli 
Spaghetti and Meatballs 
Juanita's Cocina 
Sea Bass with Soy Glaze and Cucumber Salsa 
Beetles Kitchen
Chicken Picatta Over Pasta 
Family Foodie
Grilled Orange-Ginger Chicken Breasts 
Supper for a Steal 
Seafood Risotto 
Magnolia Days 
Fall Off The Bone Chicken Thighs 
Lovely Pantry 
Risotto with Fresh Peas and Asparagus 
Big Bears Wife
Salad Dressing 
BG Garden
Strawberry Shortcake 
German Foodie
Double Chocolate Chip Cookies 
Mrs Mama Hen 
Cheesecake with Fresh Berries 
The Messy Baker
Rice Pudding 
Rambling Notebook
Strawberry Shortcake 
That Skinny Chick Can Bake
Flourless Chocolate Cake 
Baker Street 
Brownies Rich and Chocolaty
 Daily Dish Recipes 
Happy Baking!