This week's recipe promises the creation of the ultimate breakfast muffin, with a great balance of oats, nuts and berries – dried and fresh. The original recipe calls for dates, raisins and walnuts. However, I used dried cranberries, fresh blueberries and small currants along with toasted walnuts. While mixing you'll notice the batter is a little lumpy, but don't let that not bother you. Over mixing could cause these to become dry and tough. The lumpy batter comes together quite nicely delivering moist and tender muffins.
The recipe is quite versatile. Keeping the base universal, you can add any nuts and fruits of your choice. I baked these early this morning to serve with a warm cup of tea. And this was a magical beginning to the week.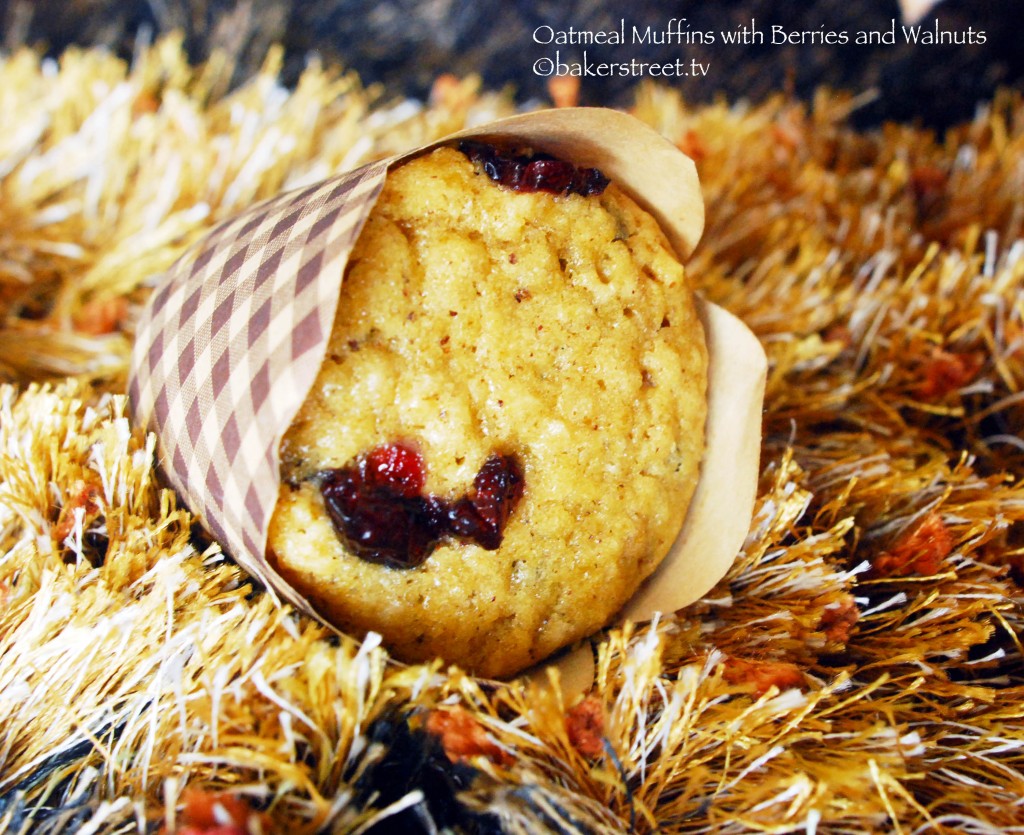 Over to the recipe: A hearty breakfast muffin filled with rolled oats, dried cranberries, currants, roasted walnuts and fresh blueberries.
Muffin Monday: Oatmeal Muffins with Berries and Walnuts
Author:
from Simply Recipes
Recipe type:
Breakfast, Muffins
Ingredients
1 cup of rolled oats
1 cup of all-purpose flour
½ cup brown sugar, packed
½ teaspoon of salt
1 teaspoon baking powder
½ teaspoon baking soda
½ teaspoon of cinnamon
¼ cup of finely chopped walnuts, toasted
¼ cup of currants
¼ cup of chopped cranberries
¼ cup of fresh blueberries, fresh or frozen.
1 stick of butter (1/2 cup), melted and cooled
1 cup of buttermilk
½ teaspoon vanilla extract
1 large egg, beaten
Instructions
Preheat the oven to 400°F and grease a twelve-slot muffin tin or line the slots with paper baking cups.
Mix together the rolled oats, flour, brown sugar, salt, baking soda, baking powder, cinnamon, walnuts, cranberries, blueberries and currants. In a separate bowl mix together the buttermilk, egg, vanilla extract, and butter.
Pour the wet ingredients into the dry mixture and stir together. Be sure not to over-stir as that will cause the muffins to develop too many gluten bonds. It should be thick and gloppy. About 10 seconds of stirring should do; just enough to barely bring the ingredients together. Scoop into prepared muffin tray and bake for 20 minutes or until a toothpick comes out clean. Cool in the tray for a minute or two before transferring to a wire rack to cool completely.
Muffin Monday: Round Up
Happy Baking!