Summer in the tropics is like war. You have to pick your battles. My big victory arrived in the form of a brand new ice-cream maker. Barely out the box, the only thing to be decided before I inaugurated it was what to make. Options floated before me: biscoff swirl, nutella gelato, mango sorbet or a classic vanilla (isn't it a default first in the world of ice-creams). I'd tried a mango basil and lime sorbet last year without an ice-cream maker and ended up with great results, but this was probably because the recipe was just fantastic. Still,  I couldn't wait to see the difference in texture using the same recipe with an ice-cream maker. But then berries came along.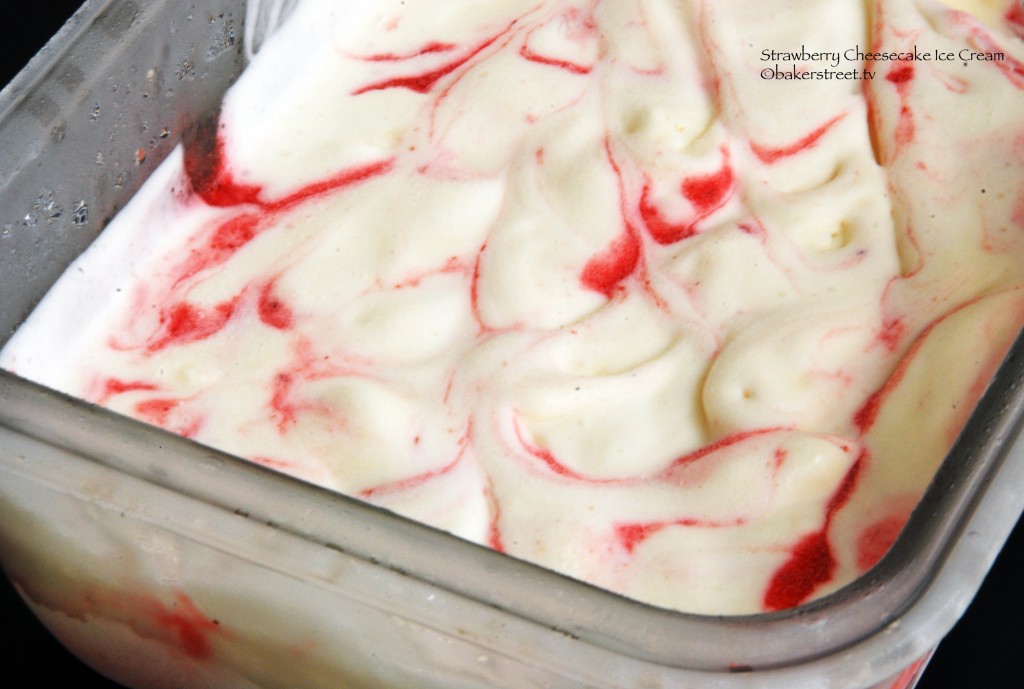 Now this is my very first attempt at making ice-cream at home and while I wanted to be reserved in my approach and start with something simple but I kept picturing a cheesecake ice cream. Cheesecake + Strawberry + Ice Cream. Yes, ambition got the better of me.
The recipe I chose is fairly simple. It's vegetarian to begin with (I know one doesn't find many recipes on my blog that are.) The beauty of it is that the base is a quick whip of ingredients and not a custard. Custards can go wrong of course –  burning it or cooking the eggs.  If you're looking for a quick fix then this is the recipe to go with.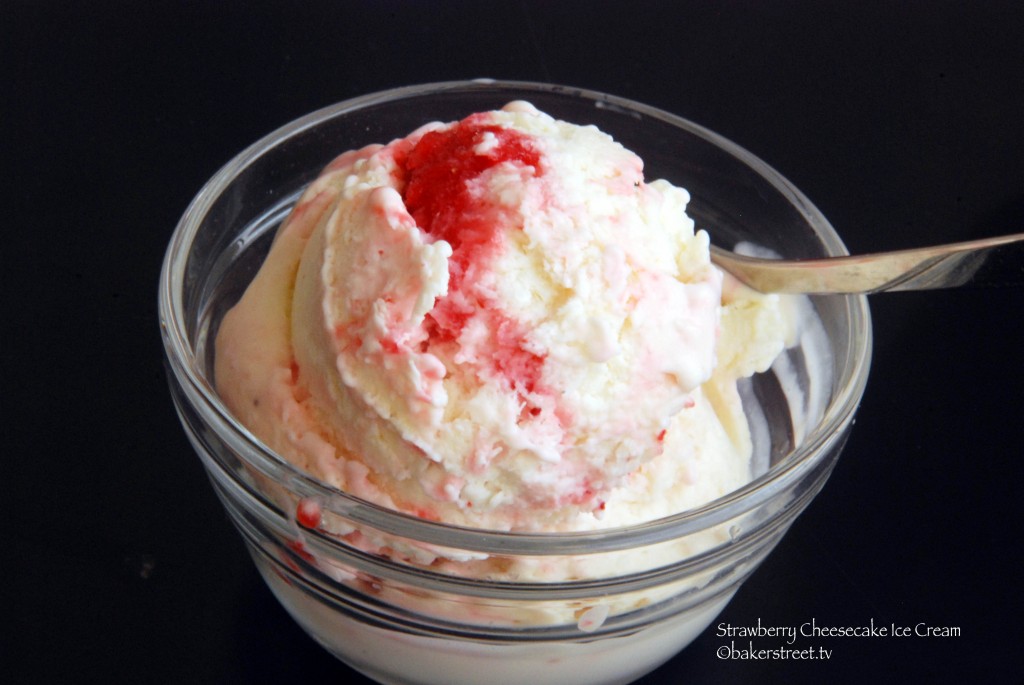 I'll be sure to keep my ice-cream maker busy and share with you a host of recipes this summer but in the meantime kick back and enjoy a bowl of my rich vanilla cheesecake ice cream with luscious strawberry swirls. This battle was over even before it started.
Strawberry Cheesecake Ice Cream
Serves:
Ice Cream: 21/2 cups and; Puree: 3 Cups
Ingredients
1½ pound fresh or frozen strawberries, hulled and quartered
¼ to ½ cup sugar (depending on how sweet your strawberries are)
7.5 ounces cream or yogurt cheese
½ cup sugar
¾ cup whole milk
½ cup heavy whipping cream
¼ teaspoon lemon juice
¼ teaspoon salt
1 cup strawberry purée
Instructions
Place the strawberries and sugar in a bowl or blender, and puree until liquid. Taste for sweetness and add more sugar if necessary.
Refrigerate until ready to use. The purée can be kept, refrigerated and well-sealed, for up to 5 days or frozen for up to a month.
In a stand mixer, beat the yogurt cheese and sugar on medium speed until smooth (about 2 minutes).
Add the milk and cream, and beat on medium speed until you get a thick, smooth consistency (about 4 minutes). Add the lemon juice and salt, mixing just enough to incorporate. Refrigerate the mixture for at least 4 hours or overnight.
When you're ready to make the ice-cream, churn the chilled mixture according to your ice-cream maker's instructions.
Measure out ½ cup of the purée and pour a thin layer at the bottom of the container that will hold the ice-cream. Top with a third of the ice-cream mixture, then gently mix the strawberry puree and yogurt cheese ice-cream with a wooden spoon, stirring just enough to create swirls in the cream without coloring the whole mixture pink. Continue alternating between puree and yogurt ice-cream until finished.
Freeze for at least 2 hours before serving, with the remaining ½ cup of purée drizzled over each bowl.
This month's blog hop is all about berries. You have all of April to show off your berry berry delicious recipes. Come, share and hop along.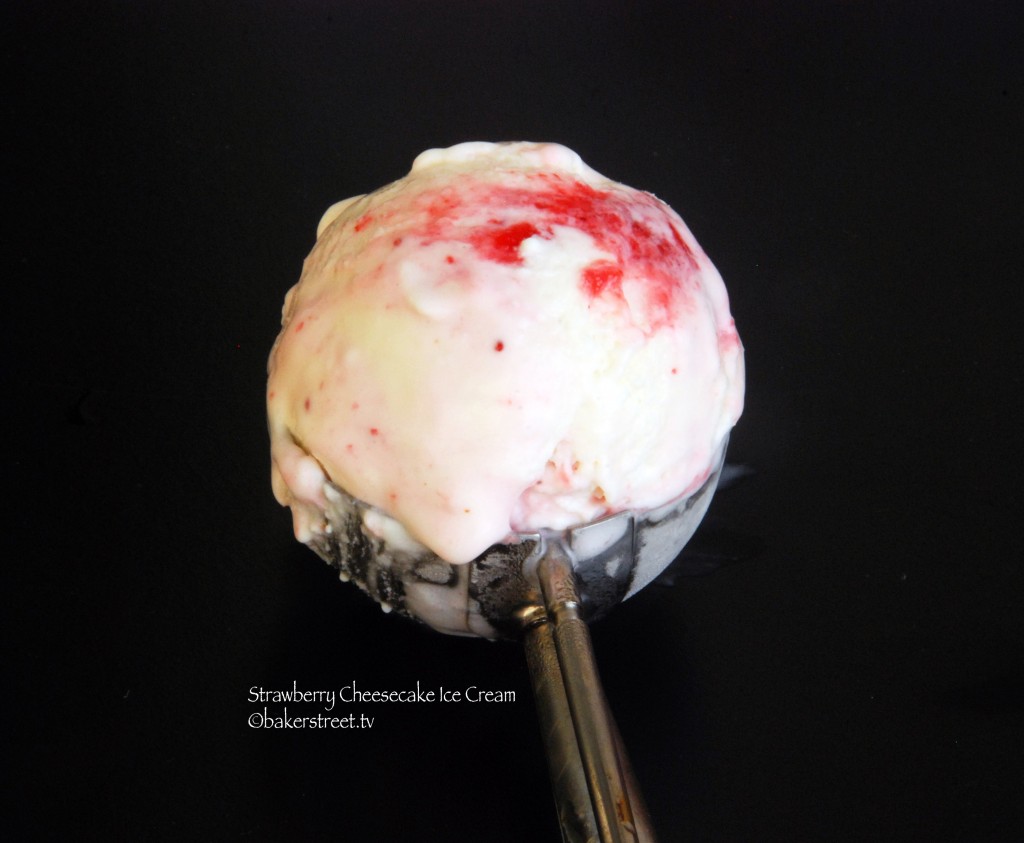 Please be sure to check out what my fabulous co-hosts are bringing to the table:
A little bit of everything ~ Roxana GreenGirl ~ @RoxanaGreenGirl | Baker Street ~ Anuradha ~ @bakerstreet29 | Baking and Cooking, A Tale of Two Loves ~ Becky Higgins | BigFatBaker ~ Erin Meyer ~ @bigfatbaker | Bon à croquer ~ Valerie ~ @valouth | Cake Duchess ~ Lora ~ @cakeduchess | Easily Good Eats ~ Three Cookies | Elephant Eats ~ Amy | Hobby And More ~ Richa ~ @betit19 | Java Cupcake ~ Betsy Eves ~ @JavaCupcake | Mis Pensamientos ~ Junia ~ @juniakk | No One Likes Crumbley Cookies ~ T.R. ~ @TRCrumbley | Oh Cake ~ Jessica ~ @jesshose | Queen's Notebook ~ Elizabeth  Quirino ~ @Mango_Queen | Rico sin Azúcar ~ Helena ~ @ricosinazucar | Simply Reem ~  Reem ~ @Simplyreem | Soni's Food for Thought ~ Soni ~ @sonisfood | Teaspoon of Spice ~ Deanna Segrave-Daly ~ @tspbasil | That Skinny Chick Can Bake!!! ~ Liz ~ @thatskinnychick | The Art of Cooking Real Food ~ Laura ~ @TAofCRF | The Wimpy Vegetarian ~ Susan ~ @wimpyvegetarian | Vegan Yack Attack ~ Jackie S. ~ @veganyackattack | Vegetarian Mamma ~ Cindy ~ @vegetarianmamma | Georgie Cakes ~ Georgie ~ @GeorgieCakes