A beautiful morning, adorned in sunshine. A wreath of flowers, the distant ringing a bell. Twittering birds, a solitary broken cloud, and a warm listless wind. A rickety old cherrywood table, a crisp copy of an unfinished book. She sat under the tree gazing vacantly, her summer captured in a bowl she held in her hands.
This post is my version for Abby Dodge's #baketogether project: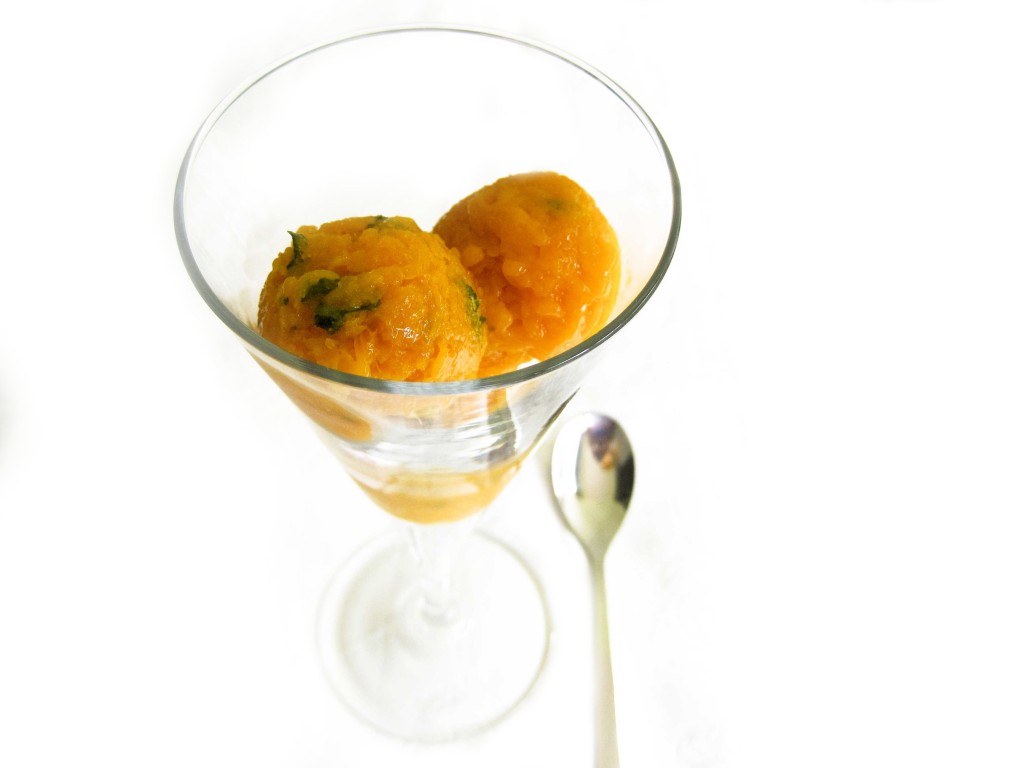 I'm not big on ice creams, there i said it. When Abby proposed a #baketogether project on Twitter last month, I was all in. On my mind was a tart I wanted to try. Unfortunately I couldn't do it because other commitments but knew I wouldn't let this chance pass.
Sorbet came up as the option, my first reaction was one of apprehensiveness because to start with I did not have an ice cream maker. Abby has posted a Strawberry Sorbet recipe that can be easily adapted with the fruit of your choice. She was kind enough to post instructions to do so without an ice cream maker. Abby's instructions were so good that I actually managed the texture of the sorbet without actually using an ice cream maker.
I have to admit that this is not only one of the easiest and simplest thing to make but by far the yummiest dessert you'll ready with such little effort.
Below is my adaptation of her recipe: Mango, Basil and Lime Sorbet.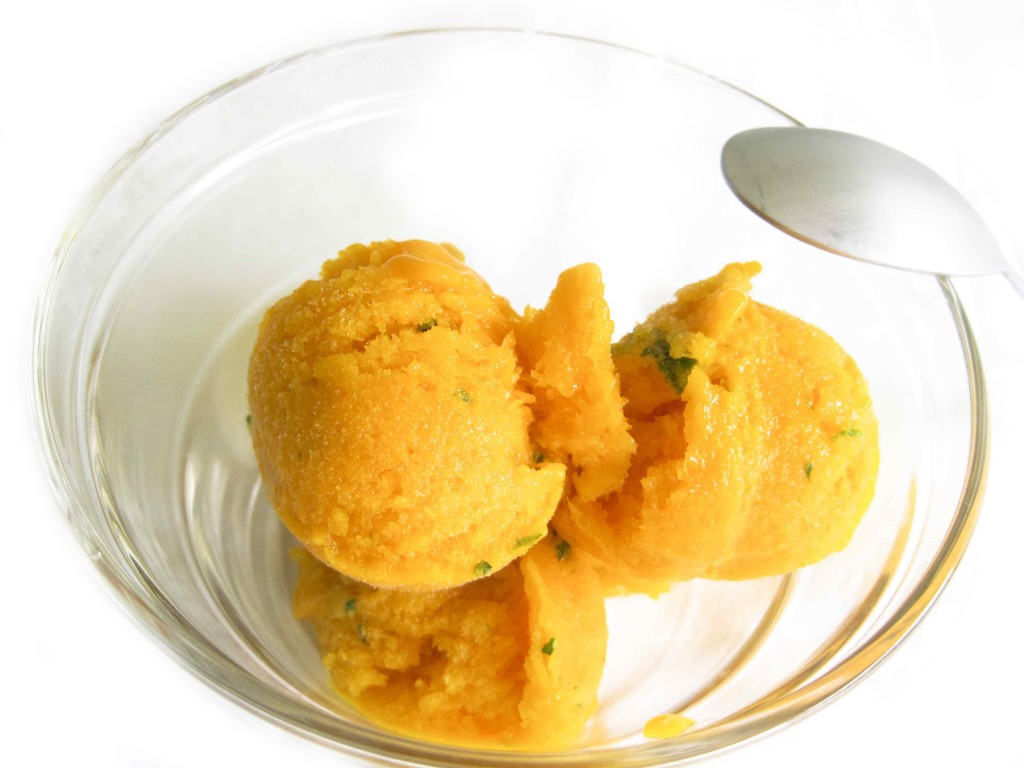 Mango, Basil and Lime Sorbet
Author:
Adapted from Abby Dodge
Recipe type:
Dessert, Sorbet
Ingredients
¾ cup water
¾ cup sugar
1 quart Mango
1 tablespoon fresh lime juice
1 teaspoon finely grated lime zest
1 tablespoon basil, chopped roughly
Pinch table salt
Instructions
Have ready an ice cream maker. Arrange a 4½ x 8¼ inch loaf dish in the freezer making sure it is level and secure.
Put the sugar and water into a medium saucepan. Cook, stirring, over medium heat until sugar is dissolved. Set aside.**
Chop the mangoes roughly and pile them into a food processor and whiz until smooth, about 1 minute (you'll have 2¼ cups).
Add the fruit puree to the sugar syrup along with the lime juice, zest, basil and salt. Stir until blended.
Set aside to cool completely and refrigerate until chilled or up to 1 day.
For faster cooling, set the pan over a bowl filled with ice, stirring occasionally, until well chilled.
Pour the chilled mixture into the ice cream maker and process according to manufacturer's instructions.
Serve immediately (it will be soft) or scrape into the chilled dish, cover and freeze until firm or up to 2 days.
In place of ice cream machine, switch-in the following:
Arrange a 9 x13 -inch baking dish or 9½ cup rectangular plastic container (Ziploc) in the freezer making sure it is level and secure.
Follow the directions for making the mixture.
Pour the chilled mixture into the baking dish and freeze about 2 hours until frozen around the edges.
Every 30 minutes, stir and scrape the mixture with a table fork.
Freeze and scrape until the ice crystals are loose and frozen.
Notes
** You can refrigerate the sugar syrup up to 4 days before continuing