A bag of dried cherries in my pantry has been haunting me for weeks now, staring back forlornly every time I reach out to grab its neighbors. My first idea was to use it in a coffee cake. A few chopped up cherries in the streusel would have been fantastic but with all the indulgence of the Mocha Rum Bundt Cake earlier this week, I decided that the destiny of the dried cherries was to be in cookies. Cookies are easily stocked and a lesser temptation compared to cake.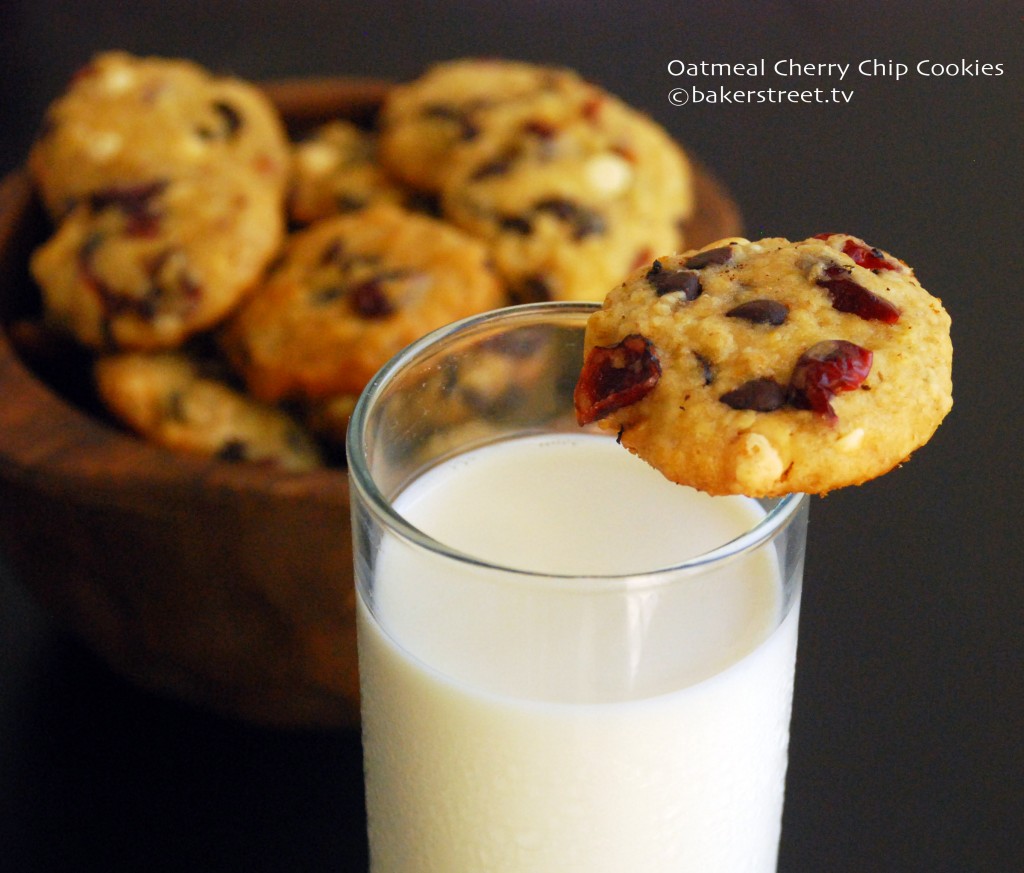 Changes and Variations: If you have dried cherries, I suggest you bake these cookies. Even if they're not making a sorry face every time you pass them by. I added a combination of white and semi-sweet chocolate chips to the batter. Also avoided nuts but you could add walnut, pecan or macadamia if you like. The next time I'd like to try it with some shredded coconut.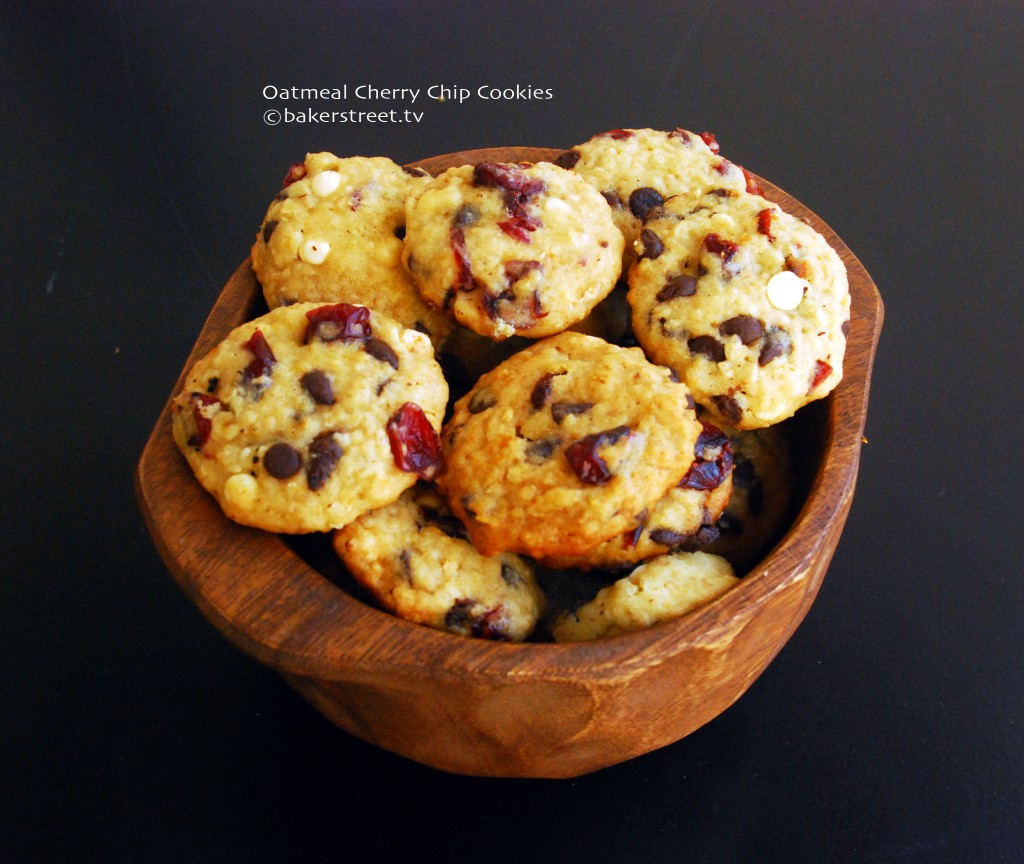 Over to the recipe: Buttery and chewy, filled with tart cherries and a touch of dark and white chocolate chips. Just perfect with a glass of cold milk every morning.
Oatmeal Cherry Chip Cookies
Author:
minimally adapted from she wears many hats
Ingredients
1½ cup all-purpose flour
¾ teaspoon baking powder
½ teaspoon baking soda
¼ teaspoon cinnamon
¼ teaspoon salt
1 stick unsalted butter, at room temperature
½ cup sugar
½ cup honey
2 eggs
1½ cup old fashioned oats
6 oz. (1 cup) semi sweet chocolate chips
6 oz. (1 cup) white chocolate chips
1 cup dried cherries, roughly chopped
1 cup walnuts, roughly chopped (optional)
Instructions
Preheat oven to 325° F.
Line baking sheets with silicon baking mats or parchment paper.
Combine the flour, baking powder, baking soda, cinnamon and salt together by whisking.
In the bowl of a stand mixer, (or large bowl using hand mixer) using the paddle attachment, beat the butter and sugar on medium until smooth, about 2-3 minutes.
Add the honey and beat for 1 minute.
Add eggs 1 at a time, beating a full minute after adding each egg.
Lower the mixture speed, add the oats and combine well.
Add the dry ingredients mixing only until just combined.
Gradually add both the chocolate chips, cherries and walnuts(or any other nuts), turning the mixer on and off quickly to combine. Or stir in the last 3 ingredients with a heavy duty spoon or rubber spatula.
Place rounded tablespoonfuls of dough onto the lined baking sheets about 11/2-2 inches apart.
Bake in 325°F oven for about 15-18 minutes, turning once halfway through baking time.
When cookies are done, let cool on baking sheets for a minute or so, then carefully place on cooling racks until you can safely touch them.
Serve with a glass of cold milk
Happy Baking!