We stand amidst cardboard towers, boxes piling up around us – all looking innocent but all staggeringly heavy. The pantry is like a war kitchen: minimally and efficiently stocked for basic meals; the idea of baking distant. Books and equipment carted away. My kitchen is mine no more. The spontaneous urge to reach out and lift a jar of chocolate that used to sit on a familiar shelf and whip something up is gone. Well obviously… even the shelf has disappeared.
But it's Muffin Monday. And soldier on we must.
A kick of coffee to keep us awake and the indulgence of chocolate to keep us going. Truth be told, I'm in love with this recipe, I've doubled the coffee, thrown in a couple of bittersweet chocolate chips, omitted the nuts. But what sets these muffins apart is the mascarpone whip I threw in to give it a marble effect. Now it's a personal favorite.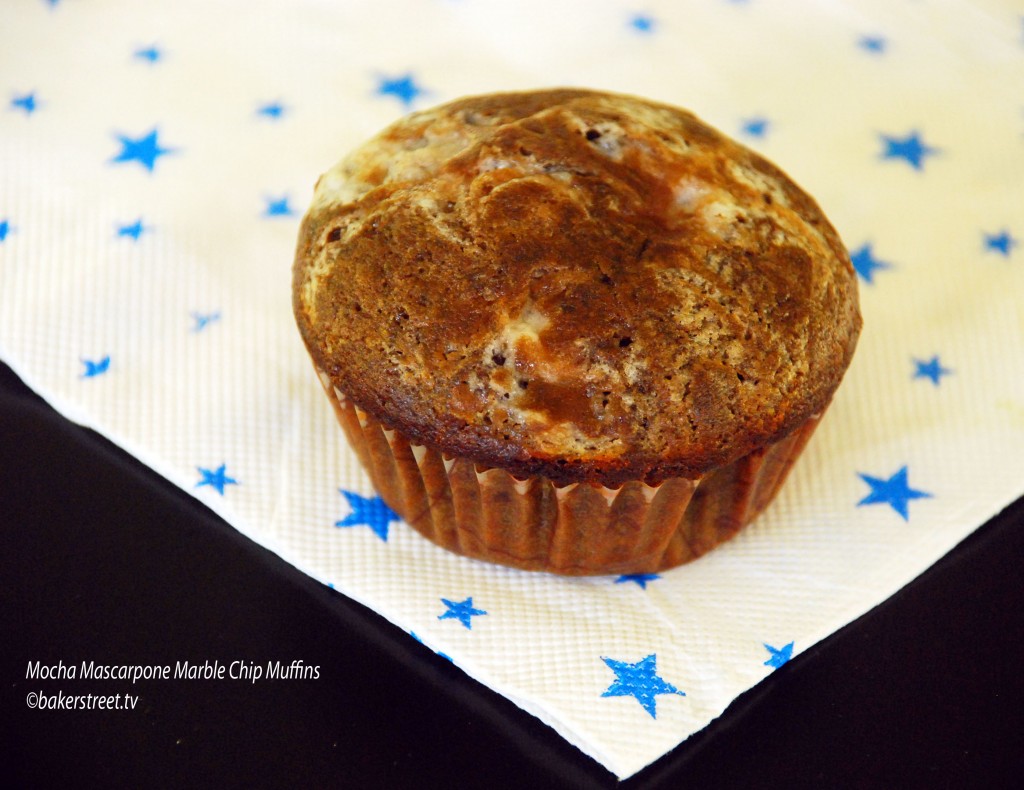 Over to the recipe: Mocha Muffins with a generous dollop of mascarpone swirled strewn with chocolate chips. Oh yes.
Muffin Monday: Mocha Muffins with Chocolate Chips
Recipe type:
Muffins, Dessert
Ingredients
¼ cup hot water
1 tablespoon instant espresso powder
½ cup buttermilk
½ cup vegetable oil
2 large eggs
1 teaspoon vanilla extract
1¾ cups all purpose flour
½ cup sugar
½ cup packed golden brown sugar
3 tablespoons unsweetened cocoa powder
1 teaspoon baking powder
1 teaspoon baking soda
1 teaspoon salt
1½ cups milk chocolate chips
1 cup coarsely chopped pecans (about 4 ounces), toasted
2 tablespoons mascarpone (at room temperature)
1 tablespoon confectioners sugar
1 teaspoon milk
Instructions
For the mascarpone whip: Mix all the ingredients until smooth and set aside.
Preheat oven to 375°F. Line twelve ½-cup muffin cups with paper liners.
Stir ¼ cup hot water and espresso powder in medium bowl until espresso powder dissolves.
Add buttermilk, oil, eggs and vanilla and whisk until well blended. Mix flour, sugar, brown sugar, cocoa, baking powder, baking soda and salt in large bowl.
Add buttermilk mixture and stir just until combined. Mix in chocolate chips and pecans.
Divide batter equally among prepared muffin cups. Put a dollop of the mascarpone whip and give it a swirl effect the tip of a sharp knife or toothpick.
Bake until tester inserted into center of muffins comes out clean, about 25 minutes.
Transfer muffins to rack and cool.
Muffin Monday: Round Up
Happy Baking!